With the most recent of Shopify, Online Store 2.0, Shopify merchants have got more options to improve the look and feel of their store and enhance the shopping experience of the customers.
Being a Shopify store owner, you can build your page templates for products, orders, blogs, collections, and more. If you want to show some customized content on any of your pages, you can use metafields to define your requirements.
In this blog, we'll cover everything related to Shopify metafields. Within a matter of few minutes, you'll get to know about metafields, and how you can add metafields in your Shopify store.
So, let's start!
What are Metafields in Shopify?
The Shopify metafields help you place additional information about your offerings, variants, blogs, orders, collections, and many more in your online store. For instance, you need your visitors or customers to see a user manual for the products on the product page.
Well, Shopify offers data storage in the admin panel, but that's common for all Shopify stores. And, if you wish to add unique data about your products or any object, you can do so by Shopify Metafields.
After you create metafields, you can add them to your product page, collection, customers, or orders page and use them for customizing the design of your Shopify store.
When you create a metafield, you will have to enter the below-mentioned information:
Namespace:

It's a way of grouping the metafields to prevent conflicts.

Key:

It's the name of metafield.

Value:

It is the value assigned to each product that shows in the frontend.

Description:

It helps others understand the meaning of metafields. 
What's New in Shopify Metafields?
Earlier, one couldn't find any inbuilt metafield feature in Shopify. To insert one, we had to use liquid code or either way install a third-party app to add and manage the metafields in the store.
Creating metafields with the help of Shopify liquid code isn't an easy task, and thus, a non-tech-savvy individual needs to hire developers to create metafields.
With the newer version of Shopify, an inbuilt metafield feature in Shopify's store admin allows you to create metafields without any technical knowledge. Thus, you don't have to spend an extra penny on hiring developers or purchasing third-party Shopify apps for metafields. 
Custom Fields of Metafields in Shopify
In Shopify, there are 8 custom fields of metafields that you can take benefit of:
1. Product Metafields:
This is one of the most common metafields in Shopify that is used to display additional information for each product on the product page.
For instance, with the help of Shopify product metafields, you can show product detailed descriptions like this clothing store.
2. Variant Metafields:
This particular type of metafield allows Shopify merchants to add extra information for each variant of the products.
For example, the below-mentioned example shows color variants available for a beauty product in a cosmetic store.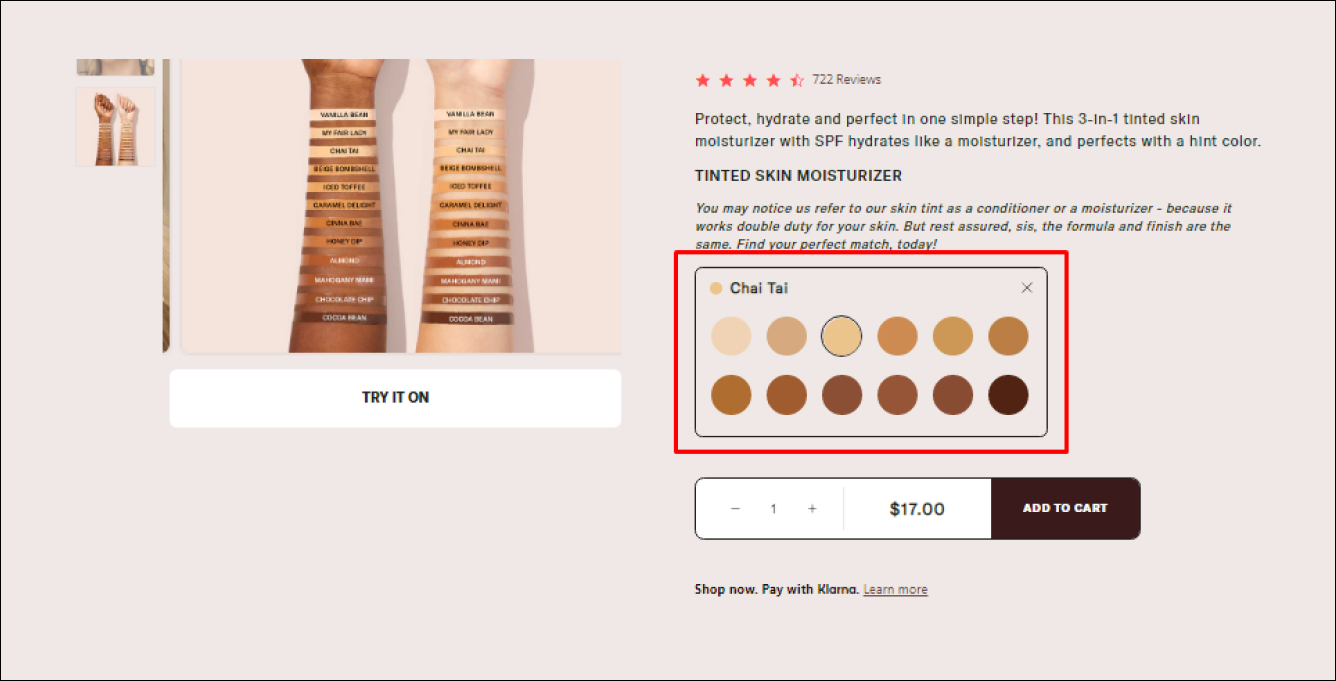 3. Collection Metafields:
This is one of the newly released types of metafields that allows Shopify merchants to create an appealing look on their collection pages.
For instance, you can add a metafield to your store to give filters and sort options about the products. The use of collection metafields can help you display Filter by Print like this in a clothing store.
4. Customer Metafields:
Customer metafields are a great way to show customer segments based on custom and specific customer details.
You can use them to:
Send targeted emails to specific customers

Showcase reminders to customers to

review their orders
For example, in this image, you'll see a list of items that a customer has marked as favorites. They will be able to view their favorites on their account.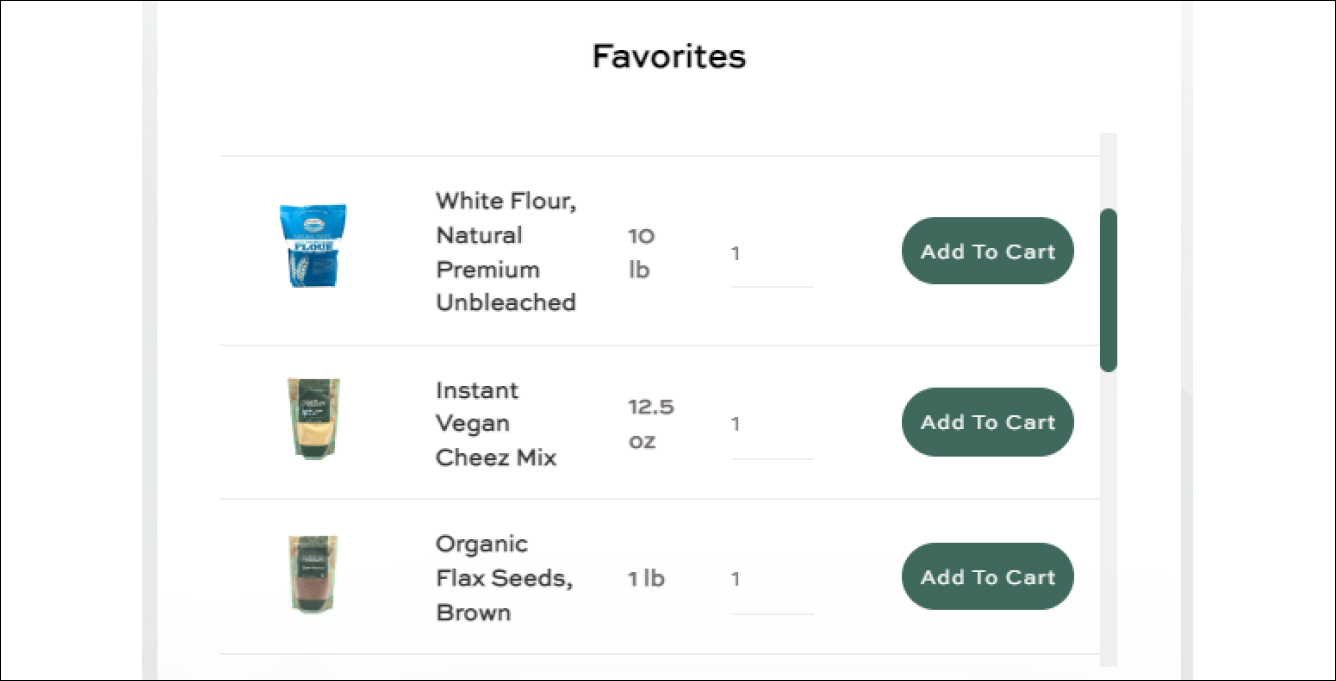 5. Order Metafields:
Sometimes, as the need arises, you need to add some extra information for your store orders. Some of the cases are:
Show ratings to the orders

Add remarks to the orders

Display orders as normal or express delivery
For instance, here you'll find the order marked with Express Shipping. This can be achieved through Order metafields.
In the same way, you can make use of Shopify metafields for pages, blogs, and blog posts.
How to add metafields in Shopify?
Are you ready to expand your Shopify store? If yes, you can edit your store's content with metafields. All credit goes to the inbuilt Shopify metafields! It allows you to add metafields to your store and use them anywhere to customize your online store.
You can learn to create metafield, add values to it, and show them on your Shopify store based on the types:
To create metafields, first, you need to define them.
Defining the Shopify Metafields
By defining Shopify metafields, you mean to create an attribute that holds some value. The Shopify definition ensures at all the values you add to the metafields are of apt formats such as numbers, content, image, link, and more.
Currently, Shopify offers two different metafield definitions, which are:
Standard Metafield Definition:

In this, Shopify has given some metafield definitions that work well with all the Shopify apps, themes, and the areas in your store where you want to place them.

Custom Metafield Definition:

If you want something out-of-the-box for your store, you can create a custom metafield definition based on your needs and requirements for your store and use it wherever you want.
Steps to Add Metafield to Shopify
Step 1: From your Shopify store admin panel, click on Settings and then go to Metafields.
Step 2: Next, choose and click the part of the store you want to add a new field, for instance, products.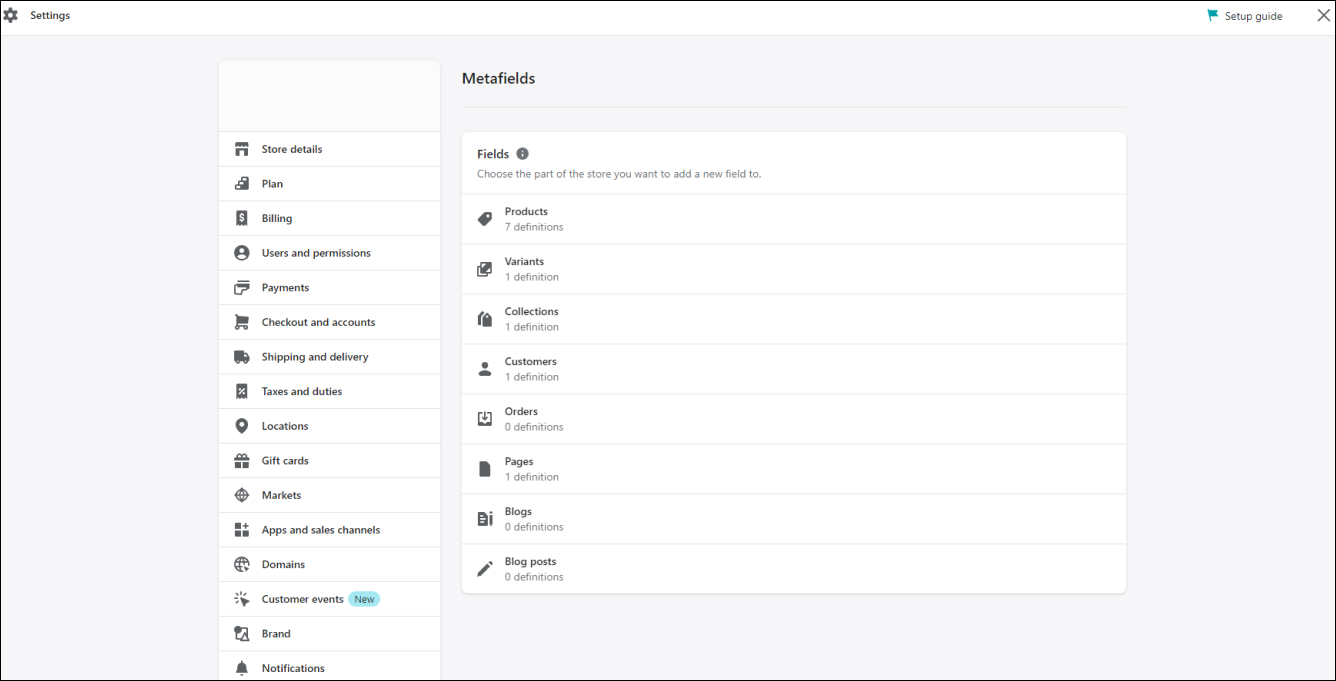 Step 3: Click on Add definition.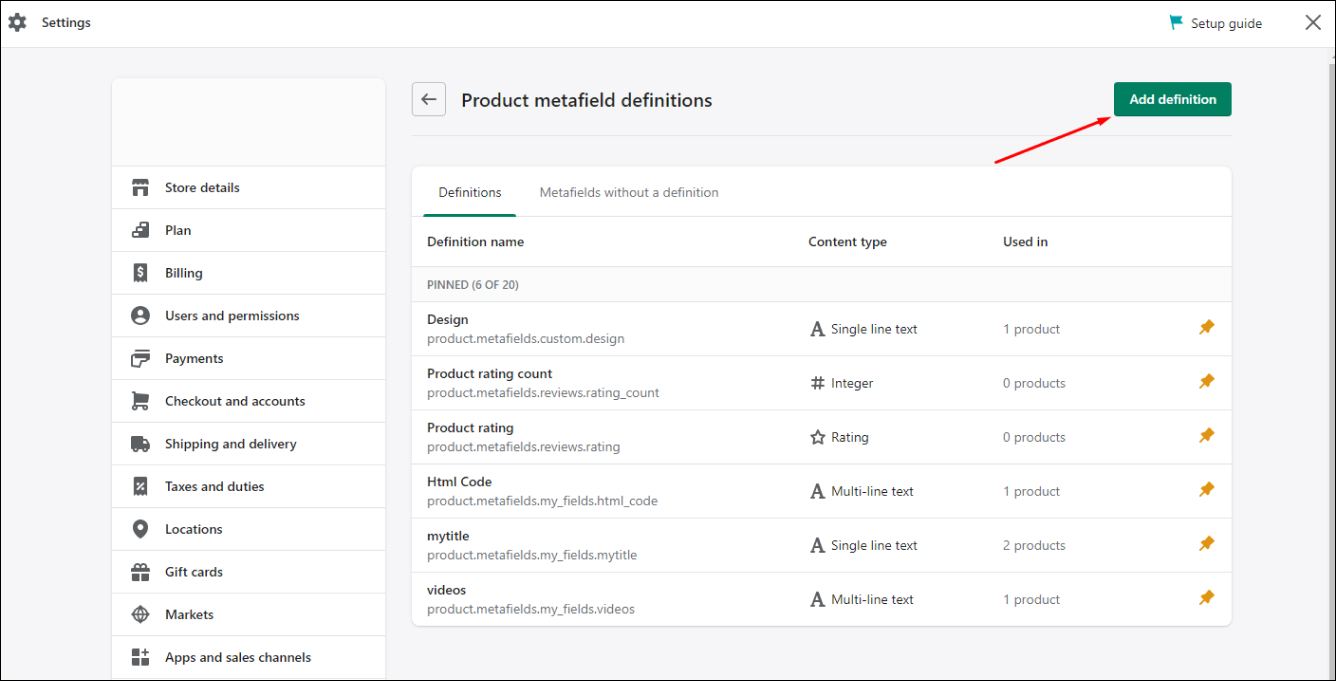 Step 4: Next, type the Name of the product metafield (for instance, Design 2). If you want to add a description to the metafield, you can add it from here, but that's optional. Then, click on Select content type.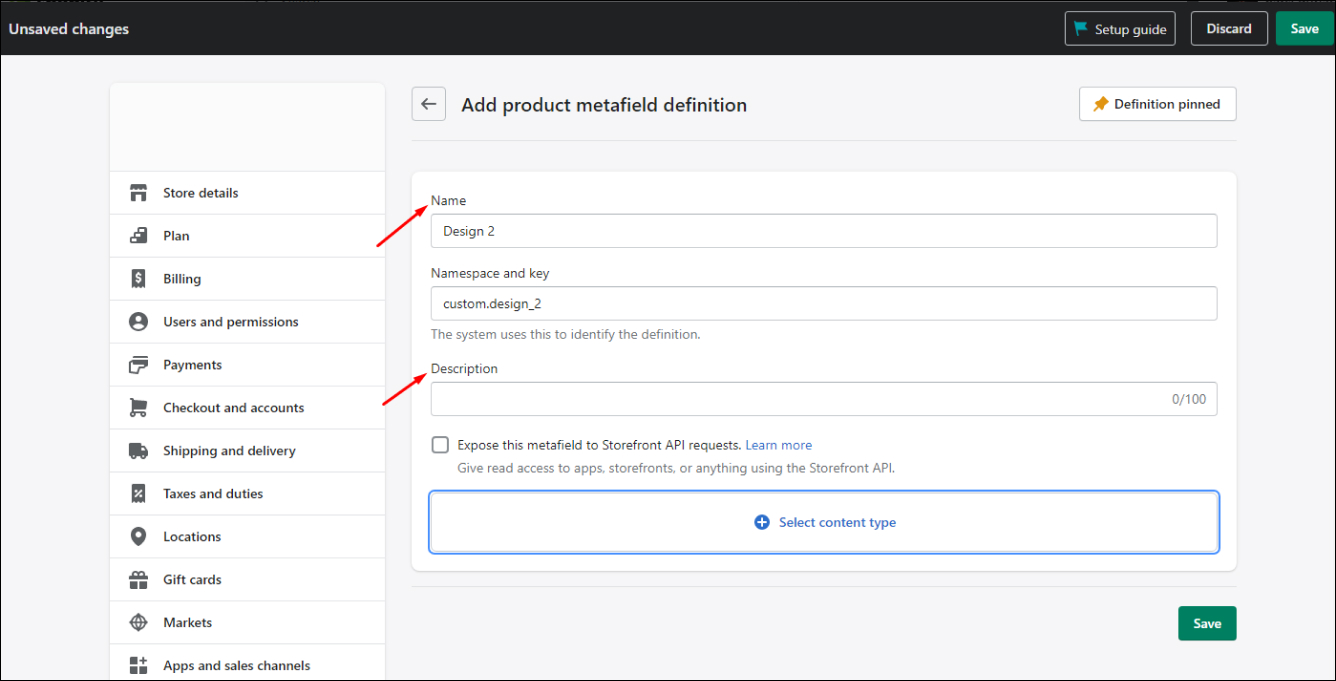 Step 5: Select the most preferred content type for your product metafield and click on Save.
Step 6: As you click on save, you'll see your metafield being added to the list.
How to delete metafields in Shopify?
If a metafield you created earlier is no longer in use to you, and you wish to delete it from your store, you can do so in two easy ways:
Delete definition & all metafield values:

This way will enable you to delete or remove the metafield with all its values. But, before you go for this, ensure that it isn't connected with any of the sections of your store.

Delete definition only:

This way will only delete the metafield definition and its associated values will remain on your store. After you remove metafield definitions, chances are you may find some errors in your theme editor. You may find its solution in Shopify's metafield error fixing guide.
Steps to Delete Metafield in Shopify
Step 1: From your Shopify store admin panel, click on Settings and then go to Metafields.
Step 2: Next you need to click on the metafield that you want to delete from your store, for instance, Design.
Step 3: Now as you scroll down, you'll find a Delete button. Simply click on it.
Step 4: Next, you need to choose anyone from the delete options and click on the Delete button to remove the metafield from your Shopify store.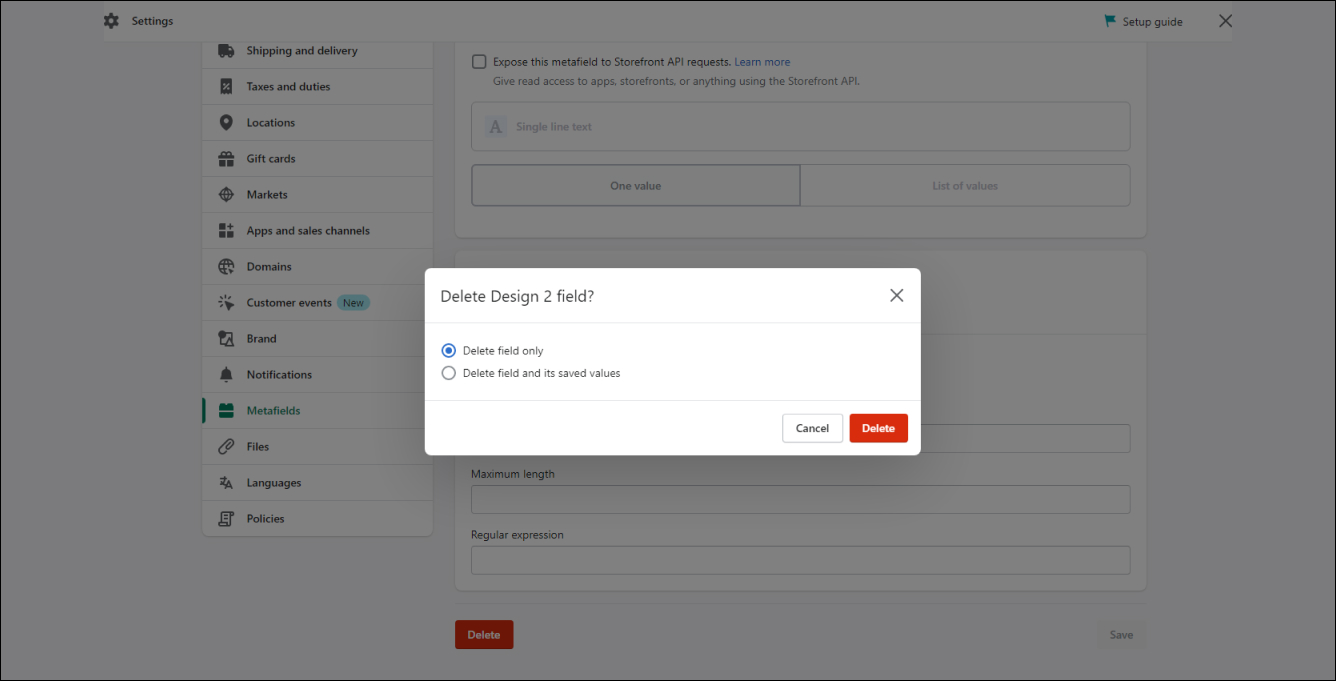 Wrapping Up!
Learning how to add, manage, or delete metafields in Shopify can be complex. However, if you start from the basics (which we've tried to cover in our blog) can help you with the crucial aspects of your online store like showing more or additional information on the store pages.
We hope after going through this blog, you would have learned what metafields are and how to use them in your Shopify store.
If this blog proved to be helpful for you, don't forget to tell us in the comments section and share our blog amongst your friends and groups.
If you have more queries or doubts regarding metafields, reach out to us, and we'll be happy to guide you!