A Guide to Shopify Abandoned Cart Emails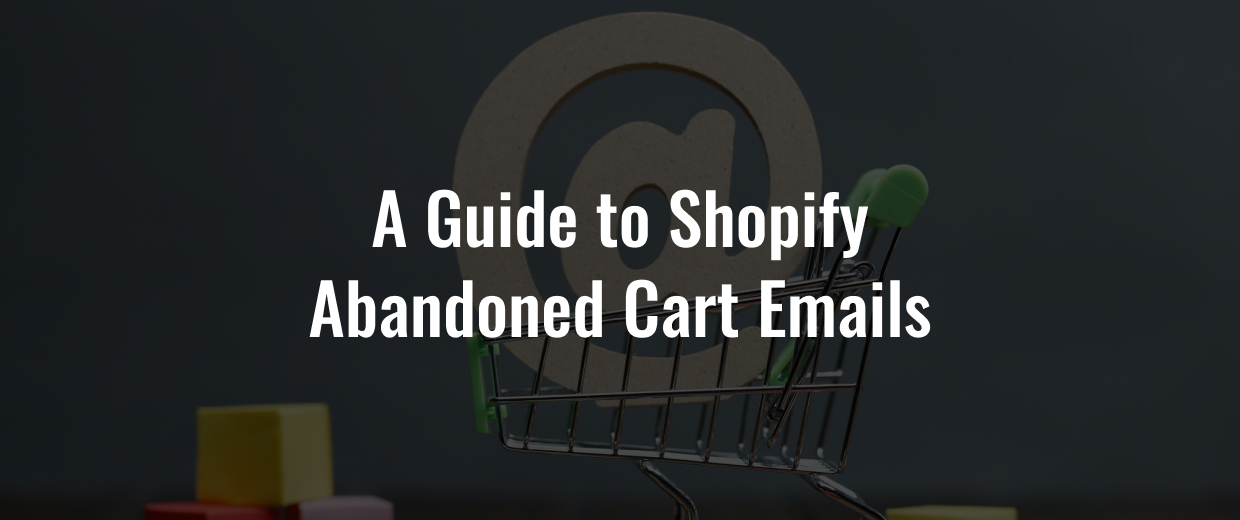 Abandoned carts are the most common challenges that many Shopify merchants face today.
Well, it's true. Being a merchant, it could be frustrating to see customers add items to their cart but leave the site without checking out.
Luckily, you have a solution to deal with this issue, that is, abandoned cart emails.
Shopify abandoned cart emails are an excellent option to remind customers of their left-over purchases, and you'll win them back and ultimately increase your sales.
Abandoned cart emails play an integral role in boosting sales for your Shopify store.
According to recent studies, abandoned cart emails have an open rate of 45% and a CTR of 22%, which means you can expect an impressive conversion rate for your store.
In this blog, we'll dive into what exactly Shopify cart abandonment emails are and how you can set them up for your Shopify store.
So, whether you're just a newbie in the Shopify field or have been using it for your business for some time, this guide will be helpful for you to optimize your abandoned cart emails, such that you drive sales and revenue to your business.
Without further delay, let's get started!
What is Shopify Abandoned Cart Email?
Shopify abandoned cart email is a feature that allows store owners to customize the content and timing of their emails. The emails can be personalized with the customer's name, the items they left in their cart, and other relevant details.
Store owners can also include promotional offers or discounts in their abandoned cart emails to encourage customers to complete their purchases.
Shopify's abandoned cart email feature is an effective way for online merchants to recover lost sales and increase their conversion rates.
This way, you can remind customers of the items they've left in the cart and offer incentives to proceed toward completing their purchases. This is a great way to encourage customers to return to your online store and complete their transactions.
Why do Customers Abandon their Shopping Carts?
Customers abandon their shopping carts for a variety of reasons. Here are some of the most common reasons why customers abandon their shopping carts:
High Shipping Costs: Customers may decide to abandon their carts at the moment when they find the shipping costs to be too high or feel they may be overcharged.
Unexpected Fees: Customers may abandon their shopping cart if they encounter unexpected fees such as taxes, handling charges, or other additional fees.
Complex Checkout Process: Customers may become frustrated with a long, complicated checkout process or if they are required to create an account to complete their purchase.
Technical Issues: Technical issues such as slow-loading pages, broken links, or payment processing problems can lead customers to abandon their shopping carts.
Comparison Shopping: Customers may add items to their cart to compare prices or products with other websites.
Change of Mind: Customers may simply change their minds about purchasing a product or decide they do not need it.
Payment Security Concerns: Customers may have concerns about the security of their payment information and abandon their shopping cart as a result.
By understanding why customers abandon their shopping carts, online merchants can take steps to address these issues and reduce the likelihood of cart abandonment.
How to Send Abandoned Cart Emails?
One of the most common questions that many e-commerce store owners face is, how to send abandoned cart emails in Shopify.
Well, there are two basic ways of sending Shopify abandoned cart emails, that includes, from your Shopify store admin and using an app.
Step 1: From your Shopify store's admin area, click on Settings.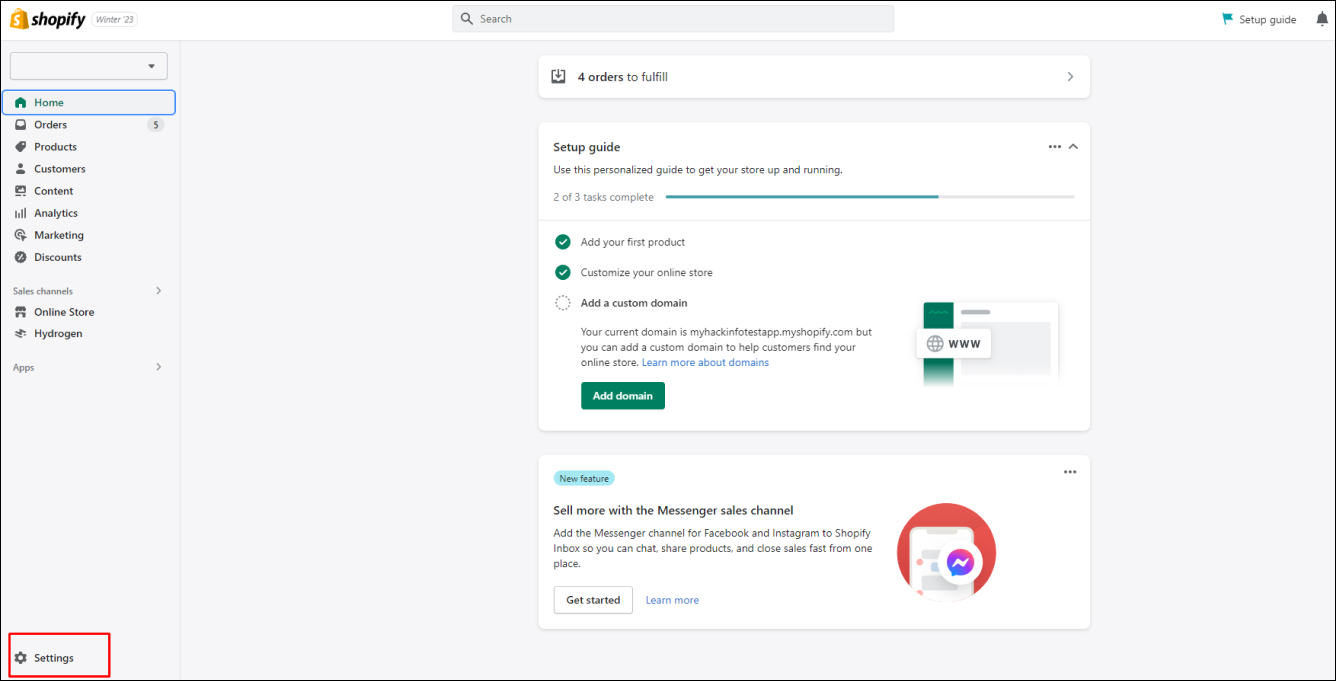 Step 2: Next, click on Checkout from the left menu bar and scroll down until you find Abandoned Checkout emails.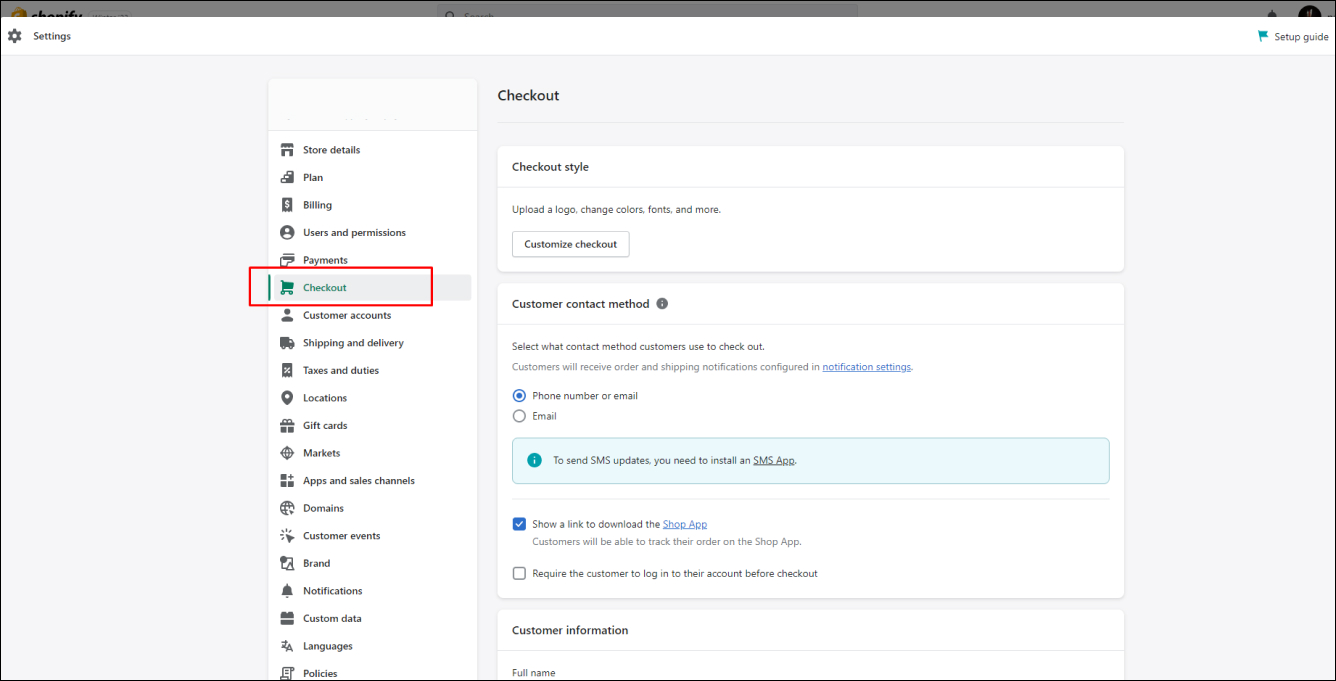 Step 3: Here, you can select and choose the options that fit best.
Firstly, tick mark the box if you wish to send abandoned checkout emails automatically.
Next, choose whether anyone or signed-in customers should receive the cart abandonment emails.
Lastly, select when you wish to send the emails.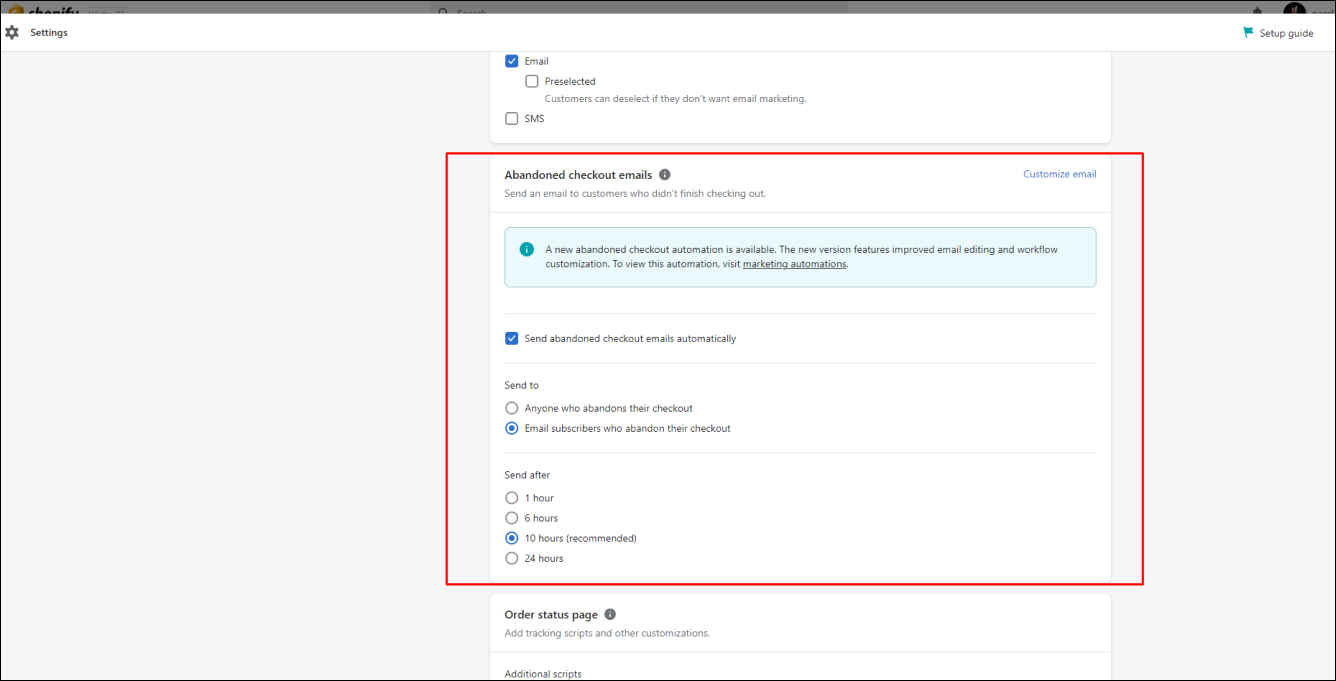 After choosing and selecting the options, click on the Save button.
How to Customize the Abandoned Checkout Email on Shopify?
After configuring the abandoned checkout emails, it is now time that you edit or customize your email template. So, here you go!
Step 1: To edit the email template, click on Customize email that you can find in the abandoned checkout section.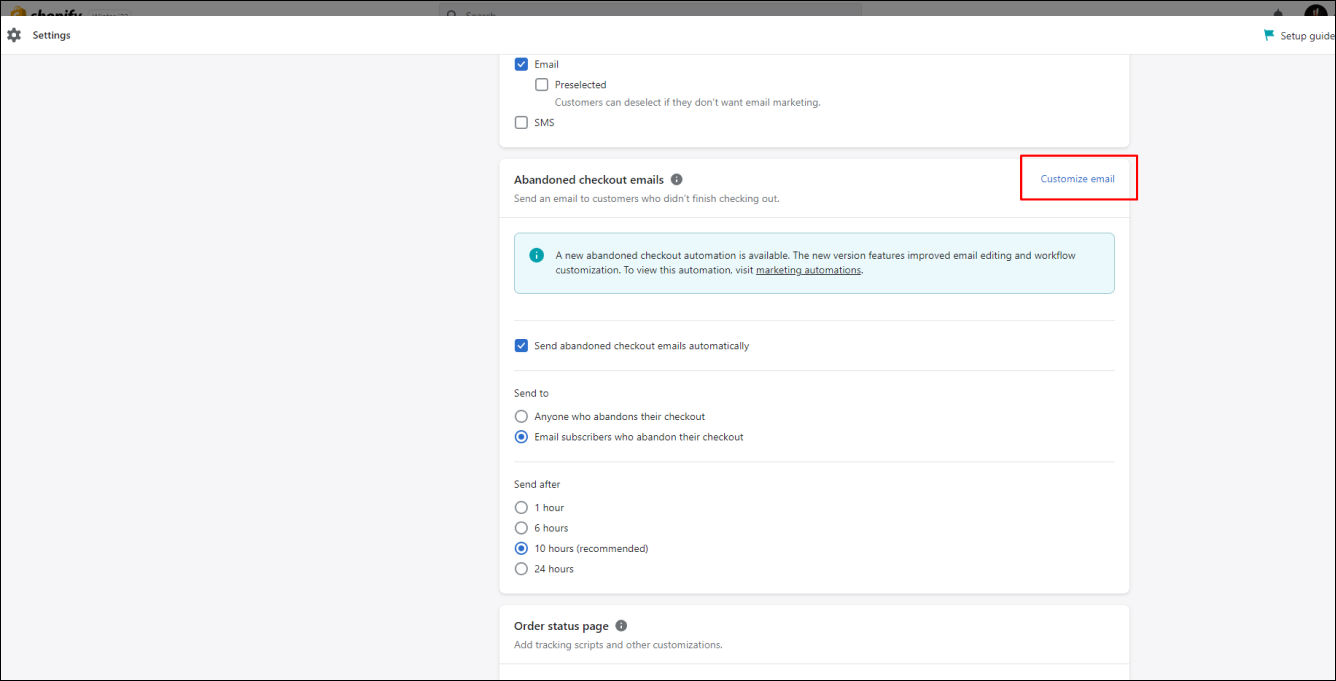 Step 2: Here, you can edit the subject line and email body using HTML. Additionally, you can use variables to add accent colors to your cart abandonment email.
Step 3: Once you're done editing the email template, click on Save.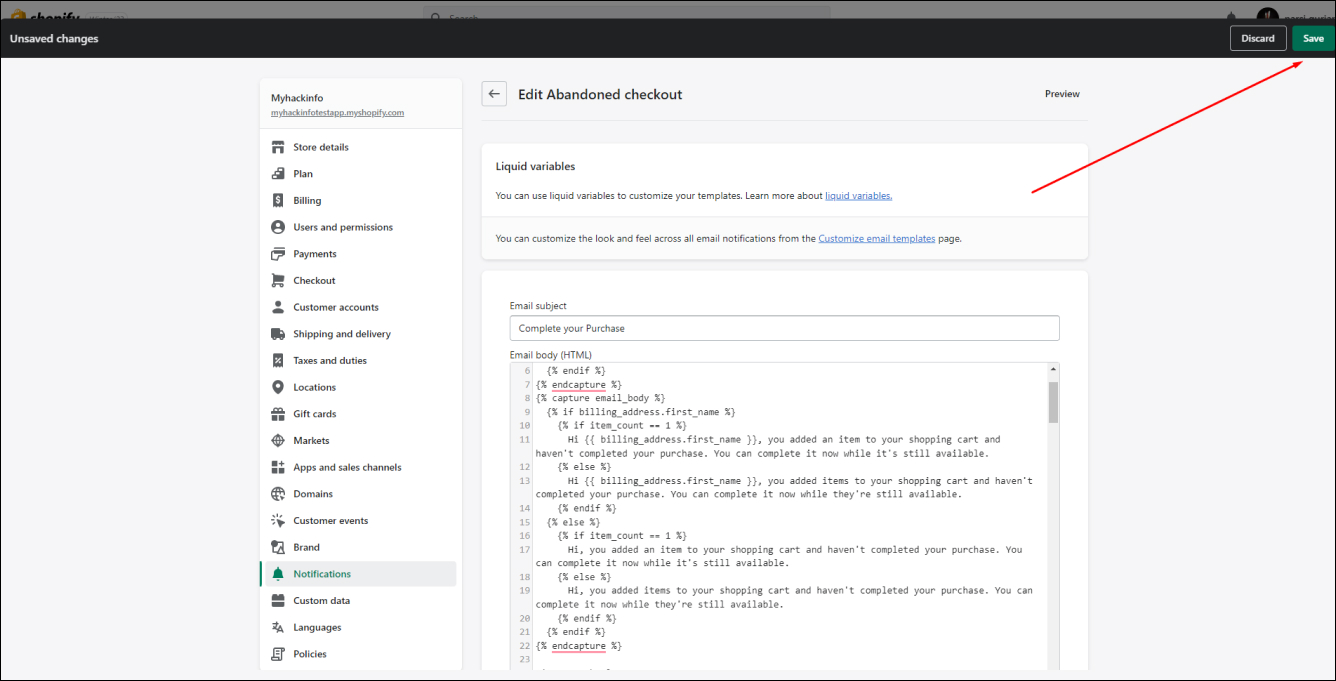 How to add a logo to an Abandoned Cart email on Shopify?
Adding a logo to your abandoned cart email is quite an easy task. Follow the below-mentioned steps, and you're all set to go!
Step 1: From your Shopify store's admin area, click on Settings > Notifications.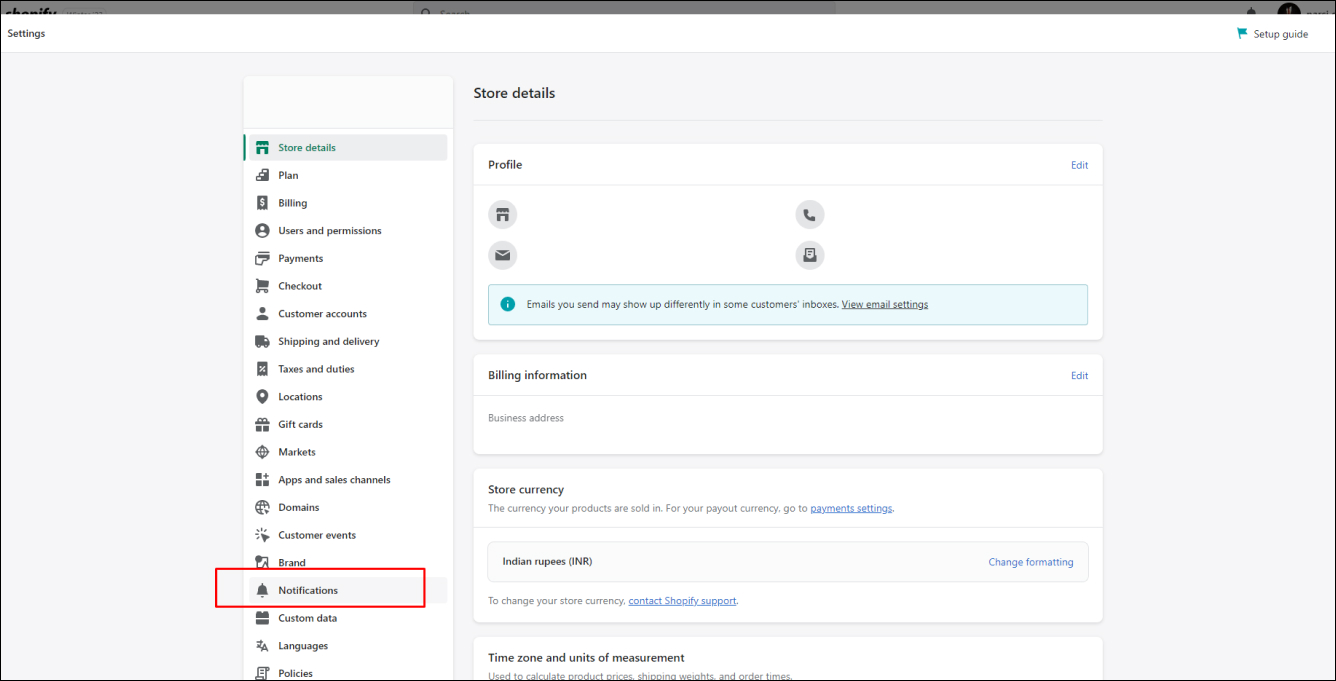 Step 2: Now, click on the Customize email templates button.
Step 3: On the right side of the page, you'll find a section named Logo. Click on Add image to add a logo to your Shopify abandoned email template. Lastly, click on Save.
Most Effective Tips for Shopify Abandoned Cart Emails that Convert
Abandoned cart recovery is just as similar to any email marketing strategy, and thus, it must be strategized to bring results. Otherwise, it will be just ignored by them.
Below are some of the most helpful tips that you can leverage to make your cart abandonment emails thrive. Have a look!
Keep Subject Lines Action-Driven
The subject line is the first-most thing that a recipient sees upon receiving an email. The decision to open it depends on the subject line. Thus, you must try to keep the subject lines exciting and provocative to stand apart from the inbox.
Look at the below-mentioned example. The brand tried different ways to remind the customer about the left-out items in the cart.
You can use your brand voice and tone to send reminder emails to your customers. Consider using creative and appealing ways to grab attention such that they end up in completing purchases from your store.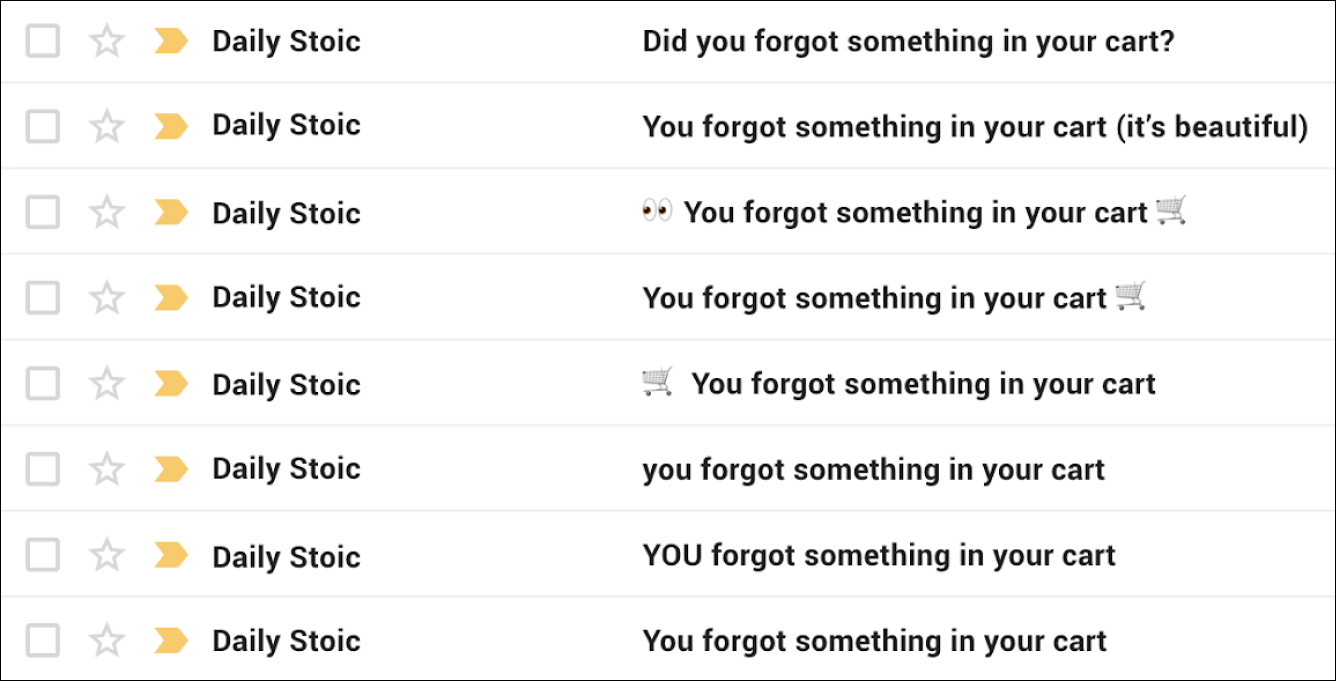 Consider the Timing
Next, you must consider the timing at which the recovery email should hit the inbox. According to the latest study, the best time to do so is 2 hours later since that's neither too soon nor to too late to lose potential customers.
But, that's not the end. You have to try numerous ways after that to not lose the sale. So, a typical cart abandonment sequence must have 3 points:
Email cart reminder after 2 hours
Follow-up email after 24 hours
Last email with an exciting offer after 2 or 3 days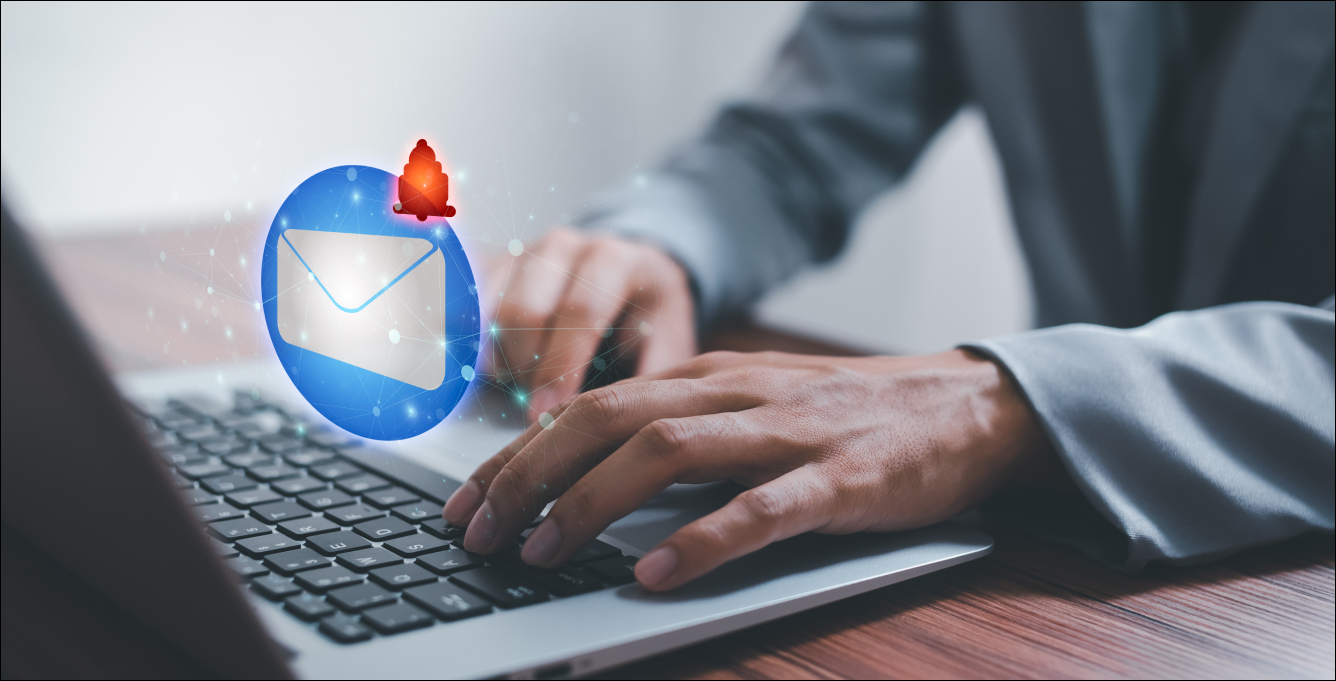 Create Enticing Emails
When the cart abandoner opens up the email, the inner content that's visible must look clean, professional, and inviting. Or, people would consider it as a scam or junk and would ignore it.
Thus, you must add your brand's logo, details, accents, and colors. This will create a sense of satisfaction in the minds of the customers that the email is not a fraud but a legit cart recovery email.
Next, you must highlight the product(s) that they left in their cart. You must include a CTA like "Complete Order" or "Go Back to Cart" to clear up things in the mind of the cart abandoner.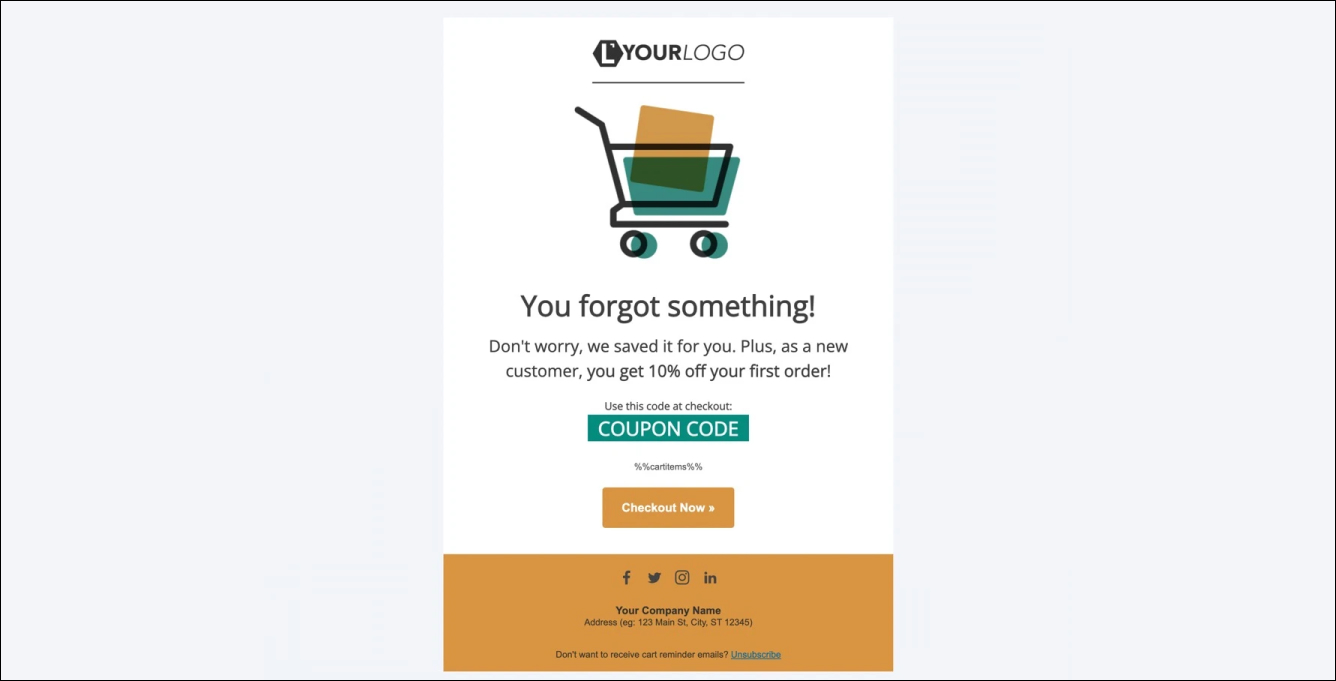 Offer Exciting Discounts
If you want to increase the cart recovery email conversion rates, the best idea to do so is to offer a discount code. But you must wait till the second or third touch.
This way, people won't get into the habit of abandoning carts for the sake of getting discounts.
Additionally, you can offer tiered discounts to your customers based on their purchases made from your store. This will also help you increase the cart recovery conversion rates.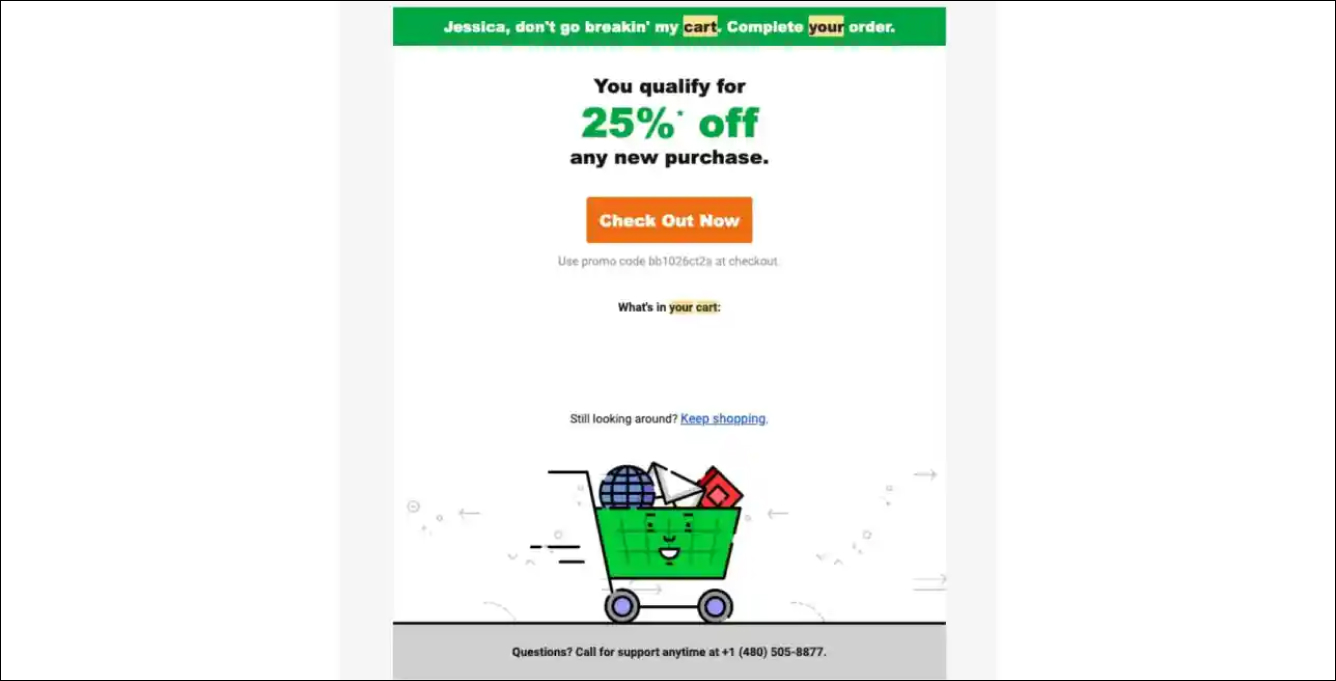 A/B Test Emails
Lastly, you must always A/B test your email campaigns such that you know which subject lines give you higher open rates or which email design gives you higher conversion rates.
This will help you analyze the performance of your email campaigns. You can A/B test everything included in your email – subject lines, email content, Calls to Action, and more.
Thus, do not forget to A/B test your Shopify abandoned cart email and know what's driving results for you!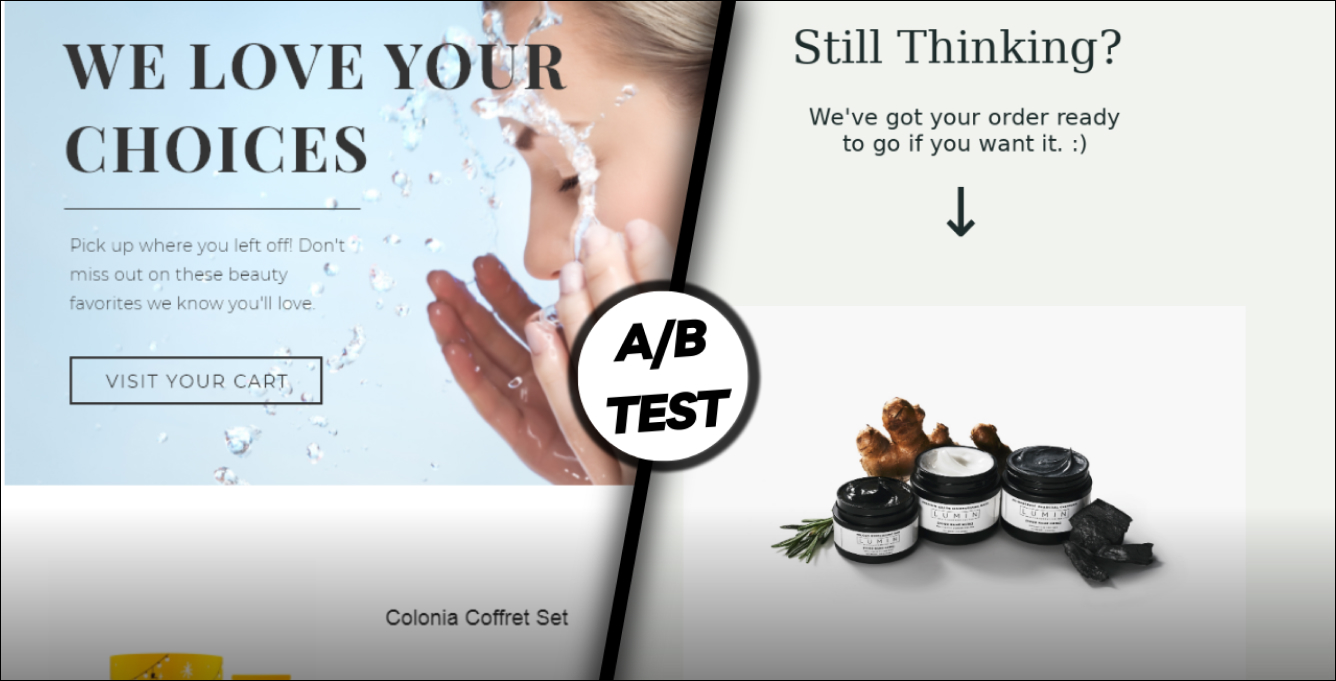 Wrapping Up
Sending abandoned cart emails to your customers is one of the simplest ways to recover lost sales. But these emails need to be appealing to convince and encourage customers to complete their purchases.
So, that brings us to the end of this blog. We hope this blog proves to be fruitful enough to help you customize the abandoned cart emails for your Shopify store.
All you need to do is to follow the steps mentioned in the blog and make your email appealing and result-driving.
If you need our help, reach out to our Shopify developers today!
Need more Shopify tutorials? Have a look at below-mentioned blogs!
How To Add ChatBot to Your Shopify Store?
How to Add Video to Your Shopify Store Pages?