How To Add ChatBot to Your Shopify Store?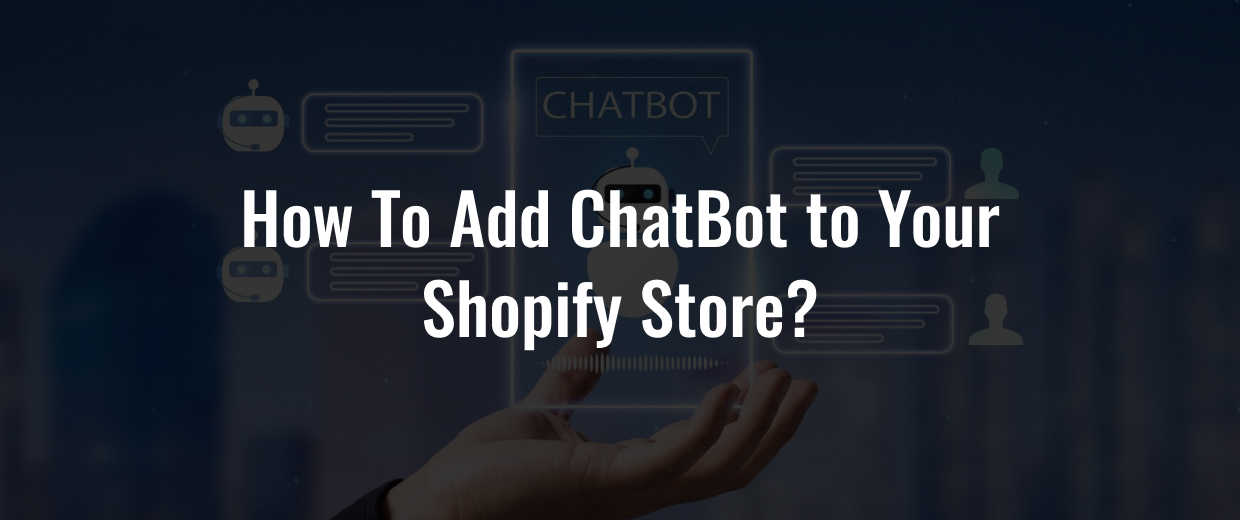 Indeed, Shopify chatbots are the future of the e-commerce industry!
With chatbots, you can offer dedicated service to your customers for your Shopify store. It is just like having a live agent accessible 24/7.
Implementing a chatbot into the Shopify platform can boost your capabilities and provide added value across different aspects of the business, including sales, marketing, and support.
Another crucial benefit of utilizing a chatbot for Shopify is the ability to automate responses for the most common inquiries, allowing customers to receive prompt replies from anywhere in the world, at any time.
In this blog, we'll talk about the basics of Shopify chatbots, why you need them, and how you can add them to your store.
What is Shopify Chatbot?
Shopify Chatbot is an AI-powered chatbot, designed and built specifically for the Shopify platforms. With it, businesses can automate their customer support and sales processes, by utilizing a chat interface to interact with potential customers.
The Chatbot can be integrated with any chat channel, which lets businesses engage with their customers directly within the chosen channels. Integrating a chatbot on the Shopify store makes it easier for customers to clear their doubts, ask questions, or get help.
It uses machine learning processing to understand customer inquiries and respond with the required information, like product recommendations, shipping and delivery details, and order status updates.
Why do you need Chatbot on your Shopify Store?
There are several reasons so as to why you must consider having a chatbot on your Shopify store. Some of the them include:
24/7 Customer Support


Chatbots can provide round-the-clock customer support, which is particularly helpful for businesses that operate in different time zones or have customers from all over the world. This can help increase customer satisfaction and loyalty.

Instant Responses


Chatbots can provide instant responses to common customer queries, such as shipping information or return policies. This helps reduce the response time and improves the overall customer experience.

Personalization


By analyzing customer data, chatbots can personalize the shopping experience for each customer. For example, they can suggest products based on the customer's browsing history or previous purchases.

Increased Sales


Chatbots can also help increase sales by offering personalized product recommendations and guiding customers through the checkout process. They can also help reduce cart abandonment by addressing customer concerns or issues in real-time.

Cost-Effective


Chatbots can help reduce the workload on customer service representatives, freeing them up to focus on more complex queries. This can help reduce costs and improve efficiency.
How to add ChatBot to Shopify?
Let's get on the process to add ChatBot to the Shopify store:
Step 1: Go to the Shopify App Store, and search for ChatBot.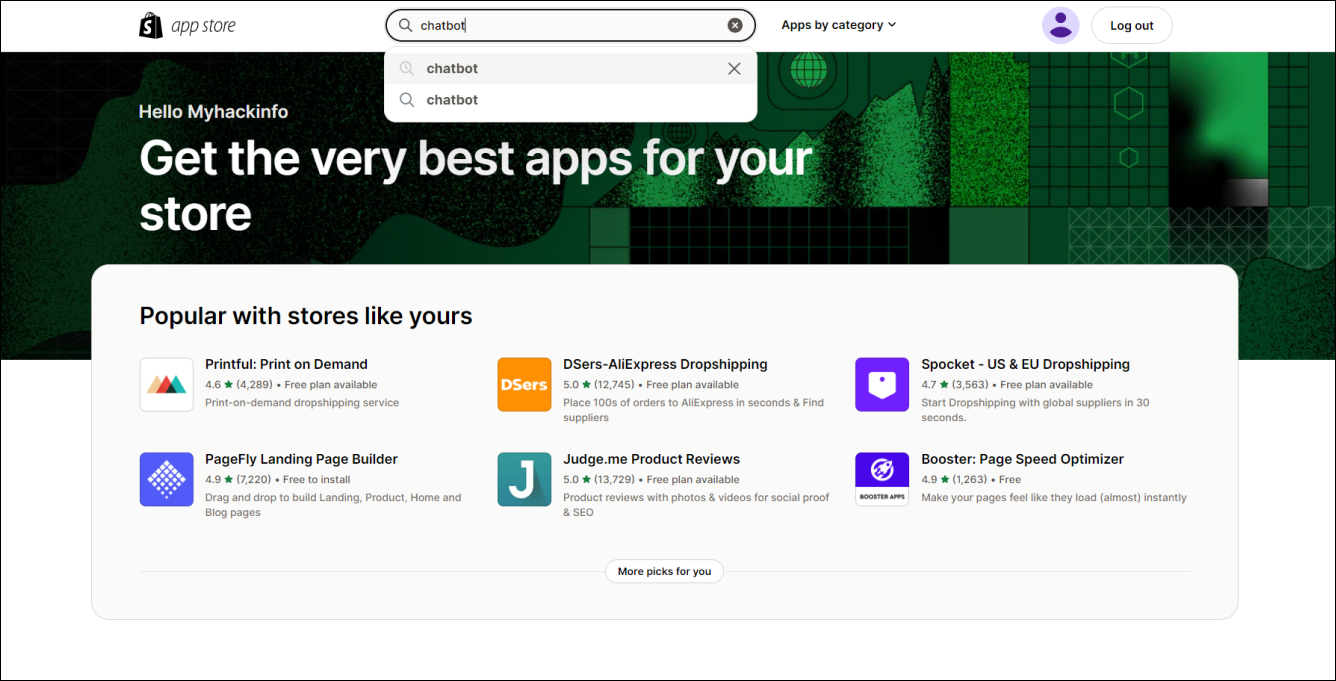 Step 2: Here are the results for your search query. Go for the highlighted ChatBot App.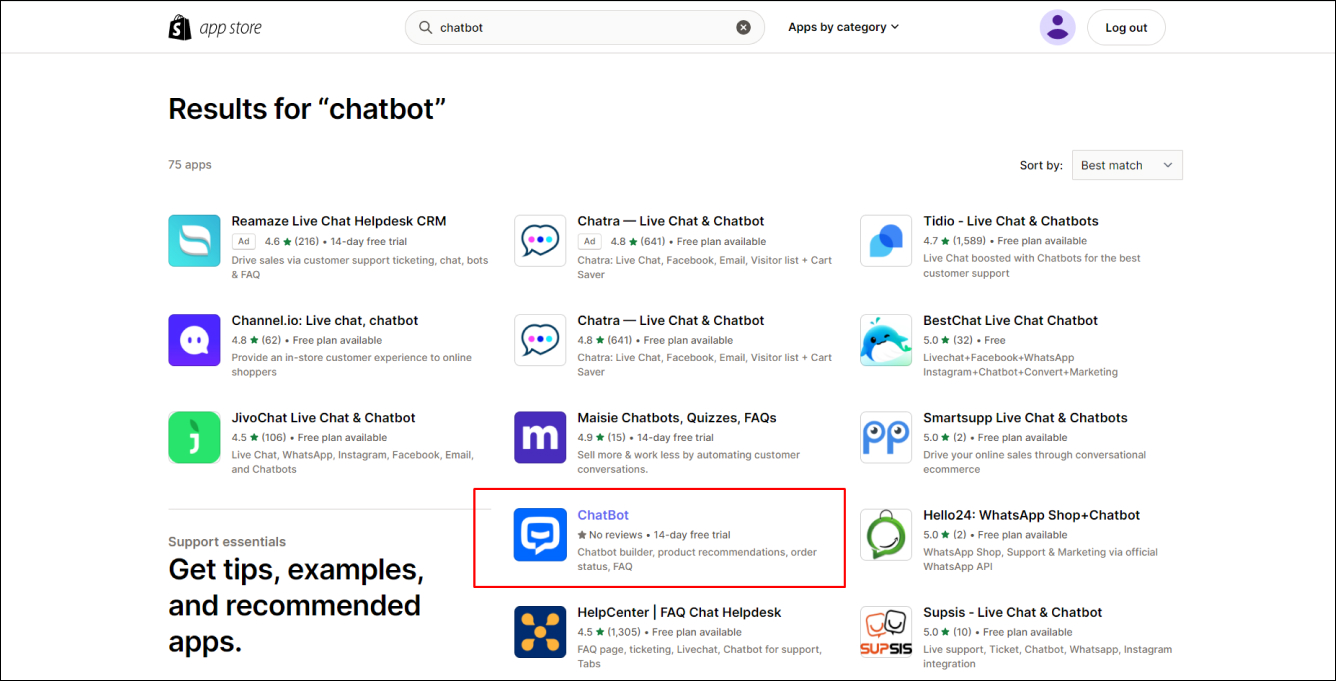 Step 3: Click on Add App.
Step 4: Next, you need to click on Install App.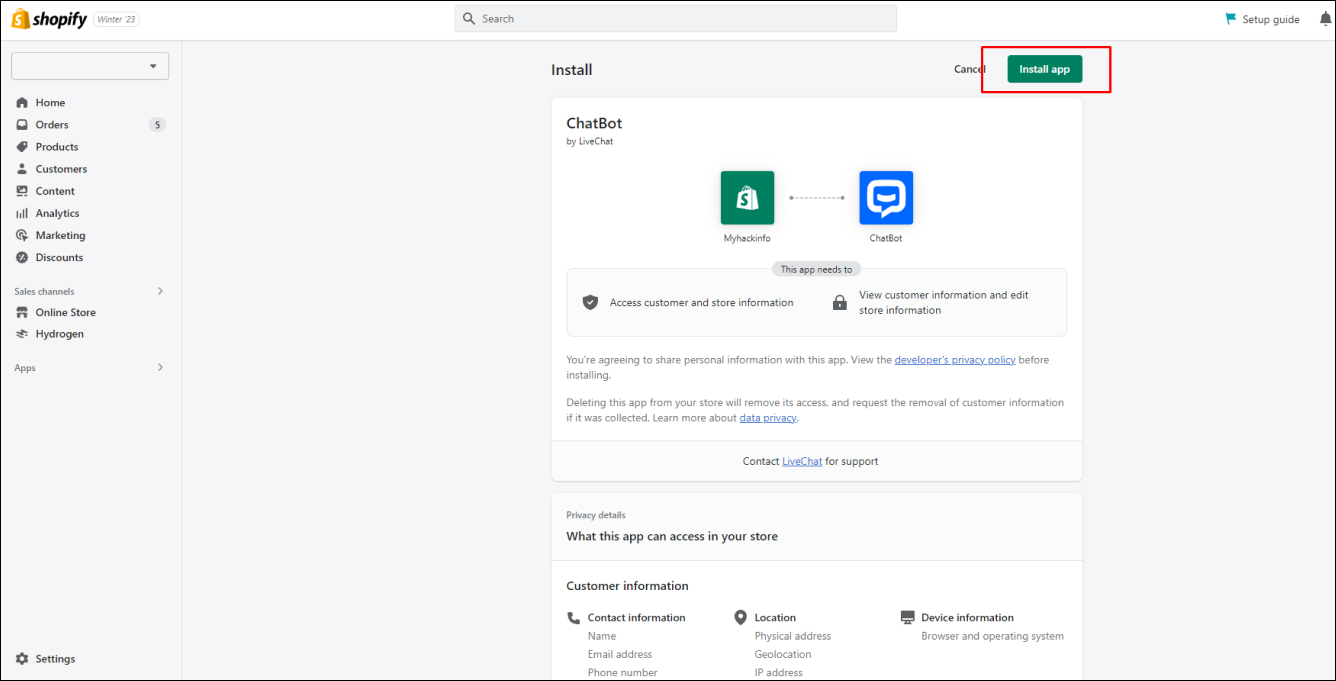 Step 5: After installing the app, you need to log in to your existing ChatBot account (if you've one). Or, if you're a new user, you need to click on Sign up to set up your account.
Step 6: Next step is to configure the integration for your ChatBot. For that, you'll have three basic options:
Use a ChatBot template: It lets you import templates from Shopify. This requires customization of the template after integration.
Select an existing Story: In this option, you can choose the Stories that you've already created.
Build from scratch: It lets you create your ChatBot from scratch.
Select one of the above options as per your requirements.
Step 7: Depending on the choice you've made, you can either:
Provide a name for your ChatBot
Select a story that you've already created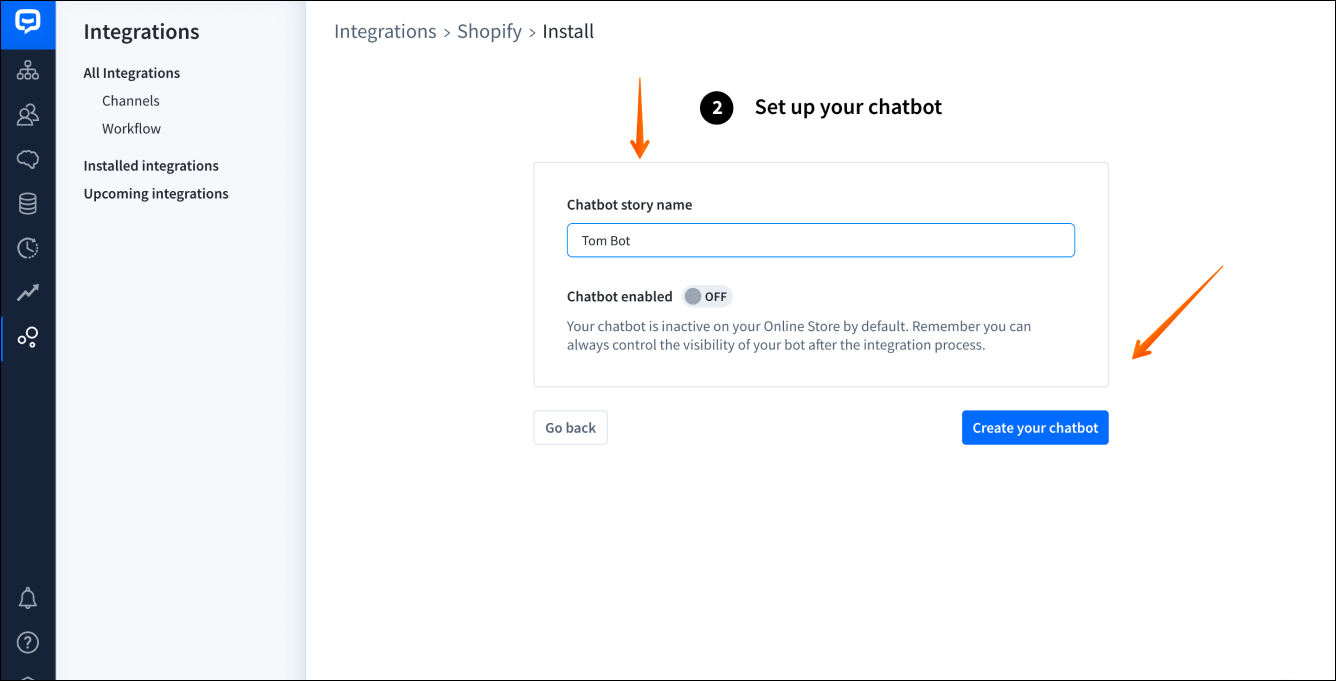 Step 8: Next, to manage the ChatBot, click on Continue.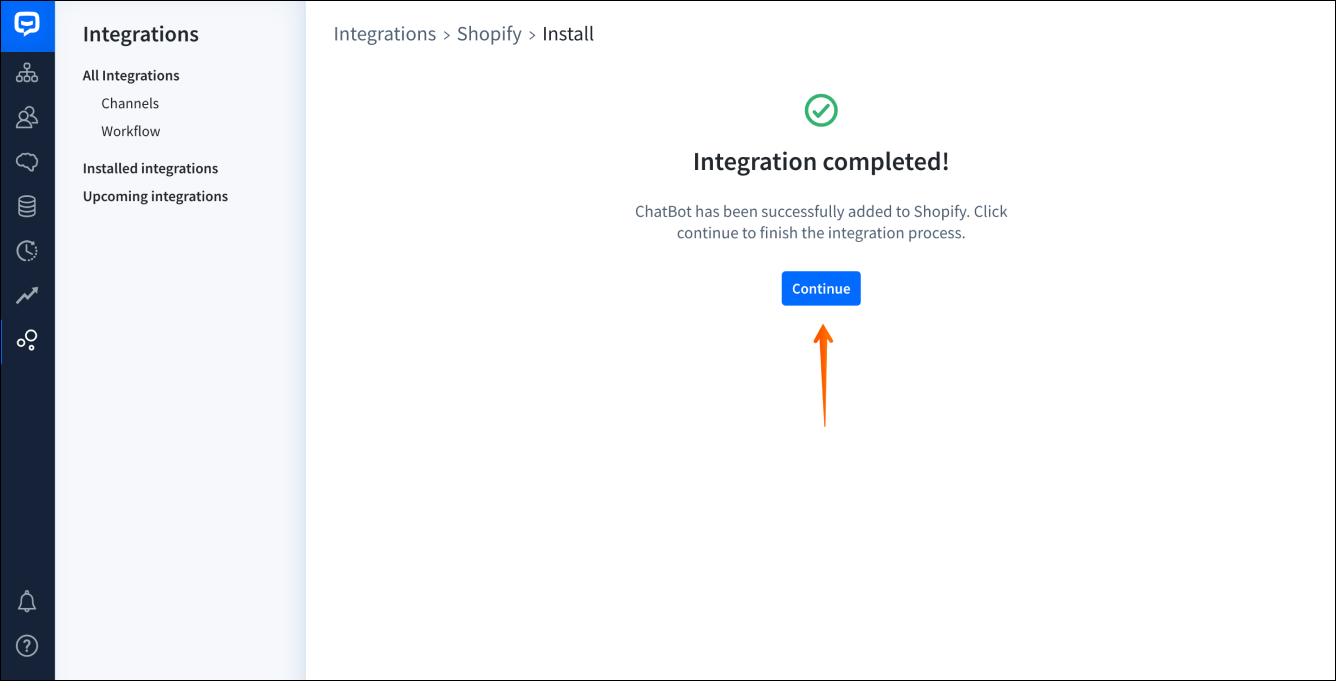 Step 9: The next option that you'll get is to either turn on or off the ChatBot for your Shopify store.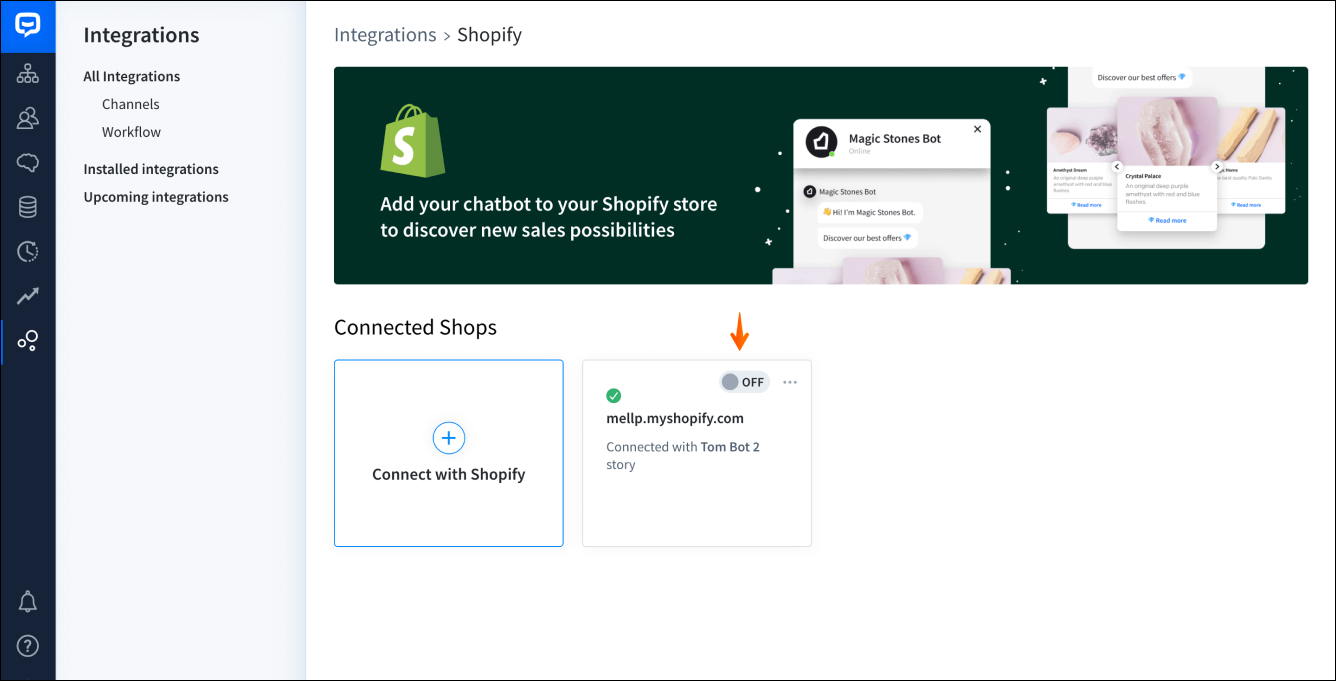 Step 10: To edit or customize the widget or story, click on the three dots icon. This way, you can do the needful.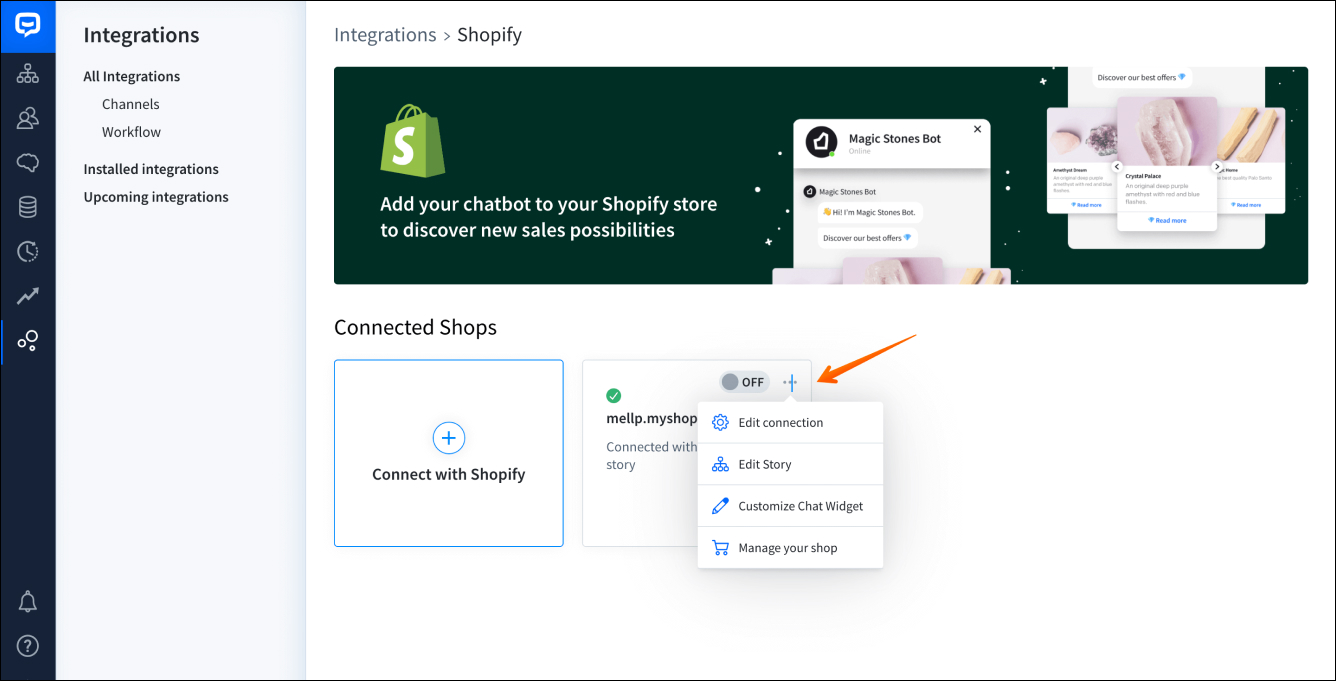 How you can use Shopify ChatBot to grow your e-commerce business?
Shopify ChatBot can prove to be one of the most powerful tools for growing your e-commerce business since it can provide a personalized shopping experience to your customers.
It can also be used to take your e-commerce business to the next level. Some of the possible ways include:
Customer Support


You can use ChatBot to provide dedicated or 24/7 customer support to your customers. Additionally, it can help you answer frequently asked questions, provide shipping and tracking information, and help customers navigate your website.

Lead Generation


The Shopify ChatBot can be used to gather customer information and generate more leads for your business. Furthermore, you can offer discounts or other incentives in exchange for customer email addresses, which can help you build your email list.

Upselling & Cross-Selling


The ChatBot can suggest complementary products or upsell higher-priced items based on the customer's shopping history and preferences.

Cart Abandonment


The ChatBot can send personalized messages to customers who have abandoned their shopping carts, reminding them of the items they left behind and offering incentives to complete their purchases.

Order Tracking & Status Updates


Use the ChatBot to provide customers with real-time updates on the status of their orders, including tracking information and delivery estimates.

Product Recommendations


The Shopify ChatBot can suggest products based on a customer's browsing and purchase history, making it easier for customers to find what they are looking for

Surveys & Feedback


You can use ChatBot to gather customer feedback and insights through surveys and polls. This can help you improve your products, services, and customer experience.
Summing Up
It is crucial for your e-commerce business to have a chatbot such that you get the most out of your Shopify platform. This way, you can automate most recurring activities such as customer support, sales, and marketing.
With Shopify's ChatBot, you can take your e-commerce store to the next level and ensure that your customers get the best at every stage of the purchasing journey.
So, let's grow your online store with Shopify ChatBot and deliver an outstanding experience to your customers.
If you've any further questions, reach out to our Shopify developers today!
Looking to customize your Shopify store further? Check out the below-mentioned blogs!
Guide to Add Section in Shopify Store
Add Product Reviews to Your Shopify Store