15+ Best Shopify Themes in 2023 to Boost Conversion Rates
Introduction
Choosing the best Shopify theme for your store may feel like a tedious and daunting task to an individual – and especially if you're just starting out. You have to find themes, try them, test them, and determine the one that goes with your brand.
So, how can you find the best Shopify themes for your e-commerce store?
According to the best Shopify experts, getting the best theme for your online store is one of the crucial things that you can do for your business. Having said that, you can find many e-commerce websites out there that leave a great and long-lasting impression on visitors and customers.
Picking a good Shopify theme could make all the difference between having your website appealing or unprofessional. It can either make or break your business.
To the process easier for you, we have tried and tested almost all the themes and hand-picked the 15+ best themes for your Shopify store to help you get started.
So, without further delay, let's get into the best themes for Shopify stores straightaway!
Best Themes for your Shopify Store
1. Dawn
Price: Free
Key Features:
Responsive design
Customizable homepage sections
User-friendly navigation
Multilingual support
Fast loading speed
SEO-friendly theme
Social media integration
Customizable color options
Product filtering and sorting
Product zoom feature
2. Wokiee
Price: $69
Key Features:
Product zoom
Responsive design
Multiple product page templates
Multilingual support
Fast loading speed
SEO-friendly theme
Product image gallery
Social media integration
Customizable color options
3. Ella
Price: $79
Key Features:
Multiple Layout Options
Megamenu and AJAX Navigation
Advanced Cart Optimization
Mobile Responsiveness Options
Various Content Sections for Homepage
Product Custom Tab
Product Countdown
Size Chart Options
Collection Sidebar Filtering
4. Minion
Price: $250
Key Features:
Best Customization options
24 sections everywhere
3 different menu types
Flexible design settings
Variety of predefined layouts
Offers great e-commerce experience
Fast loading speed
Mobile Responsive
5. Mysterio
Price: $39
Key Features:
10+ homepage layouts
Variety of Shopify apps
Wishlist & product compare
Shopify visual builder
Shopping cart & quick view
Dynamic blocks on the product page
Call-to-action pop-ups
Advanced media on product pages
6. District
Price: $220
Key Features:
Default features
Marketing email popup
Color swatches
Best customer support
EU translation
Various checkout options
7. Vendy
Price:
Regular License – $48
Extended License – $10,000
Key Features:
Light-weight theme
Fast loading speed
10+ Homepage layouts
Lookbook fashion pages
Size guide pop-up
SEO-friendly theme
Mobile-friendly theme
Works with various Shopify apps
8. Roxxe
Price:
Regular License – $59
Extended License – $10,000
Key Features:
Easy Shopify app integration
Unique store
Customizable headers & footers
Collection of catchy banners
Various pop-ups
9. Impulse
Price: $350
Key Features:
Mega menu list
Amazing product promotion functions
Color swatch options
Advanced product filtering & sorting
Product highlighting features
10. Icon
Price: $260
Key Features:
Shopify theme default features
Parallax scrolling
Google web fonts
Built-in & cross-sell function
Quick setup with easy steps
Enhanced promotion with in-menu promo, banners, and tiles
11. Empire
Price: $180
Key Features:
Built for large catalogs
Contemporary design
Quick purchase
Custom promotion
Advanced product filtering
Enhanced color palettes
Mobile ready design
Pre-added social media icons
12. Split
Price: $180
Key Features:
Visually appealing layout
Optimized for handling large images
Unique slideshow
Social feed integration
Dual menu options
Customer testimonials display
Customizable homepage sections
Mobile responsive
SEO-friendly
Integrated free stock photos
13. Responsive
Price: $240
Key Features:
Shopify theme default features
Versatile Sidebar
Currency conversion
Instagram Feed
Wide layout
14. Testament
Price: $260
Key Features:
Shopify theme default features
Product quick view
Sticky navigation
Various product promotion options
Easy navigation
Better in-store search
15. Motion
Price: $350
Key Features:
Product quick views
Product filtering & sorting
Advanced customization options
Support various types of media files
Product promotion functions
Enhanced collection page navigation
Mobile-friendly
Perfect for high-volume online stores
How to choose the right Shopify theme?
With ample options available at your fingertips, choosing the right theme for your Shopify store can become a daunting task. Also, it can greatly impact the success of your online store.
So, below are some factors that you need to consider when selecting a Shopify theme:
The niche of your store: Determine the niche of your store, and select a theme that is designed for your industry or type of products.
Design & Style: Consider the overall design and style of the theme, including the color scheme, typography, and layout. Ensure it aligns with your brand identity such that it attracts your target audience.
User Experience: User experience is crucial for e-commerce success. Make sure the theme is easy to navigate, and that includes clear calls to action, and also has a fast-loading speed.
Customization Options: Consider how easily the theme can be customized to fit your brand and ensure it includes functionalities that you need for your Shopify store.
Mobile Responsiveness: With the majority of online shopping done on mobile devices, it's essential to choose a theme that is fully optimized for mobile devices.
Support & Updates: Ensure the theme is regularly updated. This will ensure that it remains compatible with the latest version of Shopify.
Cost: Lastly, consider the cost of the theme such that it fits within your budget. Free themes may be suitable for start-ups, while more expensive themes may offer more customization options.
Best Shopify Themes – Which Theme is Perfect For You?
In the previous part of this blog, you must have gone through 15+ best Shopify themes for your online store. In case you're still not aware of which theme to go with, this blog part is for you!
In this section, we'll break the above-mentioned Shopify themes into four different categories. This way, you'll find one theme that suits your online store ideally.
Best free Shopify theme: Dawn
Top premium Shopify themes: Impulse, District, Responsive, Testament, Icon
Finest Shopify themes for dropshipping: Dawn, Roxxe, Vendy
Top Shopify themes for SEO: Ella, Responsive, Testament, Vendy
How to Install a Shopify Theme?
So, have you chosen a Shopify theme? Well, we're sure you must have picked an ideal theme for your Shopify store.
The next challenge that you can encounter on the way is to get it installed.
In case you're a beginner when it comes to installing a Shopify theme, have a look at this guide. Here are the steps that can help you get started!
Step 1: From your Shopify admin panel, navigate to the Themes section.
Now, click on the Add Theme > Visit Theme Store button to browse the Shopify theme library.
Step 2: Browse the theme library and select the theme for your Shopify store.
Step 3: Click the Try theme button to try out the theme.
Once you're ready to further put it as the main theme for your Shopify store, purchase it with a one-time, non-refundable fee.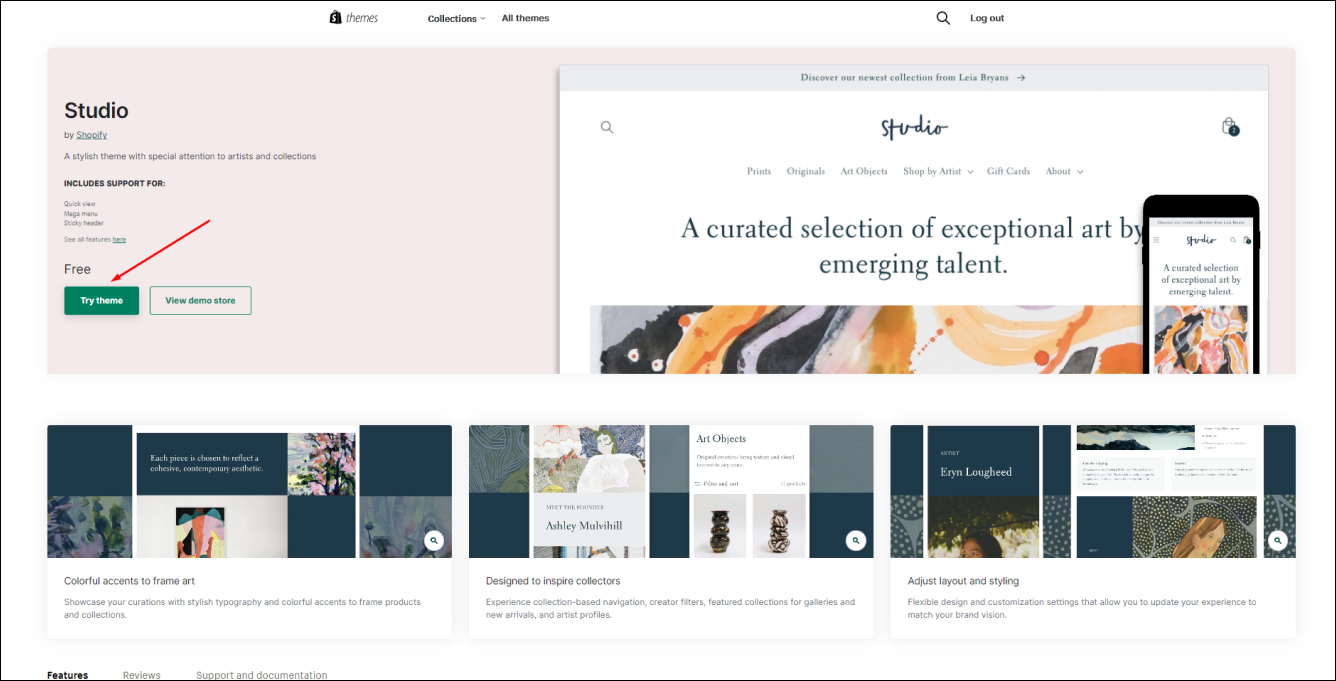 Step 4: After installing the theme, you can further customize it to match your business style, personality, and brand. Also, you can change the logo, colors, fonts, and layout, by using the theme editor.
Step 5: If you're OK with the changes, save the theme and preview it on your live site to ensure everything looks good.
Next, you can make it your main theme and start using it on your live site.
Wrapping Up
Choosing a good theme for your Shopify store is critical for its success in the e-commerce industry.
Go through these best Shopify themes, and consider whether it's a perfect fit for your brand and products. Some of the mentioned themes are particularly ideal for specific niches like fashion, while others are more suited for catalogs.
It is crucial that you ensure the fact that you go for the theme that fits your Shopify store like a mask, and not that's simply amazing or appealing by the look!
Now that your Shopify theme is in place, why not consider organizing your store's pages? Go through the blog!
Below are some more articles we think might be useful for you:
How to Add Shopify Product Recommendations?
How to Add Filters to Shopify Store?
How to Create Discounts on Shopify?
If you're looking to get a customized theme developed for your Shopify store, reach out to us for custom theme development services.
Get in touch with us today!