15+ Best Shopify Themes in 2023 to Boost Conversion Rates
Introduction
Choosing the best Shopify theme for your store may feel like a tedious and daunting task to an individual – and especially if you're just starting out. You have to find themes, try them, test them, and determine the one that goes with your brand.
So, how can you find the best Shopify themes for your e-commerce store?
According to Shopify experts, getting the best theme for your online store is one of the crucial things that you can do for your business. Having said that, you can find many e-commerce websites out there that leave a great and long-lasting impression on visitors and customers.
Picking a good Shopify theme could make all the difference between having your website appealing or unprofessional. It can either make or break your business.
To the process easier for you, we have tried and tested almost all the themes and hand-picked the 15+ best themes for your Shopify store to help you get started.
So, without further delay, let's get into the best themes for Shopify stores straightaway!
Best Themes for your Shopify Store
Below is a comparison table for the best Shopify themes for your online store. Have a look at them!
| | | |
| --- | --- | --- |
| THEME NAME | PRICE | TOTAL RATINGS |
| Dawn | Free | 9.6 |
| Be Yours | $280 | 9.2 |
| Symmetry | $320 | 8.2 |
| Minion | $250 | 5.0 |
| Impulse | $350 | 9.6 |
| District | $220 | 8.6 |
| Atlantic | $280 | 9.7 |
| Streamline | $350 | 9.5 |
| Parallax | $240 | 9.6 |
| Icon | $260 | 9.4 |
| Empire | $180 | 9.4 |
| Split | $180 | 9.7 |
| Responsive | $240 | 9.6 |
| Testament | $260 | 9.2 |
| Motion | $350 | 9.0 |
Now, let's learn about each Shopify theme individually!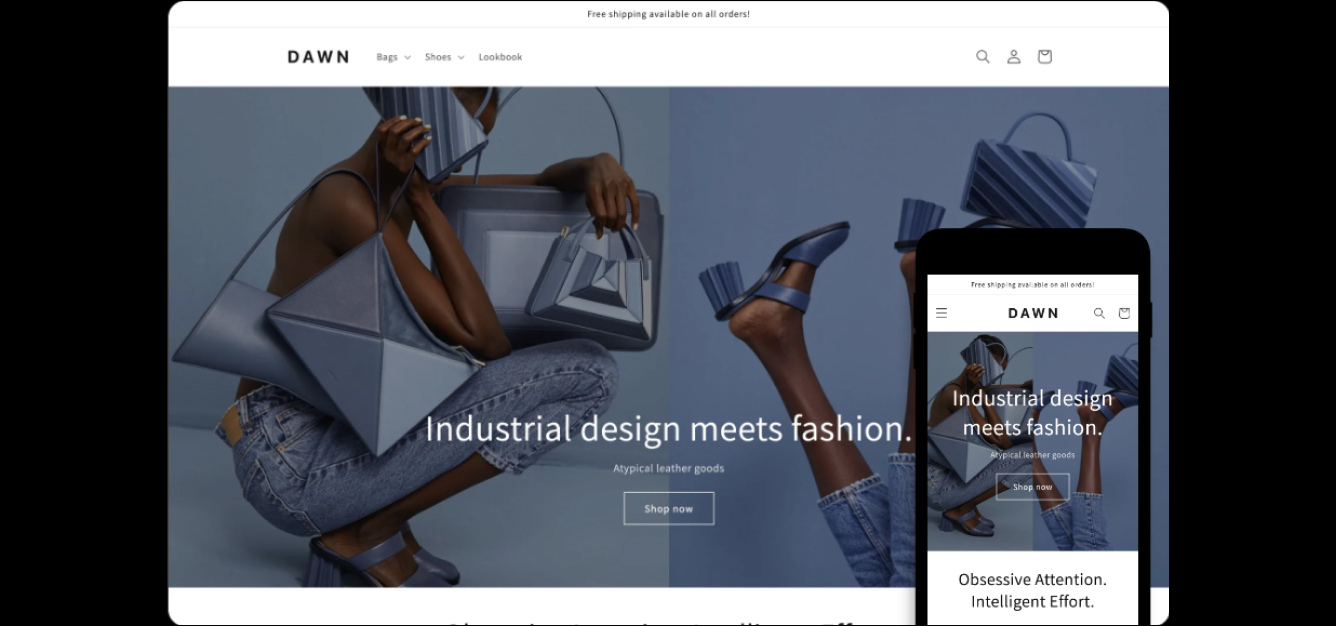 Price: Free
Key Features:
Responsive design
Customizable homepage sections
User-friendly navigation
Multilingual support
Fast loading speed
SEO-friendly theme
Social media integration
Customizable color options
Product filtering and sorting
Product zoom feature
Price: $280
Theme styles: Sweet, Peace, Dark, Beauty, and Trendy
Key Features:
Pre-order & quick buy buttons
EU translations
One-product store compatibility
In-store pickups options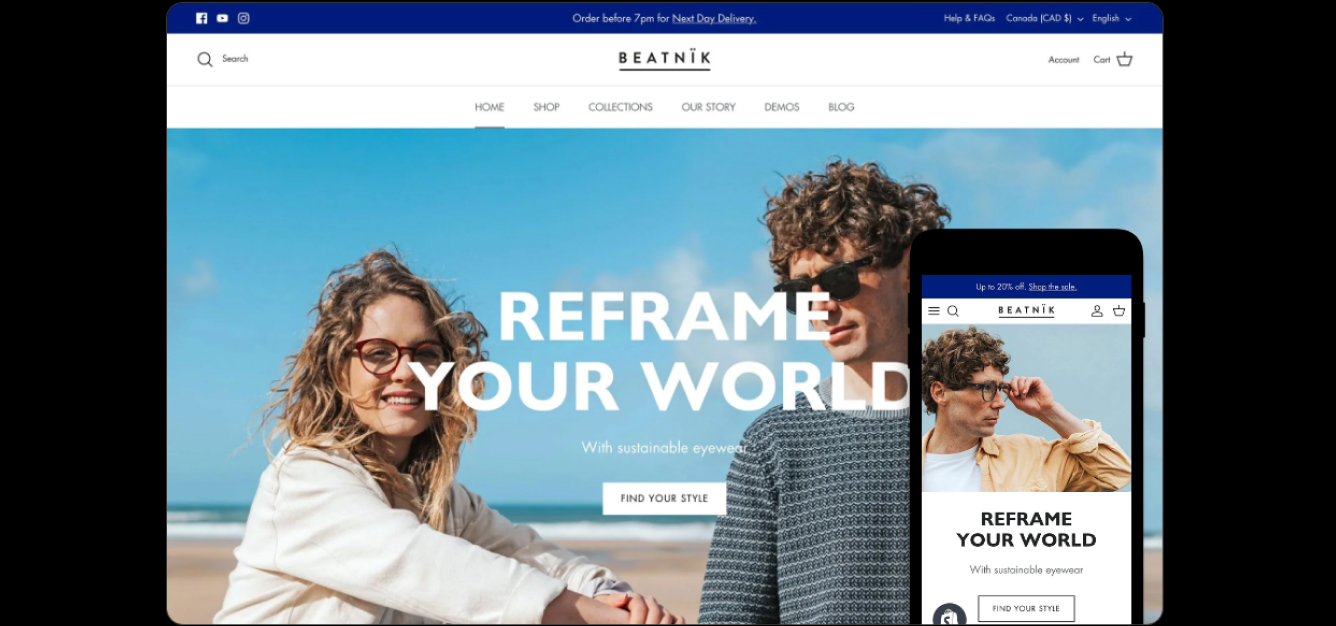 Price: $320
Theme styles: Beatnik, Chantilly, Duke, and Salt Yard
Key Features:
Multiple promotional sections
Clean & minimalist design
High-resolution product images
Customer reviews sections
In-menu promotions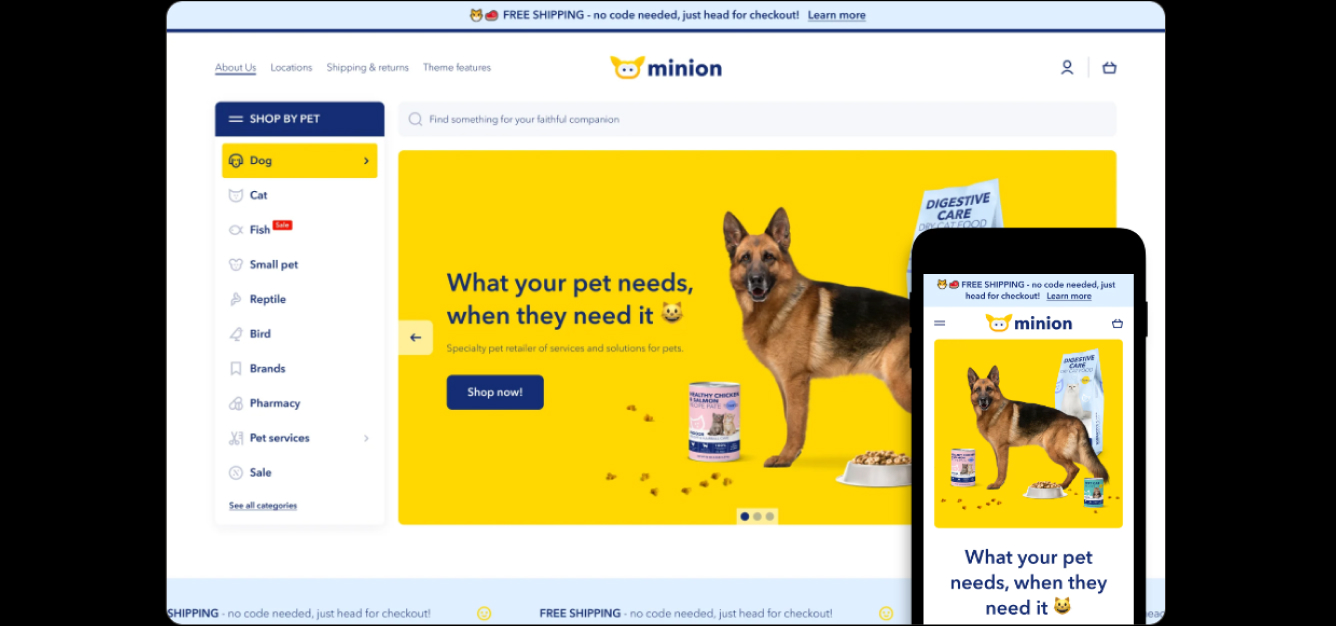 Price: $250
Theme styles: Vertical, Tiles, Classic, Red, and White
Key Features:
Best Customization options
24 sections everywhere
3 different menu types
Flexible design settings
Variety of predefined layouts
Offers great e-commerce experience
Fast loading speed
Mobile Responsive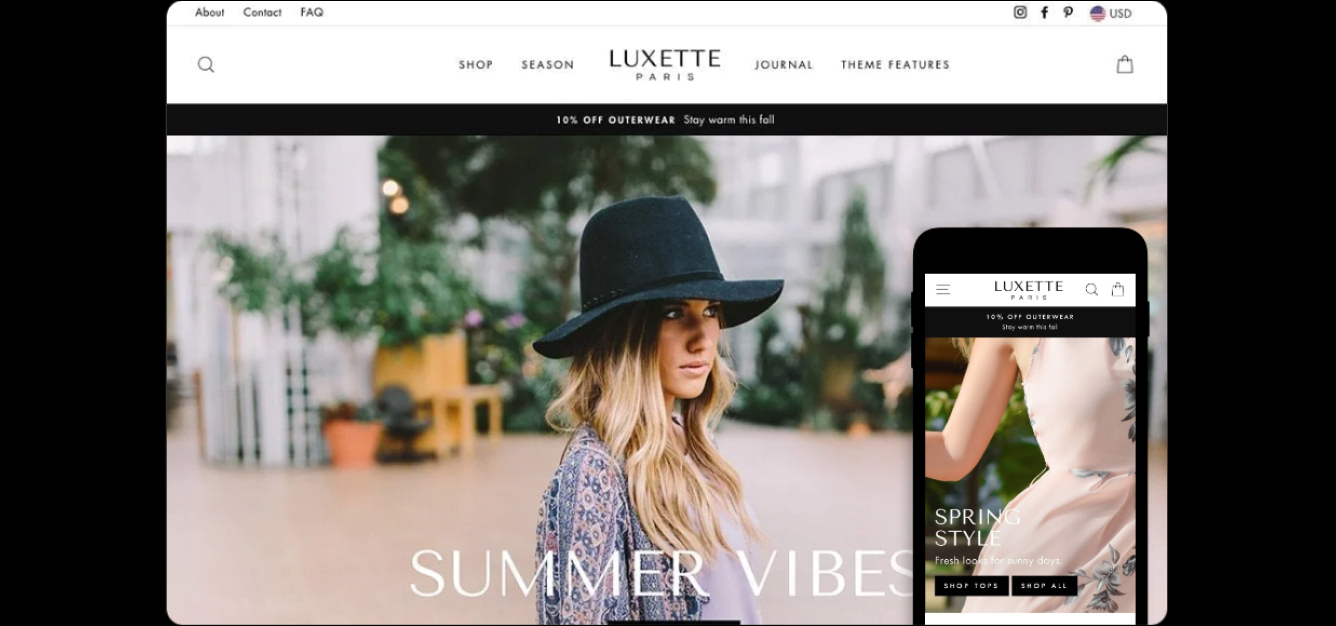 Price: $350
Theme styles: Modern, Bold, and Clean
Key Features:
Multifunctional promotion designs
Drag-and-drop customization tools
EU translation system
Recently viewed product section
Built-in sales countdown timer
Price: $220
Key Features:
Default features
Marketing email popup
Color swatches
Best customer support
EU translation
Various checkout options
Price: $280
Theme styles: Chic, Modern, Organic, and Light
Key Features:
Product images zoom in & out
Live search and filtering of products
Product badges & reviews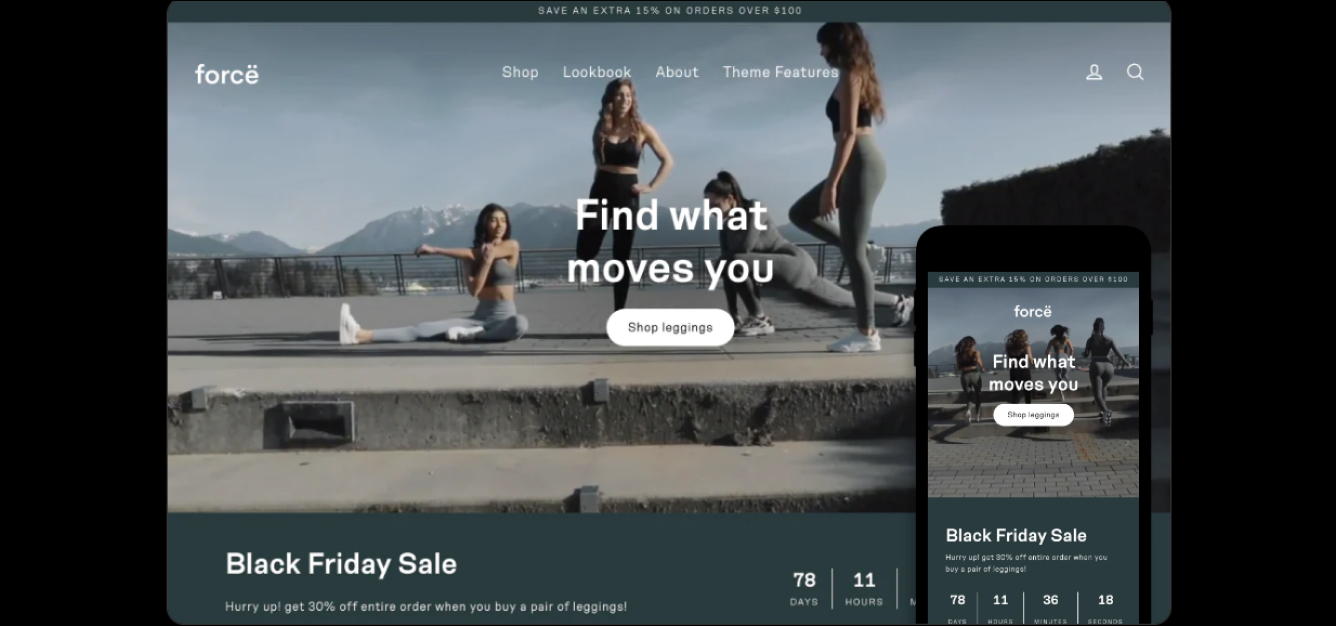 Price: $350
Theme styles: Luxe, Hype, and Core
Key Features:
Color swatches
Countdown timer
Running time-based promotions
Slide-out & sticky cart
Before & after image slider
Price: $240
Theme styles: Aspen, Madrid, Vienna, and Los Angeles
Key Features:
Mini dropdown login & cart
Promotion banners & popup
Product filtering & sorting
Related product section
Back-in-stock alert
Price: $260
Theme styles: Doice, Yves, Christian, and Vera
Key Features:
Shopify theme default features
Parallax scrolling
Google web fonts
Built-in & cross-sell function
Quick setup with easy steps
Enhanced promotion with in-menu promo, banners, and tiles
Price: $180
Theme styles: Supply, Graphic, Industrial, and Depot
Key Features:
Built for large catalogs
Contemporary design
Quick purchase
Custom promotion
Advanced product filtering
Enhanced color palettes
Mobile ready design
Pre-added social media icons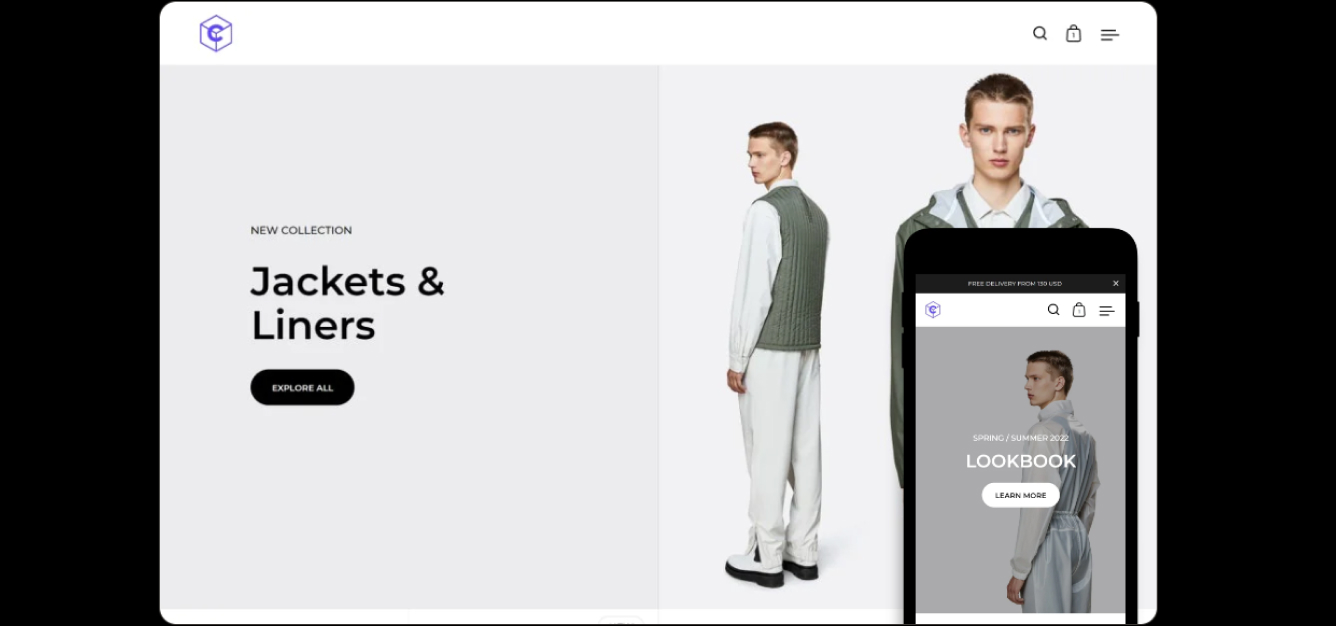 Price: $180
Theme styles: Cuber, Looker, and Jagger
Key Features:
Visually appealing layout
Optimized for handling large images
Unique slideshow
Social feed integration
Dual menu options
Customer testimonials display
Customizable homepage sections
Mobile responsive
SEO-friendly
Integrated free stock photos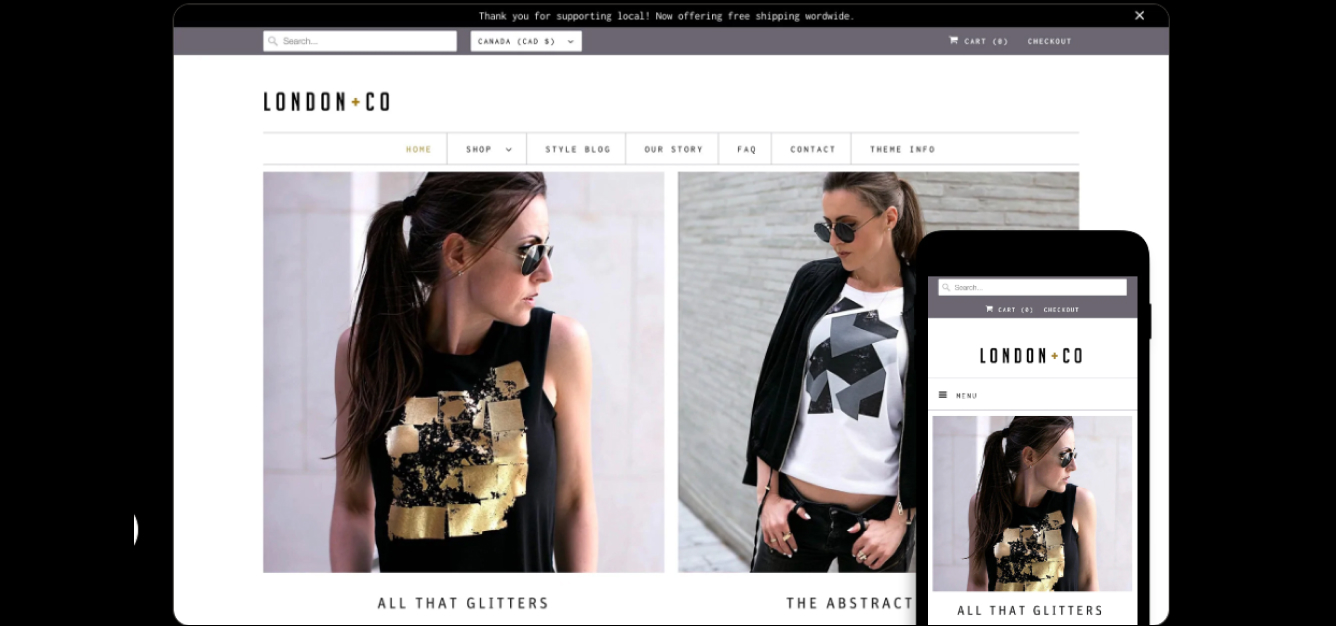 Price: $240
Theme styles: New York, San Francisco, London, and Paris
Key Features:
Shopify theme default features
Versatile Sidebar
Currency conversion
Instagram Feed
Wide layout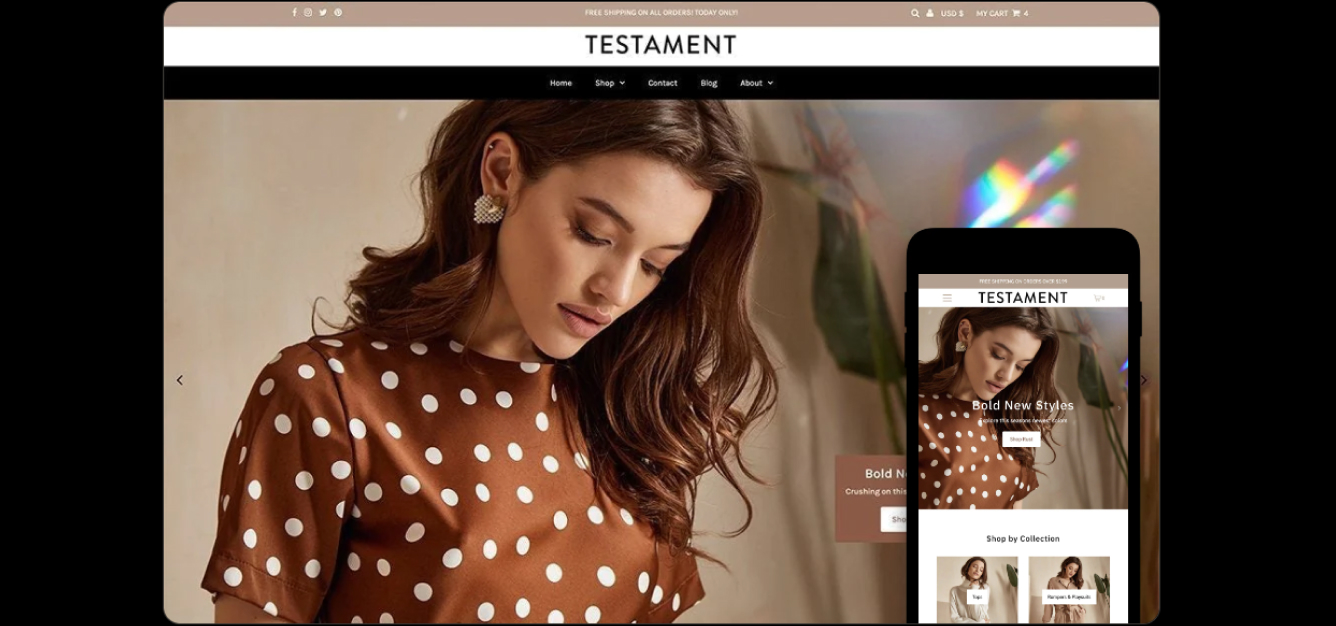 Price: $260
Theme styles: Genesis, Exodus, Revelation, and Deliverance
Key Features:
Shopify theme default features
Product quick view
Sticky navigation
Various product promotion options
Easy navigation
Better in-store search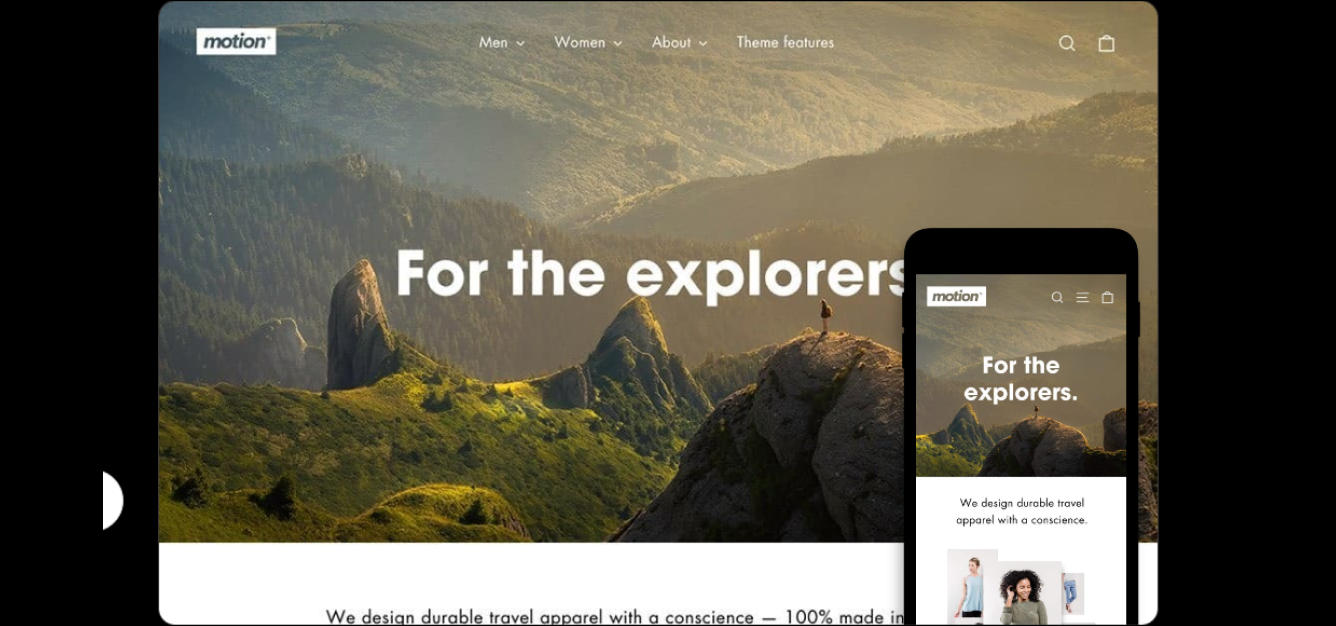 Price: $350
Theme styles: Classic, Elegant, and Minimal
Key Features:
Product quick views
Product filtering & sorting
Advanced customization options
Support various types of media files
Product promotion functions
Enhanced collection page navigation
Mobile-friendly
Perfect for high-volume online stores
Signs of High-Converting Shopify Theme
A high-converting Shopify theme often comes with several key features that make the user experience smooth and seamless, eventually encouraging customers to make a purchase. Here are some signs to look for when identifying a high-converting Shopify theme:
Responsive Design: The theme should adapt well to any screen size, from mobile devices to desktops. As more people are shopping from their smartphones, a mobile-friendly design is a must.
Fast Loading Times: Online shoppers are often impatient and may leave your store if it takes too long to load. A high-converting theme is lightweight and optimized for speed.
Easy Navigation: Your theme should make it easy for customers to find what they're looking for. This includes intuitive menus, clear categories, and effective search functions.
Quality Product Display: Good themes let your products shine with high-quality images and plenty of space for descriptions and specifications. Zoom functions, video capability, and multiple images per product are good features to have.
Efficient Checkout Process: The checkout process should be straightforward and quick, with minimal steps required to complete a purchase. The ability to offer guest checkout can also boost conversions.
Customer Reviews & Testimonials: Social proof can be a powerful conversion booster. Look for themes that support customer reviews and testimonials.
SEO-Friendly: The theme should be SEO-friendly to help you rank higher in search engine results, driving more organic traffic to your store.
Cross-Selling & Upselling Features: Features like related products, frequently bought together, or personalized product recommendations can help increase the average order value.
Email Capture & Marketing Integration: Themes that support lead capture (like popup forms for email signup) and integration with email marketing services can help you build and nurture customer relationships.
Customizability: A good theme is flexible and lets you adjust its design elements to match your brand and appeal to your target audience.
Built-in Analytics: Some themes have built-in analytics features to help you understand your customers' behavior and refine your strategies for better conversion.
How to Pick a Highly Converting Shopify Theme?
With ample options available at your fingertips, choosing the right theme for your Shopify store can become a daunting task. Also, it can greatly impact the success of your online store.
So, below are some tips to choose from when selecting a highly converting Shopify theme:
1. Smooth User Experience
First things first, you need to have a theme for your Shopify store that offers smooth navigation and a user experience that makes their customers return to your store for making purchases in the future.
Thus, while picking a theme for your store, don't just go by the visual appeal, but also go for the one that's functional.
2. Lightweight Design
Ideally, your Shopify store shouldn't take more than 3 seconds to load.
But today many Shopify themes have a fancy navigation bar, too many videos, and many pages due to which the average load times of the store increase.
Hence, you must go for a theme that's lightweight and offers reduced page load times such that you don't miss out on prospective customers.
3. Offers Dedicated Support
Dedicated support from the theme developer plays a crucial role in troubleshooting any issues that you might face after pushing it live on your store. Thus, ensure that you go through the reviews and ratings before coming to a decision.
4. Short & Seamless Checkout Process
A customer hates going through a long checkout process to make a purchase from your store. This can even let them abandon the cart from your store.
Hence, you need to look for a theme that offers:
A simple checkout process
Guest checkout
A progress bar
Noticeable checkout and payment buttons
5. Integrated SEO Features
If your customers aren't able to discover your store on search engine result pages, there's no need of using a highly-converting theme. Shortlist a theme that offers some SEO features such that your store ranks well on the search engines.
Some of the main features that it must include are:
SEO Title tags and headers
Meta title and description
Featured snippets
Broken link analysis, etc.
6. Mobile Responsive Design
Most people forget to consider mobile responsiveness as a major factor while choosing a Shopify theme. This ends up costing them a number of mobile shoppers.
Thus, you must ensure that the selected theme must be mobile responsive and check whether the navigation is perfect on mobile, images fit better, CTAs are honed properly, and the site loads faster on mobile devices.
Best Shopify Themes – Which Theme is Perfect For You?
In the previous part of this blog, you must have gone through 15+ best Shopify themes for your online store. In case you're still not aware of which theme to go with, this blog part is for you!
In this section, we'll break the above-mentioned Shopify themes into four different categories. This way, you'll find one theme that suits your online store ideally.
Best free Shopify theme: Dawn
Top premium Shopify themes: Impulse, District, Responsive, Testament, Icon
Finest Shopify themes for dropshipping: Dawn, Atlantic, Motion
Top Shopify themes for SEO: Empire, Responsive, Testament, Symmetry
How to Install a Shopify Theme?
So, have you chosen a Shopify theme? Well, we're sure you must have picked an ideal theme for your Shopify store.
The next challenge that you can encounter on the way is to get it installed.
In case you're a beginner when it comes to installing a Shopify theme, have a look at this guide. Here are the steps that can help you get started!
Step 1: From your Shopify admin panel, navigate to the Themes section.
Now, click on the Add Theme > Visit Theme Store button to browse the Shopify theme library.
Step 2: Browse the theme library and select the theme for your Shopify store.
Step 3: Click the Try theme button to try out the theme.
Once you're ready to further put it as the main theme for your Shopify store, purchase it with a one-time, non-refundable fee.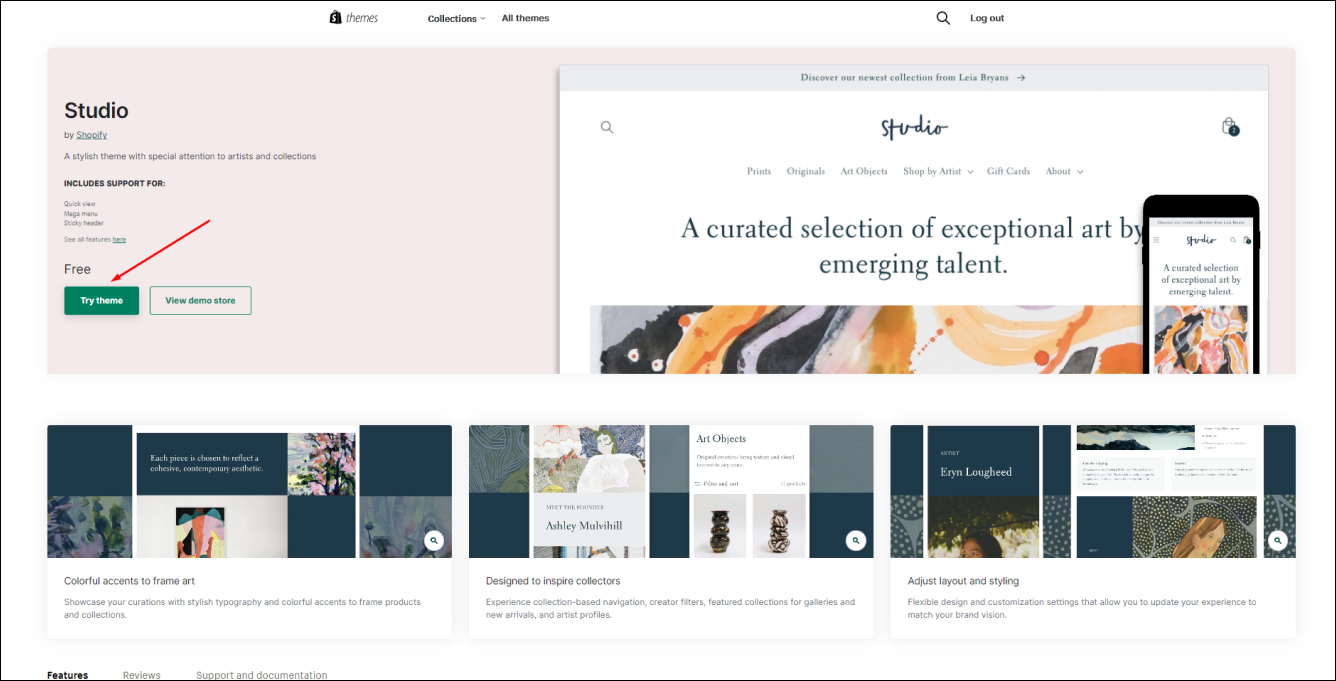 Step 4: After installing the theme, you can further customize it to match your business style, personality, and brand. Also, you can change the logo, colors, fonts, and layout, by using the theme editor.
Step 5: If you're OK with the changes, save the theme and preview it on your live site to ensure everything looks good.
Next, you can make it your main theme and start using it on your live site.
Wrapping Up
Choosing a good theme for your Shopify store is critical for its success in the e-commerce industry.
Go through these best Shopify themes, and consider whether it's a perfect fit for your brand and products. Some of the mentioned themes are particularly ideal for specific niches like fashion, while others are more suited for catalogs.
It is crucial that you ensure the fact that you go for the theme that fits your Shopify store like a mask, and not that's simply amazing or appealing by the look!
Now that your Shopify theme is in place, why not consider organizing your store's pages? Go through the blog!
Below are some more articles we think might be useful for you:
If you're looking to get a customized theme developed for your Shopify store, reach out to us for custom theme development services.
Get in touch with us today!