Shopify VS WooCommerce: Who Wins the Battle?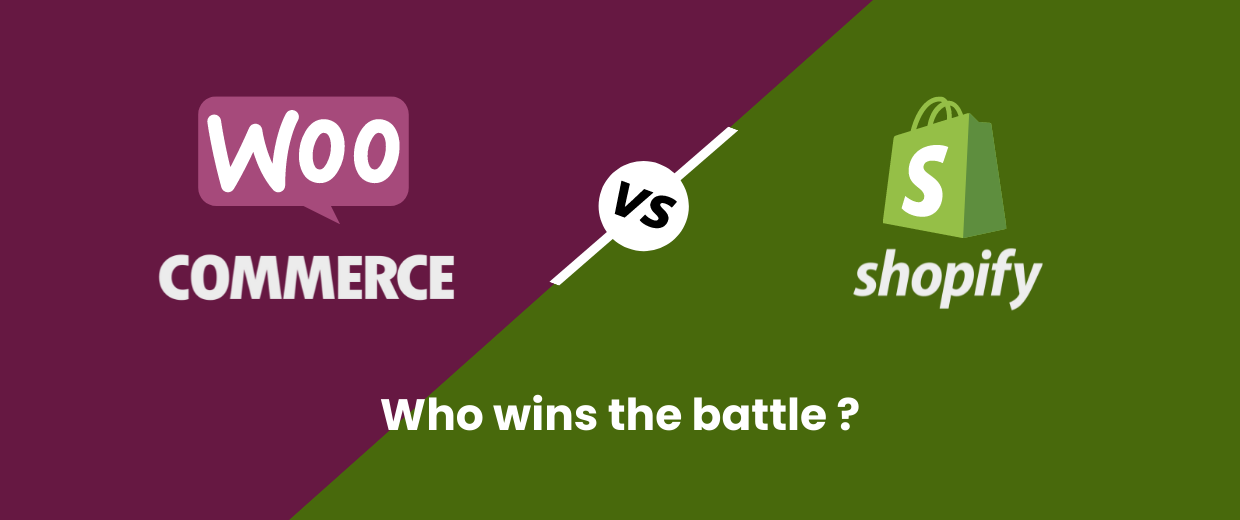 Are you looking for a platform to assist you in setting up your online store? And are confused between Shopify and WooCommerce? Shopify and WooCommerce are at the top of the hierarchy of e-commerce platforms both of them have their pros and cons. Choosing the right e-commerce platform is a very pivotal step for your business. With the help of our Shopify developers and designers at PRPWebs, we will aid you to make the right choice for your online store. The main intent of this article is to compare Shopify and WooCommerce with their advantages and disadvantages. Before we dive straight into the comparison between the two most popular and preferred e-commerce platforms, let's first get started with the basics and get a brief knowledge about Shopify and WooCommerce.
OVERVIEW

What is Shopify?
Shopify is an e-commerce platform that helps you make your online store in one click with inventories and payment gateways. Be it a small business or large business anyone can make their store with its help. It eliminates the technical aspects of managing a website like hosting, security, and caching.
What is WooCommerce?
WooCommerce is a non-proprietary e-commerce plugin constructed for WordPress. It grants you access to the most heavy-duty content management system (CMS). As every aspect of your website can be tailored and custom extensions can be added easily too WooCommerce is holding its position very firmly.
Traits your E-commerce Platform should Possess
Selecting an e-commerce platform completely depends on your requirements and level of skills. There are a few points that one should definitely consider before starting an online store. These are the core factors that play an important role in deciding which platform is the one for you.
Budgets:

The cost of starting a completely minimalist online store

Utility:

It should be easy to use.

Payment mechanism

: it should support various payment methods like PayPal and Stripe.

Integrations:

to enlarge your e-commerce business you should be able to integrate third-party tools and services.

Scalability:

the platforms should be able to mount as your business grows.
WOOCOMMERCE VS SHOPIFY: WHAT MAKES THEM DIFFERENT FROM EACH OTHER?
| Points | Shopify | WooCommerce |
| --- | --- | --- |
| Cost | The plans in Shopify start at $29 per month and can go up to $299 per month. To use your own domain name you would have to purchase it individually, they usually start at $ 14 a year. The most basic plan by Shopify is just enough for you to set up your online store. Each of the plans provided by Shopify includes web hosting and an SSL certificate. | WooCommerce is available as a free plugin for WordPress but you would need your SSL certificate, domain name, and WordPress hosting account to start your online store. The price of a domain name is $14.99, an SSL certificate will cost you $69.99 and a web hosting account will cost approximately $7.99/per month. |
| Utility | You won't need to install, manage or update any software because Shopify is a completely hosted platform. Even though it's entirely polished and guided and provides the finest user experience you can only design and develop via tools provided by Shopify. | You would have to install the plugins, manage updates and keep backups on your own. The security of your website lies in your hands only. Its flexibility gives control over the whole platform. But there is no bulletin drag and drop button present. |
| Payment mechanism | There are plenty of payment options including all the popular third-party payment gateways like PayPal and Amazon payments that Shopify provides to the customer checking out. But, it charges 2% transaction fees on transactions generated through third-party gateways. With its advances$299 a month plan you can reduce it to 0.5% | Paypal and Stripe payments are by default present there. It also supports all popular payment service providers. As WooCommerce is a self-hosted platform there are no extra charges you would only have to pay a transaction fee by your bank or through your payment gateway. |
| Integrations | Shopify has a mighty API and an app store. You can buy any feature add ons or extensions you want for your website in the app store. It contains both free and paid apps. Software's like optinmonster will help you in lead generation. | You will get more than 58,000 free WordPress plugins and more paid plugins. Low barrier of entry leads to a variety of add ons and integrations available for WooCommerce. |
| Scalability | You won't need to worry about the performance security and scalability of your online store as Shopify itself handles the technical parts. Your flourishing business can easily be handled by its infrastructure | You are responsible for every single step taken by your business here. Once your store will start getting more traffic your starters WooCommerce hosting plan will run out. To take you out of this problem it provides many options to manage your growth. At the end of the day, Your WooCommerce hosting cost will increase. |

Choose Shopify, if:
You are looking for 24/7 support, and want security to be taken care of for you
You want to launch an online store in a short period of time with limited or no technical knowledge
You are in need of sleek templates that are easy to customize
Choose WooCommerce, if:
You want to start your dream project with lots of customization involved
You are planning to build a large-scale online business operating in numerous locations
You are well aware of tech know-how and want full control over your store's design and hosting
We have unpacked all the main pointers related to the difference between WooCommerce and Shopify. Now, all you need to do is to choose the best platform for you. If you ask us, we would response that Shopify is the best platform. Undoubtedly, both WooCommerce and Shopify are excellent platforms but Shopify wins the battle with its ease of use, quick built time, and no limit on adding products to the store. Just because we prefer it over any other e-commerce platform, doesn't mean it's going to be preferred by everyone. Set your preferences right and choose best according to your needs and requirements.