Shopify Plus Pricing: Fees To Build A Shopify Plus Store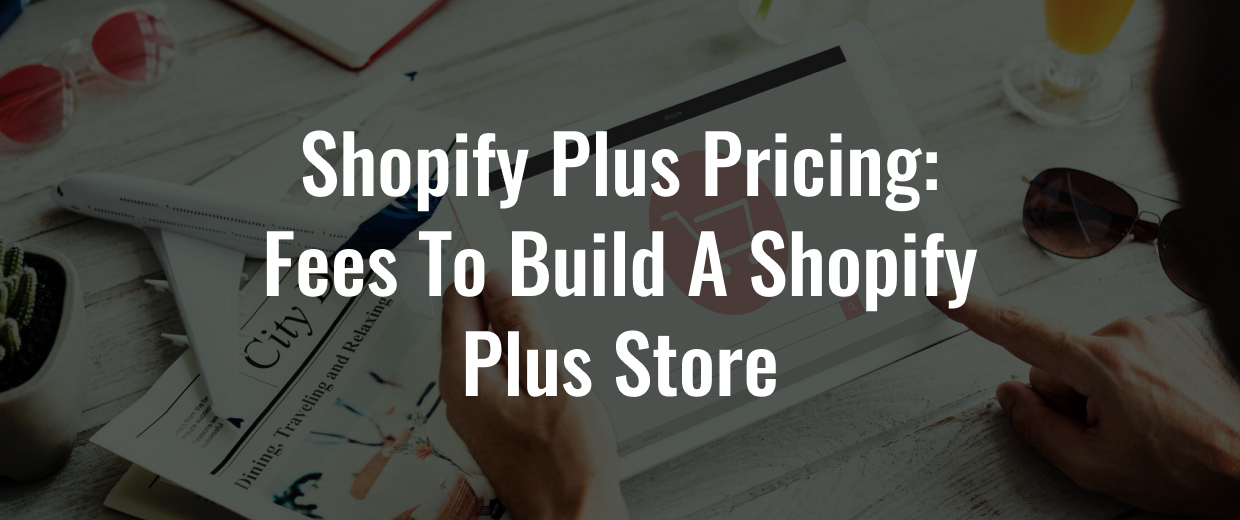 Shopify Plus is regarded as the most powerful enterprise-level e-commerce platform. It is trusted by many successful companies in the world, which includes Heinz, Red Bull, and more.
Shopify Plus is an option for those who want to improve their online store or need to upgrade from a less robust Shopify plan.
No doubt, costs are an important factor for every business. And when you're looking to upgrade a package or plan, the cost is the first thing that comes to your mind.
In this blog, we will deeply study what are the Shopify Plus pricing and the fees that you need to pay while on this plan.
So, let's dive straight into it!
What is the pricing of Shopify Plus?
If you're looking to work on your Shopify store by investing in a Shopify Plus plan, the first question that will come to your mind is – "how much does the Shopify Plus cost?"
Well, all of Shopify's plans are transparent. And, Shopify Plus costs $2,000 per month. That's just the most basic cost. You need to pay a variable fee if your sales are high or have more complex business requirements.
The total fee that you need to pay depends on the specifics of your business. However, this isn't the only cost that you need to face when choosing Shopify Plus. We'll discuss the details in the blog such that you get a tentative idea of how could the pricing may go for Shopify Plus.
What Are the Costs involved in Developing a Shopify Plus Store?
One of the most important factors that businesses need to consider when deciding whether to choose Shopify Plus for creating an e-commerce store is the cost. In fact, there is confusion surrounding the pricing of the Shopify Plus plan.
Here we'll discuss the costs of Shopify Plus that are involved while building an online store.
Shopify Plus Platform Fee
Estimated Cost: $2,000 to $24,000 monthly
This is the base fee payable to Shopify to gain access to the plus store and to have your online store hosted on their servers. It charges the store owners according to the monthly sales volume.
The Shopify Plus platform fee breaks down into:
$2,000 per month as standard fees
Fees increases after hitting $1000,000 in monthly sales
Charges $2,500 per month for $1 million in monthly sales
Payment Processing Fees
Estimated Cost: 1.6% + $0.35/£0.20 per transaction
Shopify charges transaction fees along with processing online payments, and that's the next important price that you need to consider in Shopify Plus pricing.
Well, that's something every e-commerce store charges – you'll need to pay them something such that card payments are processed.
But when you're using Shopify Payments as a payment gateway for your customers, the fees will be paid alongside the platform fee.
So, the options that you'll have are:
1.6% + $0.35 per transaction if you're using Shopify Payments
0.15% per transaction if you're using any third-party payment gateway
Additional App Fees
Estimated Cost: $200 – $1,000+ per month
Undoubtedly, Shopify is the most powerful platform. But bigger businesses require more advanced tools and apps to automate or manage specific tasks.
This could cost them a few dollars for adding apps to your Shopify store. Additionally, it could also require a much larger investment for some powerful apps.
The more apps you integrate into your Shopify store, the more additional fees you'll need to pay each month.
Maintenance Fees
Expected Cost: Ad hoc & minimal
Shopify Plus is a hosted platform. This means that you don't need to pay for maintenance costs that are generally associated with other e-commerce store builders.
On the other hand, you must stay aware that still you need to pay for maintenance to stay updated in all areas of your online store. But these costs are lower and can be done whenever needed.
Shopify Plus Store Development Cost
Estimated Cost: $30k to $250k
Shopify Plus gives you the freedom to use pre-built themes for your store. This means that if you're using a free theme, then the cost would be zero for designing. And, this will still require access for customizing your checkout page.
For big companies, using Shopify Plus will give them the advantage of building a bespoke site. This will make sure that everything will be on par with their brand.
The cost of building a custom site can differ slightly, depending on:
The Shopify store development agency
The number of products or services in the store
The number of storefronts required
The number of custom or third-party apps
What is the Total Shopify Plus Pricing?
Now, you would have gained an idea of what all things are involved with Shopify Plus pricing and how much it cost. But using the cost estimates in the blog will give you a fair idea of what could be your total figure.
For instance, a Shopify store generating 5,000 monthly orders and an average order value of $100 might expect the below-mentioned:
Store development cost – $40,000
Platform cost – $2,000 per month
Transaction fees – $1,750.80 per month
Additional app fees – $1000 per month
Maintenance fees – $100 per month
Total Shopify Plus Pricing – $44,350.80 for the first month and $4,350.80 per month.
Please note*
These figures are based on rough estimates and may differ from one business to the other based on the requirements.
Conclusion
Although Shopify Plus pricing can sound to be a bit complicated to you, it is crucial to have a thorough understanding of what you're getting for the price you're paying.
Shopify Plus can give you access to features that can help you grow your online business to great heights and reach new potential customers.
So, if you're looking for a powerful e-commerce solution to step into the digital world, Shopify Plus is worth considering.
Got any queries or questions about Shopify Plus pricing? Just leave them in the comments below – we go through every comment and reach out to you as soon as possible with a solution!
Next Read?
Do you want to read about the pricing of Shopify Plans? Do give it a read!