7 Must-Have Shopify Apps for Boosting Sales & Conversions
In the thrilling world of e-commerce, every online store owner dreams of skyrocketing sales and impressive conversion rates. But with ever-evolving customer needs and an increasingly competitive landscape, achieving this dream is no easy feat.
Thankfully, in the vast universe of Shopify, there are numerous apps specifically designed to supercharge your sales and conversions, turning your e-commerce aspirations into reality.
In this blog post, we'll discuss the top Shopify apps to increase sales and conversions. This will enable you to improve the functioning of your Shopify site, improve the user experience, and eventually increase your revenues.
So, fasten your seatbelts and prepare for a journey that will revolutionize your Shopify store, as we delve into the 7 must-have apps that are set to supercharge your sales and conversions.
Let's get started!
How Shopify Apps Can Increase Your Store Sales & Conversions?
Shopify apps can play a crucial role in increasing your store sales and conversions by providing additional features, functionality, and marketing tools. Here are several ways in which Shopify apps can help boost your store's performance:
1. Marketing & Promotion
Numerous Shopify apps are made to improve your marketing initiatives. They can help with affiliate marketing, SEO optimization, social media integration, email marketing campaigns, and more. You may reach a larger audience, improve brand recognition, and increase foot traffic to your store with these methods.
2. Customer & Retention
Shopify apps can help improve customer engagement and retention rates. Apps that offer personalized recommendations, loyalty programs, product reviews, and social proof can encourage repeat purchases and increase customer loyalty.
3. Conversion Optimization
There are numerous apps available to optimize your store's conversion rate. These apps can help with abandoned cart recovery, exit-intent popups, upselling and cross-selling, urgency and scarcity tactics, and streamlined checkout processes. By reducing cart abandonment and optimizing the user experience, you can increase conversions and generate more sales.
4. Product Presentation & Customization
Shopify apps can enhance your product pages by allowing you to showcase products more effectively. They provide features like image zoom, 360-degree product views, product customization options, size charts, and videos. These elements enhance the shopping experience for customers and raise conversion rates.
5. Order Management & Fulfillment
Efficient order management and fulfillment processes are crucial for customer satisfaction. Shopify apps can integrate with inventory management systems, shipping carriers, and fulfillment services to streamline these operations. This helps you provide faster shipping, accurate order tracking, and better customer support.
6. Analytics & Reporting
You may track important indicators, comprehend customer behavior, and make data-driven decisions with apps that offer comprehensive analytics and reporting features. These insights help you identify areas for improvement, optimize your marketing strategies, and increase sales.
Factors to Consider When Choosing Shopify Apps
When choosing Shopify apps for your store, it's important to consider several factors to ensure they meet your business needs effectively. Here are some key factors to consider:
App Functionality: Determine the specific features and functionality you require for your store. Make a list of the fundamental features you require, such as analytics, inventory management, customer service, and marketing tools. Then, evaluate the app's features to ensure they align with your requirements.
User Reviews & Ratings: Check the app's reviews and ratings from other merchants who have used it. This feedback can offer insightful information on the functionality, dependability, and user happiness of the program. Look for apps with positive reviews and high ratings to increase the likelihood of a positive experience.
App Compatibility: Ensure that the app is compatible with your Shopify theme and other existing apps. Incompatibility issues can lead to technical glitches, conflicts, or an overall poor user experience. Review the app's documentation or contact the app developer to confirm compatibility before installation.
App Support & Updates: Consider the level of support provided by the app developer. To help you with any queries or problems that may arise, look for apps with helpful customer care. Additionally, check the app's update frequency to ensure it receives regular updates, bug fixes, and new features.
Pricing Structure: Analyze the app's pricing to see if it fits inside your spending limit. While some apps may provide a free trial or free plan, others may demand a monthly or yearly membership. Consider the value the app provides in relation to its cost and how it aligns with your budgetary constraints.
App Security: Security is crucial for your store and customer data. Review the app's security measures and data protection policies. Look for apps that follow industry-standard security practices and provide secure data transmission and storage.
App Reputation & Longevity: Consider the reputation and longevity of the app and its developer. Apps with a strong track record and a reputable developer are more likely to provide reliable functionality and ongoing support. Research the app developer's history, experience, and track record to ensure their credibility.
Integration Capabilities: If you are already using other third-party apps or services, ensure that the new app integrates smoothly with them. Check for integration options or consult the app developer to confirm compatibility with your existing tools.
Shopify Apps for Boosting Sales & Conversions
There are numerous Shopify apps available to boost sales and conversions, and the choice depends on your specific business needs.
Here are some popular and highly regarded apps that are often recommended for increasing sales and conversions:
1. Privy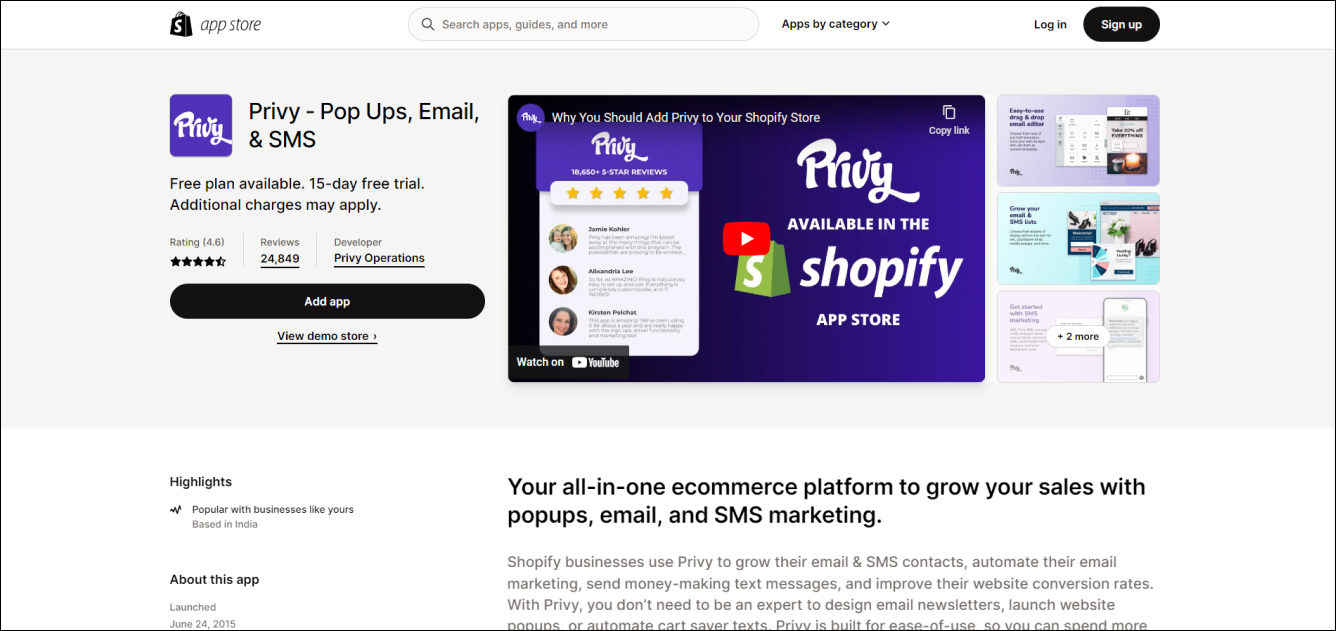 Privy is a popular Shopify app that helps businesses capture leads, reduce cart abandonment, and increase conversions. It offers a range of tools and features to engage website visitors and turn them into customers.
Key Features
Email Popups: Create customizable popups to collect email addresses and grow your subscriber list.
Spin-to-Win Wheels: Encourage visitors to enter their email addresses for a chance to win discounts, free shipping, or other enticing offers, boosting engagement and conversions.
Exit-Intent Popups: Display targeted popups to visitors who are about to leave your website to help you reduce cart abandonment.
Cart Abandonment Emails: Privy integrates with email marketing platforms, allowing you to create personalized emails and recover lost sales.
Mobile-Friendly Display: Privy's popups and campaigns are optimized for mobile devices, ensuring a seamless user experience.
Targeted Display Rules: Set specific display rules based on visitor behavior, referral source, location, device type, or other criteria.
Integrations: Privy integrates with various email marketing platforms, CRM systems, and e-commerce tools.
Customizable Design: Customize the look and feel of your popups and campaigns to match your brand's visual identity.
2. OptinMonster
OptinMonster is a powerful conversion optimization app that integrates seamlessly with Shopify to help businesses boost their sales and increase conversions. It offers a wide range of tools and features designed to engage visitors, capture leads, and drive conversions.
Key Features
Drag-and-Drop Builder: Create visually appealing and highly customized opt-in forms, popups, slide-ins, and floating bars using an intuitive drag-and-drop builder.
Campaign Targeting: Use advanced targeting options to display campaigns to specific audiences based on factors such as geolocation, referral source, device type, and more.
Exit-Intent Technology: Detect when a visitor is about to leave your website and display a targeted campaign at the precise moment.
Behavior Automation: Trigger campaigns based on visitor behavior, such as time on the page, scroll depth, or mouse movement.
Geo-Location Targeting: Show personalized messages and offers based on the visitor's geographic location.
Mobile-Friendly Campaigns: OptinMonster's campaigns are fully optimized for mobile devices, ensuring a seamless experience.
Integration with Email Marketing Platforms: Integrate OptinMonster with popular email marketing platforms like Mailchimp, Constant Contact, and Klaviyo.
Exit-Intent Follow-Up Campaigns: Automatically follow up with visitors who engaged with your exit-intent campaigns.
3. Bold Upsell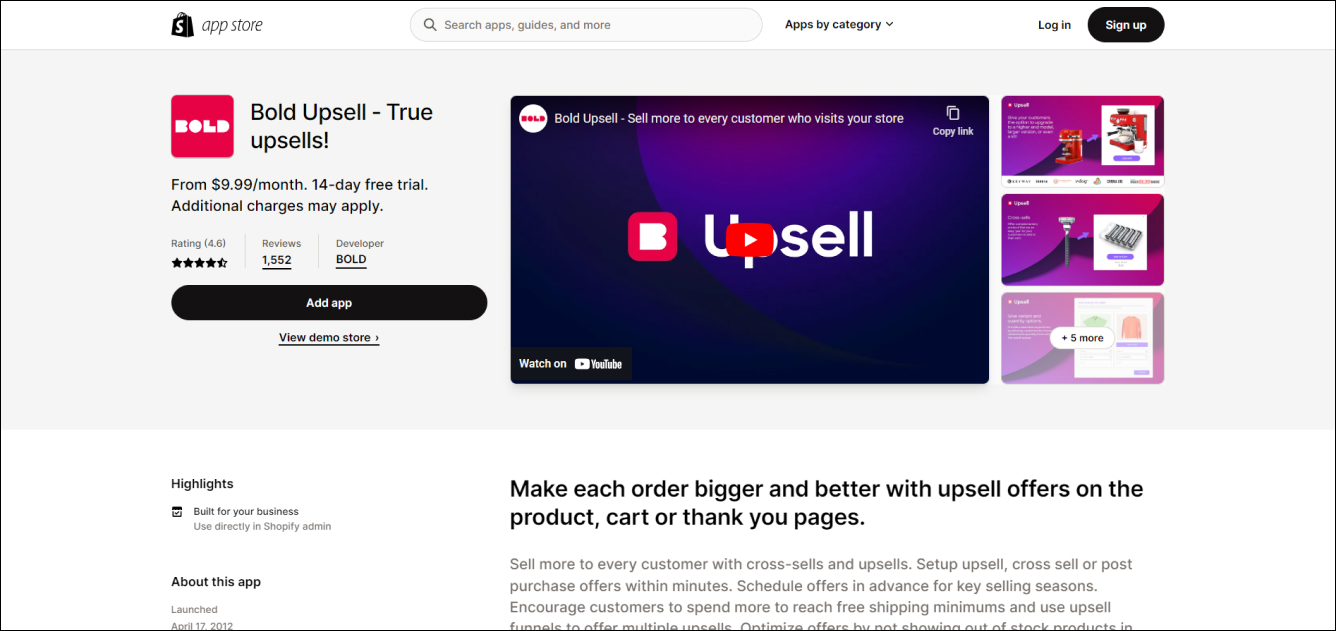 Bold Upsell is a popular Shopify app that enables businesses to increase their average order value by offering upsells and cross-sells to customers during the checkout process. It provides a variety of features designed to drive additional sales and maximize revenue.
Key Features
Upsell Offers: Present targeted upsell offers to customers based on their cart contents, order history, or other criteria.
Cross-Sell Offers: Suggest relevant cross-sell products to customers during the checkout process.
Customizable Offer Display: Customize the appearance and timing of the upsell and cross-sell offers to match your store's branding and user experience.
Smart Product Recommendations: Use intelligent algorithms to automatically recommend the most relevant upsell and cross-sell products.
Offer Stacking: Combine multiple upsell and cross-sell offers to present customers with enticing bundles or package deals.
Conditional Upsells: Set conditions for upsell offers, such as minimum purchase amounts or specific product combinations.
Real-Time Cart Updates: Display the updated cart total in real-time as customers add or remove products.
Performance Analytics: Track and analyze the performance of your upsell and cross-sell campaigns.
Compatibility & Integration: Bold Upsell seamlessly integrates with popular Shopify themes and other essential apps.
4. Recart
Recart is a Shopify app that helps you grow your business through SMS marketing. It offers a variety of features, including custom popups for desktop and mobile, automation to welcome subscribers, rescue abandoned carts, and drive reorders, campaign templates for weekly or daily texts, built-in compliance, real-time analytics, and 7-day-click attribution for sales.
Recart also offers a fully managed service that takes care of all the technical aspects of SMS marketing for you.
Key Features
Custom Popups for Desktop & Mobile: Recart allows you to create custom popups for your Shopify store that can be used to collect subscribers' phone numbers.
Automation: Recart offers a variety of automation that you can use to send out personalized messages to your subscribers. This automation can be triggered by a variety of events, such as abandoned carts, and new subscribers.
Campaign Templates: Recart offers a variety of campaign templates that you can use to send out weekly or daily texts to your subscribers.
Built-in Compliance: Recart is compliant with all major SMS marketing regulations, so you can be sure that you're not breaking any laws.
Real-Time Analytics: Recart provides real-time analytics so you can track the performance of your SMS marketing campaigns.
7-Day-Click Attribution for Sales: Recart tracks the clicks on your SMS messages and attributes them to sales. This data can help you to measure the ROI of your SMS marketing campaigns.
Fully Managed Service: Recart offers a fully managed service including setting up your campaigns, sending out texts, and tracking your results.
5. Klaviyo
Klaviyo is a powerful tool that can help you grow your Shopify business. If you're looking for a way to improve your email and SMS marketing, Klaviyo is a great option.
Key Features
Email Marketing: Klaviyo allows you to create and send beautiful, personalized emails to your customers.
SMS Marketing: Klaviyo also allows you to send SMS messages to your customers. You can use SMS to send abandoned cart reminders, birthday offers, and other important messages.
Automation: Klaviyo offers a variety of automation that you can use to send out personalized messages to your customers.
Segmentation: Klaviyo allows you to segment your customers based on a variety of factors, such as purchase history, location, and interests.
Analytics: Klaviyo provides detailed analytics so you can track the performance of your marketing campaigns.
Integrations: Klaviyo integrates with a variety of other apps, such as Shopify, WooCommerce, and Salesforce.
6. Yotpo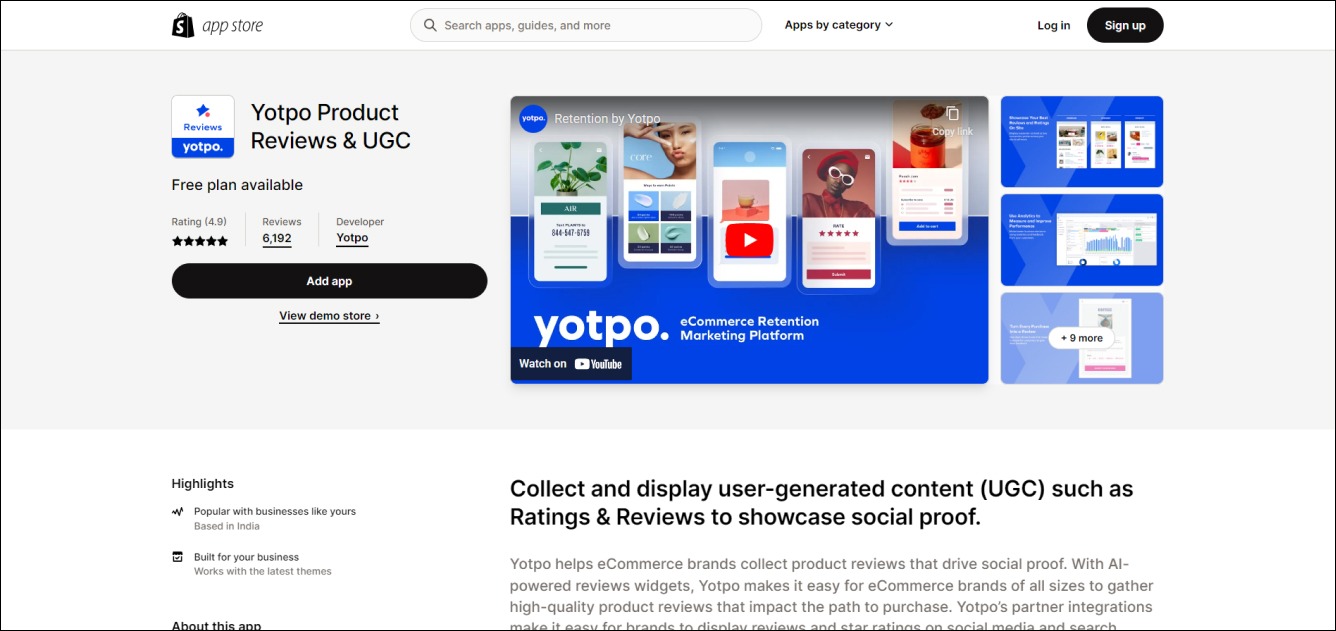 You may gather and show client reviews, ratings, and images on your Shopify store with the help of the Shopify app Yotpo. It is an effective technique that can help you boost sales, increase customer loyalty, and foster a sense of trust among your clients.
Key Features
Email Marketing Automation: Create personalized, automated email campaigns based on customer behavior, and purchase history.
Segmentation &Targeting: Segment your audience based on various attributes and behaviors to deliver highly targeted and relevant email campaigns.
Personalized Product Recommendations: Use machine learning algorithms to dynamically recommend products to individual customers.
Abandoned Cart Recovery: Send automated emails to customers who abandon their carts, reminding them to complete their purchases.
Integration with Shopify: Seamlessly sync customer and order data between Klaviyo and your Shopify store.
SMS Marketing: Utilize SMS messages to engage with customers, send order updates, and drive sales.
7. Gorgias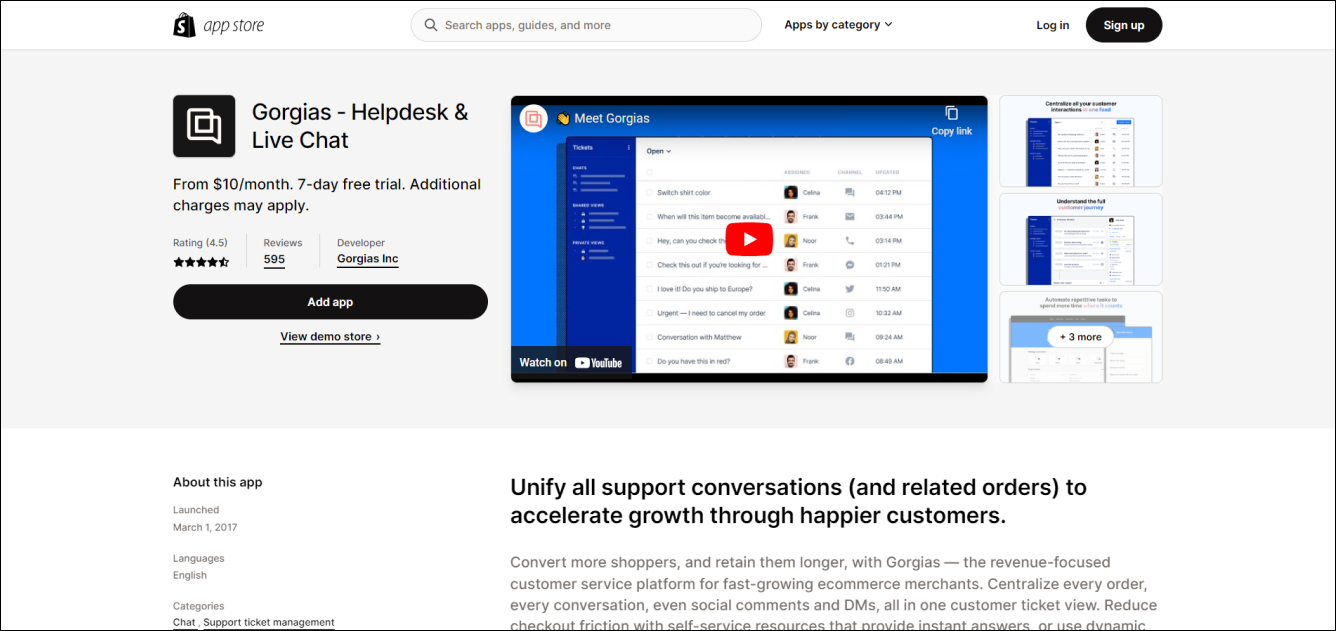 Gorgias is a Shopify app that focuses on customer support and helpdesk management. It enables businesses to provide excellent customer service by centralizing all customer interactions into one platform.
Gorgias offers various features to streamline customer support processes and enhance efficiency. With Gorgias, businesses can manage and respond to customer inquiries more effectively, resulting in improved customer satisfaction and retention.
Key Features
Live Chat: Gorgias allows you to chat with customers in real-time. This is a great way to answer questions, resolve issues, and provide support.
Ticketing: Gorgias allows you to receive and manage customer tickets. This is a great way to handle more complex issues and provide support outside of live chat hours.
Knowledge Base: Gorgias allows you to create a knowledge base of articles and FAQs. This is a fantastic technique to assist clients with locating the solutions to their inquiries.
Analytics: Gorgias provides detailed analytics about your customer service interactions. This data can help you identify trends, improve your processes, and provide better support.
Integrations: Gorgias integrates with a variety of other apps to help you connect your customer data and automate your customer service workflows.
How to Install Shopify Apps?
Installing and using Shopify apps is a straightforward process. Below mentioned is a step-by-step guide to help you install and use apps for your Shopify store.
Step 1: Visit the Shopify App Store or go to the Apps section from your Shopify admin area.
Browse through the apps or you can even use the search functionality to find specific apps that you need to install.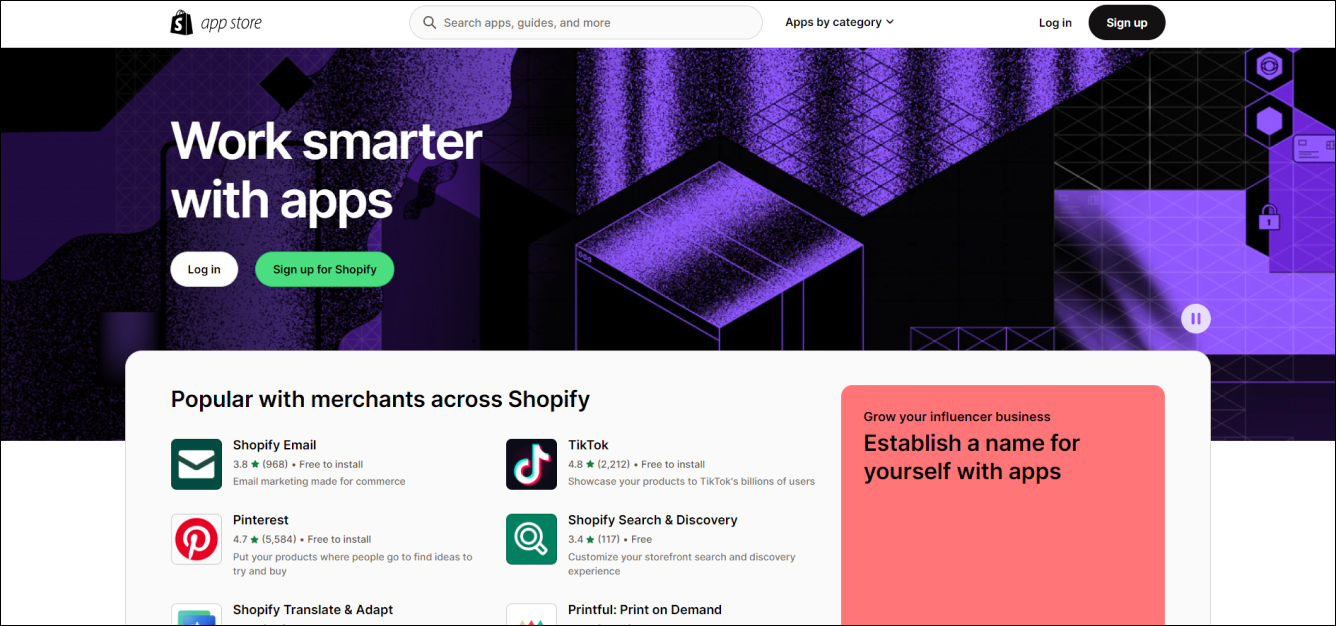 Step 2: Before you install an app for your Shopify store, ensure that you go through its description, check reviews, and pay attention to the app's documentation to make sure it meets your store's needs. Also, check the app's features, compatibility, pricing, and support.
Step 3: Once you've chosen the app, click on Add App button on the app's page.
Step 4: Clicking on Add App button will prompt you to log in to your Shopify account and authorize its installation. Next, click on Install App to proceed.
Step 5: After you've installed the app, configure its settings. Follow the setup instructions and adjust the settings as per your needs and requirements. Lastly, click on the Save button.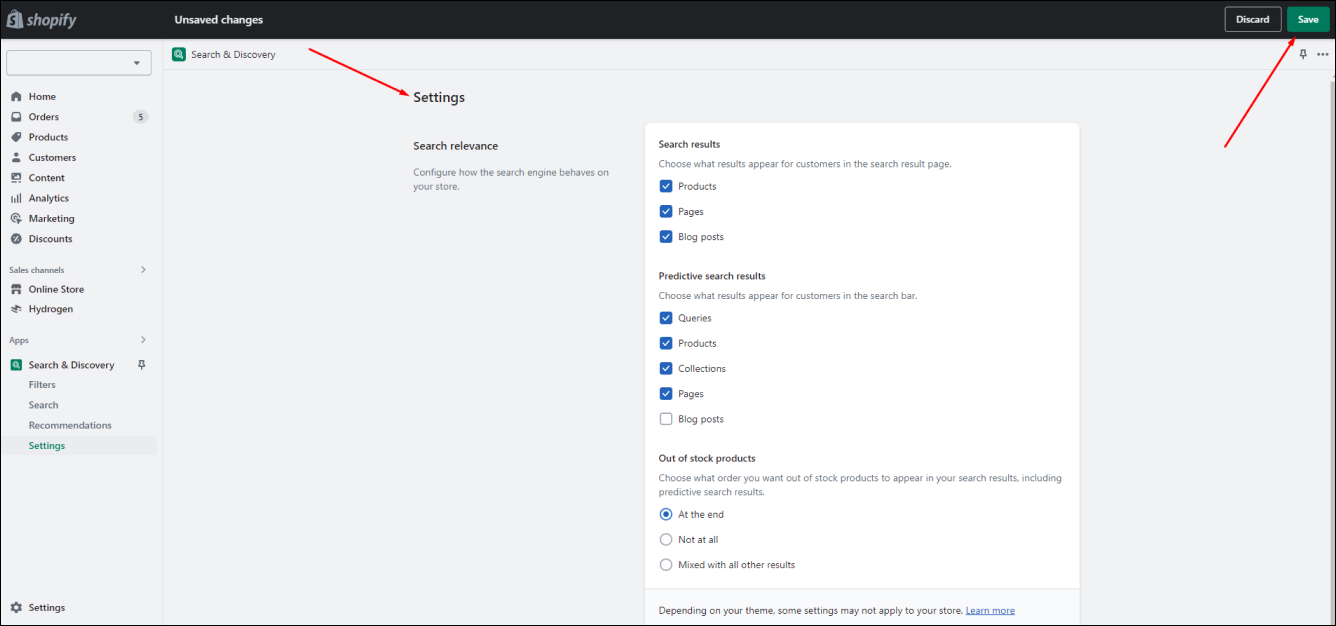 Conclusion
Numerous essential Shopify apps are available that can help you boost sales and conversions. You may enhance your marketing, sales, and customer service by utilizing the proper apps.
In this blog post, we have discussed the must-have Shopify apps for increasing sales and conversions. We have covered a variety of apps, including apps for email marketing, SMS marketing, abandoned cart recovery, and more.
So, head on to the journey to add apps and increase your store's sales and conversions. If you have questions in mind, don't hesitate to get in touch with our team.
Do you need more Shopify-related tutorials? Consider going through the below-mentioned blogs!
How to Add Google Analytics to your Shopify Store?
How To Add ChatBot to Your Shopify Store?