How to Add Google Analytics to your Shopify Store?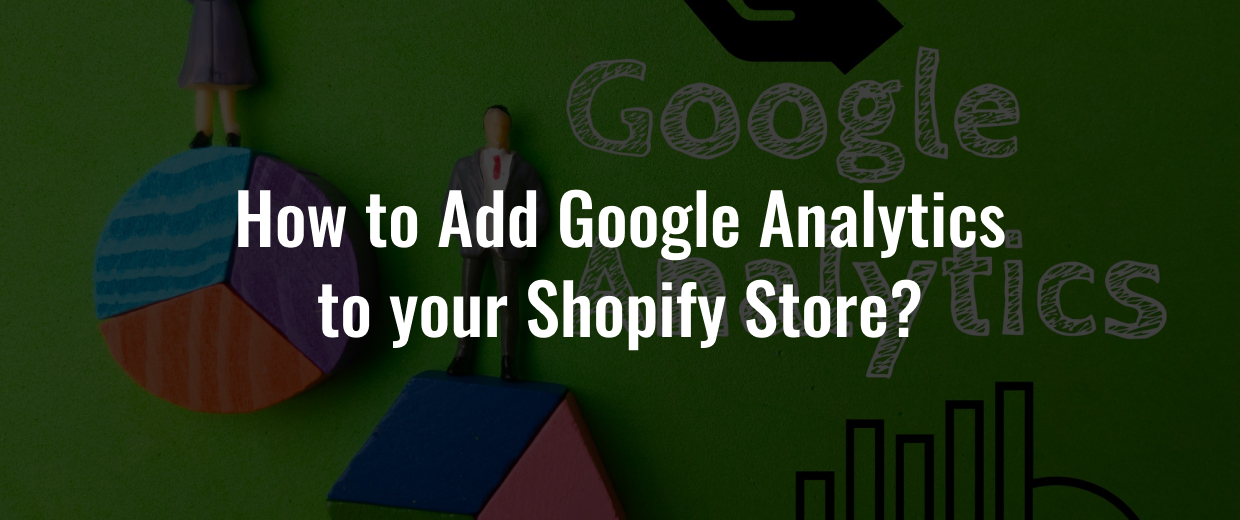 If you're expanding your e-commerce business rapidly, you may need a way to measure its success. One of the easiest and best ways of measuring your success on Shopify is through Google Analytics or GA.
Adding Google Analytics to your Shopify store can help you see how your store is performing, what are your customer's behavior patterns and preferences, and how many visitors are actually getting converted.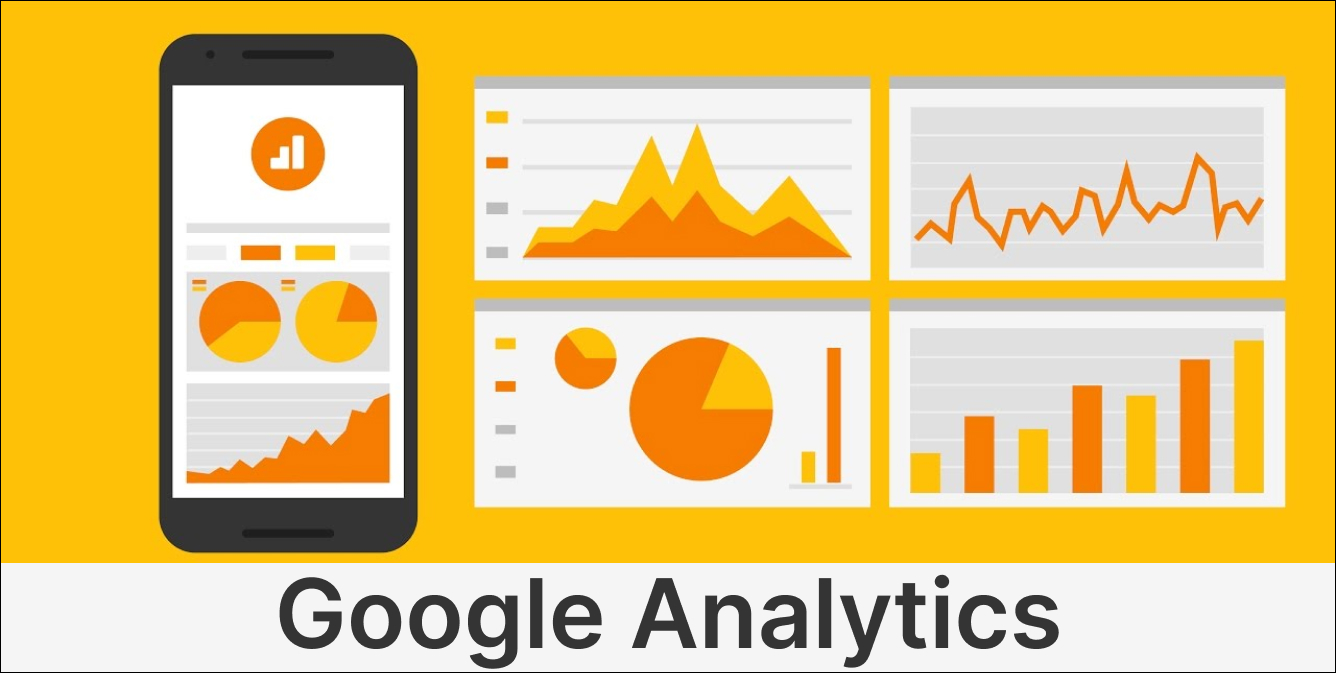 One of the biggest challenges that an e-commerce store owner may face is how their customers are using their store.
A physical or brick-and-mortar store may ask its customers in person about what they think of its offerings or store. But it could be difficult for the store owner to keep track of the customers who might be miles away.
That's where Google Analytics can help you!
Are you confused about how you can begin with it? Or are you still not convinced about it?
This comprehensive guide will provide you with in-depth information about Google Analytics, GA4, and the necessary steps to integrate GA into your Shopify store.
So, let's begin with it!
What is Google Analytics?
Google Analytics is a free web analytics platform that helps website owners track traffic, CTR, conversions, bounce rates, and more. It uses a tracking code installed on the website to collect data about the site's visitors.
By analyzing user behavior and traffic patterns, they can optimize their website content, improve their marketing campaigns, and ultimately drive more conversions and revenue.
As a Shopify store merchant, you're more likely to run ads, email marketing campaigns, and more. Obviously, these will be linked to your website.
With Google Analytics implemented on your Shopify store, you'll be able to track whether or not your campaigns proved effective in terms of leads, sales, and revenue.
Do I Need Google Analytics If I Already Have Shopify Analytics?
For those who still aren't aware of the fact that Shopify has its own in-house analytics tool, referred to as Shopify Analytics.
Whatever you get with Shopify Analytics depends on the plan you're on. Basically, you ought to be on the basic Shopify plan or above.
Indeed, Shopify provides some basic analytics and reports about your online store, but it may not provide as comprehensive insights as Google Analytics. Therefore, having both Shopify Analytics and Google Analytics can be beneficial.
Below are some possible reasons why you must consider using both Google Analytics and Shopify Analytics.
Customizable Reporting
Google Analytics offers a wide range of customizable reporting options that can help you get detailed insights into user behavior, traffic sources, and performance of the store that you may not find in Shopify Analytics.
Cross-Domain Tracking
If you have multiple stores, Google Analytics can help you track the metrics across all of them. This is especially useful if you have a blog or content site that links to your Shopify store.
Third-Party Integrations
Google Analytics is integrated with various third-party tools and platforms like AdWords, that can help you understand the effectiveness of your marketing campaigns.
Data Ownership
While Shopify provides access to some analytics data, you do not have complete ownership of it. With Google Analytics, you own your data and can export it at any time for further analysis.
Hence, using both Shopify Analytics and Google Analytics can give you a detailed picture of your online store and help you make more informed decisions.
Why does your Shopify store need Google Analytics?
When it comes to tracking and measuring how successful your store is, Google Analytics can provide you with a wealth of valuable information that no other tool can provide.
From tracking website traffic and customer behavior to monitoring marketing campaigns and understanding your audience, Google Analytics is an essential tool for any e-commerce business looking to improve performance and increase sales.
Let's take a look at why your Shopify store needs Google Analytics:
Measure Website Traffic
Google Analytics allows you to track how many visitors have visited your store, how long they stay, and which pages they view. This way, they can make informed decisions about their store's design and content.
Track Customer Behavior
With Google Analytics, you can see which products are popular, which pages customers exit from, and how often they make purchases. This data can help you optimize your website to increase sales.
Understand your Audience
Google Analytics provides demographic information about your website visitors, such as age, gender, and location. This information can help you create targeted marketing campaigns.
Monitor Marketing Campaigns
Google Analytics allows you to track the effectiveness of your marketing campaigns by measuring the traffic and sales generated from each campaign. This can help you optimize your marketing strategy to increase ROI.
What is Google Analytics 4?
The current version of Google Analytics that Shopify customers are currently on is Universal Analytics. But Google recently announced that Universal Analytics is going away till July 2023.
To replace that version, they have launched Google Analytics 4 or GA4.
Google Analytics 4 is more suited to the requirements of the e-commerce industry. In comparison to Universal Analytics, GA4 provides the following features:
Analysis of data from both websites and mobile apps
Employment of data collection methods that do not rely on cookies
Emphasis on measuring events instead of sessions.
How to Add Google Analytics to Shopify?
Now, let's get into the steps to set up your Google Analytics for your Shopify store.
Step 1: Sign up for Google Analytics
The first step in setting GA to the Shopify store is by creating a Google account for your business and signing up for a new GA account.
All you need to do is register your details with GA and you're all set to proceed to the next step.
Step 2: Create GA Property
Next, you'll be asked to create a GA property.
Let's define what a property is!
It is similar to a profile that you can set up within Google Analytics. You can create as many properties as you wish and associate particular sites within each.
If you have different store locations and are willing to measure all of them separately, you can do so by setting different properties for each store.
On the other hand, as mentioned above, Google is phasing Universal Analytics, and thus, it wants the Shopify store owners to set up their customers on GA4.
But Shopify doesn't support GA4 yet. Hence, you will have to set up a Universal Analytics property for the time being and make the transition when Shopify supports GA4.
So, while setting up your GA4 property, ensure that you set up a Universal Analytics property here.
Step 3: Choose to Set Up a Universal Analytics
To set up Universal Analytics, click on the 'Show advanced options' and tick mark the option. Next, you need to select 'Create a Universal Analytics property only'.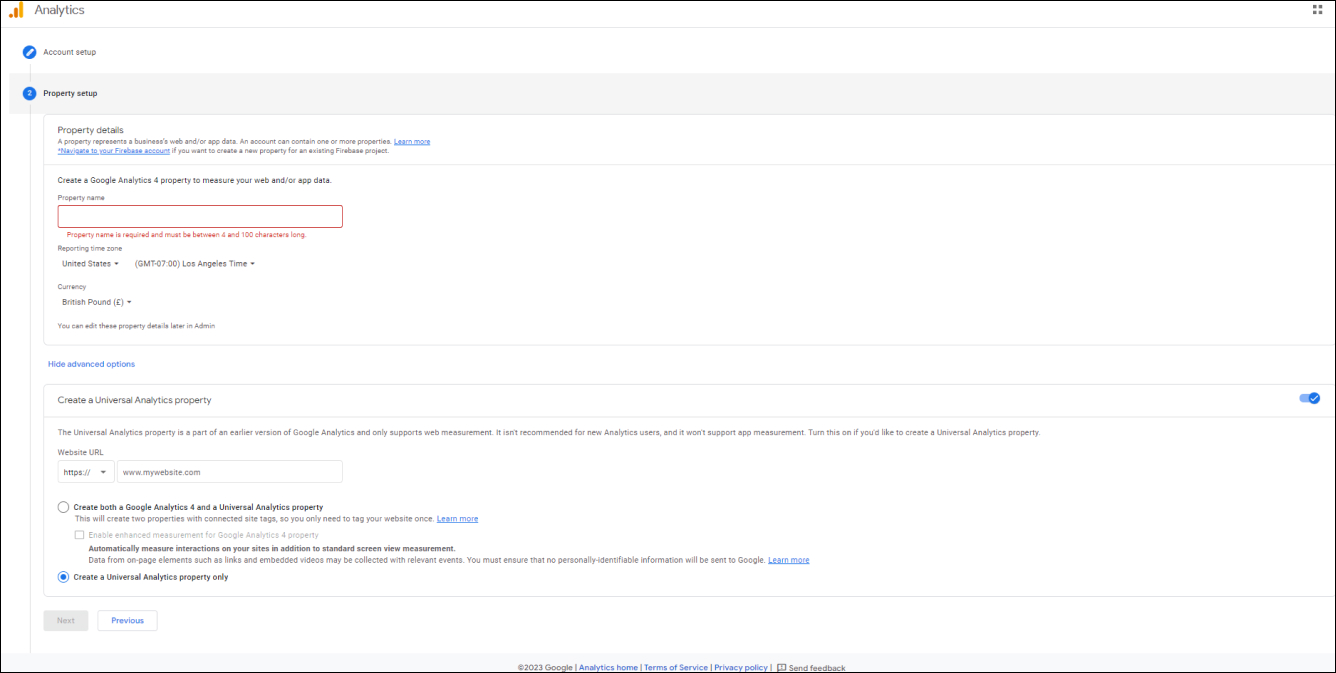 Step 4: Connect Google Analytics to Shopify
Once you have created your property and set up the property, next you need to connect your Shopify store to GA.
Next, you'll see that a screen with some code will be flashed in front of you. That's the global site tag which acts as an identifier for GA to track your store.
Next, you need to copy this code and go to your Shopify store's admin area. There, navigate to Online store > Preferences. Locate the Google Analytics box and paste the copied code there.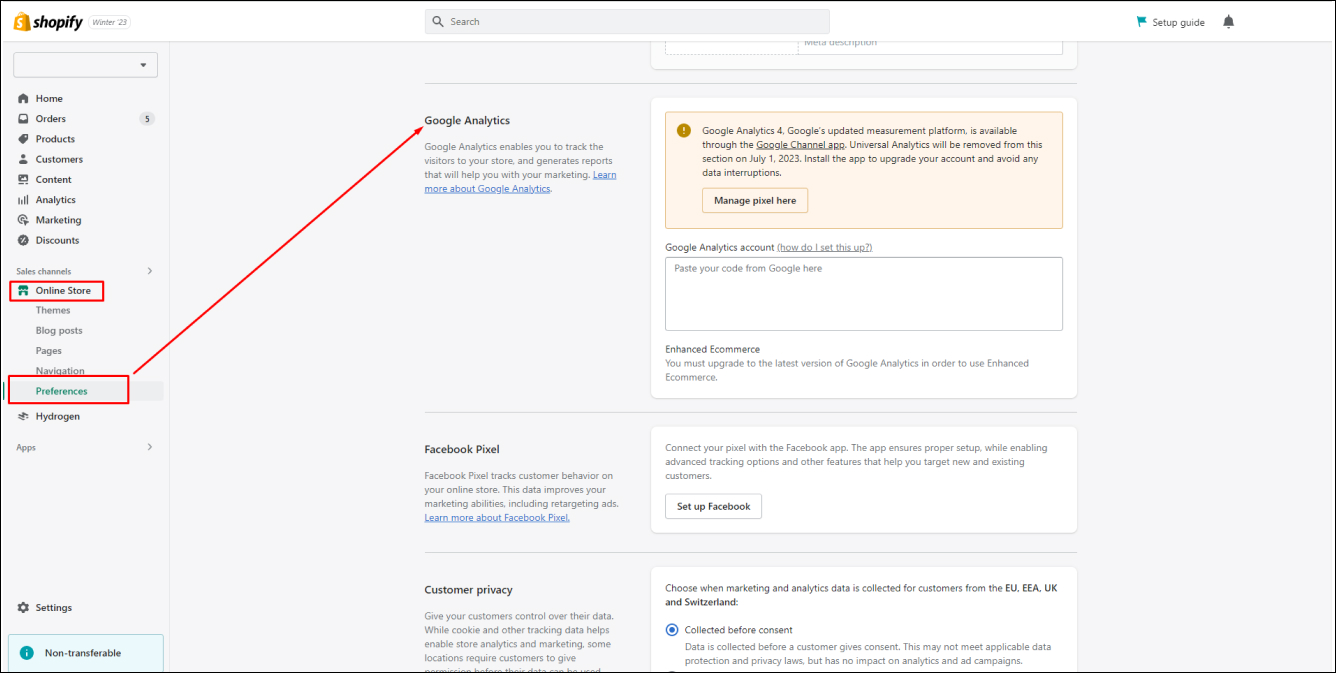 What to Track with Google Analytics?
Now that you've got Google Analytics set up on your store, what's next?
Next, we'll have a look at how Google Analytics can help improve your Shopify store's performance.
Below are some examples of what you need to focus on using Google Analytics:
Best Customers
You can use Google Analytics to create buyer profiles such that you can effectively manage your marketing campaigns. This way, you can convert more visitors into buyers.
Demographics, Interest & Geographic Data
You can have a look at the demographics and identify the age group and gender of people that most likely get converted on your Shopify store.
Next, you'll see Interest Reports under the Demographics section. These will tell you which type of customers are interested in your offerings.
Geographic data will provide you with data regarding the area from where your customers are visiting your store. this way, you can create more ads targeted to that specific geographic location.
Customer Behavior
You may have some thoughts in your mind about how your visitors and customers might be scrolling down your store. But, that's not fully possible since they might not navigate through your online store the way you thought.
To find a detailed overview of how customers interact with your store, navigate to Behavior. This will help you know whether or not your customers are finding what they need and engaging with your content effectively.
By analyzing customer behavior on your website, you can gain insights into their preferences and expectations, which can inform your marketing strategies and improve the overall user experience of your site.
Wrapping Up
Running a Shopify store with Google Analytics is just like a snowball rolling down a mountain. The more you get into the details the bigger the ball gets.
That's nothing to worry about! It means that you're now full of information that you can use to get more leads, sales, and revenue to your Shopify store.
So, you're well aware of what GA is and how you can add it to your Shopify store, now it's time that you take an action.
Just follow the steps mentioned in the blog and you're all set to go!
Also, if you still have some questions in your mind, don't worry. We're here to help you! Just reach out to us.
Apart from that, as mentioned above, the analytics you get for your store gets better with the better plan. So, if you're confused about which plan to go for your store, check out the below-mentioned blog.