Top 7 Product Review Apps for Shopify in 2023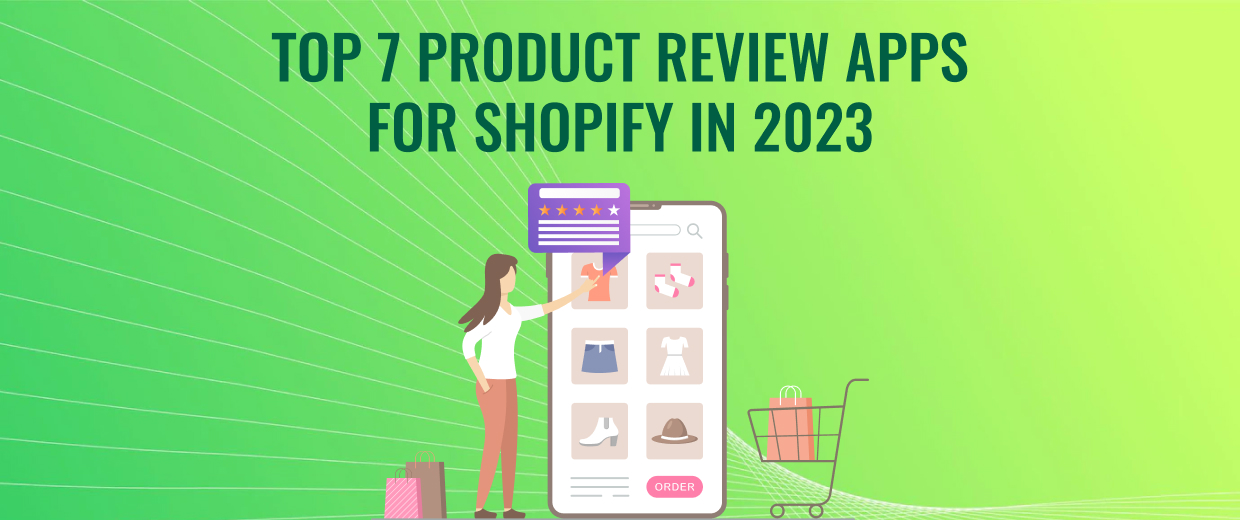 Reviews play an important role in any online store.
According to the latest study, 89% of online shoppers go through reviews before buying a product. From earning customers' trust to selling the products, the right product review app can have an impact on your online business.
When you search for any product review app for your Shopify store, you'll find many apps falling under this category. So, how would you know which app is best for you?
In this blog, we've jotted down a list of the best product review apps that you can use on your Shopify store to boost conversion rates and increase sales.
Reasons Why Shopify Review Apps Are Crucial
Doesn't matter how affordable or compelling your products are, 72% of the customers won't make purchases from your store unless they go through your reviews. In addition to this, reviews convince customers against doing business with a business.
Here are several reasons why review apps are crucial for Shopify stores:
Increase Trust: Customer reviews can help increase trust in your store and your products. When potential customers see that others have had positive experiences with your products, they are more likely to make a purchase.
Improve SEO: Product reviews can also improve the search engine optimization (SEO) of your store, as search engines consider customer reviews to be a form of user-generated content. This can help your store rank higher in search results and drive more traffic to your site.
Increase Sales: Customer reviews can directly increase sales in your store. Research has shown that product reviews can significantly increase conversion rates, as potential customers are more likely to trust the opinions of other customers than marketing materials.
Improve Customer Experience: Review apps allow you to gather and display customer feedback on your store, which can help you identify areas for improvement in your products and customer service. This can lead to a better overall customer experience and increase customer loyalty.
Easy To Use: Review apps are easy to use and can be quickly integrated into your Shopify store. This means you can start gathering and displaying customer reviews in a matter of minutes, without needing to spend a lot of time and resources.
Top 7 Review Apps for Shopify
#1 Fera Product Reviews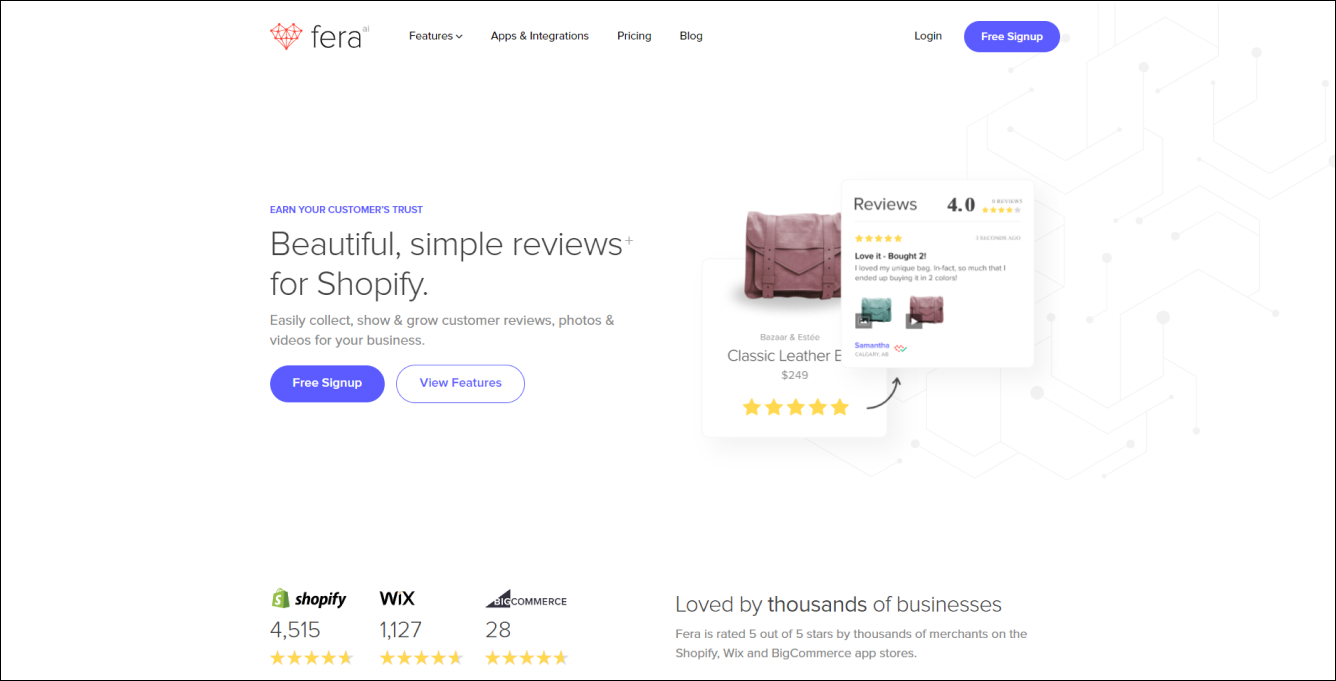 The Fera product reviews app with Shopify's rating of 4.9 stars allows online merchants to earn the trust of their customers. It helps improvise the conversion rate by displaying how great your products are with product reviews in the form of photos, videos, and testimonials.
Pros
Imports reviews from Google, Facebook, Trustpilot
Displays reviews in Google Search & Google Shopping
Send automated review request emails
Collect product reviews, photos, and videos
Offer customers incentives like cashback, loyalty points, and discounts
Use stunning built-in themes to showcase reviews
Group products to simplify displaying the reviews
Full customization
Cons
Allows a limited number of admins on the lower plans
Limits the review requests & widgets on the free plan
For availing full customization, consider higher plans
Price
Free
$9 per month for startups
$29 per month for small businesses
$99 per month for medium businesses
#2 Judge.me
Judge.me with Shopify's rating of 5 stars helps Shopify store owners gather and showcase ratings and reviews about your products.
Pros
No matter which plans you choose, you get unlimited review requests on any plan
Best 24/7 support for both free and paid plans
Offers a free plan with many functionalities
It supports 34 languages
Rich snippets and Google Shopping
Get access to full review customization in the paid plan
Cons
Free trial for the paid plans only
Limited reward program
Pricing
Free plan – $0 per month
Awesome – $15 per month
#3 Ali Reviews
Well, Ali Reviews is a popular name in the list of the best product review apps for Shopify. It helps online store merchants build a positive reputation and boost conversion rates by increasing the visibility of reviews on the store.
Pros
Easily migrate reviews from other reviews apps
Offers free 7-day trial
Collect reviews by sending review requests through email and SMS
Display personalized reviews of the customers
Showcase product reviews and ratings on Google Shopping ads
Schedule review reminders to the customer's
Cons
Cheaper plans offer fewer features
No option for video reviews
Unable to share reviews on social media platforms
Pricing Plans
Free
Starter -$9.90/month + Free $0.3 SMS credits
Essential – $19.90/month + Free $5 SMS credits
Premium – $49.90/month + Free $15 SMS credits
#4 Stamped.io
Stamped.io is one of the most recommended product review apps in the marketplace. It not only offers important features but also boosts sales numbers in a fantastic manner. With this app, you can display reviews on multiple websites at the same time.
Pros
It helps gather reviews from multiple sources such as email, SMS, Facebook Messenger, and Aliexport
Enable rich snippets of data
Allows the reviews to appear on Google Shopping
Can integrate with various apps easily
NPS measures customers' satisfaction rate
Offers an excellent analytic tool powered by AI
Amazing customer support
Cons
A limited number of orders on each plan
The free plan doesn't have photo reviews
Offers the Shoppable Instagram feature in the Business plan only
Pricing
Lite – Free
Basic – $23/month
Premium – $59/month
Business – $149/month
#5 Loox
Loox is another product review app that has received positive feedback in the past. This app offers the best functionalities for displaying reviews on the Shopify store with money-worthy prices and plans.
Pros
Advanced customization tools that help boost branding
enables reviews to display on many different e-commerce pages
Have rewards incentives and a referral program
Gathers reviews from customers via email, Facebook, SMS, and more
Unlimited reviews from the premium plan
Integration with Google Analytics
Cons
Lacks Shoppable Instagram or powerful AI analysis tools
Video review comes in premium plans only
Pricing
Beginner- $9.99/month
Growth – $34.99/month
Unlimited – $299.99/month
#6 Yotpo
Yotpo offers outstanding easy-to-use tools with a 4.9 stars rating in the Shopify app store. It offers ultimate features, integrations, AI-powered analysis, and custom plans.
Pros
Import reviews through emails, SMS, and more
SEO-friendly with rich snippets
Embed reviews on the Facebook page
Great reports & analytics tool
Fully customizable options on premium plans
Great support even on the free plan
Cons
The free plan offers limited features
Price is quite high for many startups
Pricing
Free – Up to 50 monthly orders
Growth 50 ($15/month) – Above 50 monthly orders
Growth 100 ($24/month) – Above 100 monthly orders
Growth 250 ($49/month) – Above 250 monthly orders
#7 Opinew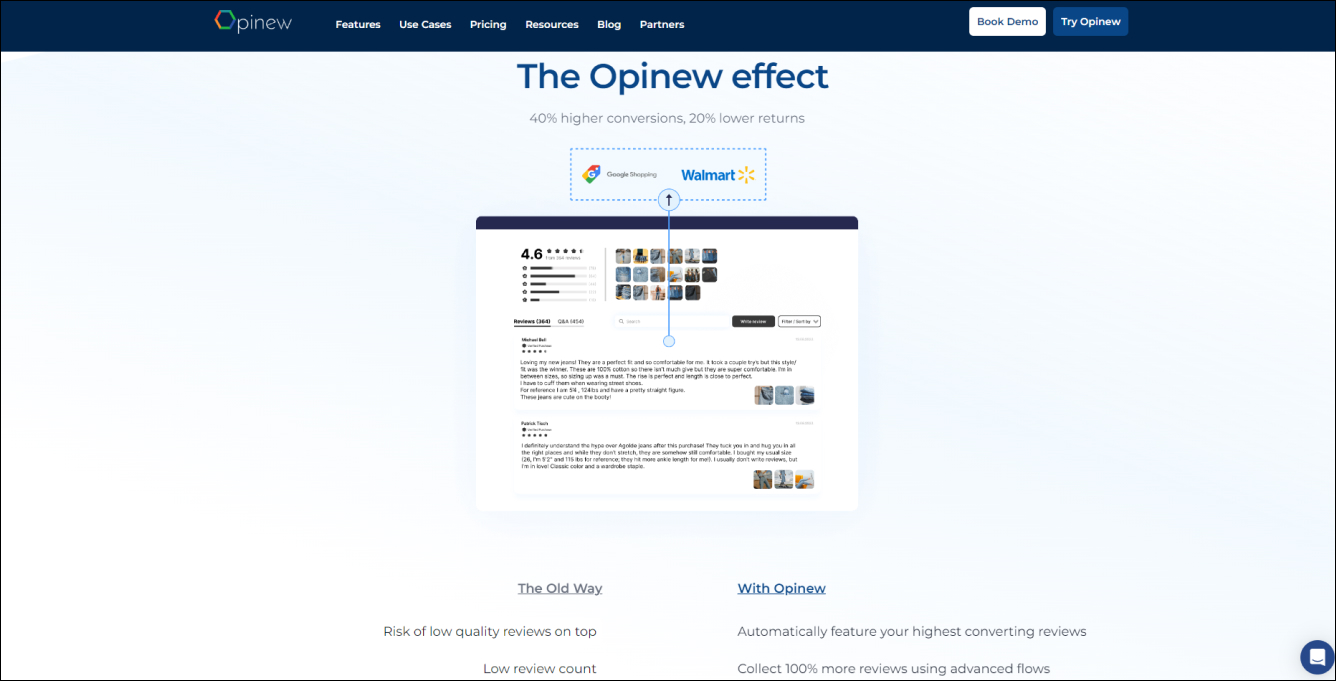 It is an AI-driven product review app that offers great options to Shopify merchants. It collects reviews from Amazon, Ali Express, and eBay and displays them on storefronts. Additionally, it is a lightweight app that offers a lightning-fast shopping experience to customers without hassles.
Pros
Import reviews from Amazon, AliExpress, eBay, Oberlo & Dsers, and more
Has highly-customizable on-site review widgets
Automated email & SMS request flows
SEO-friendly review-rich snippets
AI Smart Reviews
Headless Commerce support
Cons
Advanced features are available in premium plans only
The number of review imports and email requests is limited to cheaper plans
Pricing Plans
Free
Starter: $19/month
Growth: $69/month
Advanced: $149/month
Conclusion
Amidst all product reviews apps for Shopify, here we would recommend two apps each for small business and medium-sized businesses.
Of all the apps that we've mentioned in the blog, each of them helps you gain customers' trust through reviews. But, for small businesses, Judge.io is the ideal app. That's because it offers affordable pricing plans and features.
For medium-sized businesses, we suggest Stamped.io as the best product review app. That's because its pricing plans adapt to your business growth and offer various features and functionalities.
Rest, you can choose a product review app for your Shopify store by carefully evaluating the pros, cons, and pricing plans of each product review app.
Do let us know in the comments below which app you chose for your Shopify store.