How to Create a Shopify Shipping Policy?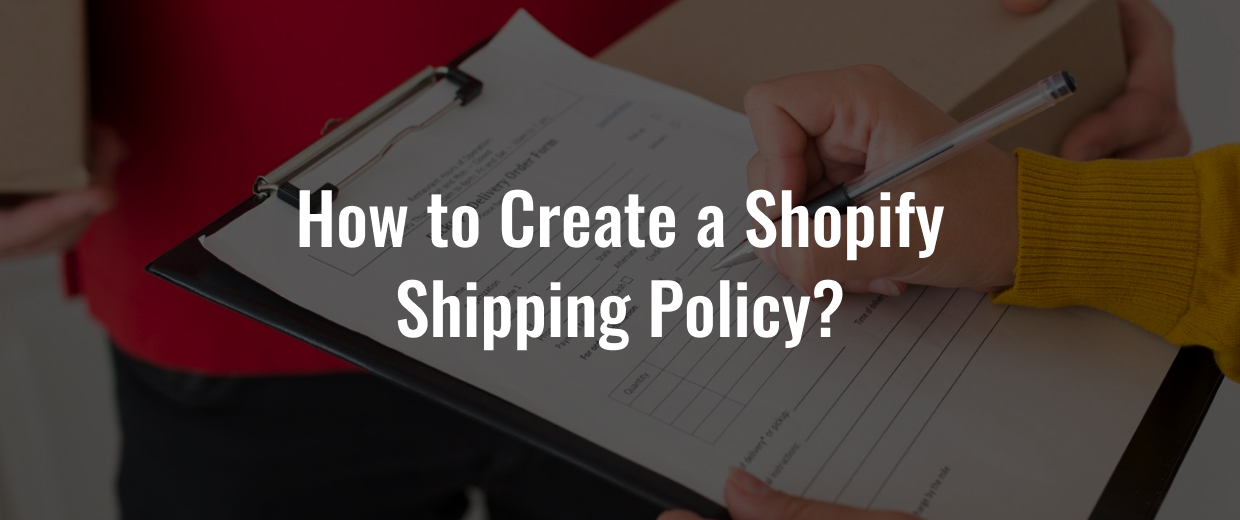 Being a Shopify merchant, one of the most common questions that you would have to face regularly would be related to shipping.
That's where a Shopify Shipping Policy comes in!
A well-crafted shipping policy will not only help you set the right expectations related to the shipping process, expected time, and costs, but it will also help at the times when customers will bombard you with questions, queries, and concerns about their orders.
A Shopify shipping policy is a document of your business that you just need to update as time passes by with changing operations.
So, whether you're creating a new shipping policy from scratch or want to update the existing one, we've created a guide to help you.
Let's dive into the blog!
What is a Shipping Policy?
A shipping policy is a set of rules that explains how a Shopify store ships and delivers orders to customers.
Basically, it contains general guidelines for shipping, which includes the methods of delivery, shipping rates and times, and any limitations that may apply.
A shipping policy plays a crucial role in any e-commerce business since it helps establish trust and loyalty in the minds of customers and ensures that they have a clear understanding of how their orders will be shipped and delivered.
You must place the shipping policy on your online store and must provide customers with all the details they need to make an informed purchase decision from your store.
Importance of Shipping Policy
A shipping policy is important to be placed on your Shopify store. The reasons why you need a shipping policy page for your online store are:
Establishing Trust Among Customers: By providing clear and transparent information related to your shipping patterns, you can establish trust with your new as well as existing customers.
This way, you can ensure that they have a positive shopping experience with your Shopify store. Also, customers are more likely to return to a store if they know that their orders will be timely processed and delivered to their doorstep.
Avoiding Confusion & Disputes: A shipping policy helps to avoid confusion and disputes that can arise when customers have different expectations about shipping times, rates, and methods.
By providing clear guidelines and terms, you can prevent misunderstandings and customer complaints.
Managing Costs: Shipping can be a significant cost for e-commerce businesses, and a shipping policy helps you to manage those costs effectively.
By specifying your shipping rates and methods, you can ensure that you are charging customers a fair price for shipping while also covering your own costs.
Compliance with Laws & Regulations: Having a detailed shipping policy can help you comply with the laws and regulations related to shipping, order processing, and delivery. It includes laws related to customs, import/export, and hazardous materials.
Key Elements of a Great Shipping Policy
A great shipping policy is important for any business that sells products online. It outlines the terms and conditions of shipping, including delivery timeframes, costs, and any restrictions or limitations.
Here are some key elements that can make a shipping policy great:
1. Clear Delivery Timeframes
Your policy should clearly state the expected delivery timeframes for each shipping option you offer. This can help manage customer expectations and avoid disputes over shipping times.
2. Shipping Costs
Your policy should clearly outline any shipping costs associated with each shipping option. This can include any additional fees for expedited shipping, international shipping, or shipping to remote locations.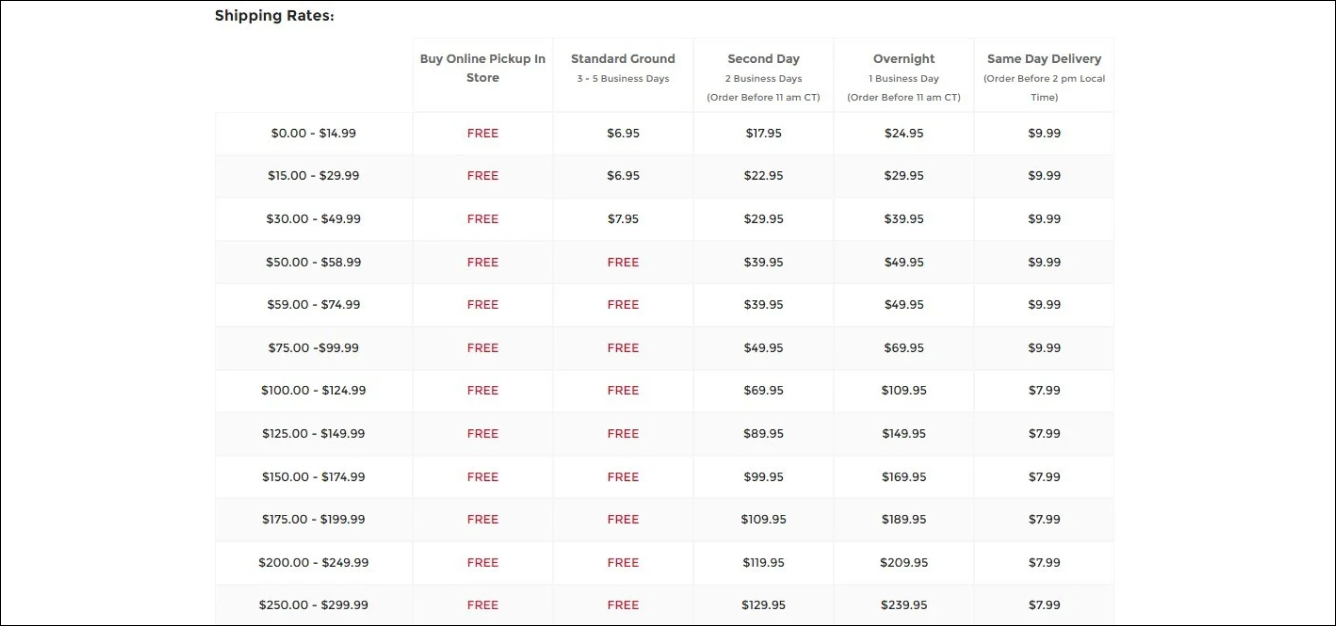 3. Shipping Methods
Your policy should specify which shipping methods you offer, such as standard ground, express, or overnight shipping. You should also outline any restrictions or limitations on shipping methods.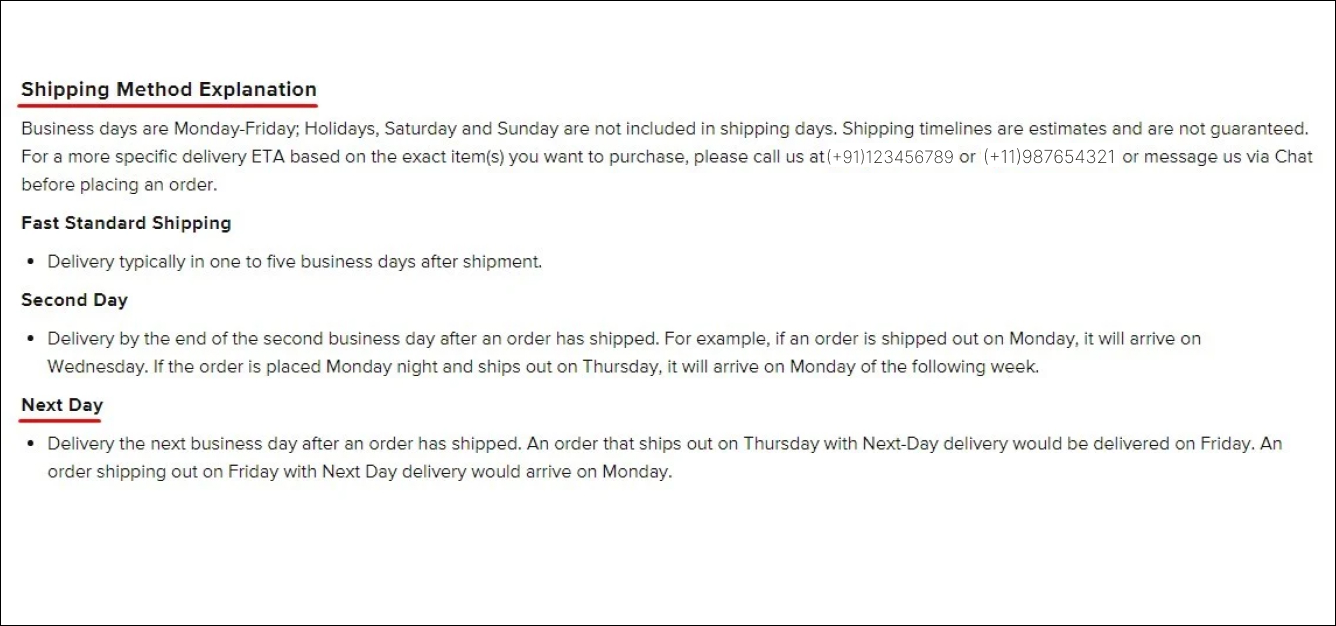 4. Order Processing Time
Your shipping policy should include the time it takes to process an order before it is sent for shipping. This can help manage customer expectations and avoid delays.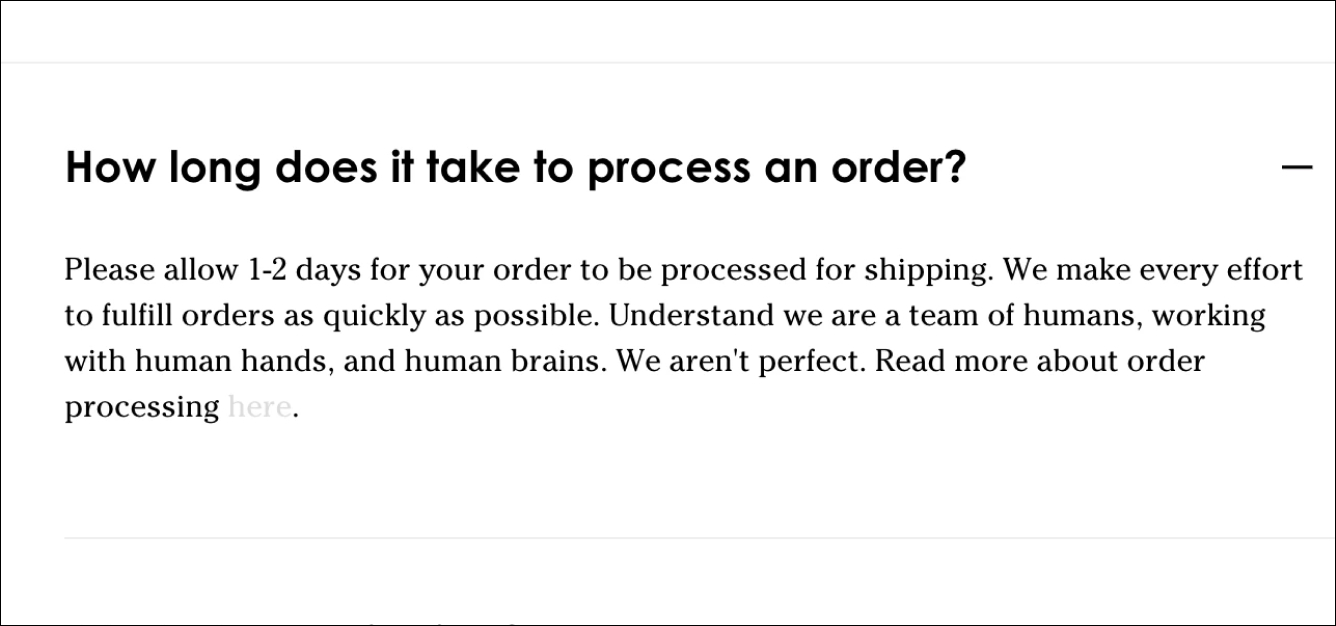 5. Shipping Restrictions
Your policy should outline any restrictions on shipping to certain locations, such as international destinations or PO boxes.
6. Returns & Exchanges
Your policy should clearly state your policy for returns and exchanges, including any shipping costs associated with these processes.
7. Package Tracking
Your policy should outline whether you provide package tracking information to customers and how they can access it.
Shopify Shipping Policy Template
Well, every shipping policy is different and there's no one-size-fits-all approach. But you can take help from this template and draft a shipping policy for your Shopify store.
Note: We have italicized the text that is meant to show you directions on how each section of the shipping policy template should be. Remember to delete it after copying it from here.
Shipping Policy
To ensure transparency with customers, it is essential to distinguish between order processing times and shipping times displayed during checkout.
Upon receiving your order confirmation email, please allow X to X business for order processing. You will receive an additional notification once your order has been shipped.
Domestic Shipping Rates & Estimates
If you opt for calculated shipping rates, the shipping charges for your order will be computed and displayed during checkout.
Alternatively, we provide simple flat-rate shipping of $X to [list countries].
We also have free shipping thresholds, such as free shipping for orders exceeding $75.
In case of multiple shipping options, you may refer to the table below for the carrier options, prices, and estimated delivery times:
| | | |
| --- | --- | --- |
| Shipping option | Estimated delivery time | Price |
| Option 1 | X to X business days | $X |
| Option 2 | X to X business days | $X |
| Option 3 | X to X business days | $X |
International Shipping
We extend international shipping to the countries listed below: [list of countries].
In case there are countries where we do not provide shipping, we want to let you know that at present, we do not ship to [list of countries].
If you choose calculated shipping rates, the shipping fees for your order will be determined and presented during checkout.
In case you offer various international shipping options, you may choose to include them in a table, indicating the delivery timelines (e.g., 8 to 20 days), as expectations can vary depending on the destination.
| | | |
| --- | --- | --- |
| Shipping option | Estimated delivery time | Price |
| Option 1 | X to X business days | $X |
| Option 2 | X to X business days | $X |
| Option 3 | X to X business days | $X |
Please take note that your order may be subject to import duties and taxes upon reaching your destination country, which will be your responsibility as the customer. XYZ Company will not assume responsibility for these charges if they are imposed.
Order Tracking
Once your order has been dispatched, we will notify you via email and provide you with a tracking number that you can use to monitor its status. Please note that it may take up to 48 hours for the tracking information to become accessible.
If, for any reason, you have not received your order within X days after receiving the shipping confirmation email, kindly get in touch with us at [email protected], including your name and order number, and we will investigate the matter.
If tracking is available, you can use the following link to track your order.
Refunds, Returns & Exchanges
Here you need to summarize your return policy.
Our return policy allows for returns within X days of delivery, provided that the item is unused and in its original condition. We will refund the entire order amount, excluding the shipping costs incurred for the return. Please refer to our complete return policy page for more information.
If your order arrives damaged, kindly contact us at [email protected] immediately with your order number and a photo of the item's condition. We will assess these on a case-by-case basis and make every effort to achieve a satisfactory resolution.
If you have any inquiries, please do not hesitate to reach out to us at [email protected].
How to Create a Shipping Policy Page in Shopify?
Now that you have crafted a shipping policy for your store, here are steps that you can follow to add it to your Shopify store:
Step 1: From your Shopify store's dashboard, go to Settings > Policies.
Step 2: Scroll down to the page until you find Shipping Policy.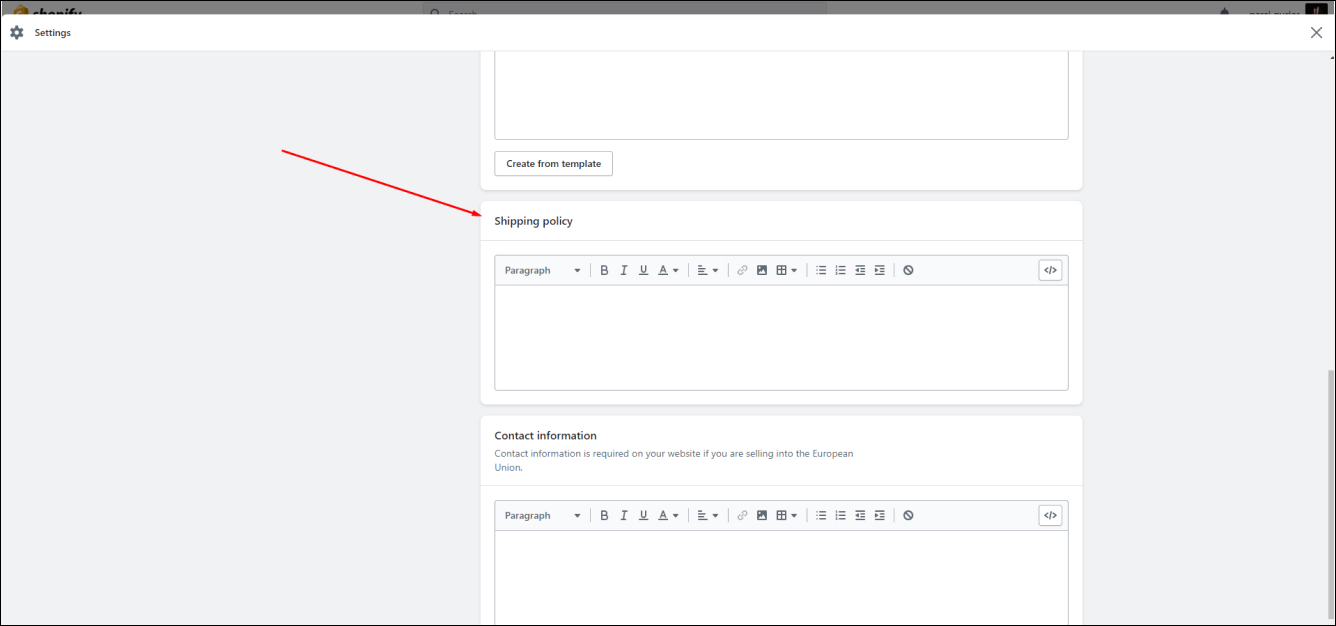 Step 3: Place your policy in the box. Once you've added that, click on the Save button.
In a Nutshell,
Policies may sound to be boring and uninteresting to an individual, but they can help you create a resilient business.
A shipping policy is no exception to it since it contains all the necessary information that helps set the expectation level of your customers. Also, it protects you from any legal action.
You must invest time and effort in a policy that covers all the nitty-gritty details of your shipping standards, and thus, helps you keep your customers informed.
So, that's it! If you have more doubts or questions, contact us today!
Learn more