5 Effective Ways to Automate Customer Support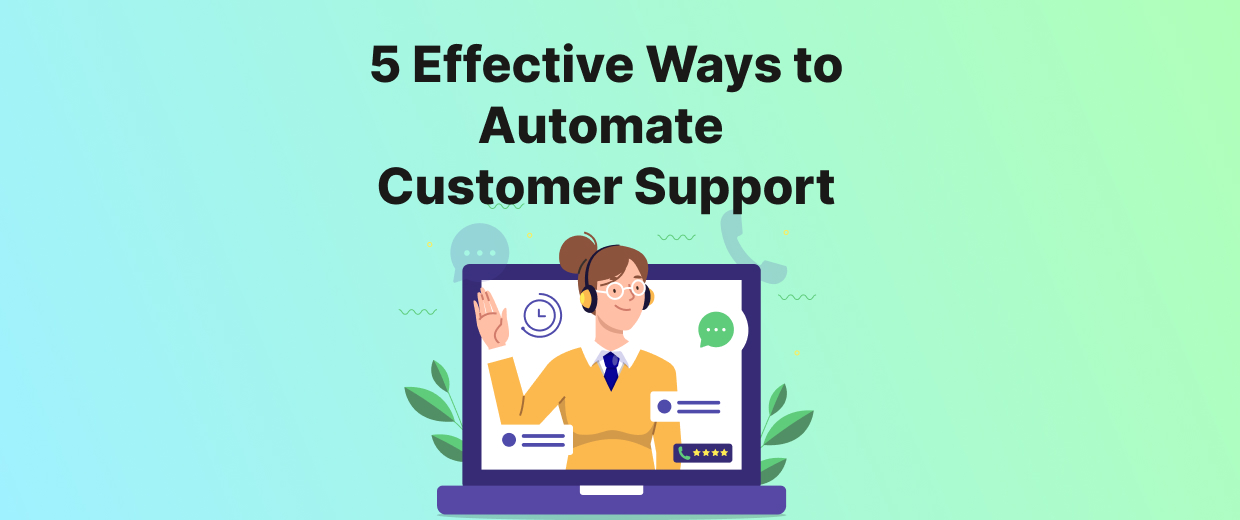 Indeed, customer support is a tedious task, and ensuring that all your customers are taken care of without taking a toll on your support team is even more daunting. Most of the time, customers demand support on various tasks, and if not met on time, it can serve you a negative impact on your business.
When we talk about the term 'automation', what comes to your mind? Is it related to robots? Yes, you get it right!
Now, many companies are adopting automation as an important part of their customer service strategy. When you adopt it properly, customer support automation can give customers a better experience. Additionally, it will reduce the amount of stress on your team.
What are the Advantages of Customer Support Automation?
Starting from correcting human errors to improving team productivity to the next level, there are lots of things that automation can bring to the board. The advantages of customer support automation are wide-reaching, but here are a few of them:
1. Avoiding Human Errors
Being humans, we are prone to make mistakes. Doesn't matter how experienced you are, you can still make mistakes at any point in time.
And when you automate your customer support services, you'll tend not to make errors, which will, on the other hand, bring consistency to the organization.
This way, your customers will not get bounced from one support to another. And this will lead to your customers getting their queries or issues resolved faster and more efficiently.
2. Enhancing Team Productivity
One of the best ways of speeding up the support process is through customer support automation. It can automate the team's manual tasks and get them done quickly.
Automated support tools can boost team collaboration and eliminate confusion about who owns a particular support ticket. It will help improve workflows by resolving customer complaints.
3. Resolving More Requests & Queries
Speed plays an important role in serving customers with the best support services. Irrespective of what products or services you sell, customers expect quick responses.
When something goes wrong, they always need your help and, for this, you need to be quick in being responsive to them.
4. Customers Get Help Faster
By automating customer support services, customers will be able to get help faster as they won't have to wait.
You must keep in mind that if you value their time by providing the best customer support services, then you can experience a higher retention rate of your customers on your site.
5. Centralizes Information
Using customer automation tools, you can centralize all your customer's information. This includes their contact details, transaction details, viewed content, and more.
Integration with the CRM platform for customer automation tasks provides a detailed view of customers which helps you access of incoming calls, emails, or chats.
This way, you can deliver a top-notch customer experience without scrolling down various tabs or spreadsheets.
5 Tips to Automate Customer Support
When looking for some ways of automating support services, you need to start by automating repetitive actions. For example, how would you feel if you were asked to enter some information on the site you've shopped on before?
You would feel irritated and you'll end up abandoning the cart. Thus, it is vital that you emphasize automating the customer support system for the most valued customers in your e-commerce store.
The mentioned below are some helpful ways how you can use automated support tools to enhance your customer experience.
1. Send Customer Satisfaction Surveys:
One of the best ways of automating customer support is by sending customer satisfaction surveys. After you serve your customer with your services, you must immediately send an email to them asking if they were satisfied with the services or not.
Now imagine, is it possible for an individual to manually email those surveys to every customer who made a purchase. It would take a lot of time for an individual to send those emails, and also you will miss out on a few emails on the way. Automating such tasks make customer satisfaction survey collection much easier.
Do you wish to make that automation process more advanced? If yes, then listen to it!
When a customer responds negatively to the survey, your help desk must automatically open up a case to resolve the addressed issue. If you ignore the feedback with negative outcomes, not only you will lose out on a customer but will also put your brand at risk of receiving negative results.
Here's an example of a customer service satisfaction survey, have a look!
2. Let Customers Know You Received Their Queries:
When a customer sends you an email, what would you do next? If we talk about it behind the scenes, the respective team member will look into the issue, check what went wrong, and compose a reply to the customer.
It would take a lot of time if the process goes on as stated above. Thus, you need to look for ways that can send immediate emails to the customers. One best way to help you, in that case, is automated emails.
Without automated email replies, your customers would start to feel that they are explaining the issue to a wall. Hence, you must work on automating the email process such that customers feel that they are being valued.
Ensure that you use a well-written automated email reply to your customers assuring them that you're always there to help them. Statistics prove that almost 90% of companies don't even acknowledge the email received from their customers, and almost 65% of them don't respond to them.
3. Redirect The Customers To Help Center Articles:
If your site offers your customers a chat support system, you can use automated answers to some customer queries by directing them to your help center-related articles.
It depends upon the chat software you use, but you need to work on driving the customers through relevant help center articles.
On the contrary, you must keep in mind that chatbots can turn out to be enraging when they give them several options without giving them a chance to opt out of the conversion. Obviously, no one wishes to get stuck in the loop!
Hence, you must go for chat automation only for some complex topics as it can help the customers to get connected with the right team member to get help or resolve the issue.
4. Reply Quickly With Saved Replies:
Saved replies are pre-saved templates of text messages. These save a lot of time for an individual as they don't need to type the same reply every now and then when any customer asks a question.
Writing a new response every single time takes up time and thus if you use saved replies, it can prove to be helpful to provide your customers with the reply on time.
But you need to be careful while automating a reply. It can irritate the customers if your company becomes too dependent upon robotic replies. Hence, you must take considerable time to customize each saved reply and keep your customer's point of view in front while drafting it.
5. Simplify Workflows with Zapier:
One of the possible ways of leveraging automation between various platforms is by offering integration through tools like Zapier. By integrating Zapier, you can automate updates for your customers, and send an email to them.
Furthermore, you can also personalize the workflow based on your schedule and needs by modifying the workflow.
There is an end number of possibilities over the web, and this is especially true when you're trying to combine two tools to create a smooth workflow. It not only simplifies your work to a great level but will also keep your customers happy.
Are you Ready to Automate Customer Support?
With an abundance of tools and technologies available today, now do you have any excuse to not provide better support to your customers? There are numerous advantages of automating customer support.
So, should your business automate customer support? Well, it totally depends on the size and type of your business.
If you're ready:
If you tend to receive large amounts of customer requests every day or maybe a week, it creates an obstacle for you to complete or resolve them. Here, automated customer support will help you solve the requests of your customers.
If you aren't ready:
If you tend to receive only a few customer services requests a day or week, automated customer support may become a distraction for them. Thus, you may consider adding a chatbot which may help your business look like a larger organization.
What do we recommend?
You must look for customer automation to offer an excellent experience to your customers. If you are one who experiences large amounts of customer requests or queries, you can begin by adding a chatbot with responses.
Use various customer automation tools and techniques such that you focus on more complex customer interactions.
Keep Automating!
To automate customer support on your e-commerce platform, you need to develop an intricate understanding of your workflow process. Once you rule out the identified obstacles on the way, you'll be able to automate your workflow for you as well as for your customers.
Every business's main motive is to achieve customer satisfaction. Isn't it? With automation, you can achieve your motive easily. For that, you don't have to rely on other factors. Additionally, it ensures that your customers can tackle the challenges quickly, effectively, and efficiently.
To get more help from our end, do not hesitate to get in touch!