Step by Step guide to change the name of your Shopify store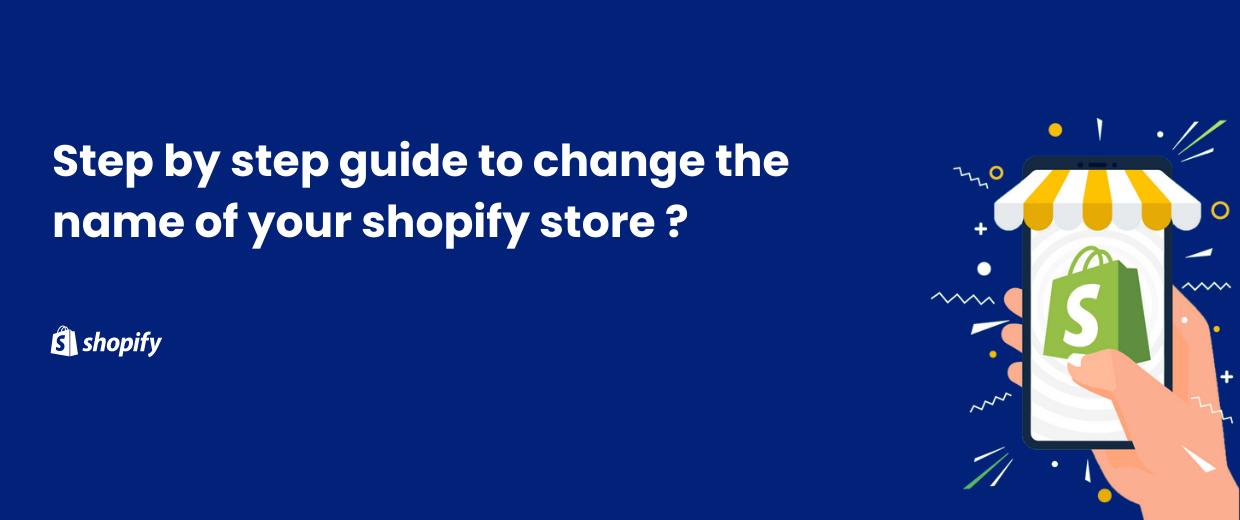 In the progression of your online store, its name plays a very important role but what if you don't like your prevailing online store name and want to change it? Don't fret this article by the team of experts from PRP Webs will help you accomplish your intent.
Why is changing your Shopify store name necessary? If so, then when?
Apart from using the ultimate Shopify themes and apps to construct a charismatic shop-front you also need a captivating store name as it is one of the foundational factors that subsidize your company's growth.
The name of your business generally is your first apprehension with your customer. The more unique your store's name is the more you will attract your customers.
Some of the reasons why you should change your store name are listed below :
In case your ongoing name is ambiguous and bewildering to pronounce:
Your name tells the story behind your store and if your customer is not able to pronounce your store name or is not able to understand it then it will attract negative acknowledgment towards your store. Your store's name needs to be easily understandable and pronounceable because the higher reach your store has the more in-store diversity will be.
The similarity between your store name and others:
Let's say two stores with the name My store and both of them sell clothes. In scenarios like this if a customer is looking for your website then there are chances that they can land on the other store and it might prove to be a loss for you. So, to prevent accidents like this from happening, you should change your online store.
If your store's name is based on a momentary trend :
Sometimes to attract a certain category of the audience, many online stores keep their names according to the trends going on in that genre. After the trend is ended it becomes very crucial for stores to change their names. Not doing so will only bring the growth of the store down.
Now, let's get into how to change the name of your online store.
Visit your Shopify admin page and log into it.

Precisely on the top left of your navigation bar will be the Settings option, open it.

Look for store details and click it.

After clicking on the store details you will see your current store name click it and edit it with the name you have in mind.

At the top right corner a save button will be there click it and save your stores name
Once you complete these steps the name of your online store will be changed.
How to change the domain name of your Shopify store?
As we have learned earlier how to change the name of a Shopify store. Now let's learn how to change the domain name of the Shopify store. An important thing to remember is that you can't change the myshopify.com URL. So let's get started with three simple steps.
Purchasing a domain name-
The first step is purchasing a new domain name. Here you can try a variation of store names for that brainstorming is required also we have to keep ourselves distant from legal issues.
Here you just have to connect your domain to Shopify by just going to the online store option under the sales category and selecting domains from it. 
This is a crucial step as you will be introduced to three options from which you have to select one- Connect the existing domain, transfer the domain or buy a new domain. Then the last very important thing is to double-check just to see if the domain is going to the correct store.

Should you change the name of your Shopify store?
The answer to this question is very simple it depends if your store is facing any of the following issues-
If your store does not get any traffic and sales.

If people do not recognize your store name.

You want to try something new with your store name.
          If any of these problems are happening to your Shopify store then consider changing your store name as soon as possible.
Closing words-
Here we come to the end of this article. I hope you found this article helpful and that it will help you through this period of thinking about whether to make changes to your store name or not. Every store owner has to put in the right amount of effort to get the success they are looking for in their digital sales and online business. If you have any further questions then contact us today at our website https://prpwebs.com/. We provide all kinds of assistance and maintenance you can ask for. You can also call us at +919214930277 or reach us on our social media handles.
PRP Webs and its team wish you all the luck and success for your online business and Shopify store!!