Are you planning to establish an online store or an e-commerce website? Got two choices? Shopify or Squarespace? Now, are you confused between these two?
Both Shopify and Squarespace are the best website creators. Surprisingly, one can easily build and manage e-commerce sites without any know-how or technical knowledge. Are you looking for a detailed Shopify vs Squarespace comparison? If yes, then you are at the right place.
Here, you'll get a comprehensive difference between these two most popular e-commerce platforms. But before we proceed towards their difference, let's get to know what exactly these both are so that we get a clear understanding of the topic!
Shopify VS Squarespace: An Overview
What is Shopify?
Shopify is an e-commerce platform that helps you make your online store in one click with inventories and payment gateways. Be it a small business or large business anyone can create a store with Shopify. It rules out all the technical aspects of managing a website like hosting, security, and caching.
Have a look at some amazing facts about Shopify!
What is Squarespace?
Squarespace is a website builder that helps creative website owners to build appealing and enhancing websites for their businesses. With this platform, one doesn't require any technical skills or knowledge. It even comes with in-built e-commerce tools and SSL certification.
Have a look at some amazing facts about SquareSpace!
Now, let's dive deeper into the key features and differences between Shopify and Squarespace!
Shopify VS Squarespace: Tabular Comparison
We understand you won't have enough time to go through the huge chunks of text, or you want to compare Shopify and Squarespace in a more intuitive manner, so, take a look at the table below!
FEATURES
SHOPIFY
SQUARESPACE
WINNER
Pricing
14-day free trial

Pricing plans range from $29 to $299 per month

14-day free trial

Pricing plans range from $16 to $49 per month

Squarespace
Ease of use
Drag-and-drop design & gives visual cues
The editor's page is hard to navigate & gives no visual cues
Shopify
Themes
100+ Free Themes

Premium Themes costing around $200-350

Free to preview & edit themes (depending on the subscription plan)
Shopify
Apps & Plugins
2000+ apps available
31 extensions available
Shopify
Support
Live chat

Email

24/7 phone support

Live chat

Email

Shopify
Security
SSL Certificates

Shopify takes care of all upgrades & security concerns

SSL Certificates

Security is taken care of by Squarespace

Draw
E-commerce Features
Great selection of sales tools & features
Limited marketing tools & features
Shopify
Shopify VS Squarespace: Detailed Comparison
Now, let's dig deeper into each feature such that you know which platform to choose by the time you reach the end of the blog.
Shopify vs Squarespace: Pricing
Shopify
Shopify offers 3 main pricing plans – Basic Shopify, Shopify, and Advanced Shopify. Let's get to know about each plan below:
Basic Shopify: It is perfect for beginners and has been opted for by lots of customers. It accounts for up to $29 after you complete your free trial of 14 days.
Shopify: If you're planning to grow your store, Shopify is the perfect plan to go with. With $79 per month, you can leverage the advantage of various features and functionalities.
Advanced Shopify: This plan is ideal for huge eCommerce businesses that need advanced solutions to cope with the large volume of sales. You can avail this plan at $299 per month.
If you want to get deeper insights on Shopify's pricing and plans, check out Shopify Pricing Plans: Which One is Best?
Other than the three plans mentioned above, Shopify offers a starter plan for only $5 per month. This plan enables you to sell products through social media platforms or messaging apps, without the need of managing an online store.
Squarespace
Squarespace offers 4 pricing options – Personal, Business, Basic Commerce, and Advanced Commerce. The price range varies from $16 to $49 annually.
It also offers a free trial to decide whether this platform is perfect for your business or not.
While choosing one plan out of the four, keep in mind that the Personal Plan doesn't offer e-commerce and marketing features. Thus, if you're looking to open a store using Squarespace, you have to go for one of the other three plans.
The Winner: Going through the pricing structures between the two has cleared the fact that Squarespace is an affordable option. With $49 for Squarespace, you can most of the advanced features and functionalities. On the other hand, with $299 for Shopify, you can get stunning functionalities for your store with apps and adds-on for scaling your business.
Shopify vs Squarespace: Ease of Use
Shopify
Shopify offers a user-friendly dashboard to its users. It uses an easy drag-and-drop design, which implies you can easily add, remove, or rearrange sections with just a few clicks.
Moreover, it offers a clear interface with visual cues to add products, edit themes, and more. This way, you'll never feel the loss of control while designing and developing your online store.
Squarespace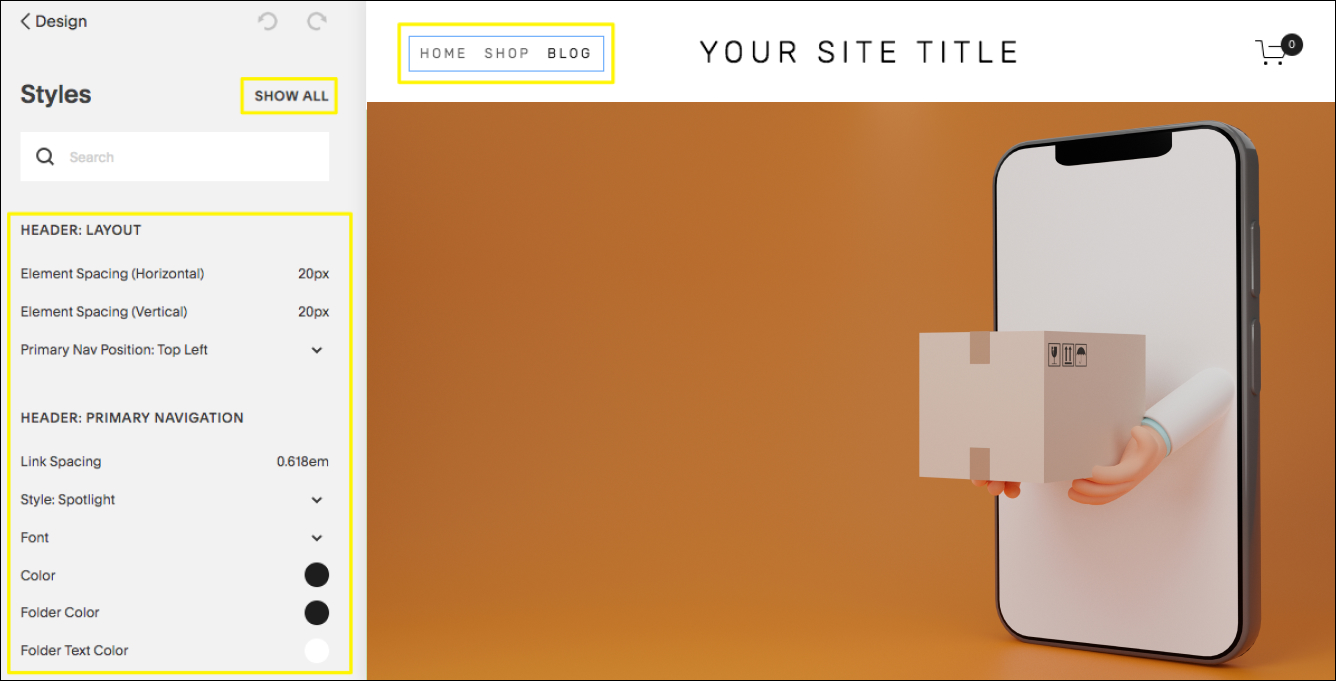 Squarespace is a bit trickier to use its editor as compared to other website builders. On the other hand, it offers drag-and-drop sections with content blocks which makes it easy for newbies to use.
However, the editor's homepage is quite hard to navigate since there are no visual cues.
For people who are new to building websites, it will take quite some time to use this platform.
The Winner:
No doubt, both the platforms, Shopify and Squarespace offer user-friendly interfaces, but the former of the two is quite easier. Shopify offers an ideal balance between the design structures and tools required to create it.
Shopify vs Squarespace: Themes
Shopify
Shopify offers more than 2000+ themes to choose from. Shopify themes cover various industries including electronics, clothing, sports, fashion, beauty, and more.
You can find themes on Shopify's themes store. All of them are appealing, attractive, and mobile responsive. Moreover, Shopify guarantees the performance of all the themes since they are created by UI/UX experts.
If you're willing to customize your Shopify store according to your business requirements, you can edit its HTML and CSS on the Shopify admin panel.
Squarespace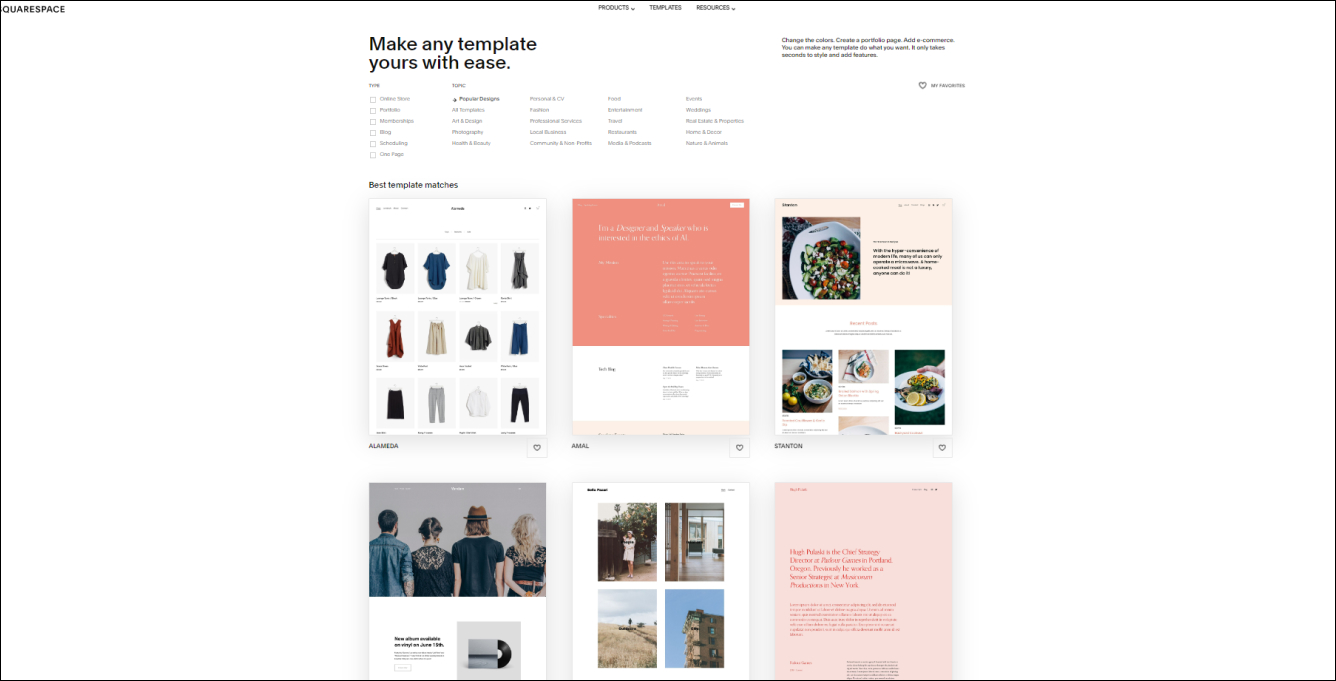 Each of the Squarespace templates is stunning, modern, and sleek. Above all, the templates are created to meet design, usability, performance, and mobile responsiveness.
However, Squarespace offers a blogging service to its users. Thus, it can be used by users who are willing to blog or display art or photography on their site.
Squarespace doesn't offer full customization services to its users, unlike Shopify. But still, it makes customization easier for people who wish to showcase their website in an artistic manner.
The Winner:
This time, it's a draw between the two. Both platforms offer a wide range of attractive template options. However, Shopify is considered best for those who're willing to start an online store. Whereas, Squarespace is ideal for content-driven websites.
Shopify vs Squarespace: Apps & Plugins
Shopify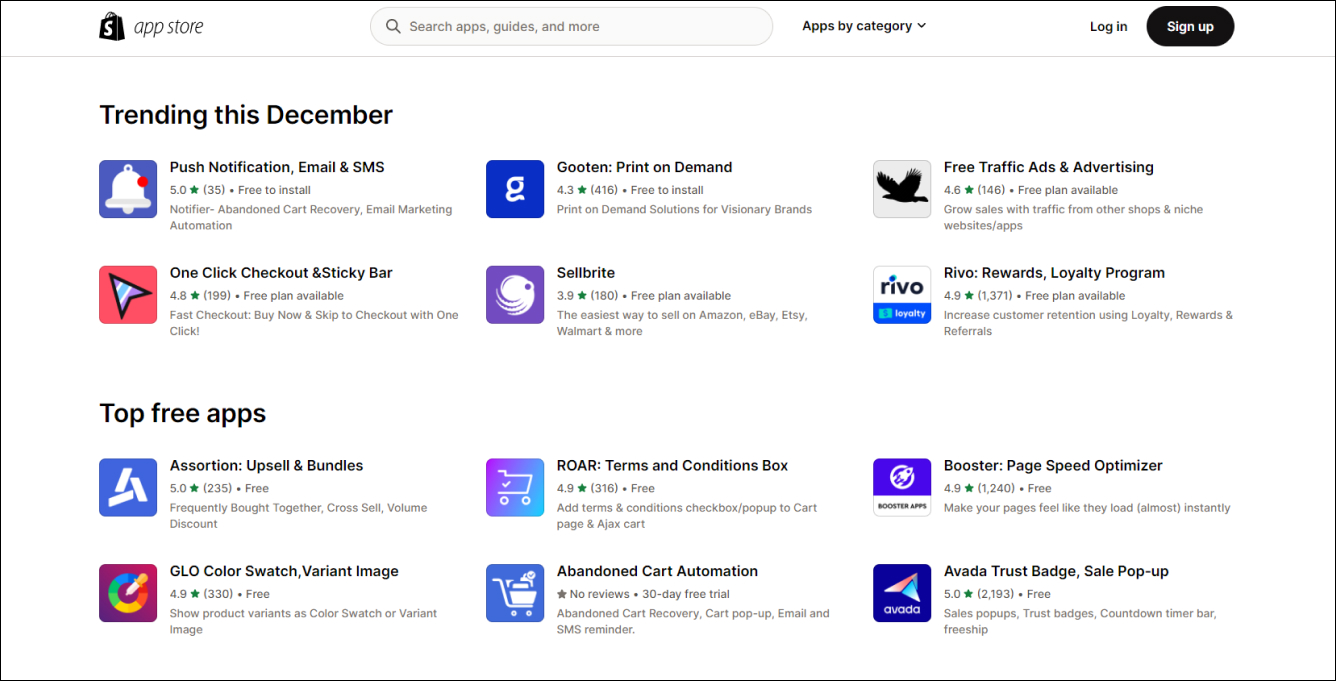 Shopify offers more than 6000+ apps from its app store. It can help you add a variety of features and functionalities to your store.
Shopify app store gives you a wide range of apps from which you can choose a free or premium app that can cost you around $15 per month.
Squarespace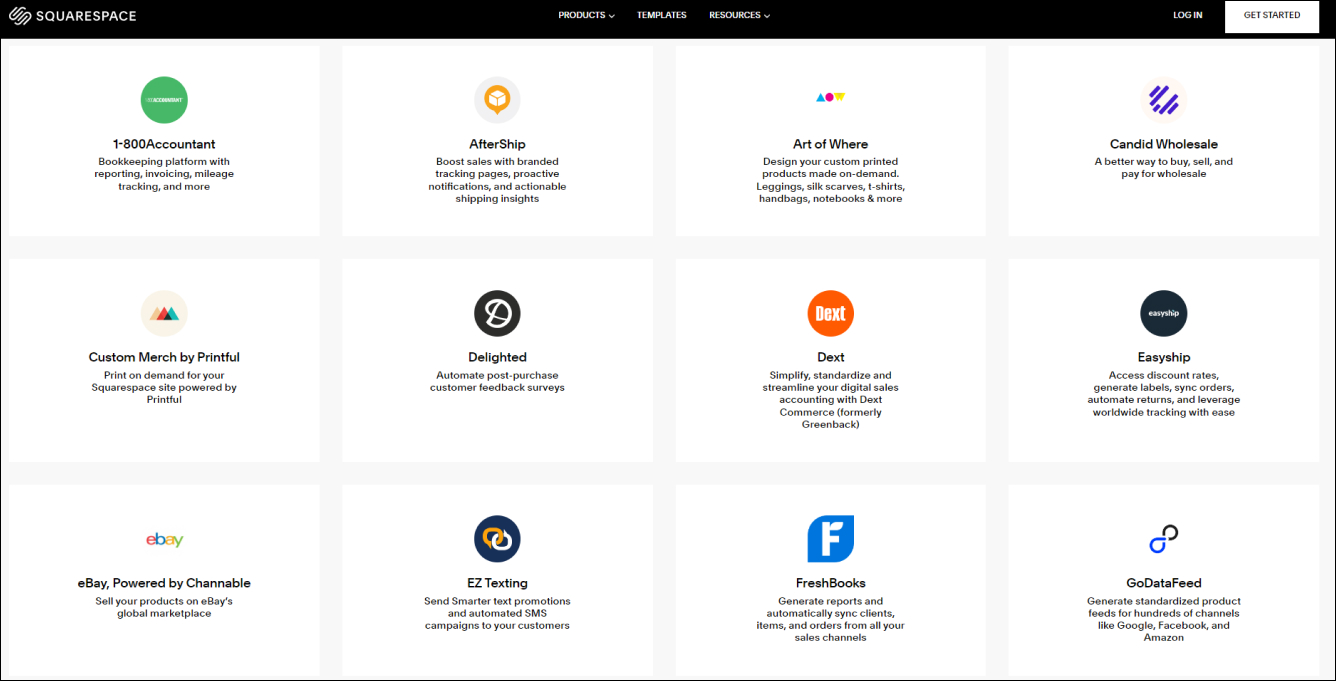 In December'19, Squarespace launched its extensions marketplace. It has a total of around 31 extensions. One of the drawbacks of this is some extensions are available only in some countries, thus, you need to check for the location before installing it on your site.
Regardless of its availability, these plugins can help you manage, optimize, and expand the site. Moreover, you can filter search for the plugin's categories which are, Shipping and Fulfillment, Finance, Inventory and Products, Sales, and Marketing.
The Winner:
Undoubtedly, Shopify wins the round since it offers a wide range of apps to choose from.
Shopify vs Squarespace: E-commerce Features
Product Types:
Both Squarespace and Shopify let you sell physical and digital products. However, if you've to sell digital products on Shopify, you need to integrate an app on the store.
Payment Options:
Shopify supports all major payment gateways such as PayPal, Amazon Pay, Square, Shop Pay, and even cryptocurrency.
Users of Shop Pay won't have to pay transaction fees. For other payment gateways, you need to pay 0.5% to 2% per transaction.
Squarespace offers limited options for payments like PayPal, Square, and Stripe.
Shipping Options:
Shopify Shipping offers everything that you need to ensure a smooth and seamless shipping experience. Whether it's printable labels, local pickup, delivery options, or carrier options, Shopify shipping offers all.
Squarespace is still working on its USP to calculate carrier rates for shipping. So, it can't compare with Shopify.
Selling Offline:
Shopify has its own POS system that is available in every Shopify plan and it syncs seamlessly with any type of online store. For offline sales, you'll have to pay a transaction fee of up to 2.7% for the Basic plan, 2.5% for the Shopify plan, and 2.4% for the Advanced plan.
Squarespace has partnered with Square to develop POS. It costs around $39. Keep in mind that POS is available with only Commerce Basic or Commerce Advanced plan. However, it doesn't charge you any additional fee for transactions.
The Winner:
When it comes to e-commerce features, Shopify wins this round too since it offers various features and functionalities for operating an online store.
Shopify vs Squarespace: Support
Both Shopify and Squarespace offer amazing customer support services. If you're facing any issues on the way, you can reach out to them for help through emails, live chat, and community forums.
With Shopify, you get a special support agent if you're going with the Shopify Plus plan.
With Squarespace, you can reach out for help via live chat and email.
Shopify has gone a step ahead by offering 24/7 phone support.
The Winner:
Shopify has a slight edge over Squarespace regarding the support offered.
Shopify vs Squarespace: Security
Both Shopify and Squarespace offer the same level of security to their users. With SSL Certificates, one can easily transfer data without getting leaked. Moreover, both are PCI compliant, which means they ensure security standards for processing the payments.
The Winner:
In this round, both Shopify and Squarespace meet a standard level of security that can save your online business from data leak risk.
The Verdict
To sum up the comparison, Shopify tops in the battle of Squarespace vs. Shopify. Shopify's library of third-party extensions allows for significant expansion in the world of e-commerce.
Since the platform was originally and exclusively designed for e-commerce, it has an intuitive understanding of the features that can alleviate the challenges of making sales, such as shipping integrations and simple inventory management.
Squarespace has an edge over Shopify when it comes to theme design. Its templates are specifically crafted to display products in an appealing manner while also seamlessly integrating all website elements.
On the other hand, Shopify aimed to improve functionality over aesthetics, which can prove to be beneficial or vice-versa depending on your business's needs and requirements.
Nevertheless, after a thorough assessment of each category, Shopify emerges as the victor or at least as an equal contender in each one, ultimately making it a slightly superior option to Squarespace overall.
Bottom Line
No doubt, both e-commerce website builders are great. While Shopify offers amazing sales features, Squarespace is more relevant for blogging and displaying images. Therefore, to find out the answer to "Which platform out of Squarespace and Shopify is the best?" all comes down to what you want.
On the other hand, for most e-commerce site needs, people usually get confused between Shopify and Squarespace as these are the most popular platforms in the online market. It is vital that you consider all the differences while selecting and choosing the best platform for developing the site.
We hope this blog helped you pick the right platform for you. If you still have any questions in your mind, consider contacting us through email or comments. We'll be happy to help you!
You might want to read more:
Shopify VS WooCommerce: Who Wins the Battle?