An Ultimate Guide to Shop Pay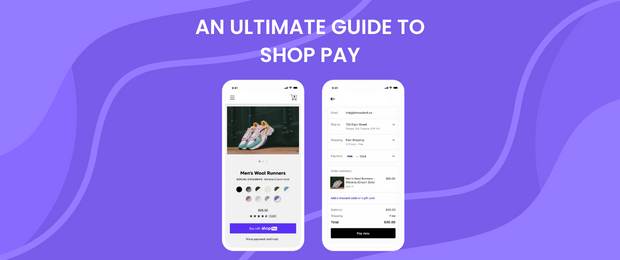 Are you an online shopper looking for a fast and secure payment solution? Or, are you an online store merchant searching for the best solution to offer a convenient, fast, and hassle-free payment solution for your customers? If this is so, then Shop Pay powered by Shopify is the perfect solution for it!
Do you know what the best part about Shop Pay is? It is that both the customers as well as merchants can leverage the benefits of Shop Pay as long as they have a Shopify account.
It came into the picture in 2017, and until that time it became one of the reliable Shopify payment methods. Statistically, Shop Pay has around 1.5 million users in the US itself.
Shopify has performed an excellent job in creating Shop Pay. All one needs to do is click on checkout and click on the Shop Pay button while purchasing something. If you're a first-time user, you would have to enter details like card details, billing information, shipping details, and more. But if you are an existing customer, you don't need to enter the details, the checkout process will be accelerated with the power of Shop Pay.
If you found the blog to be interesting till now, and you want to learn more about Shop Pay, you have stepped into the right spot. Here, we are going to cover all the essential things related to Shop Pay and also how to set up Shop Pay in your store.
What is Shop Pay?
Shop Pay is one of the payment methods that accelerates the checkout process for Shopify stores. Additionally, it enables the customers to save their personal information and payment details such that they don't have to type them whenever they make a purchase.
This payment method fills in checkout details, which include:
Shipping Address

Billing Address

Credit/Debit Card Details

Phone Number
Customers have the benefit of saving up to five credit or debit card details and shipping addresses, and all of the details are secure.
Shop Pay is available to both Shopify and Shopify Plus stores. To leverage the full benefit of Shop Pay, the customers have to select the option 'Save My Information for a Faster Checkout' when they click on checkout for the first time. Another way, they can click on the Shop Pay button in the payment selection section.
The customers who choose to pay by Shop Pay have the option of splitting the payment into four installments. But, this option of installments is available to only merchants who enable this option.
This payment method is safe and secure as it is powered by Stripe. Stripe is the same payment processor that is used by brands that include Amazon, Glossier, and Under Armour.
How does Shop Pay work?
An online store can easily enable and disable the Shop Pay payment method through the 'Settings' in its Shopify admin section. This payment method is available to both merchants who use third-party payment providers and those who sell on Facebook or Google (even if they don't use Shopify).
Let's get into detail about how Shop Pay works!
When they click on the

'Checkout'

, they are redirected to the page where they can review their order.

After reviewing their purchases, they get a six-digit code and when are asked to enter it on the checkout page. After they enter the code, the order is processed further.

When the same customer returns to the Shopify store to purchase something else using the same device, they'll experience faster checkout as their details will be pre-filled, and, also they don't need to verify themselves again.

The customers have the option to change their Shop Pay account details and can even opt out of this at any time.

It even allows the customers to select any pickup and delivery options if any business offers these services to their customers.
Shop Pay's Key Features
Shopify retailers can take payments from clients who have saved their credit card information thanks to the mobile payment tool known as Shop Pay. Shop Pay offers a number of key features, including:
1. One-tap checkout
One-tap checkout is a key feature of Shop Pay that allows customers to checkout with a single tap, without having to enter their shipping or billing information again.
It is a convenient and secure way for customers to checkout online. It makes the checkout process faster and easier, which can help to increase sales and improve customer satisfaction.
2. Installments
Installments are a key feature of Shop Pay that allows customers to pay for their purchases in installments. With Installments, customers can split their purchase into four equal payments, due every two weeks. There are no additional charges or interest rates applied for purchases split into 4 bi-weekly payments.
Purchases split into monthly payments may be subject to interest. Installments can be a great way for customers to afford larger purchases. Additionally, it can be a fantastic tool for retailers to boost sales and raise customer satisfaction.
3. Security
To safeguard consumer data, Shop Pay employs a variety of security measures, such as:
End-to-end encryption: Shop Pay scrambles all client information before it is sent to Shopify's servers for storage.
PCI compliance: Shopify is PCI compliant, which means that it meets the highest security standards for storing and processing credit card data.
SMS verification: When a customer uses Shop Pay for the first time, they are sent a verification code via SMS. To finish the checkout procedure, this code must be input.
Fraud protection: Shop Pay uses fraud protection measures to help prevent fraudulent transactions.
Shop Pay's security features help to protect customer data from unauthorized access, fraud, and theft. This makes Shop Pay a safe and secure way for customers to shop online.
3. Convenience
Shop Pay allows customers to checkout with a single tap, without having to enter their shipping or billing information again. This can save customers time and effort, and it can also encourage them to make impulse purchases.
Additionally, Shop Pay is accessible on the web and mobile devices, making it simple for clients to check out wherever they are. Customers that purchase on their phones may find this to be very convenient.
Shop Pay VS Shopify Payments
After going through the blog, you may now start to get confused between Shop Pay and Shopify Payments. Isn't it?
Don't worry! We'll clear all your doubts on the way!
Shopify Payments is one of the payment processing services that Shopify offers to merchants. On the other hand, Shop Pay is one payment method that promotes a fast checkout process for customers.
To get a detailed insight, go through the below-mentioned table:
What is the pricing of Shop Pay?
Do you know that Shop Pay is free of cost? However, to enable that, you need to install Shopify Payments.
You need to be a member of Shopify Payments and Shopify to start using Shop Pay for your store. Once you're on the Shopify Premium plan, you'll be able to use both Shopify Payments and Shop Pay for your store.
Discover Shopify pricing plans and get ahead with setting up your Shop Pay stores for your customers.
Shop Pay Installments
Shop Pay Installments is a third-party "buy now, pay later" provider that allows Shopify merchants to get paid at the time of order placement while allowing customers to pay their order money over time.
To enable this feature, you ought to be using both Shopify Payments and Shop Pay.
Now, let's discuss the payment options that are available to the customers:
For orders placed between $50 and $999.99, customers can pay four interest-free payments every two weeks.
Payments can be made monthly over a period of three, six, or twelve months, depending on the amount of the order, for purchases between $150 and $17,500. The Annual Percentage Rate (APR) ranges from 10% to 36%.
How to Set Up Shop Pay?
Before you get down the lane to set up Shop Pay on your Shopify store, you must ensure that your store has access to Shopify Payments.
It is just a matter of a few minutes to enable Shop Pay in your Shopify store. Let's go through the steps:
From your Shopify store's admin area, navigate to Settings > Payments.

In the Payments Section, you'll find Manage in the top right corner. Click on it.

Navigate down the page to find Shop Pay and tick check the box for Shop Pay.

Don't forget to Save the changes you just made!
After you follow all the steps, Shop Pay would now be active on your online store, and this way, your customers will be able to use it as one payment method when they click on checkout. 
How to set up Shop Pay for third-party payment providers?
All you need to do is follow the below-mentioned steps to enable Shop Pay for third-party payment providers.
From your Shopify store's admin area, go to Settings > Payments.
Next, you need to locate the Third-party payment providers section and then click on Manage.
Now, you'll find the Shop Pay section, tick check on the Shop Pay.
Click on the Save button.
In the Shop Pay section, select Complete Set Up.
Next, you need to enter all the necessary details about your Shopify store. Also, enter the banking details and click on Save.
How to set up Shop Pay installments for your store?
If you are a perfect candidate for Shop Pay installments, follow the steps to enable it:
From your Shopify store's admin area, go to Settings > Payments.
In the Payments Section, click on Manage in the top corner.
Next, in the Shop Pay section, check mark on the Shop Pay Installments.
Don't forget to Save the changes!
What Are the Advantages of Shop Pay?
Shop Pay offers a wide range of benefits to its users. Now, let's get into its advantages in detail:
Order tracking:

Shop Pay helps know what a customer purchases and from what they purchased. It helps track the order journey from scratch to the finish until and unless the purchase is made. It additionally helps customers to keep a track of the arrival of their packages. Nowadays, many merchants have started to showcase a badge on their Shopify store that's referred to as 'Shop Promise' which ensures that their deliveries arrive on time.
Flexible Payment Plans:

With the help of Shop Pay, you can easily offer 'Buy now or Pay in Instalment' services to your customers. You can customize each plan according to your customer's needs and preferences. For instance, take a look at the below-mentioned plans – some do not impose interest, while some charge APR on certain purchase prices.

Personalized Shopping Experience:

Shop Pay enables customers to customize their shopping needs and preferences by choosing their favorite brands, store, and even products. With it, you can even notify customers about the latest offers and deals. Additionally, if a customer is shopping locally, it allows them in-store pickup as well as convenient delivery options.

Offers Great Security:

Shop Pay works under the payment gateway methods to protect and encrypt its customers' data. It uses details only for improving the customer experience on the Shopify store. It even gives the advantage of deleting or deactivating the account at any time.
Carbon-Neutral Deliveries:

You must be aware that the deliveries contribute to carbon dioxide gas emissions, but Shop Pay is contributing towards improving the climatic conditions with its green initiatives. It is planning to plant around five million trees with its partnered organizations.
Is Shop Pay Safe?
We understand it could be a daunting task for you to choose the best payment method and checkout solutions for your customers. You want to ensure that you create a personalized and an effective experience for your customers in your store. On the other hand, it is also crucial for you to ensure that your bills are kept too low, and thus, reducing the effort from your side.
From the customer's point of view, customers would be concerned about the safety of their payment information. They would often face the question that is their personal information safe if they purchase through Shop Pay?
Based on our research, Shop Pay is very safe and secure for customers to use!
All the credit goes to SMS verification, PCI compliance, and encrypted financial data. This way, the customers get several layers of security before making a purchase. And that's particularly vital in the digital world where people are building trust in digital companies. This extra layer of security means that customers and merchants can have peace of mind while they shop and offer respectively.
Shop Pay is responsible for handling the payment security elements on behalf of the merchants. And this fact makes it perfect for businesses and customers!
Why Should Merchants Start Using Shop Pay?
Are you still wondering whether or not you should use Shop Pay for your online store? If yes, then consider these factors to make up your mind!
Helps improve your Sales:

One of the biggest advantages of using Shop Pay is its faster checkout process, which improves the customer experience in the store. It also means that your sales increases with your cart abandonment rate and bounce rate going down.
One of the other factors that shouldn't be ignored is that it gives your customers the option to make payments in four installments. And thus, for this reason, they'll prefer your store over others in the market.
Lets You Sell On Various Marketplaces:

With Shop Pay, you can start to sell on various marketing platforms and can collect money easily. All you need to do is to enable it as a third-party payment gateway for the marketplaces. Once you set it, your customers can make instant purchases through Google, Facebook, and Instagram pages.
This clears that Shop Pay expands your horizon of increasing the sales of your online store. Additionally, you can enhance your earning potential by integrating Shop Pay with other digital marketing strategies.
What are the alternatives for Shop Pay?
If you're looking for some alternatives for Shop Pay, here are some mentioned below. However, keep in mind that all the alternatives to Shop Pay also require Shopify Payments.
1. Apple Pay
It is similar to Shop Pay with a slight difference in that customers can skip all the lengthy procedures to checkout and head on straight to review the order.
While using Apple Pay as an alternative to Shop Pay, customers can easily get verified by using their TouchID.
2. Google Pay
Google Pay allows customers to easily navigate through the checkout process. Having said that, they don't even need to enter their details to process the orders.
Other than that, Google can be used on various devices as well as on operating systems. These include Google Chrome, Mozilla Firefox, and more.
Bottom Line
Shop Pay gives merchants a wide range of features to boost conversion rates. And when we talk about customers, Shop Pay acts as a medium where they can easily manage their purchasing. All they need to do is to enter the verification code, and the rest checkout process gets accelerated. 
If you are a merchant, you would still be wondering whether or not Shop Pay is worth adding to your checkout page. Well, the answer to this query is yes!
Shop Pay not only gives customers another payment option but also helps in boosting conversion rates and reduces cart abandonment rates. Moreover, if you are already a Shopify merchant, you need to check and mark it in the settings (which we have already discussed above). So, start using it today and share your experiences in the comment section!
Also, if you need further assistance to set up Shop Pay on your store, don't hesitate to reach out to us!