Shopify Image Optimization: 10 Easy Techniques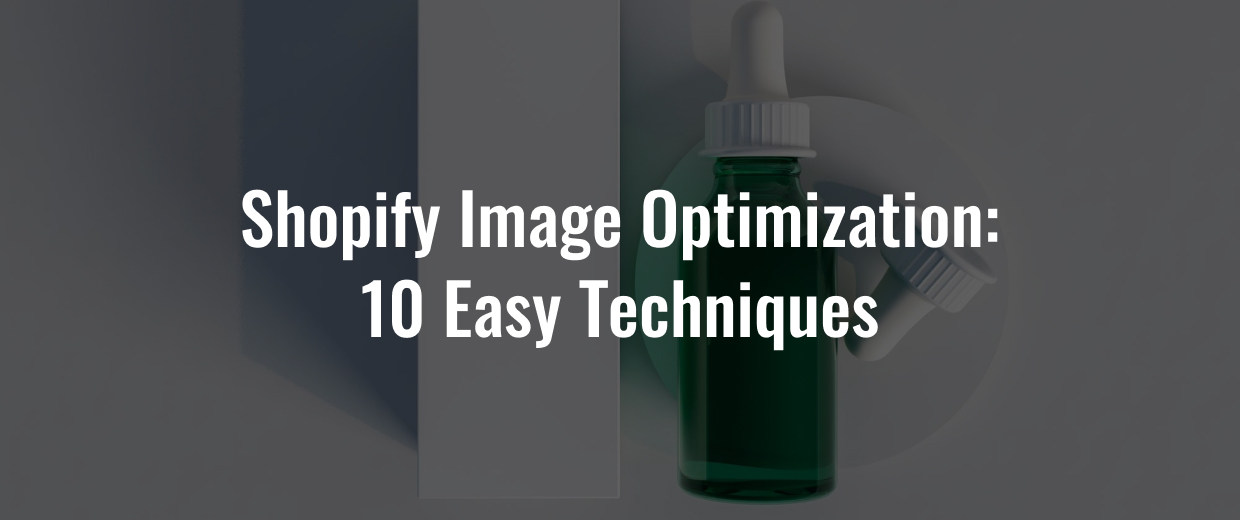 Shopify image optimization is something that you can't underestimate at any point in time. Even the smallest Shopify stores have many product and collection images.
If your store's images are poorly optimized, it will eventually increase your store's load time. And, visitors hate waiting for a website to load. It can result in reducing the conversion rates for your Shopify stores.
That's where Shopify image optimization comes into the role!
As a Shopify merchant, you might be aware of having high-quality images in your store. But what's even more important is optimizing those images such that the store loads quickly and doesn't take up much space.
Luckily, there are some easy image optimization techniques to do this.
In this blog post, we'll discuss the 10 best Shopify image optimization techniques along with some Shopify image optimization tips that you need to consider in 2023.
So, without further delay, let's get started!
What is Image Optimization?
Image optimization refers to the process of compressing or reducing the image file sizes without compromising on the quality. It is crucial for any website or e-commerce store since these can slow down the loading speed of web pages.
Thus, it is crucial to optimize images for the web, or otherwise, it can negatively affect user experience and search engine rankings.
Image optimization is one of the major Shopify SEO best practices.
Why Shopify Image Optimization Is Crucial?
If you're currently running an online store through Shopify, image optimization should be at the top of your priority list.
Shopify image optimization can significantly help improve your site's performance and search engine rankings, which ultimately results in more traffic and sales.
Here are some of the top benefits of image optimization on Shopify:
1. Improved Page Load Times
Large images (or rather say, large image file sizes) can potentially slow down the loading speed of a website. This can ultimately result in a negative user experience and a drop in search engine rankings.
By optimizing images on Shopify, the page load times can be improved, resulting in a better user experience and potentially higher search engine rankings.
2. Enhanced User Experience
Providing high-quality images optimized for different screens, sizes, and resolutions can help enhance the experience of visitors to a Shopify store. This also increases the chances of window shoppers getting converted to paying customers.
That's because customers are more likely to engage with an online store that offers high-quality images that are easy to view and navigate.
3. Better SEO
Search engines take into account page load times when ranking websites. If your website or online store loads too slowly, you may find yourself lacking behind the competition.
By optimizing images on a Shopify store, website owners can improve their search engine rankings, which can lead to more traffic and potential sales.
4. Reduced Bandwidth Usage
Large images can consume a lot of bandwidth, which can result in higher hosting costs for a Shopify store.
By optimizing images, website owners can reduce their bandwidth usage and potentially save money on hosting fees.
What are Shopify Image Optimization Techniques?
Regardless of whether you're using image optimization tools or apps, it will ensure that your images will improve their performance and search engine rankings. Now, let's take a closer view of image optimization strategies for Shopify!
1. Use Proper Image File Types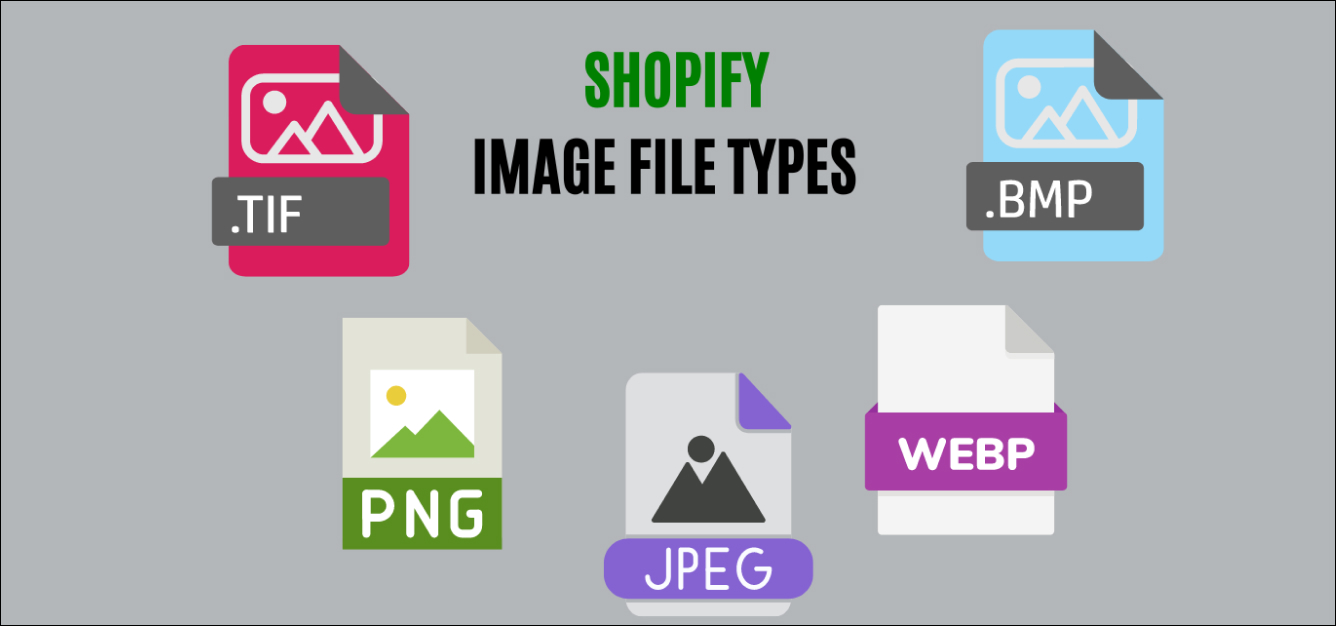 Shopify supports many image file types. But the image file types that you must prefer to use are:
JPEG: This image file type is ideal for pictures and complex images.
PNG: This image file type is perfect for images with transparency like logos and graphics.
WebP: You can use this image file type for better compression. Also, it can provide you with smaller file sizes and faster loading speeds.
Shopify suggests using JPEG for product images, pages, and blogs. On the other hand, you can go for PNG for logos, trims, and borders.
Well, you can also go for GIF images, but these tend to reduce the loading times of the Shopify store. unless and until it's necessary to go for dynamic elements, you must not consider using GIF images.
2. Compress Images
It is crucial that you must always compress images and get your Shopify store speed blazing fast. You must always aim for file sizes of 70 KB or lower for great loading speed. You can even go for higher than this file type, but this depends on the image quality you need.
So, there are two basic ways of resizing or compressing your images. You can go for:
Lossy Compression: It will result in the loss of some data, quality, and size of the image.
Lossless Compression: It reduces the size of the image without affecting the quality. You can use apps like Adobe Photoshop, Pixlr, and Canva for this purpose.
Being a Shopify merchant, you don't have to worry much about compressing the image sizes since the theme you'll be using compresses the images automatically. Still, you must keep in mind that your images should be under 70KB.
3. Use Correct Image Dimensions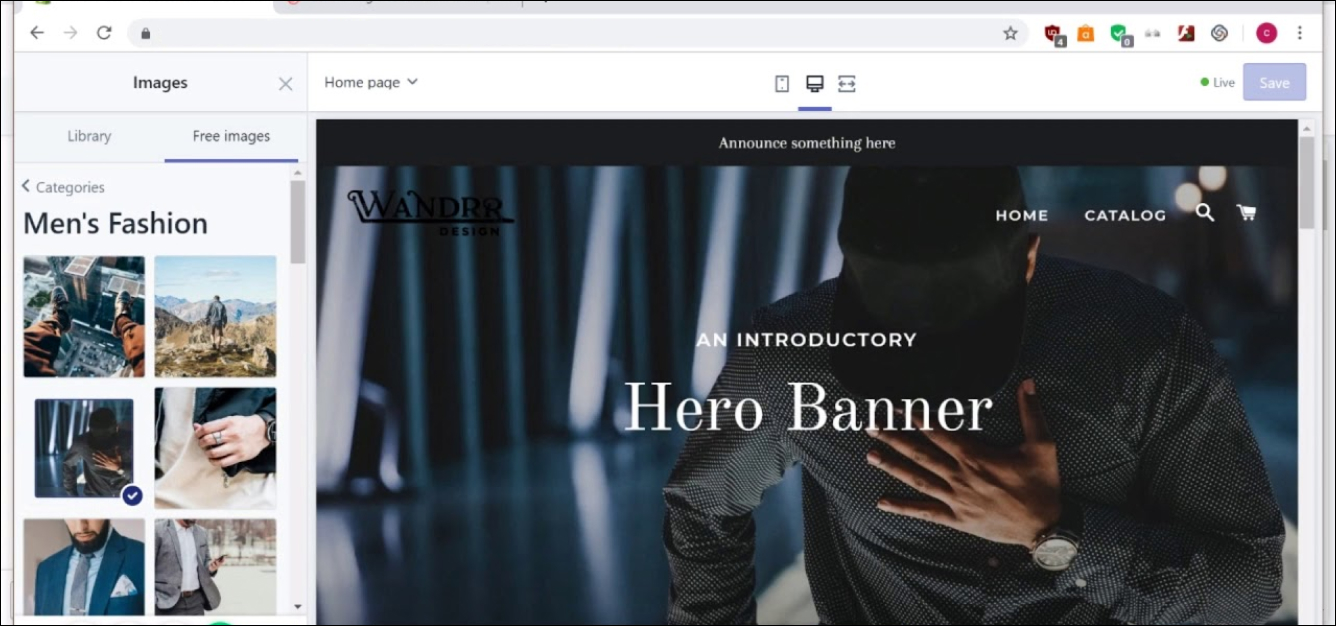 If the images on your Shopify store are either too large or small, it can hurt the SEO rankings and page loading times. Thus, you must ensure that you're using the right image dimensions for each type of image in your store.
Have a look at Shopify image sizes for specific image types:
| | | |
| --- | --- | --- |
| IMAGE TYPES | DIMENSIONS (in Pixels) | ASPECT RATIO |
| Product Image | 2048 x 2048 | 1:1 |
| Collection Image | 1024 x 1024 | 1:1 |
| Logo Image | 250 x 250 | 1:1 |
| Banner Image | 1920 x 1080 | 16:9 |
| Slideshow Image | 1920 x 1080 | 16:9 |
| Text Overlay Image | 1920 x 1080 | 16:9 |
| Background Image | 1920 x 1080 | 16:9 |
| Blog Image | 1920 x 1080 | 16:9 |
4. Ensure Images are Responsive
Doesn't matter what type or kind your Shopify store specializes in, a major part of your visitors or customers gets there using their mobile devices.
With major search engines having a mobile-first approach, you want your store to get ranked at the top of the results pages. With this, Shopify mobile image optimization can ensure that your customers have a seamless experience using any device.
For that, you need to ensure that your images adjust to various screen sizes. Also, you can use one of the responsive Shopify themes and your images will be adjusted automatically.
These themes tend to generate blocks of HTML that instruct browsers to load specific image sizes based on any device the user might be using.
5. Beware of Decorative Images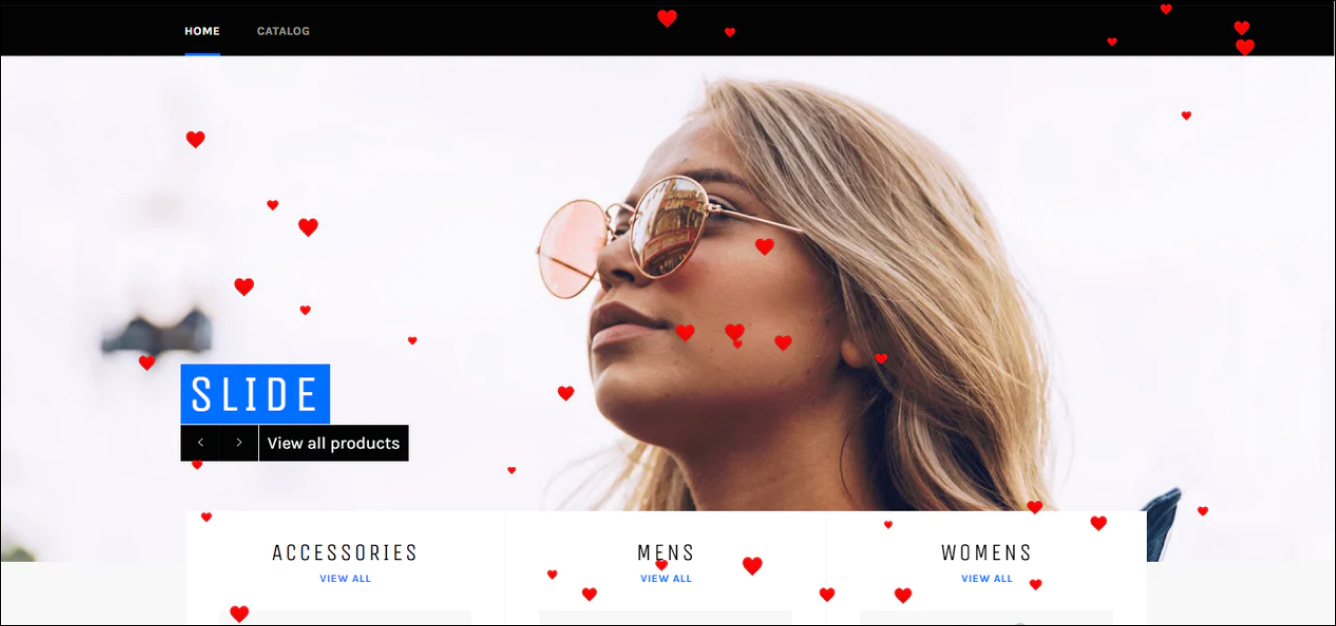 A Shopify store uses some decorative images in the form of backgrounds, buttons, and borders. If, in case, any non-product related image is to be found on the site, it is likely to be considered as a decorative image.
No doubt, decorative images can help improve the aesthetic appeal of a Shopify store, but they can also result in a slow load speed of the site. Thus, you need to consider the decorative images such that you don't miss out on the ability to convert visitors into customers.
Furthermore, you also need to check the file sizes of decorative images and consider using a template in place of that to minimize the file sizes.
6. Use Image Sitemaps
An image sitemap is an XML file that includes all images of your Shopify store for search engine crawlers. It allows Shopify merchants to target specific images for search engine crawling and indexing, which can then be found easily by prospective customers.
Having an image sitemap can help ensure the Shopify merchants that their images are listed correctly on various search engines. This way, you can also reach out to more targeted audiences since your Shopify store's images will show up in the right places.
In addition to this, Shopify merchants can even optimize their Shopify store for particular keywords using the image sitemap.
7. Minimize HTTP Requests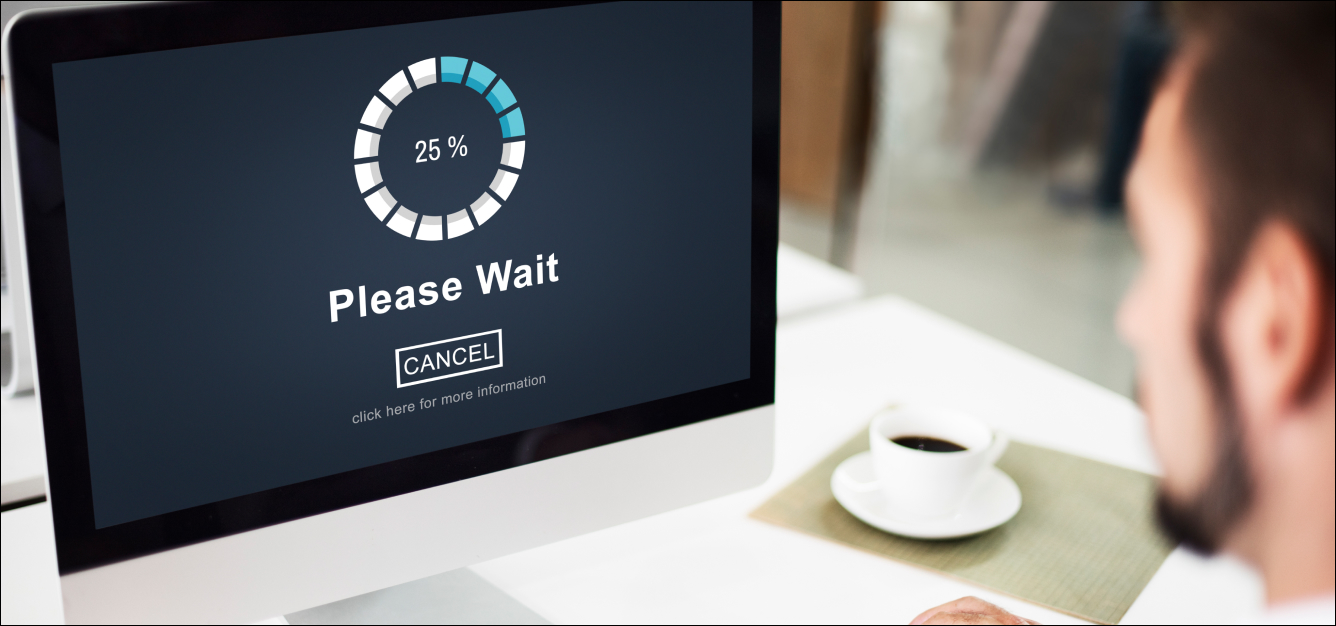 HTTP requests are when your browser and server communicate with each other when you visit a website. Every time you open a new page on a website, an HTTP request is sent from your browser to the server.
Thus, you need to be careful of the number of HTTP requests while using Shopify images. Reducing the number of HTTP requests coincidently can help improve the performance of your website and also increase the loading speed.
If you are looking to minimize the number of HTTP requests, you must use techniques like CDN or Content Delivery Network. It stores images and combines many images into one.
8. Create Alt Tags for Images
Creating alt tags for images involves adding descriptive text to the "alt" attribute of images on your website. Alt tags help search engines to help understand what an image is all about when the image isn't able to load or display.
Additionally, creating alt tags for images is an important Shopify image optimization technique that can improve your website's accessibility and search engine visibility.
Keep in mind that your alt tags should describe what an image is all about. For instance, a tri-colored flower can be described as a "tri-colored flower" or "tri-colored daisy" instead of a "flower with red, yellow, and pink petals".
9. Use Concise & Direct Image Names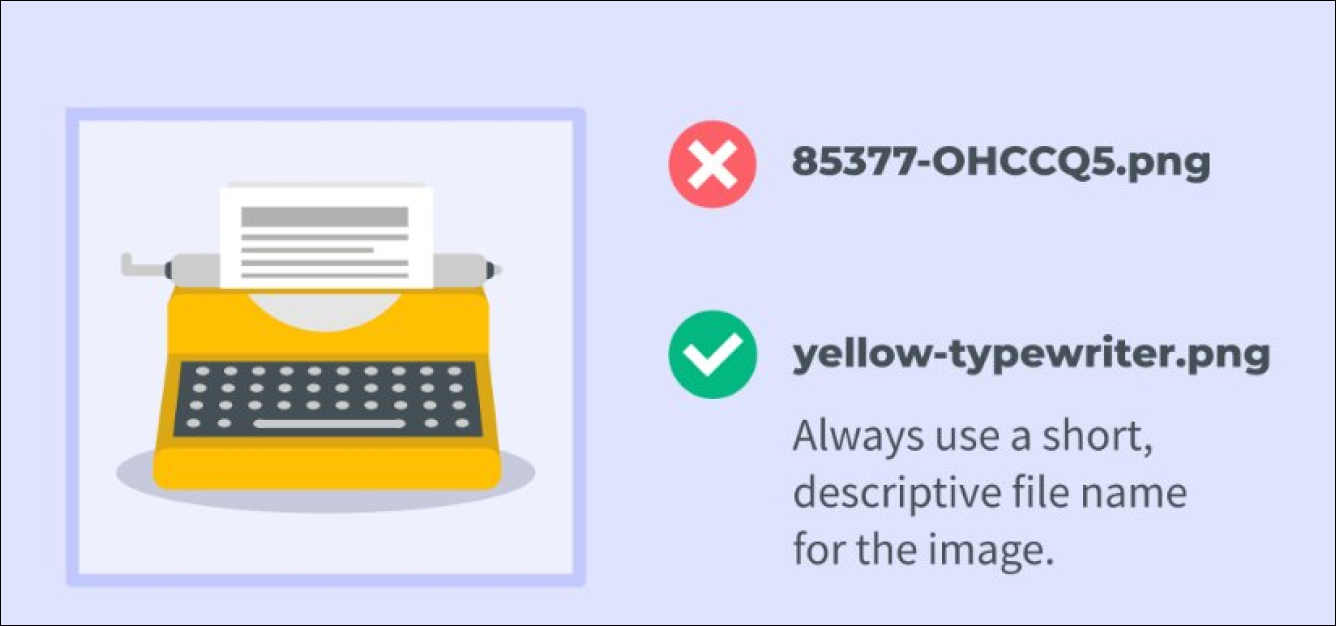 Using concise and direct image names is an essential Shopify image optimization technique that involves giving your images descriptive and relevant file names. This makes it easier for search engines and users to understand the meaning of the images.
To optimize your images using this technique on Shopify, you should follow these tips:
Start by choosing a descriptive name that accurately describes the image.
Avoid using generic us names such as "image1" or "picture2", since this doesn't help with any meaningful information to users or search engines. Instead, use specific and relevant keywords in the image name that accurately describe the content of the image. For example, if the image is of a red dress, you could name it "red-dress.jpg".
Use hyphens (-) to separate words in the image name instead of underscores (_) or spaces. This is because search engines can interpret hyphens as word separators, while underscores and spaces can be seen as part of the word.
Make sure the image name is short and concise, without using unnecessary words or characters.
10. Test Images & Make Adjustments
Testing images and making adjustments is an important Shopify image optimization technique that involves regularly reviewing your website's images and making necessary adjustments to improve their performance.
This is an important Shopify image optimization technique that can help you stay competitive and drive more traffic and conversions to your website.
Follow the below-mentioned tips to test images and make necessary changes:
Look at metrics such as bounce rate, time on page, and conversion rates on Google Analytics to identify images that may be underperforming.
Review the quality and relevance of your images. Make sure that they are high-quality and relevant to your store's content.
Test different variations of images to identify the most effective ones. You can test variations such as image size, placement, and format to see which ones perform best.
Make necessary adjustments based on your testing and analysis. Remove underperforming images, optimize high-performing ones, and make changes to improve the overall quality and relevance of your website's images.
BONUS: Shopify Image Optimization Tips
Performed every image optimization technique for your Shopify store? Now it's the time that you dive in deeper and consider some more Shopify image optimization tips:
Optimize the Thumbnails: When it comes to thumbnails, you need to consider file size over quality. In addition to this, consider using different alt tags for all product images such that duplicity doesn't happen.
Apply Lazy Load Images: Start implementing the practice of applying lazy loading images such that images load at the moment when a user gets to them. It will help improve the initial load time of the store.
Use Captions: This is one of the important parts of Shopify image optimization strategies. Adding captions to the image will help search engines scan the page and understand the meaning of the image.
Never Use GIFs for Product Images: The GIF file sizes are way too large and reducing them may result in compromising on the quality. Thus, consider using PNG or JPEG image file type.
Use Shopify Image Optimization Apps: You can save yourself some time and effort by using the Shopify image optimization apps to handle it for you. These apps can help automate processes and thus reduce workload.
Conclusion
Optimizing your Shopify images for faster load time and better ranking on search engines is not rocket science. With the image optimization techniques shared in the post, we hope you find product image optimization for Shopify a lot easier and simpler.
So, what are you waiting for now? It's time to head to your store and start optimizing your images.
Still, image optimization is a complex task, and our Shopify developers have scratched the surface. So, if you have any questions, doubts, or concerns, feel free to contact us.