How to Create a Compelling Contact Us Page on Shopify
Creating an outstanding Contact Us page is a vital component of any successful online store.
Today, effective communication between businesses and customers plays a crucial role in making any online business succeed.
One vital aspect of fostering this connection is having a well-designed Contact Us page on your website.
A comprehensive and user-friendly Contact Us page not only builds trust and credibility but also encourages customer engagement and feedback.
In this blog post, we'll walk through the necessary steps and best practices for creating a Shopify Contact Us page that meets your customer's needs, creates a memorable impression, and distinguishes your online store from the competition.
Let's dive in and discover how to craft the perfect Contact Us page for your website!
What is a Contact Us Page?
A Contact Us page is a web page that provides visitors or customers with any relevant information to contact either the website owner or the customer service team.
Generally, it includes contact information like a physical address, contact number, social media links, and email address. It may also include a contact form that allows visitors to send a message directly from the website.
Why is a Contact Us page important?
A Contact Us page is important on a Shopify store for several reasons:
1. Builds Trust and Credibility
A Contact Us page provides customers with essential information about how to reach the store owner or support team.
This transparency helps build trust and credibility, assuring customers that there is a real person or team behind the store, ready to help with any inquiries or concerns.
2. Enhances Customer Support
The Contact Us page serves as a central point where customers are free to ask any questions, submit feedback, and/or resolve any issues by getting in touch with the customer service team.
This can improve customer satisfaction and overall shopping experience by providing a streamlined and convenient communication channel.
3. Drives Engagement
A well-designed Contact Us page can encourage customers to interact with the store, fostering a sense of community and brand loyalty.
This can lead to higher customer retention and more repeat purchases.
4. Facilitates Feedback
The Contact Us page helps customers to share their thoughts and opinions about the products, services, or user experience.
This feedback can be invaluable in identifying areas for improvement and driving future growth.
5. Improves SEO
A Contact Us page containing relevant information and keywords can improve search engine optimization (SEO) efforts.
This can help increase the store's online visibility and drive more organic traffic.
6. Legal Compliance
Including a contact us page with appropriate contact information may be required by law or platform regulations, depending on the store's location and target audience.
How to Create a Contact Us Page on Your Shopify Store?
Adding a Contact Us page is pretty simple using your store's dashboard. Follow the steps mentioned below for creating a Contact Us page in Shopify.
Step 1: From your Shopify store dashboard, navigate to Online Store > Pages > Add Page.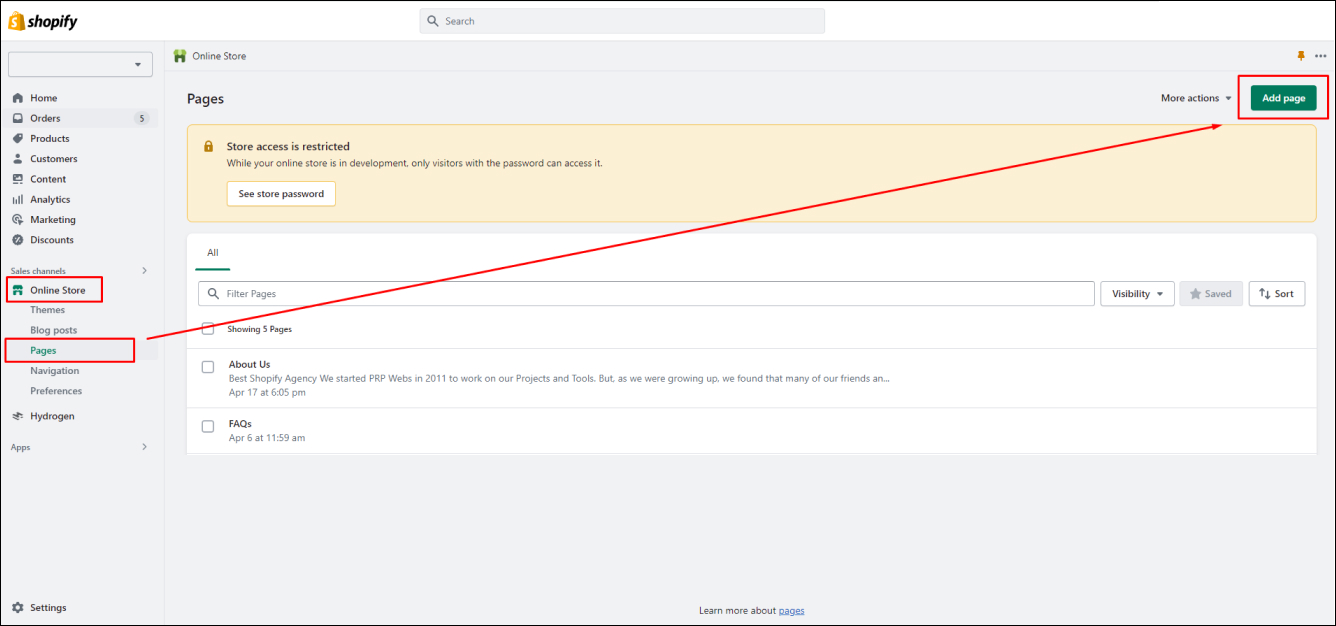 Step 2: Next, you need to give the title and add content to the page. Also, you can edit the Search engine listing preview which will affect how the page will look on the SERPs.
Step 3: Now, we'll customize the Contact Us Page.
To do so, head on to Online Store > Themes > Customize.
Step 4: You'll land in the theme editor of your Shopify store. Use the dropdown menu to find the page and locate the theme template. We've assigned it to the Default page.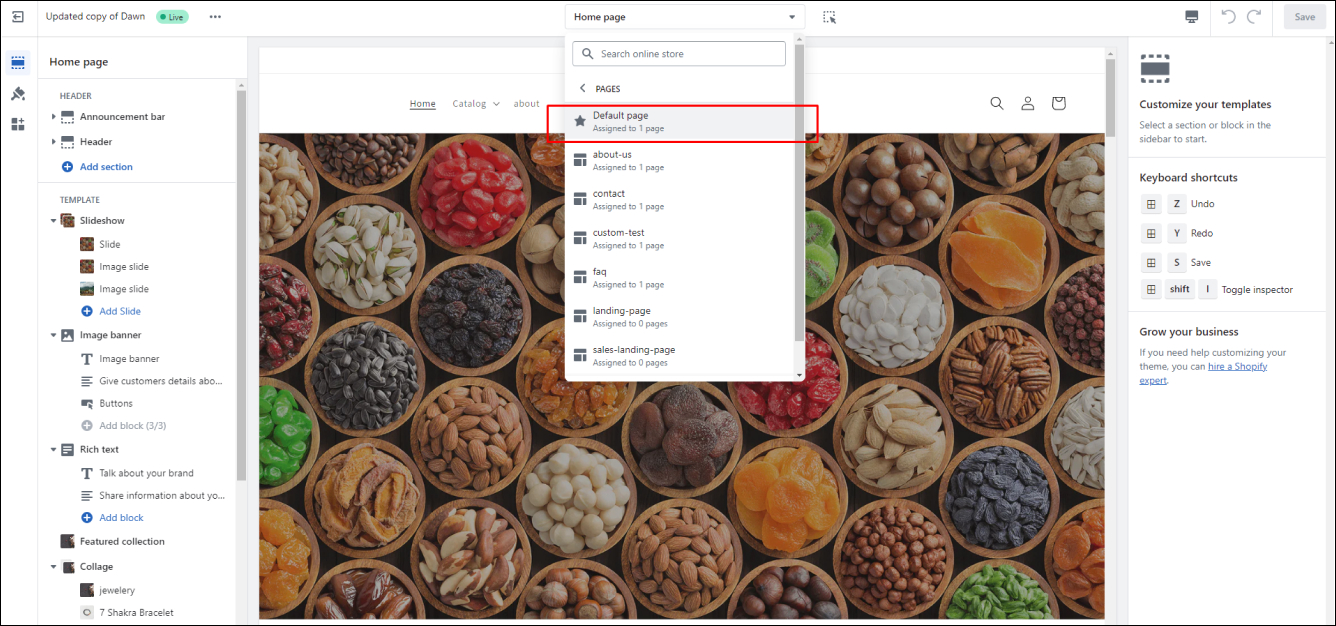 Step 5: To customize the Contact Us page, you can add a form section. To do so, click on Add Section under Template and click on the Contact form.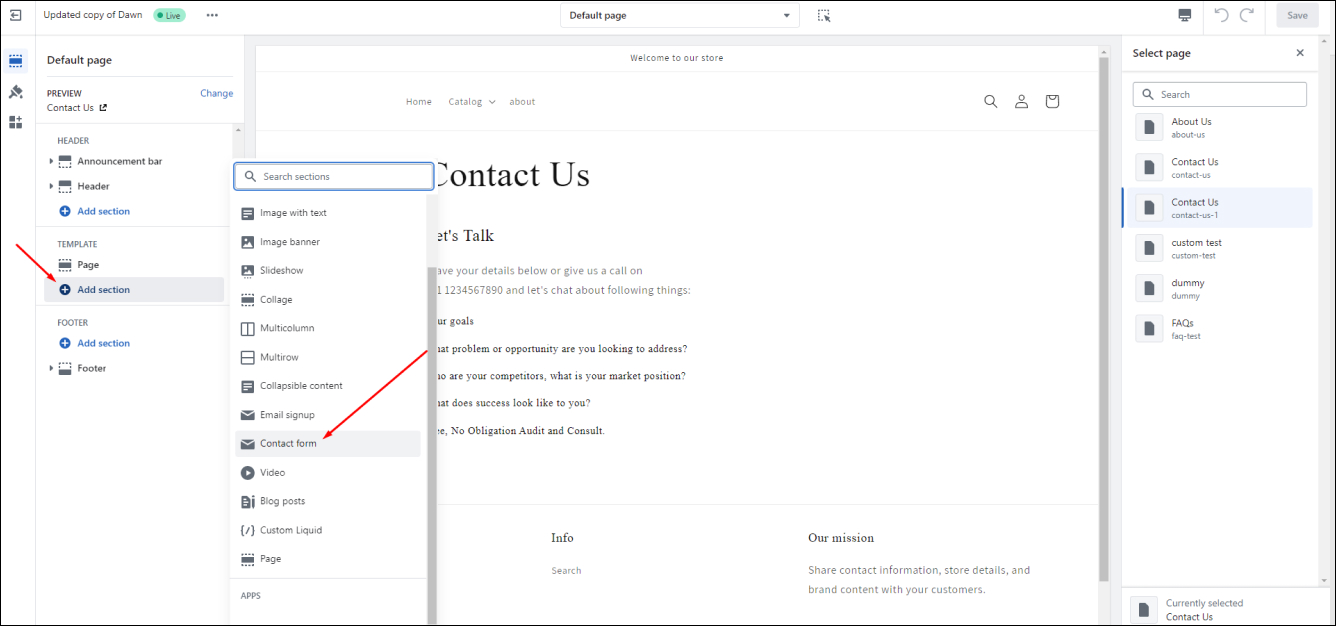 Step 6: You can do more customizations on your Contact Us page by adding an image banner, multimedia collage, and more. Lastly, click on Save!
What to Include on your Contact Us Page?
When creating a Contact Us page on your Shopify store, it is crucial that you include the below-mentioned elements such that effective communication is ensured with your customers:
Store Name & Logo: Ensure that you display your store's name and logo such that your store's brand identity is reinforced throughout your store's pages.
Email Address: Provide a dedicated email address where customers can send their inquiries, feedback, or concerns. Make sure to monitor this inbox regularly and respond promptly.
Phone Number: Include a phone number where customers can reach you during your business hours. Clearly state the operating hours and time zone to avoid confusion.
Contact Form: Embed a contact form that allows customers to submit inquiries directly from the page. Customize the form fields to collect relevant information like name, email, subject, and message.
Live Chat (optional): Offer live chat support by integrating a live chat app from the Shopify App Store. This real-time support option can enhance customer satisfaction and help resolve issues quickly.
Physical Address: If your store has a physical location or if it's relevant for your customers to know, include your store's address on the Contact Us page. This can also help establish trust and credibility.
Social Media Links: Provide links or icons to your store's social media profiles, encouraging customers to follow or engage with you on various platforms.
Business Hours: Clearly state your business hours, so customers know when to expect a response or when they can reach you by phone.
Map (optional): You can embed an interactive map with store locators to display your store's location. This way, your customers can find it easy to locate your stores.
Response Time Expectations: Set expectations for response times, informing customers how long it typically takes for your team to reply to inquiries.
Best Practices for Creating a Contact Us Page on Shopify
To create a conversion-driven Contact Us page on your Shopify store, it is crucial that you follow some best practices. Let's have a look at them:
1. Keep It Simple & Clear
Ensure that you design the Contact Us page with a clean and simple layout, thus, making it easy for visitors as well as customers to find the information they're looking for.
Use clear headings and concise text to avoid confusion.
2. Align With Your Brand
Ensure that the Contact Us page design and content align with your overall brand identity and website aesthetics.
Consistency helps establish a strong brand image and creates a cohesive experience for customers.
3. Offer Multiple Contact Options
Provide customers with various ways to reach out, such as email, phone, contact forms, live chat, and social media.
Catering to different preferences ensures customers can contact you in their preferred manner.
4. Prioritize Responsiveness
Make sure your Contact Us page is responsive and displays correctly on various devices and screen sizes.
This ensures a seamless experience for customers, regardless of how they access your website.
5. Set Response Time Expectations
Inform customers about the typical response time for inquiries. This helps manage their expectations and prevents frustration due to delayed replies.
6. Link to Relevant Resources
Direct customers to your FAQ or Help Center pages for quick access to answers to common questions.
This can save both you and the customer time by resolving issues without direct contact.
7. Optimize for SEO
Use relevant keywords, meta tags, and descriptive titles to improve your Contact Us page's search engine visibility. This can help drive more organic traffic to your website.
8. Make it Easy to Find
Ensure that you include a link to your Contact Us page in your Shopify store's main menu, footer, or any other appropriate locations.
Make sure it is easily accessible to customers from any part of your website.
Top 3 Shopify Contact Us Page Examples
Now we'll have a look at some of the best Shopify Contact Us page examples that you can take inspiration from and create a Contact Us page with various design elements and features. Let's have a look at them!
1. Leif
Leif's Contact Us page features a clean design that matches its brand aesthetic. They provide a contact form, email address, and phone number, along with their store's physical address and operating hours.
They also include a map, making it easy for customers to locate their store.
2. Allbirds
Allbirds' Contact Us page incorporates a simple layout, a contact form, and options to reach out via email, phone, or live chat.
They also include links to relevant resources like the FAQ and Help Center, as well as their physical store locations.
3. Beardbrand
Beardbrand provides a minimalist Contact Us page with a contact form, email address, and links to their social media profiles.
They also offer a unique feature allowing customers to sign up for a free grooming consultation.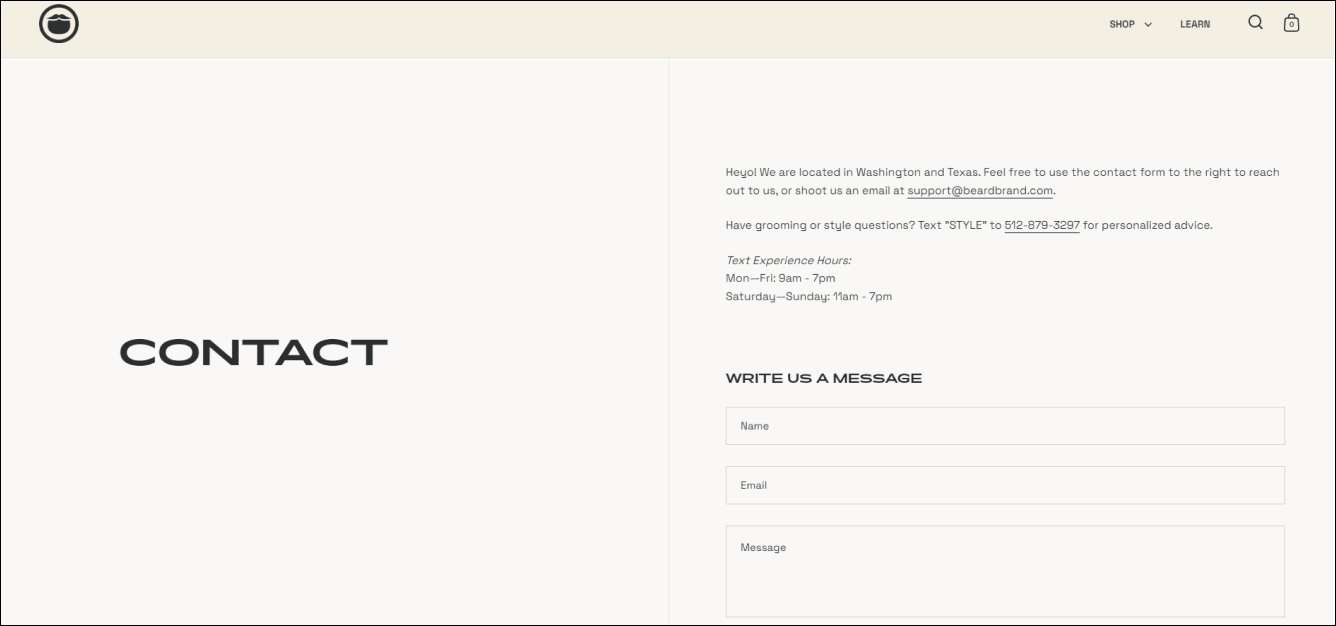 These examples illustrate the importance of having a clean, user-friendly design and offering multiple contact options.
By incorporating these elements into your own Shopify Contact Us page, you can create an engaging and effective communication hub for your customers.
Conclusion
Creating an effective and user-friendly Contact Us page is an essential component of any successful Shopify store.
By following the best practices outlined in this guide, you can craft a Contact Us page that not only fosters customer engagement and trust but also significantly enhances their overall shopping experience.
If you are looking to create a custom Contact Us page for your Shopify store that drives maximum conversions, our expert Shopify developers are here to help!
With their vast experience and deep understanding of Shopify's features and functionality, they can create a stunning and high-performing store tailored to your unique business needs.
Don't miss the opportunity to stand out in the competitive eCommerce landscape.
Take the first step today by reaching out to our Shopify developers and let us bring your vision to life. Contact us now to get started!