Hatchful Shopify: Create An Appealing Logo For Online Store
Are you looking to build an online store?
To create and run an e-commerce business successfully, you must invest a particular amount of time to list all the products, develop e-commerce marketing strategies, reach out to suppliers, and more.
On the way to creating an e-commerce store, you might overlook the most crucial aspect of your business, which is the logo.
That's because your logo is the face of your business, and in any case, it shouldn't be disregarded. It is solely through your brand's identity, i.e., logo, that your customers can recognize you.
So, all you have to do is choose a logo that goes well with your brand, and begin using it across all platforms.
How can you create the logo?
Well, one of the best logo creators is Hatchful by Shopify.
Do you know what Hatchful is?
Let's explore it!
What is Hatchful?
Hatchful is an amazing logo creator powered by Shopify that can help you create a fantastic logo with just a few clicks. It includes an easy-to-use interface that allows you to create the appropriate logo for your business.
It is a free tool to use, and all the file formats depend on the option you choose for placing your logos. You can also preview the logo in different channels such that you know how it looks.
If you aren't sure if Hatchful is the right fit for your logo creation needs, go through the characteristics to learn more about it.
Characteristics of Hatchful
Fast, easy to use, and a smart interface
Get 100+ templates after four clicks of basic information related to your business
Doesn't use any AI technologies, thus, the startup time is short
You get a logo as per your needs and requirements
Get logos templates in a variety of layouts, colors, and designs
How to Create Shopify's Store Logo with Hatchful?
Now that you're fully aware of what Hatchful is and what you can do with it, keep reading to learn about how you can design a logo for your e-commerce store with Hatchful.
Let's walk through the step-by-step process and create your Shopify online store logo on Hatchful!
Step 1: Visit Hatchful and click on Get Started.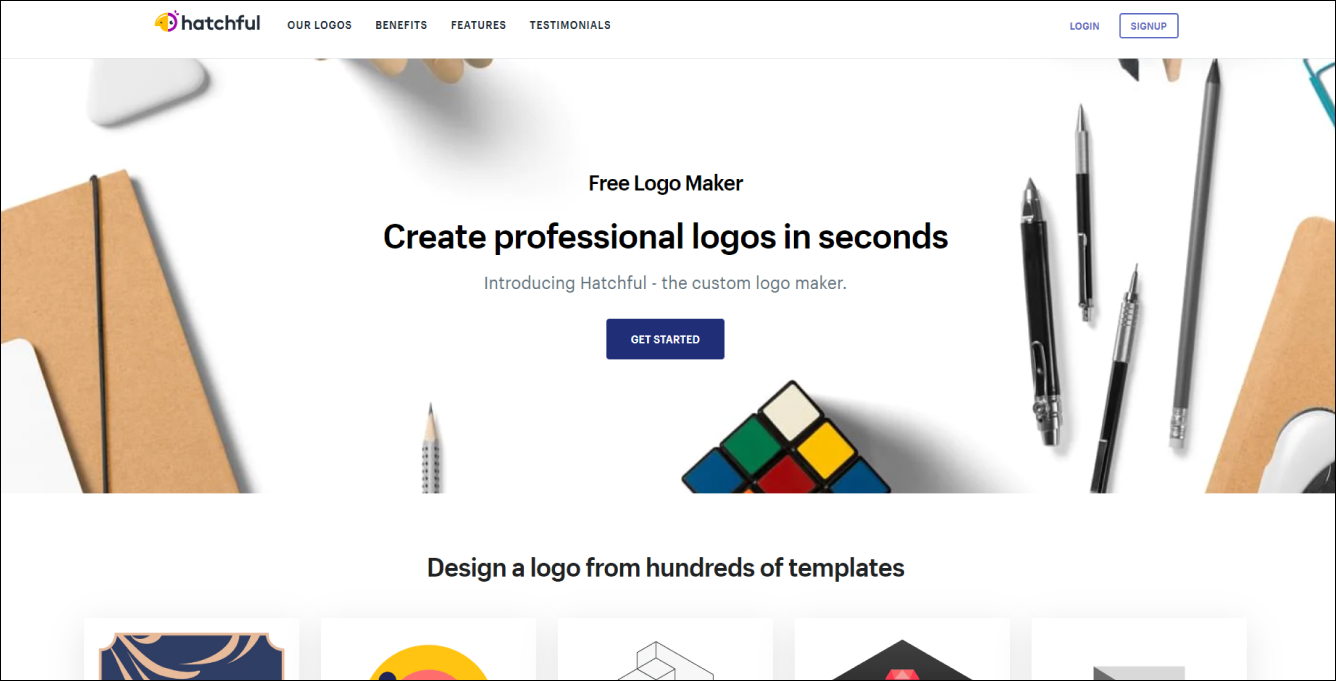 Step 2: Next, you need to choose the business space that tells what you're offering on your Shopify store. Then, click on Next.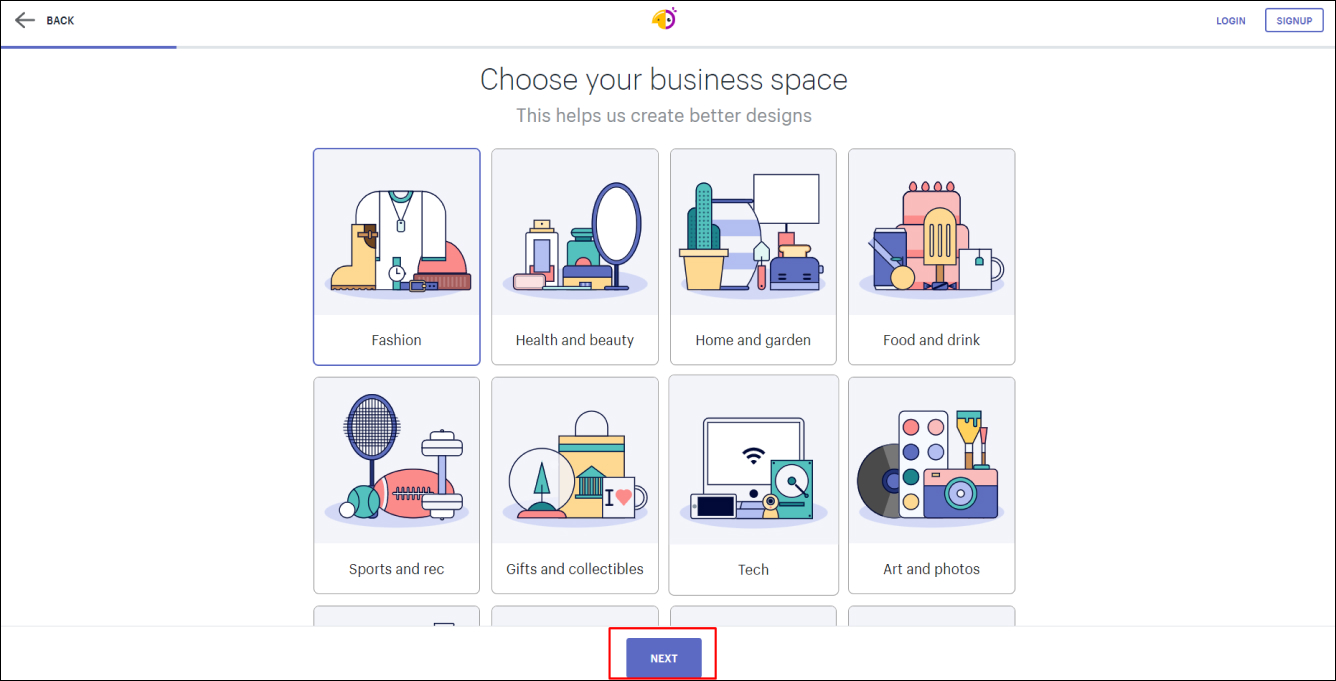 However, if you aren't able to find a niche that goes well with your business, simply click on None of the above. The next steps will still help you design and create a logo for your online store.
Step 3: Next, you'll be asked to choose a visual style that you'd like to have for your online store. Don't worry, here you'll find ample trendy options for your Shopify store. Click on next once you're done picking one!
If you feel that no design styles are matching your preferences and needs, click on None of the above.
Step 4: This step involves adding your business name and tagline (not mandatory). If you aren't still sure of the name or tagline, don't worry, you can always change it later.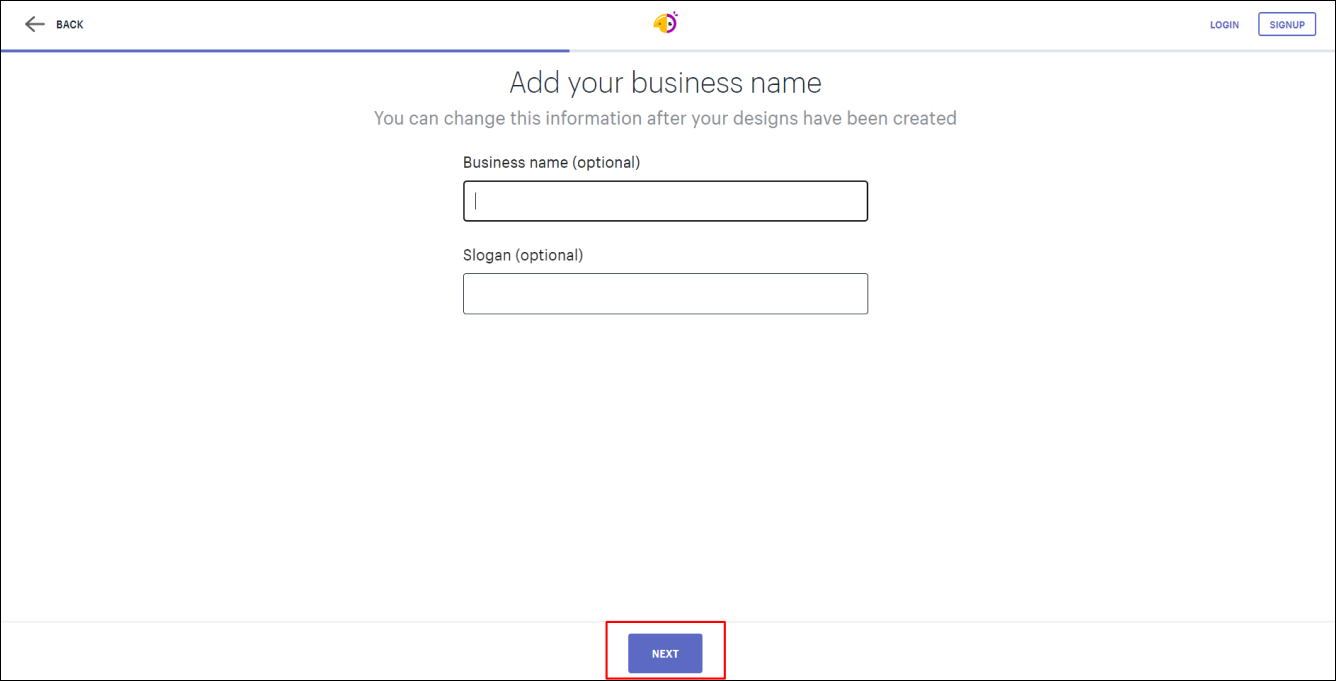 Step 5: In this step, you need to pick one or multiple options of where you want the logo to be used. This step is necessary since the logo format is based on your selection.
If you're just starting out with an e-commerce store on Shopify, select all the options to get all your logos in ideal formats in one place.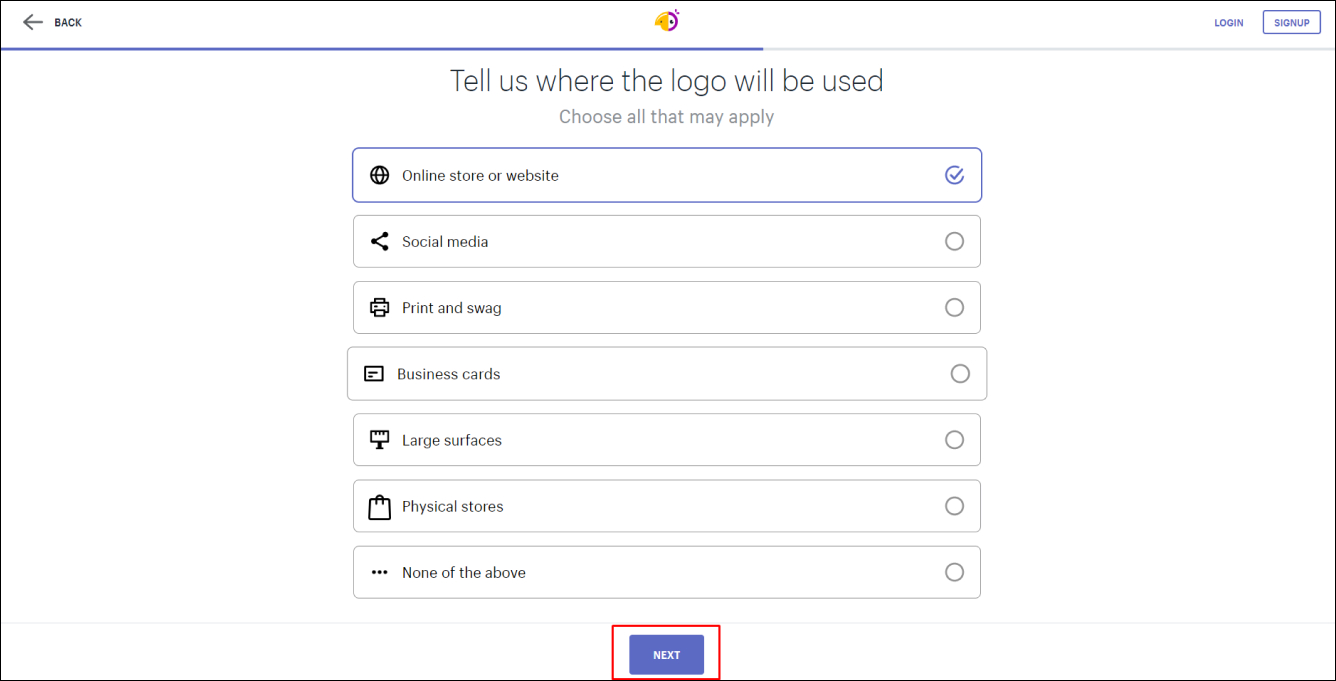 Step 6: Next, you'll see that Hatchful has automatically hundreds of logos for your Shopify store using the information you provided.
Browse through the templates on this page and pick one that showcases your business the best and matches your brand effectively.
If you aren't satisfied with the template collection, you can always customize it by clicking on the Back tab.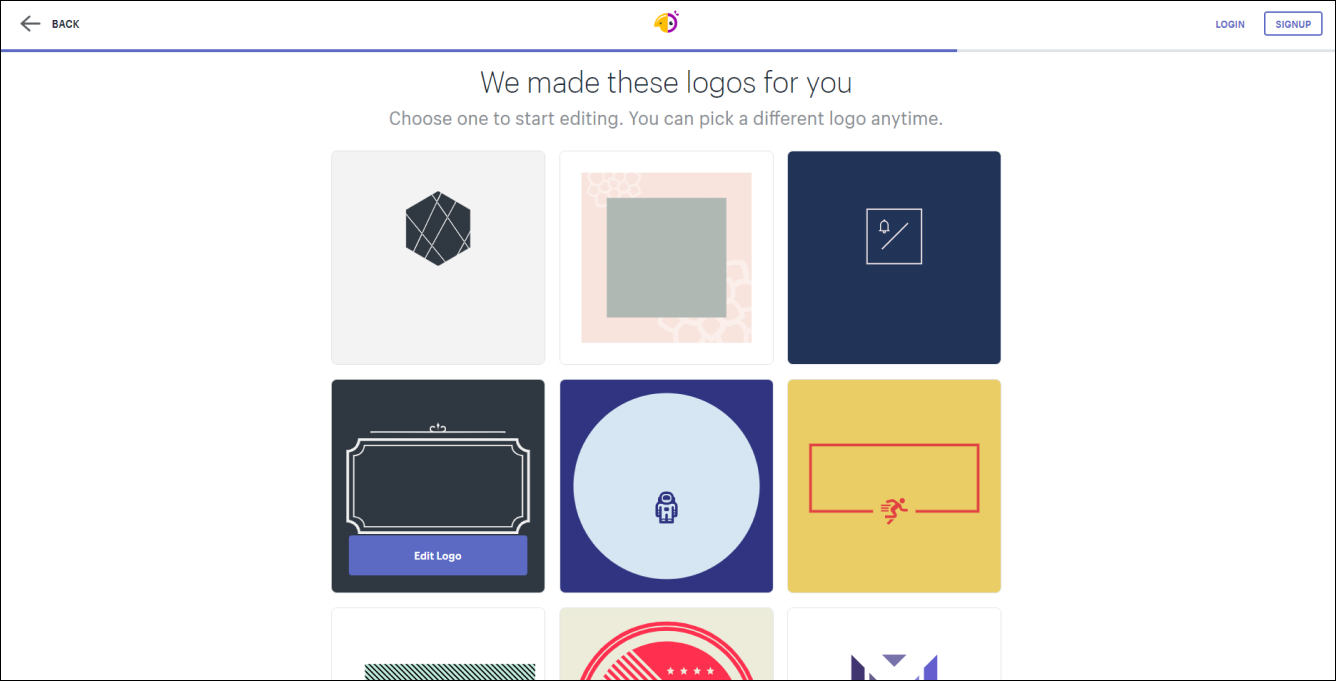 Step 7: Here, you can start to customize your store's logo design. You can also change the business name and tagline here to complement the design and structure of your online store.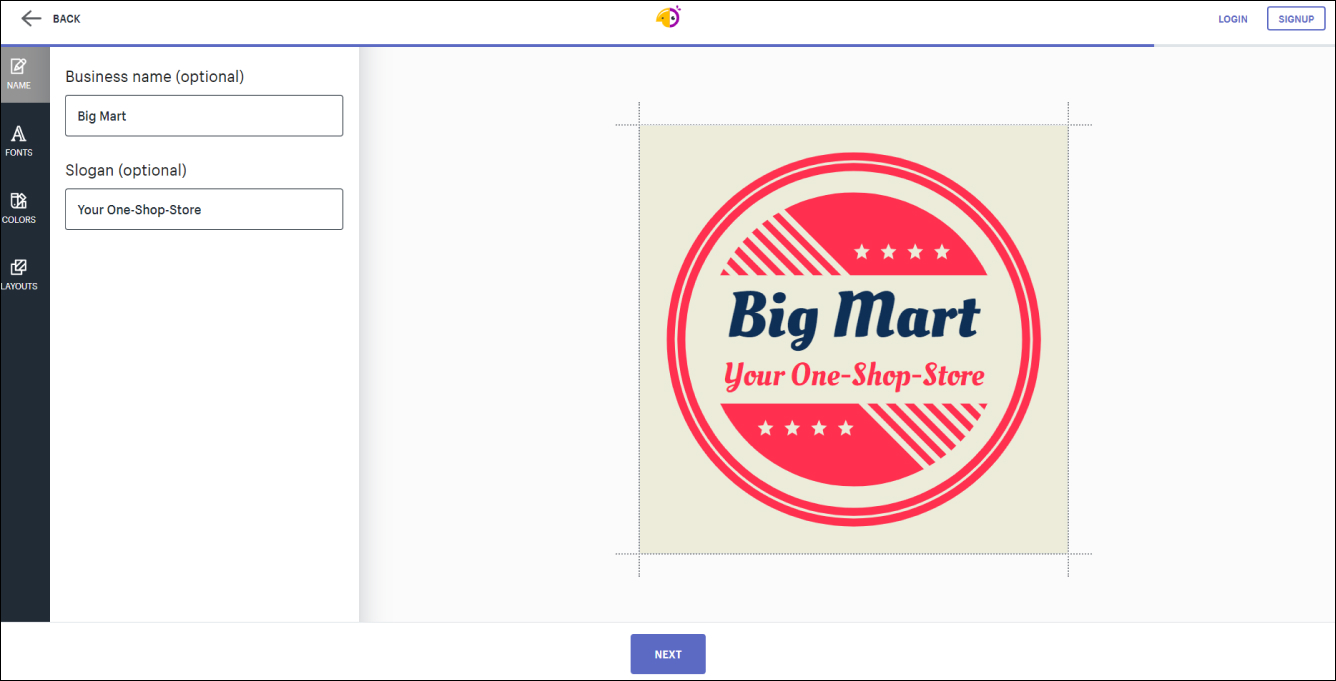 Step 8: Next, let's proceed to the fonts, here you have a look at all the fonts and select the style you wish to have for your Shopify store.
Here you can also filter the results by clicking on the drop-down menu to choose a font style.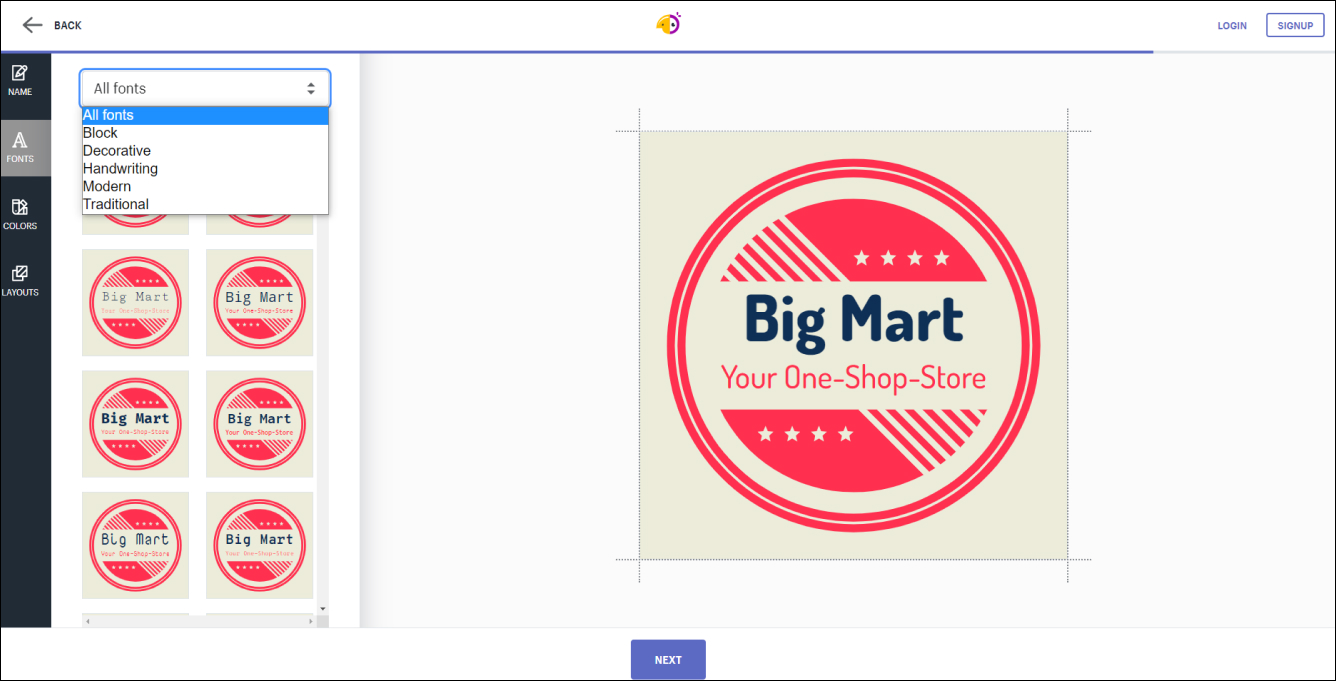 Step 9: Next, move on to the colors. Here Hatchful Shopify logo creator gives you the freedom to customize the logo design to match the brand colors you wish to have for your online store.
You can do so by clicking on the drop-down menu that's named 'All Colors'. From here, you can pick the color palette you wish to have. Based on your selection, Hatchful will create a collection. Go for the one that matches your needs and preferences.
Step 10: This step involves picking a layout for your logo. And lastly, click on Next.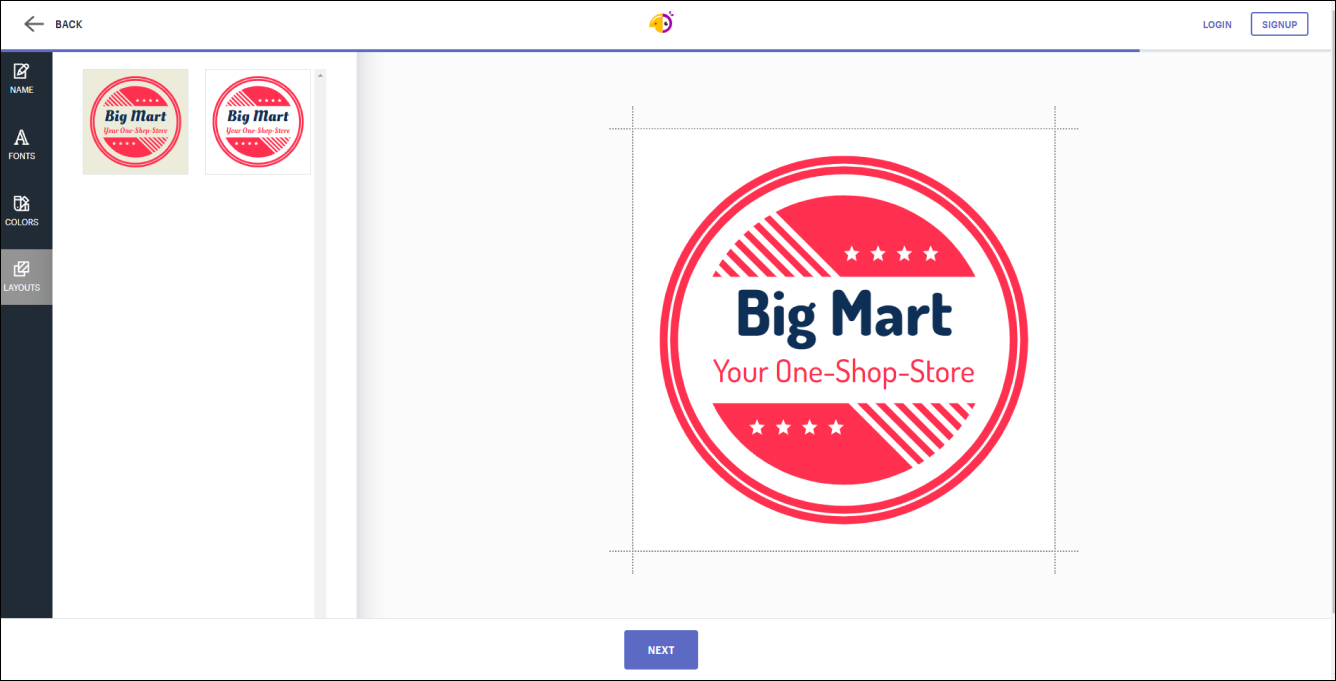 Step 11: After this step, Hatchful will create a final copy of all logos for your Shopify store. From here, you can download all the required versions of your logos.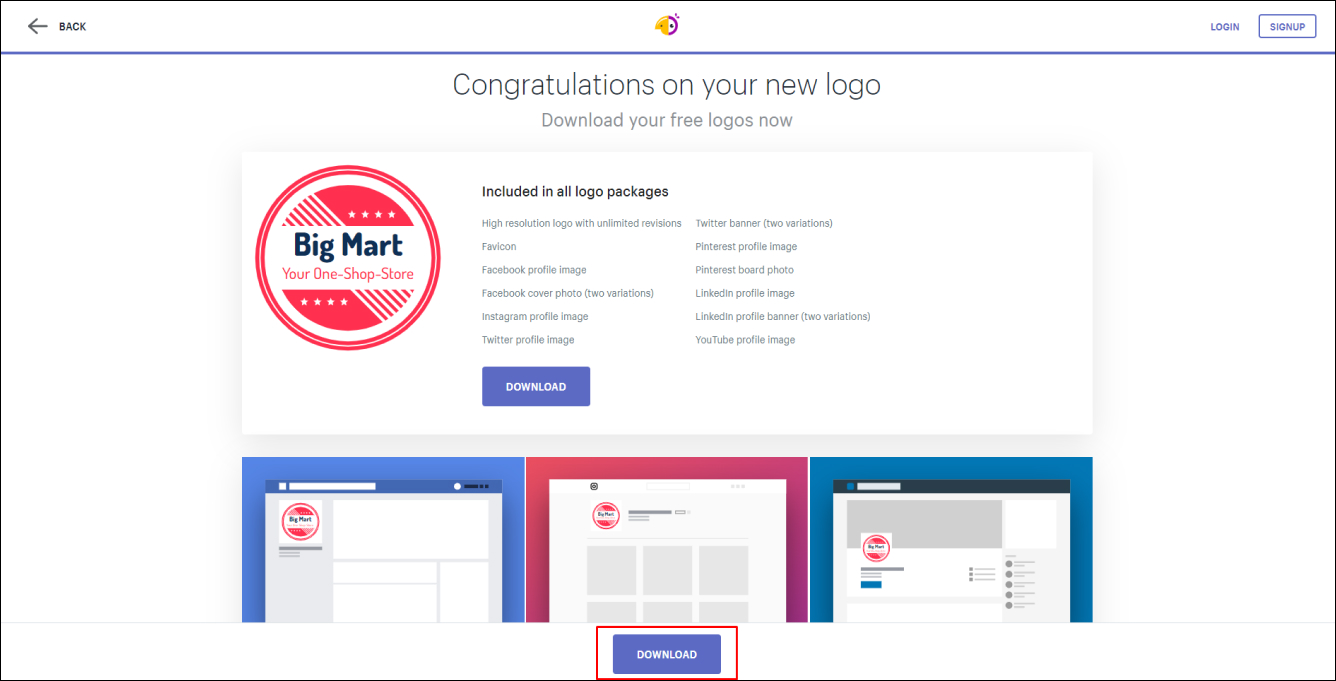 Starting from the favicon to profile pictures of social media channels, Hatchful creates all logo files for you.
Here, you can also have a look at how your logo looks across all areas. If you still wish to customize the logo further, click on Back and make the required changes.
How to Upload the New Logo to Shopify?
You can use the Hatchful logo on any e-commerce platform. But here, we're going to talk about how you can upload the new Hatchful logo to Shopify.
Step 1: From your Shopify store admin panel, select Online Store under the Sales Channel.
Step 2: This will showcase the theme that you've installed on Shopify. Here, you need to click on Customize.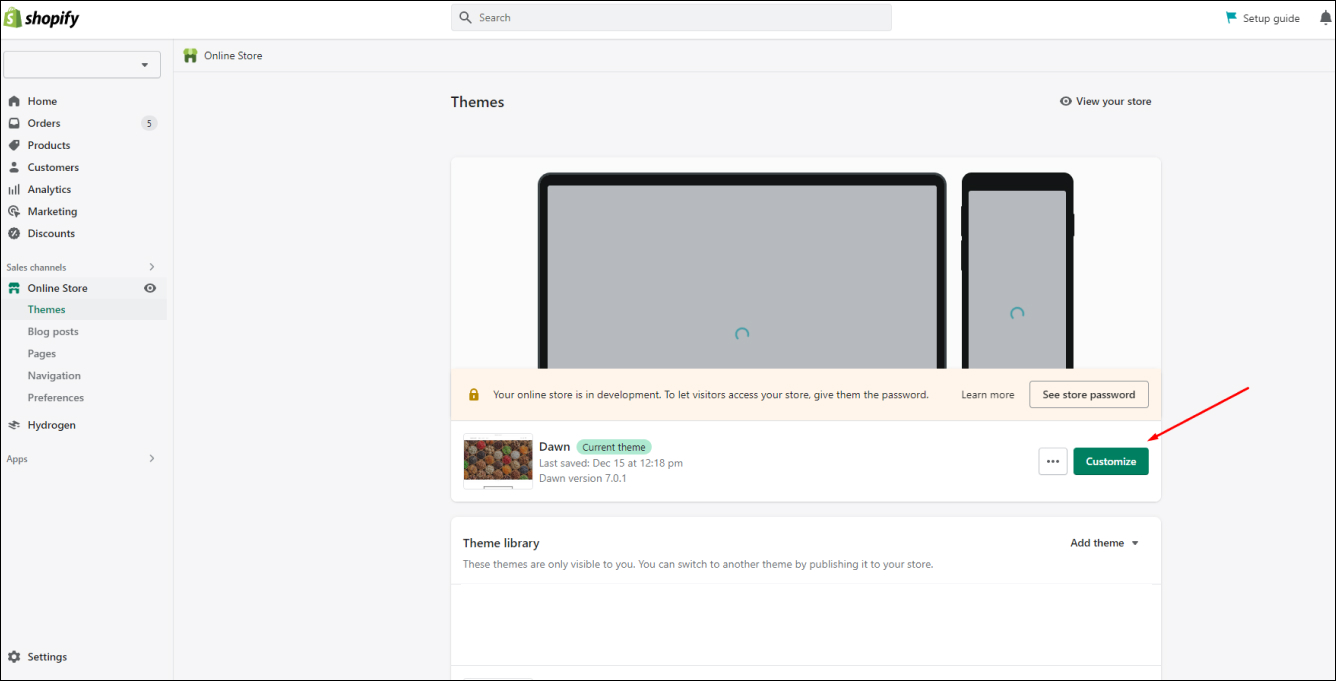 Step 3: This step will drive you to the Shopify Visual Editor. To add a logo, click on the Header block.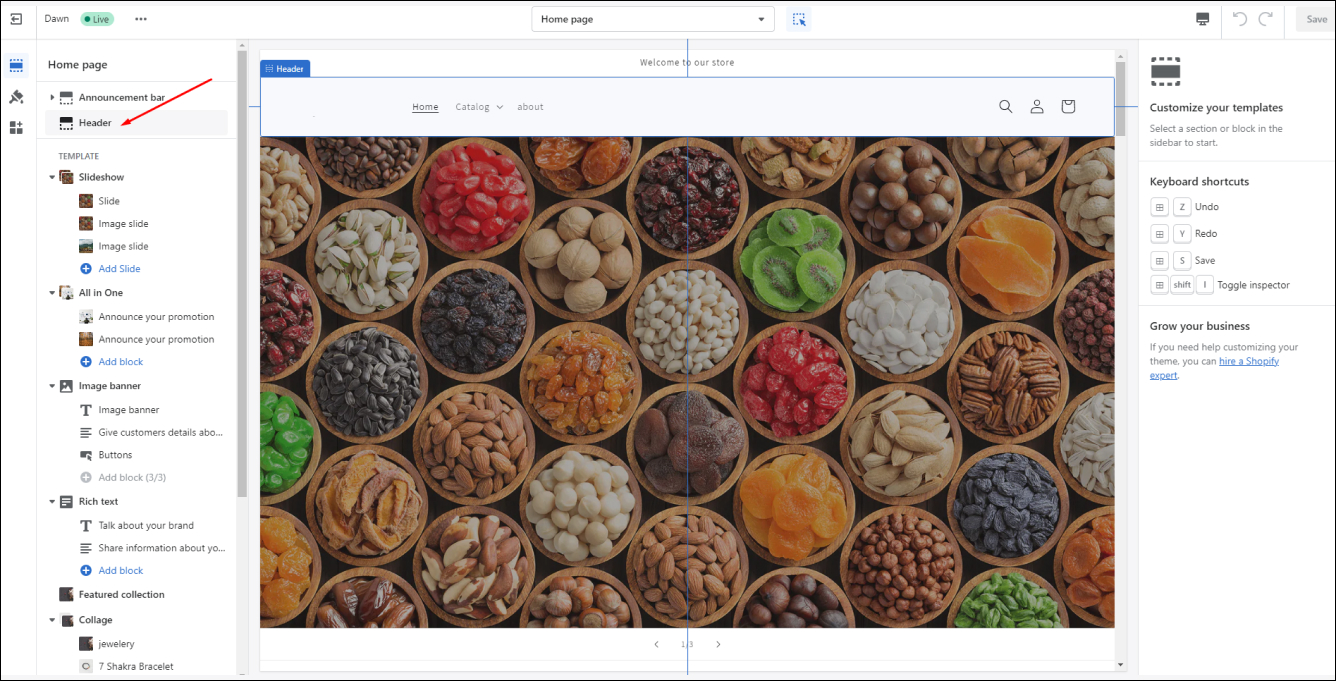 Step 4: Under the Header block, you'll find Logo. Click on the Change button and upload the new logo from your device.
Here, you can also change the logo size and style.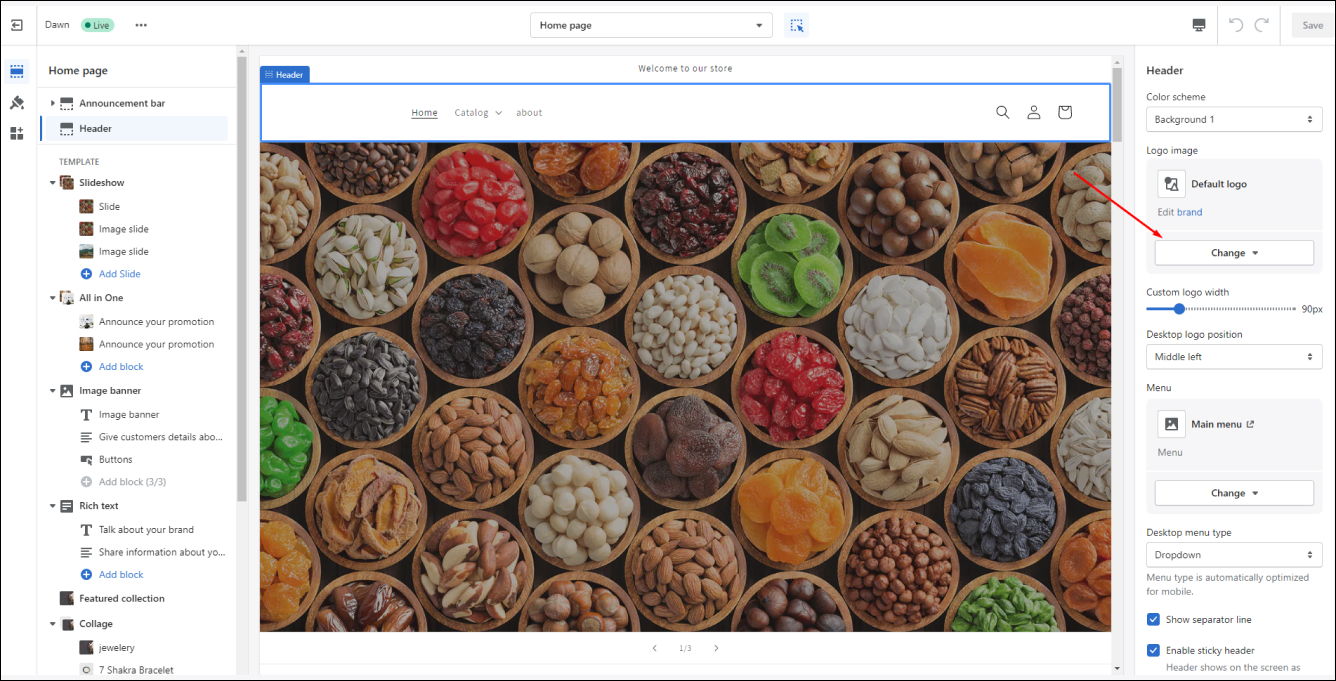 And, that's it! Go to the frontend of your Shopify store and have a look at your new logo.
Why Logo Is Essential for your Shopify Store?
Whether you're running a fashion retail business or a dropshipping store, you could find thousands of other businesses in the same industry. Their main aim is to grab the attention of the customers.
For instance, assume there are 10 brands in your industry and they don't have a logo in place. So, how would you differentiate one brand from the other when you see shoppable posts from them on social media platforms?
That's where the logo comes into play. It helps businesses grab the attention of customers for easy brand recognition.
Some of the reasons why the logo is essential for your Shopify store are:
Establish Brand Identity: A logo is a visual representation of your brand, and it helps to establish your brand's look and feel. It's important to have a consistent and professional-looking logo that reflects your brand's values and personality.
Build Trust: A well-designed logo from Hatchful can help to establish trust with your customers. When people see a professional and cohesive brand image, they are more likely to trust your business and feel confident about making a purchase.
Create Recognition: A strong logo helps people easily recognize and remember your brand. This is particularly important in the digital age, where people are bombarded with a constant stream of information and advertisements. A memorable logo can help your store stand out and make a lasting impression.
Build Brand Loyalty: A logo is an important part of building brand loyalty. When people see a logo that they recognize and associate with positive experiences, they are more likely to continue doing business with your store.
In short, a logo is an essential element of your brand's visual identity, and it plays a key role in building trust, recognition, and loyalty with your customers.
Best Practices for Designing a Logo for Shopify
Indeed, Shopify's Hatchful is one of the best online logo makers for businesses. It provides everything that can help you design an ideal logo for your Shopify store.
However, there are a few practices that you need to consider while designing a logo for your Shopify store. Those are:
Keep It Simple: A simple design is easier to recognize and remember.
Use Strong, Clear Fonts: Choose a font that is easy to read and conveys the right tone for your brand.
Use Appropriate Colors: Choose colors that are appropriate for your brand and that will stand out on the web.
Make It Scalable: Your logo should look good in small sizes as well as large sizes.
Use a Vector Graphic: A vector graphic is a type of image that can be resized without losing quality. This is important because your logo may be used in different sizes on different parts of your website.
Avoid Using Too Many Elements: A logo with too many elements can be overwhelming and confusing. Stick to one or two simple elements.
Test It Out: Show your logo to a few people to get feedback before you finalize it.
Conclusion
A well-designed logo is a must-have for every merchant looking to build an online store. Many tend to ignore the logo at first, but you must pay utmost attention to it since it's the face of your brand.
Fortunately, today you can create an appealing logo for your e-commerce business, all you need to do is to follow the steps mentioned in the post and create a logo suitable for your brand.
In terms of logo makers, Hatchful by Shopify is the top-most option – giving you a wide variety of templates and file formats to choose from.
Now, we've reached the end of the blog. We hope, you learned everything related to the Hatchful and now you can easily create one for your store.
If you find any issues in the way or are still confused, reach out to us. We'll be happy to assist you!