Basics of coming soon page on shopify
You're about to start a business or launch a new product line on Shopify, and you want your prospective customers to know about it to amplify your reach before launching.
That's where Shopify Coming Soon Page comes to play!
Most store owners believe that customers start coming in once they're ready with their online store. Well, this isn't always the case!
With so many businesses selling products online, creating a buzz about your new product line or store isn't just good marketing, but it is crucial for the success of your business.
No doubt, there are many ways to create excitement for your new products or store. But, creating a Coming Soon Page tops the list.
But, do you know what exactly a Coming Soon page is all about and why it is important? Don't worry, we're going to cover that in our blog!
Let's jump in!
What is a Shopify Coming Soon Page?
A Shopify Coming Soon page is a pre-launch page that is used by store owners to inform visitors that their store or products is currently under development and will be launching soon.
When a new Shopify store is set up or in case of a new product launch, it can take some time to customize the website, add products, and create marketing strategies.
During this time, the Coming Soon page can be used to inform potential customers about the upcoming launch and to collect the email addresses of interested visitors.
Why Do You Need a Shopify Coming Soon Page?
There are several reasons why a Shopify Coming Soon page can be beneficial for an online store owner:
Generate Buzz: A Coming Soon page can create excitement and anticipation about the upcoming launch of the product or store. By showcasing a sneak peek of the products, services, or branding, visitors can get an idea of what will be the future offerings and get excited about the launch.
Collect Email Addresses: A Coming Soon page can help collect the email addresses of prospective customers. By offering an email sign-up form, visitors can subscribe to updates and be notified when the product or store is launched officially.
Establish the Brand: A Coming Soon page can help showcase the brand and give visitors an idea of what the store will look and feel like. This can establish the brand's identity and create a cohesive look and feel across all marketing channels.
Test the Market: A Coming Soon page can be a good way to test the market and measure interest in the store's products or services. By monitoring them, the store owners can get a sense of demand for their products or services.
Top Elements of the Best Coming Soon Page
So, what should be on your Coming Soon page such that it drives results to your Shopify store? The answer to your query is to include the below-mentioned elements.
Write an Eye-Catching Headline
An eye-catching headline is a key factor that contributes towards the success of a Shopify Coming Soon page. That's because it is the first thing that visitors will see when they arrive on the page, and also it sets the tone for the entire experience.
A good headline should be attention-grabbing, memorable, and compelling, with the power to create a sense of excitement and anticipation for the store's or product's launch.
Keep Clear Messaging
Keeping clear messaging is an essential element of a successful Shopify Coming Soon page. The messaging should be focused and concise, and it should effectively communicate the purpose of the page and the value proposition of the brand.
The goal is to create a compelling reason for visitors to sign up for updates and return to the store when it launches.
Include a Strong Call-To-Action
A strong call to action button is a vital element for the success of a Shopify Coming Soon page. It could be a button, text, or image that prompts visitors to take a specific action, such as signing up for email updates or following the brand on social media.
Undoubtedly, a CTA is a primary way that visitors can engage with the brand and show their interest in its launch.
Add Social Sharing Buttons
Adding social sharing buttons is an important element of a successful Shopify Coming Soon page.
Social sharing buttons allow visitors to easily share the page on social media, spreading the word about the brand's upcoming launch and generating buzz and excitement.
Include Email Signup Form
Including an email signup form is a crucial element of a successful Shopify Coming Soon page. The email signup form provides a way for visitors to stay informed about the brand's launch and be the first to know when it goes live.
Collecting email addresses before the launch of the product or store can also help the brand build its email list and grow its customer base.
How to Create a Coming Soon Page on Shopify?
Now that you're aware of what is a coming soon page and why you should have one on your store, it is now the time that you know how to create one for your store.
So, here's a step-by-step guide to create a coming soon page on your Shopify store.
Step 1: From your store's admin panel, navigate to Online Store > Preferences.
Step 2: Next, scroll down the Preferences section until you find Restrict store access. Check the box and enable password protection. Enter a password in the respective section and message to your visitors.
Don't forget to click the Save button.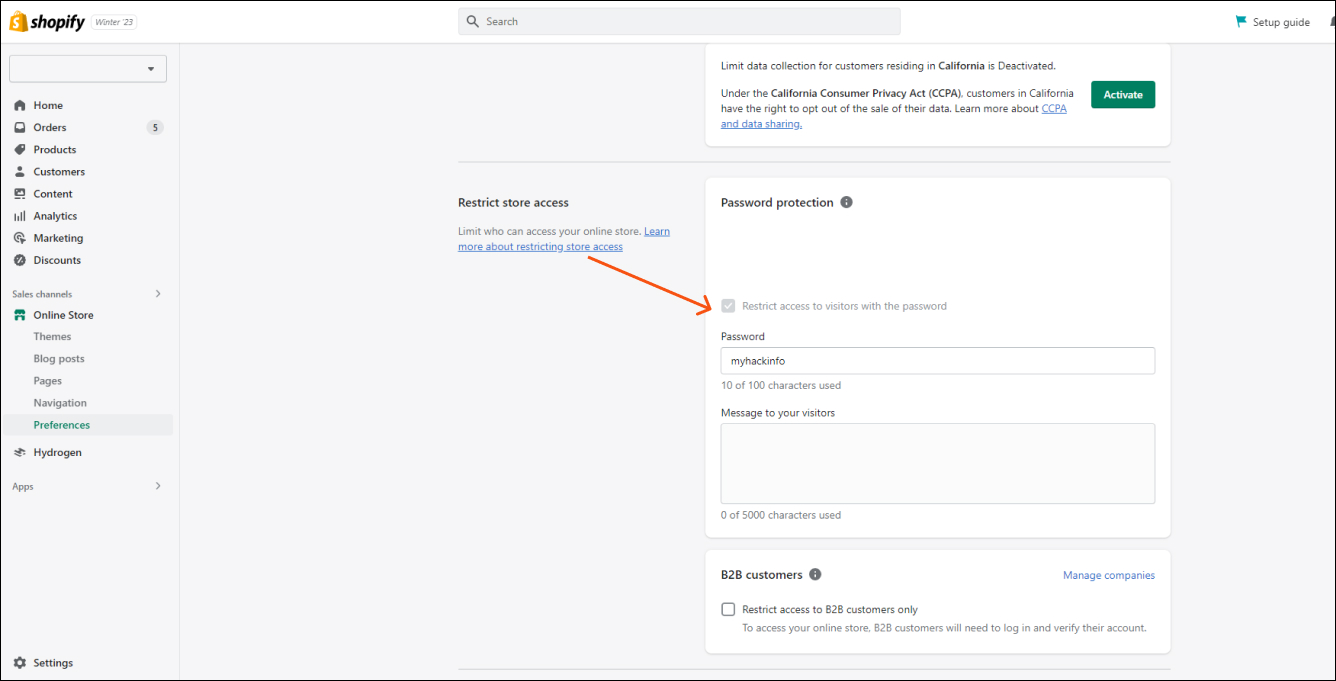 Step 3: Next, you need to open the Theme Editor. To do so, go to Online Store > Themes > Customize.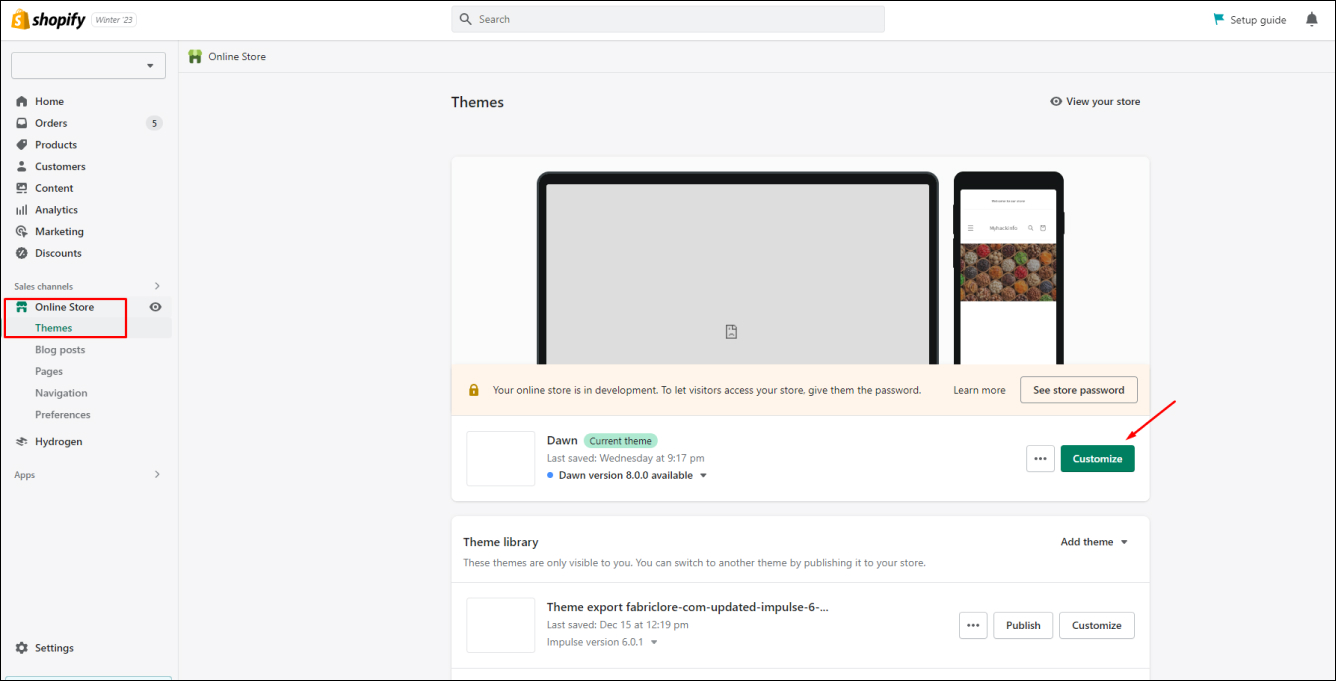 Step 4: In the theme editor, click on the dropdown menu of pages that you can find at the top-most section. Click on Others > Passwords page.
Step 5: Next, customize the page according to your needs and requirements. You can add additional sections to the page like blog posts, collection lists, email signup, collage, and more.
Step 6: To edit the Header section, click on the Password Header. From here, you can edit the logo image, size, and color scheme.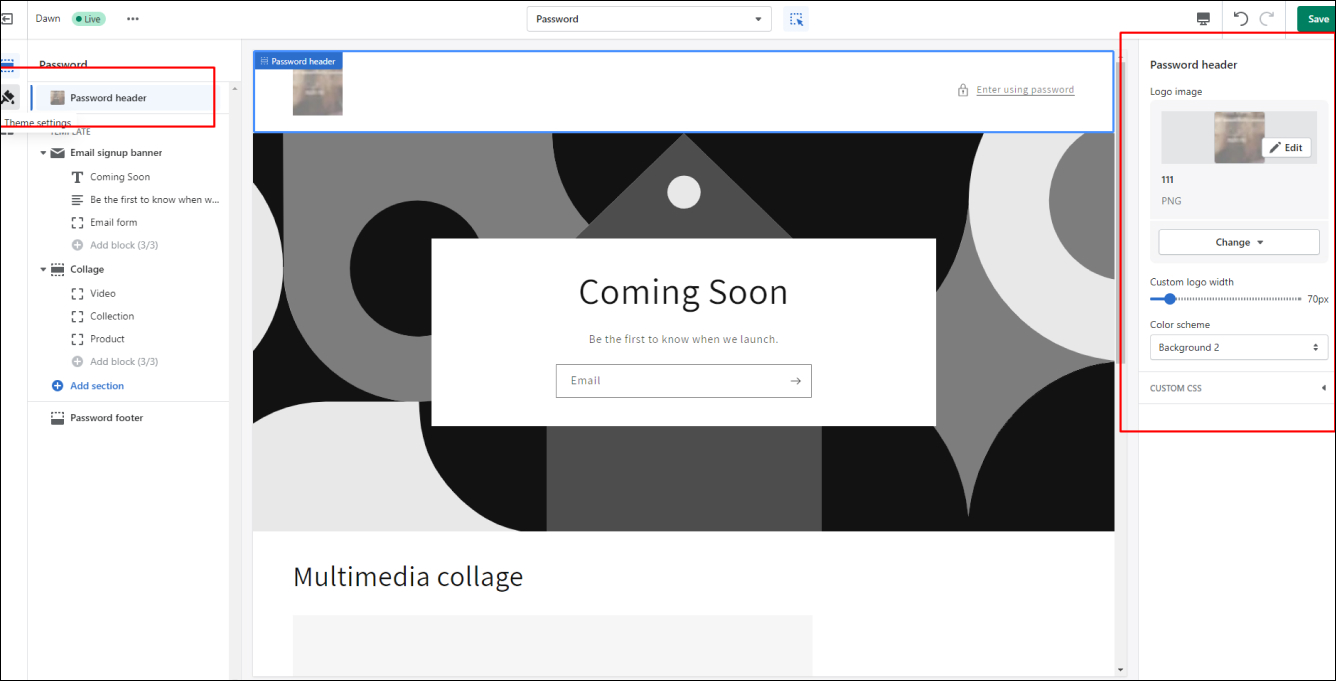 Step 7: To edit the Footer section, click on the Password Footer. From here, you can edit the color scheme and can also include social icons.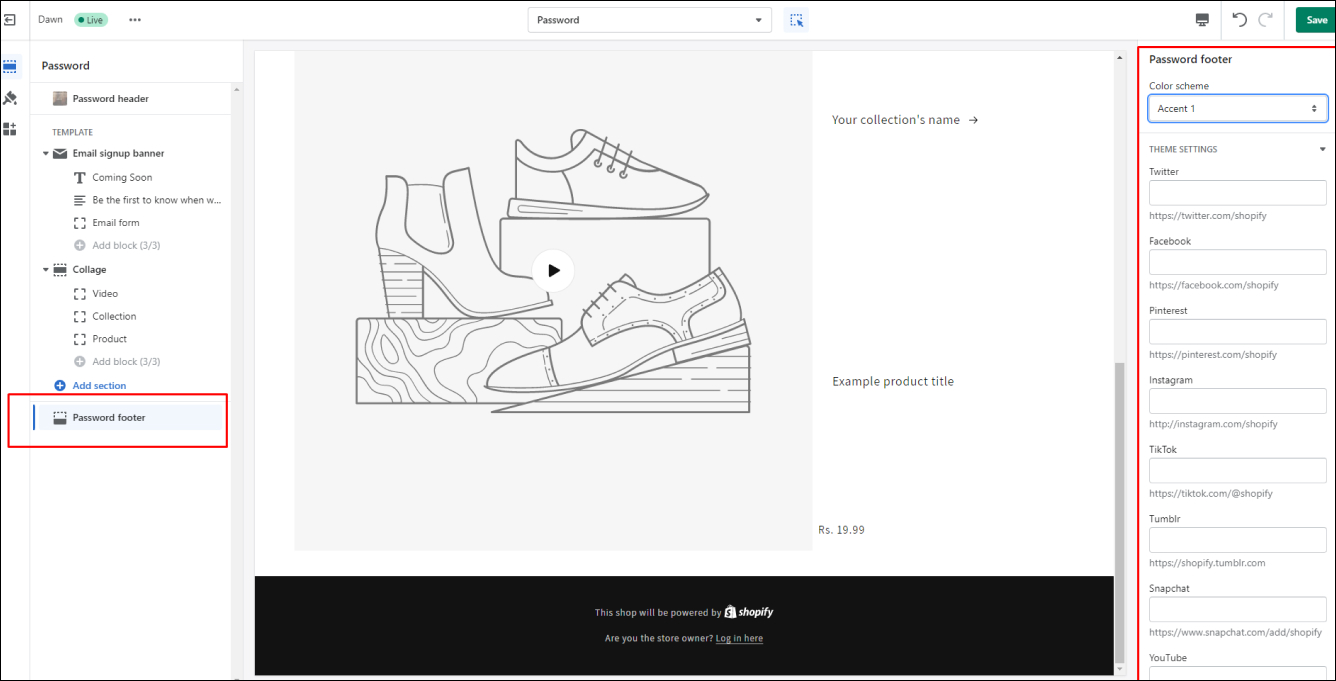 Apart from them, if you want to make more customizations that are not available in the theme editor—you need to edit the password.liquid template. For that, you need to reach out to us.
Conclusion
Undoubtedly, the audience plays a crucial role in any pre-launch marketing campaign.
Doesn't matter what you're launching, whether it's a new product, a new online store, or a new business idea, creating buzz for your pre-launch can help you kickstart about your future offerings.
Use the Coming Soon Page elements mentioned above in this post to customize the page since it can start building interest in your prospective customers.
This will additionally help you get a list of prospects who are already interested in your offerings before launch.
So, this brings us to the end of the blog. Hope, you are now all ready to create your Coming Soon page on your Shopify store.
If you have any questions or queries on the way, don't hesitate to leave them in the comments below!
Also, if you need more help from us to get your Shopify store customized, get hands-on with PW Subscription. Have a look at it!