What Are The Best Hosting Companies?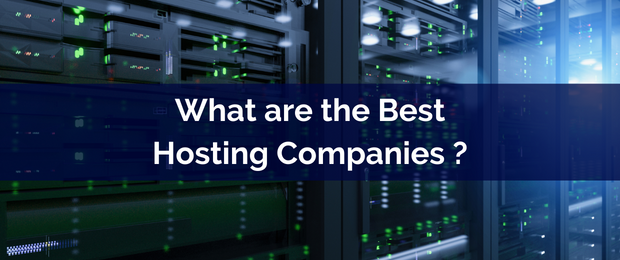 Web hosting is a service provided by a business, called a web host, which allows individual parties to publish a website or web page on the Internet. The website is then retrieved from where it's being stored on a server and presented to the viewer. Having reliable web hosting with maximum uptime is important to visitors accessing your website. A prolonged shutdown of any website is damaging to its success. It is also necessary for the website to load regularly at steadfast speed to get a good search engine ranking. There is also the concern of security with the fear of getting hacked. Good hosting platforms (the ones mentioned below) take care of these issues and ensure quick and constant load speeds and good data backup services. Furthermore, they also offer quick and knowledgeable service through excellent customer support.
You must own a domain name, or otherwise purchase one to be hosted by one of these reputable companies for a small business website:
GoDaddy –One of the top hosting companies, GoDaddy is a solid choice as it is affordable, gives unlimited bandwidth, provides great customer support, has little down time, and its huge scale is beneficial to thwarting security problems.
Bluehost – Bluehost is easy to get started on. At just $2.95 per month, you get a free domain name, free site builder, user-friendly control panel/dashboard, one-click WordPress install, and 24/7 support.
HostGator –With HostGator's Baby Plan you get unlimited domains, disk space, transfers and email id's for a small monthly tariff, in addition to good service and uptime, transfer service with quick install, and cPanel usage. As a bonus, the company's data center is clean energy powered.
DreamHost– DreamHost is a worthy competitor as it boasts all the features we look for in a web host. It also offers a shared hosting plan with unlimited features and an extended money-back guarantee.
Tucows – Tucows does not sell domain names directly to consumers, and instead focuses exclusively on the needs of resellers. They manage domain names, email addresses, and digital security products for millions of people worldwide.
SiteGround – SiteGround is a globally oriented web host that delivers on speed and performance and conducts daily backups. For new users, they have free transfer, free domain name for one year, and a free site builder.
There are also advance hosting platforms that save you on hardware costs known as Cloud Hosting. They are used for big business websites with experienced development teams.
Amazon Cloud – With Amazon Cloud, you can get 5GB of digital storage for free, and unlimited photo storage if you have Amazon Prime. Once your content is uploaded and secure in one place, they can be accessed on your computer, your phone, or your tablet via an app.
Microsoft Azure – Azure has more regions under its wing than any other cloud computing platform.It is also compatible with other operating platforms, especially Linux, and has a growing stash of additional services, too.
Google Cloud – Google Cloud delivers excellent performance resulting from the exceptional internal data center to data center networking. It stands out among cloud vendors for building Artificial Intelligence into its cloud offerings.
Heroku – Heroku offers an enormous suite of powerful features and is friendly with almost every major web language. It's immense flexibility and ease of use make employing and managing applications simple and intuitive.
Whether you are a small business or a large corporation, there is a wide array of web hosts to choose from. Research your options and discover the one that best fits your budget and hosting needs.