Dos & Don'ts While Customizing your Shopify Theme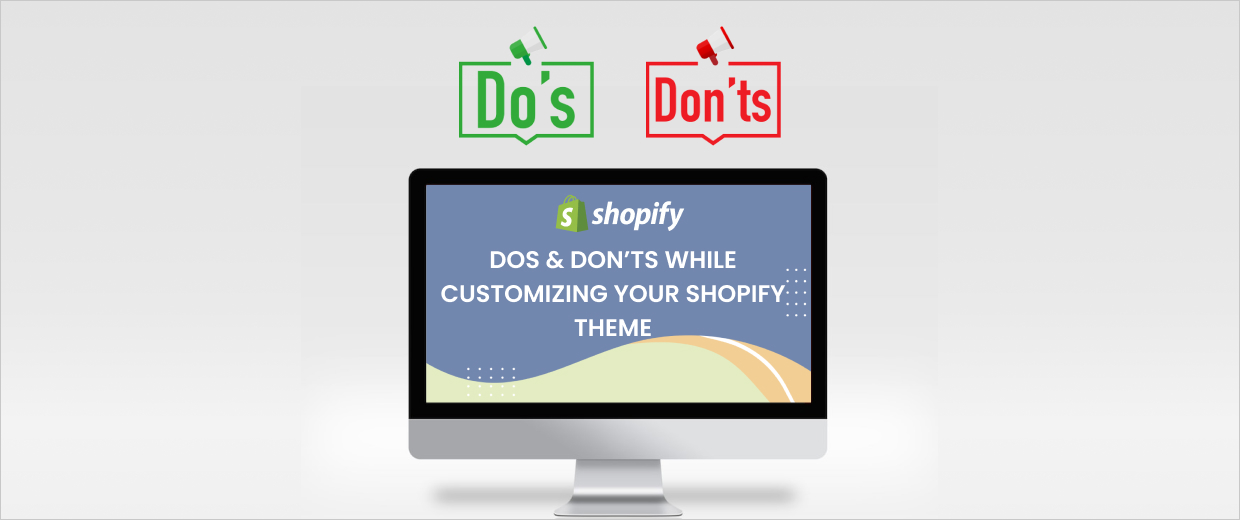 Even with an appealing Shopify theme and some powerful Shopify apps, you feel your store is lacking on something. From your store's overall styling, adding hover animations over the product images, adding an appealing banner, Shopify theme customization is needed to give tough competition to the competitors. 
Theme customization range in complexity. Some of the complexities can be dealt with proper time and patience, while others require help from professional developers. A non-tech-savvy person needs to conduct proper research before diving into the code. That's because a wrong move can impose serious consequences on your Shopify store. 
In this blog, we are going to talk about some dos and don'ts while customizing your Shopify theme. By the time you reach the end of the blog, you'll have a clear idea of what needs to be done and what not to make the most out of your Shopify theme. 
Some Amazing Benefits of Shopify Theme Customization
There are some of the benefits that come along with Shopify theme customization. Below are the top three benefits amongst them:
Customized Branding: Default Shopify templates offer some storefront customization features. But these features are not as appealing. Also, it makes it a daunting task for one to customize your store's brand.
But Shopify theme customization, you can easily customize it according to your customers and trends. Doesn't matter what kind or type of template you might be using, Shopify theme customization can help your store give cut-throat competition to your competitors.
Saves Time & Effort: Shopify theme customization is no time-consuming task. Also, it helps you save a lot of effort too. Wondering how it is so? It's because you don't need to invest your time in coding or programming to modify your Shopify storefront.
You need to sit down with your Shopify backend and let your creativity and imagination flow into the store. If you hire one experienced developer for Shopify theme customization, you can quickly get the desired theme for your online store.
Engages Customers: One can't deny the fact that an appealing storefront can help in engaging the customers. While you work on the theme, your store will experience more customers in the stores, more purchases, a boost in sales, and drive more revenue.
Hence, Shopify theme customization is one of the best ways of creating a unique shopping experience for your customers in your store. Don't worry, you don't have to spend loads of time and money on a customized theme developed. Just a few changes can make your store create a remarkable experience.
DO's & DON'Ts of Customizing Your Shopify Theme
No doubt Shopify is one of the best e-commerce platforms that can help you create a custom storefront for your visitors or customers. Still, there are some of the Dos and Don'ts that you need to keep in mind before you begin customizing your Shopify theme.  
1. DO Keep Backups of your Current Shopify Theme:
Firstly, you need to back up your current storefront before you get into Shopify theme customization. This step is vital, especially if you have a running or live storefront. Duplicate your current live theme such that you can revert to the previous version if needed.
To back up your current theme, you need to duplicate it before you make any necessary changes. To do this, go to your Shopify admin area and scroll down to Online Store > Themes. Then, click on the "Actions" and from the dropdown menu, click on "Duplicate". These steps will duplicate your theme and will be saved in the "Themes Library" section.
You need to know that any changes that you make on the way might not work out as you thought them to be. Thus, your backup can help you get back to the changes that you earlier made. It will save your time and regrets in the future.
2. DO NOT Forget to Test Run:
Once you've made the necessary changes in your Shopify theme, the next important step that you need to perform is to conduct a test run. It will help you see how the modifications can affect your visitor's or customers' shopping experience on your online store. You can even play around with your store's images.
To test run your store after the changes, preview the theme. It will show you how the theme changes will look on your online store without needing to make it live. To preview your theme, go to the Online Store > Themes. Then, click on the "Actions" from the dropdown menu, and hit on Preview.
3. DO Proper Research on Shopify Theme Customization:
You must spend considerable time researching successful e-commerce stores. By researching, you'll get a bundle of ideas on what you can do on your site to make it more visually and aesthetically appealing to the visitors.
You can check out some famous brands like Nike, Adidas, Apple, and more to have an idea of what they're doing to grab the attention of customers on their site. It doesn't mean that you need to copy their ideas. Instead, get an idea and focus on improving your Shopify store by making your brand unique.
If you're looking to hire a third-party Shopify theme customization developer, reach out to them and discuss your project in detail. If you find the discussion suitable enough, and reliable, you can then hand over your project to them without any delay.  
4. DO NOT Underestimate the Image Requirements & Best Practices:
Well, you can use any type of image in your Shopify theme. Still, you must understand the Shopify image requirements that you're using in your store. Basically, you can use JPEG, PNG, GIF, and HEIC format images to create images like banners, slideshows, and product listings.
Consider the below-mentioned points while creating images for your Shopify store:
The product images should emphasize more on the product more.

The background images of the product shouldn't contain any form of text.

Keep background and slideshow images quite simple such that it helps in displaying the overlaying text.

Remember to crop the wide images to be used on tall screen resolutions and vice versa.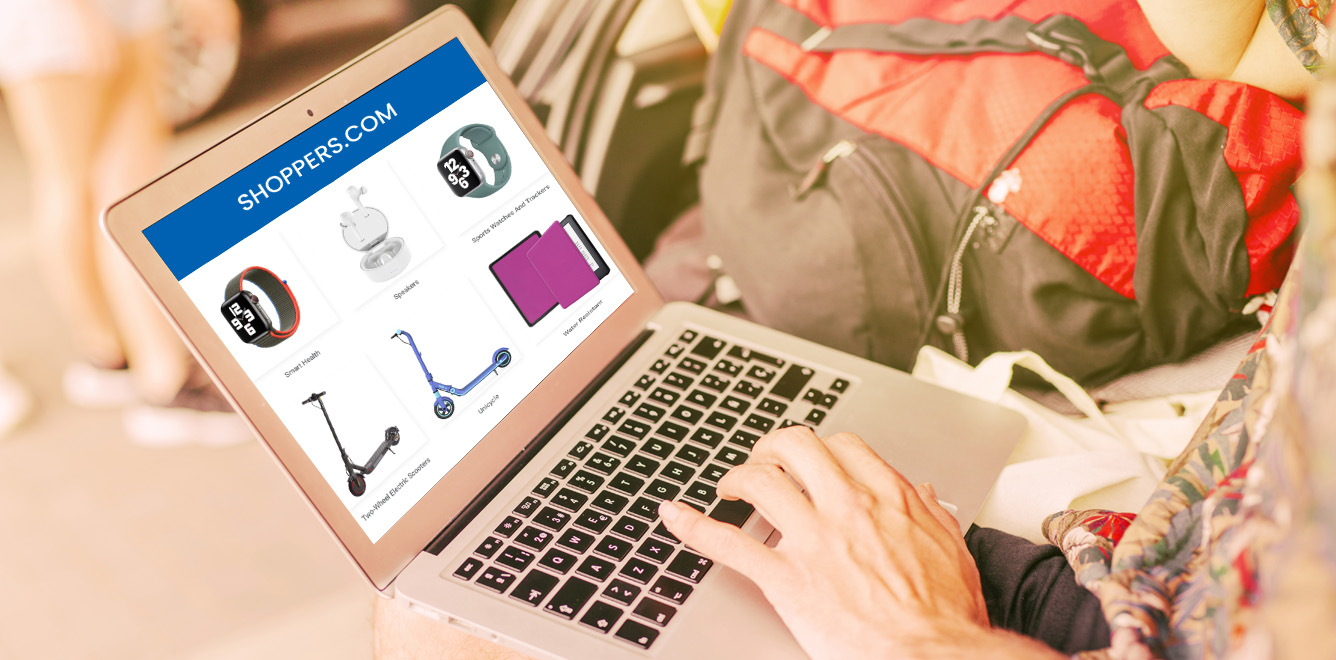 5. DO Maintain Consistency on Colors, Fonts, & Images:
Choosing the perfect set of colors, fonts, and images for your Shopify store may be a tedious task on various levels. From color coordination to the perfect set of fonts, every step requires a lot of attention. However, many rules can help you out in that case:
While you choose fonts for your Shopify store, ensure that you do not use more than three fonts.

Not only does the font style matter, but font size also matters. Use font size in regard to the content.

Ensure that the product images you upload must be of high resolution and are of at least 1024px by 1024px resolution.

Give a consistent and symmetrical look to all the images that you upload on your pages.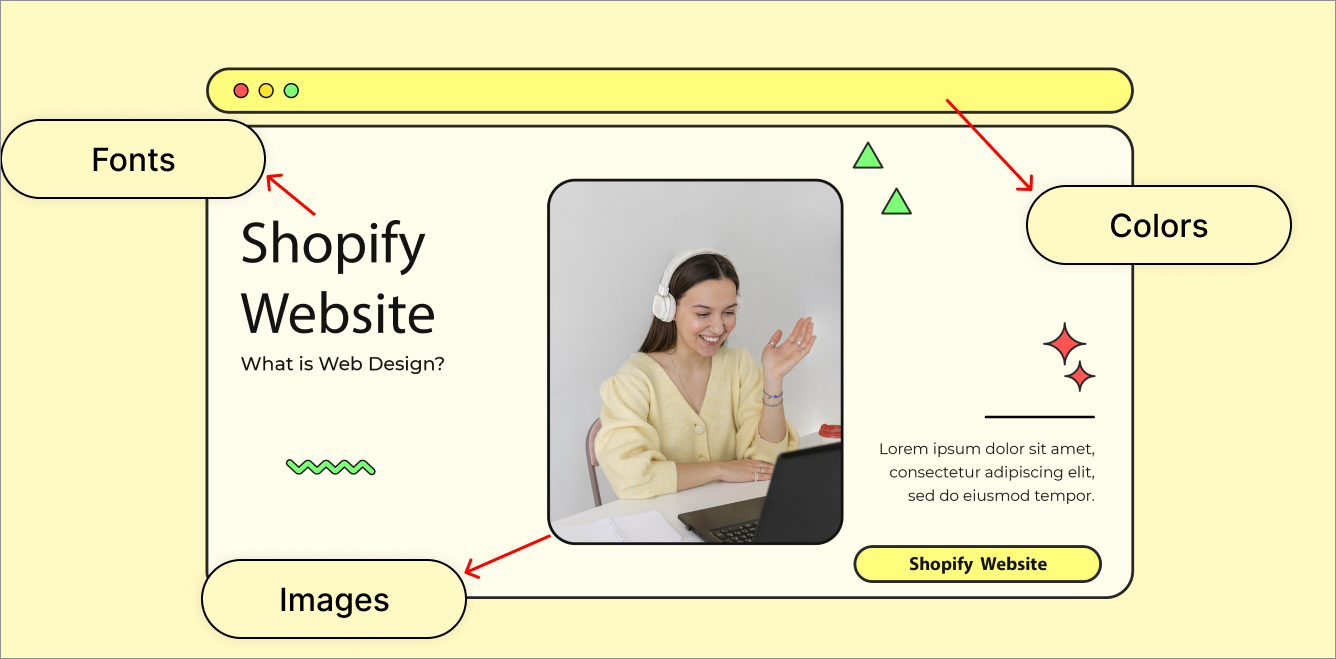 6. DO NOT Settle for a Cheaper Developer for Customizing your Theme:
Nowadays, you can easily find freelancers who can offer you the cheapest and fastest development services. But, you need to look for a reliable and skilled Shopify developer for customizing your store's theme.
Many providers are offering cheap services leaving Shopify merchants with poor or incomplete theme customizations. Hence, you must look out for reputable Shopify developers who provide you with an estimate of the timeframe of project completion and price before you hand over their money.  
7. DO Keep Track of the Files That You Change or Update Recently:
We understand keeping a written record of all the changes or updates made to your theme may sound to be a tedious task, but it can turn out into a highly valuable resource if you wish to get back certain steps or try to find the main culprit behind an issue.
It can be just in the form of a document with notes and with a who-what-when-how-why summary of the changes made. It can prove to be an asset for you to track down the changes when you're working in a huge team.
Step-by-Step Guide to Customizing Your Shopify Theme
You may alter the look and feel of your online store to better represent your business and draw in more customers by customizing your Shopify theme. Below mentioned are the steps on how to customize the theme for your Shopify store.
Step 1: Log in to your Shopify account
First, log in to your Shopify admin dashboard. This is where you can manage all aspects of your store.
Step 2: Navigate to the Themes page
Click on Online Store from the menu on the left. When a dropdown menu appears, select Themes. Once there, you can check both your live theme and any extra themes you have added by going to the Themes tab.
Step 3: Choose the Theme you want to customize
Next, you need to click on the Customize button that you can find next to your live theme. If you wish to alter a different theme, scroll down to the Theme Library section and select the desired theme by clicking the Customize button.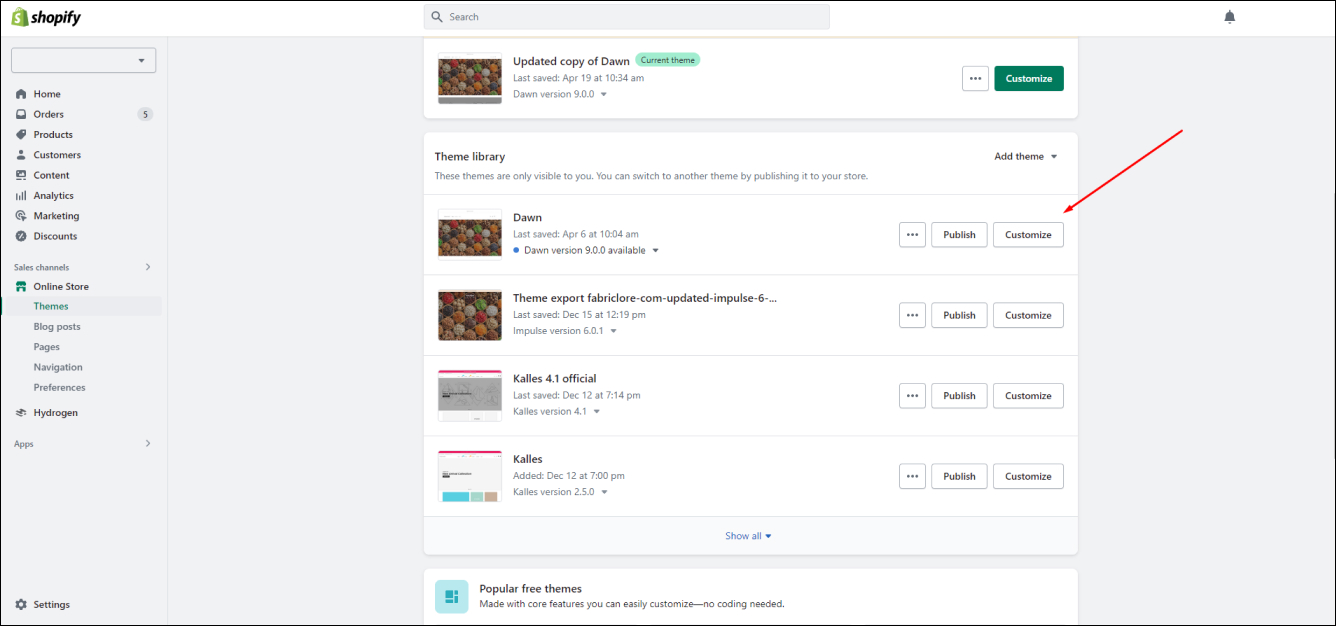 Step 4: Customize your Theme
You'll be directed to a page where you may customize your theme, where you can change several elements:
The header, footer, product pages, and other areas of your theme may all be added to, removed from, and customized here. To update a section, click on it in the left-hand menu.
Theme settings: Here, you can change the colors, font, social network links, and other aspects of your theme. To access these settings, select Theme Settings from the menu on the left.
Remember to click on the Save button that you can find in the upper-right corner of the screen.
Step 5: Preview your changes
A live preview of your changes is shown on the right side of the screen. Use the dropdown option at the top of the page to view a preview of your theme on various devices.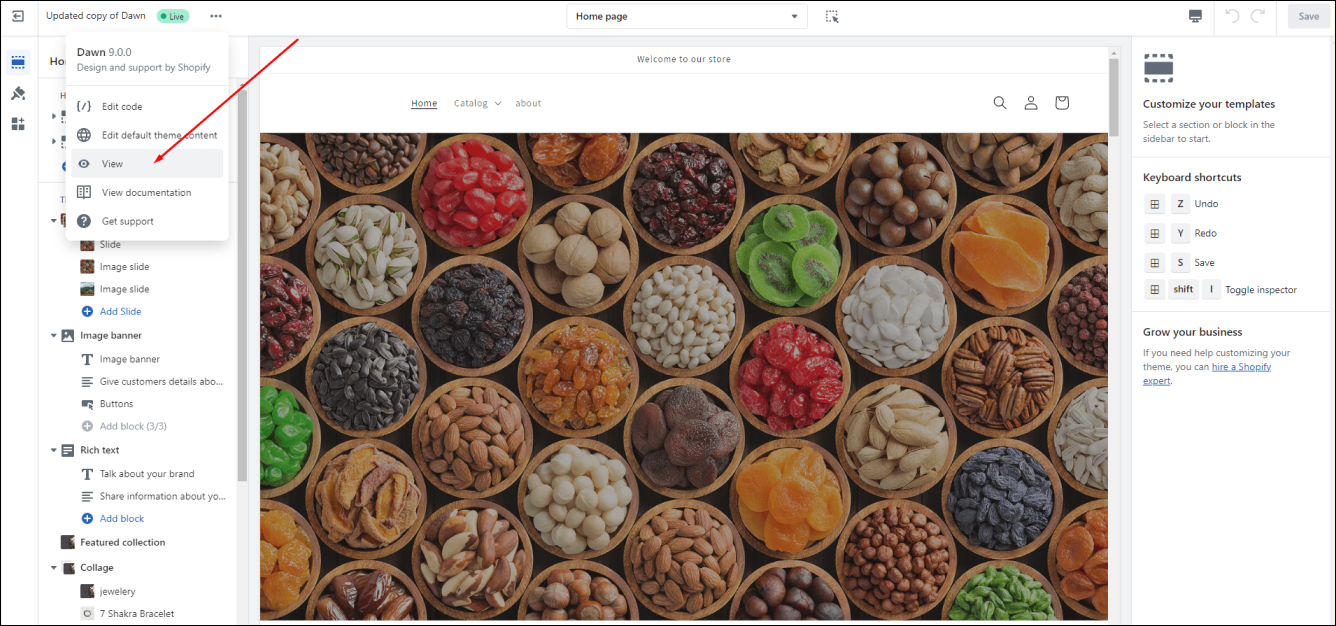 Step 6: Publish your changes
Once done, click Save in the upper-right corner of the screen. If you're customizing your live theme, your changes will be published immediately. If you're customizing a different theme, you'll need to click Publish to make this theme your live theme.
Always keep the user experience in mind while making changes to your theme. Make sure your store is easy to navigate, and that your theme aligns with your brand identity.
Final Thoughts
Here's one pro tip for you! Do not just go for a theme just because it's visually appealing. You need to focus more on the features and functionality and what could suit best for your Shopify store. Still, you can customize the theme easily and build your brand's identity to expand your business.
Also, Shopify store theme customizations require extensive coding skills. Thus, do not go for any random developer who offers you cheap services. The theme customizations require a deep understanding of the technical know-how, you must leave this task to Shopify experts.
If you're thinking to hire a third-party Shopify developer to customize your Shopify theme, get in touch with us. Even if you don't have any specific design in your mind, we can help you on the way. Our Shopify developers can help you take your business to the next level!