Top shopify Development services you need
In this digital scenario, where the e-commerce market dominates the IT sector, you definitely need Shopify development services that will help you succeed in this cut-throat world.
Shopify is the most reliable and popular e-commerce platform, with more than 2.5 million online stores operating on it.
With Shopify, you can design and create elegant storefronts without any need for coding or technical knowledge. This may be great for those who are looking for some basic modifications in your online store. But, in order to get something extraordinary, you need to partner with a Shopify development company.
Now, let's imagine a case where you're looking to build custom functionality in your Shopify store or want to upgrade your store. In that scenario, you may feel a lack of technical knowledge and may need to opt for Shopify services.
In this blog post, we'll explore top Shopify development services and why your business must consider investing in them.
So, doesn't matter whether you're already an established business looking to start a custom e-commerce store or looking to upgrade your current Shopify store, this blog will give you detailed insights into the world of Shopify development services.
So, let's dive straight into the Shopify development services!
8 Popular Shopify Development Services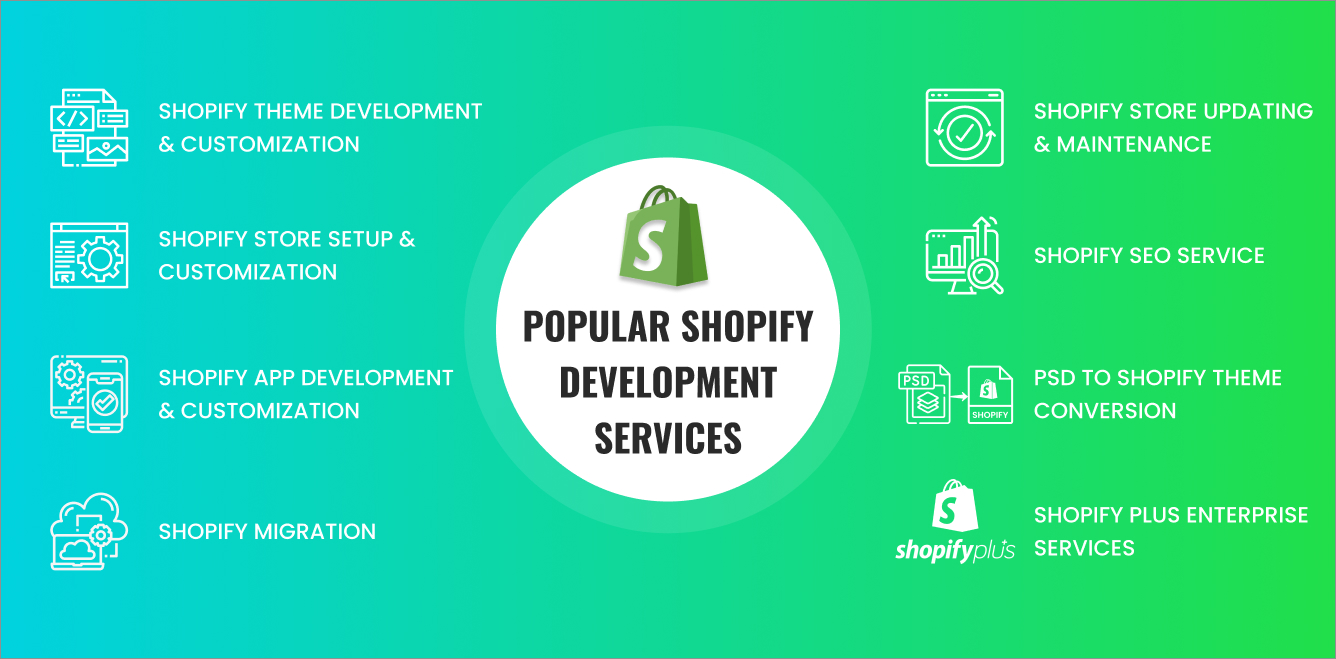 No doubt, Shopify is one of the most prevalent e-commerce platforms available. Using Shopify, you can easily develop a fully functional e-commerce store without no or little knowledge about Shopify.
However, not every store owner has the time to go at it by themselves. Also, at that time, they may face issues in making use of all features and functionalities. Thus, here are the top 8 Shopify store development services that you need to know:
1. Shopify Theme Development & Customization
Having a proper Shopify theme plays an important role because it is the backbone of any brand. A theme is the first-most thing that a customer pays attention to and it must fit with one's brand identity.
That's where Shopify theme development and customization come to play!
It involves creating or modifying a theme to fit a business's specific needs and brand identity. This includes changing the layout, fonts, colors, and other design elements to create a unique and visually appealing store.
The development and customization process can include modifying the theme's code, adding custom features and functionality, and integrating third-party apps and services. It may also involve optimizing the store's design for mobile devices, improving page load times, and ensuring accessibility for all users.
Many businesses choose to hire a Shopify expert or development agency to handle this process and ensure their store is designed and optimized to meet their specific needs.
2. Shopify Store Setup & Customization
Setting up a Shopify store involves creating an online store and configuring it to meet the specific needs of a business. This includes creating product listings, setting up payment and shipping options, and configuring the store's design and layout.
Shopify store customization involves modifying the store's appearance, functionality, and user experience to align with a business's brand identity and meet its specific requirements. This can include modifying the store's layout, adding custom pages and features, and integrating third-party apps and services.
Shopify store customization can also involve optimizing the store for search engines, improving page load times, and ensuring accessibility for all users.
Shopify store customization involves coding and technical stuff. And, not every Shopify store owner is tech-savvy or has a team of experts. That's where Shopify developers and Shopify development companies come to help you.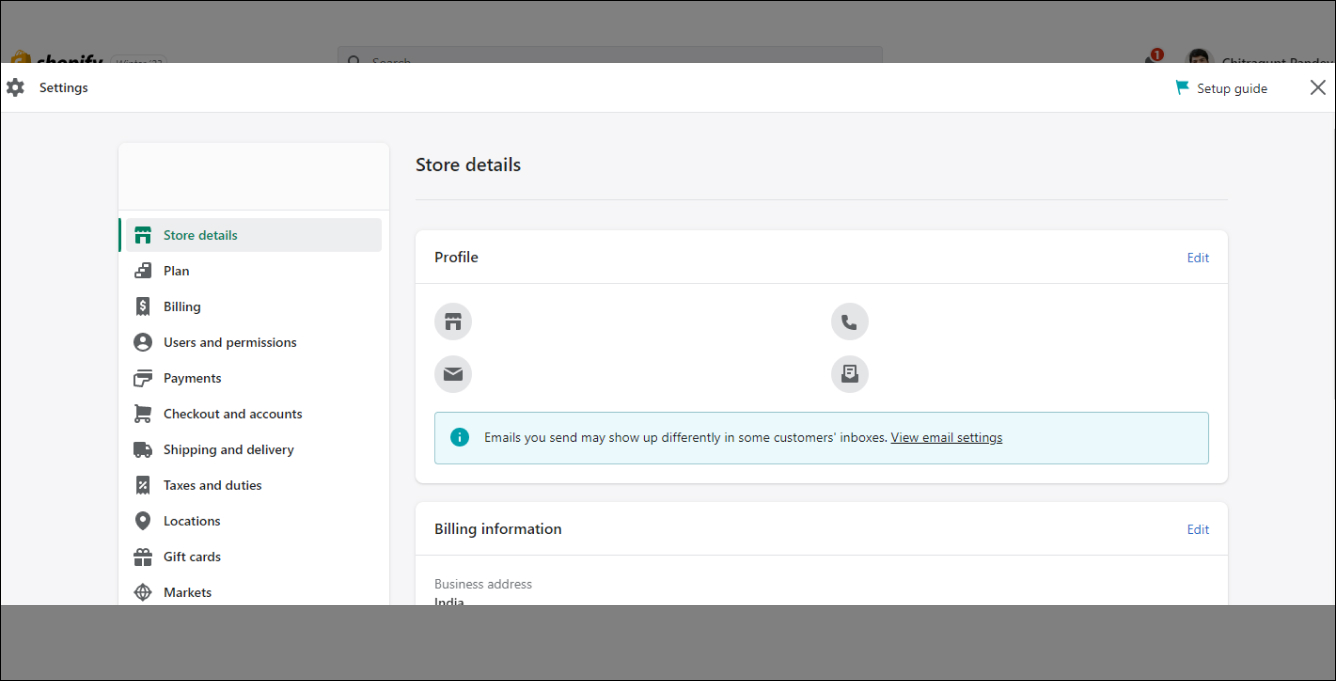 3. Shopify App Development & Customization
Shopify offers a plethora of features and functionalities to online merchants. However, in some extreme cases, merchants may require additional functionality to be added in the store that is not available by default in the platform. This is where Shopify app development and customization come in.
Shopify app development involves creating custom applications that can be integrated with the Shopify platform to provide additional functionality or customization. These can be developed using Shopify's own development framework or by using third-party tools. These can be used to enhance the online store's features and functionality.
Shopify customization involves modifying the existing features and functionality of the Shopify platform to meet specific requirements. Shopify customization can be achieved through custom theme development or by using Shopify's built-in customization features.
Shopify app development and customization can be used to enhance the user experience of an online store, increase sales, and improve overall performance. They require specialized skills and expertise, and many businesses rely on Shopify developers to assist with these tasks.
4. Shopify Migration
Shopify migration involves transferring product data, customer information, orders, and other relevant data from the old platform to the new store. The Shopify migration experts conduct in-depth planning and also use some specific tools and techniques such that the data is transferred to Shopify more accurately and efficiently.
One of the main reasons so as to why Shopify store migration is beneficial is its top-notch features and functionalities. It can help streamline the e-commerce experience for both Shopify merchants and customers.
Shopify migration services include robust product management tools, integrating flexible payment methods and shipping options, customizable storefronts, and easy integration with third-party apps for better functionality.
Shopify migration can also help businesses to improve their online presence and increase sales.
By moving to Shopify, online businesses can gain more customers to the business, improve search engine rankings, and provide a smooth and seamless shopping experience to customers.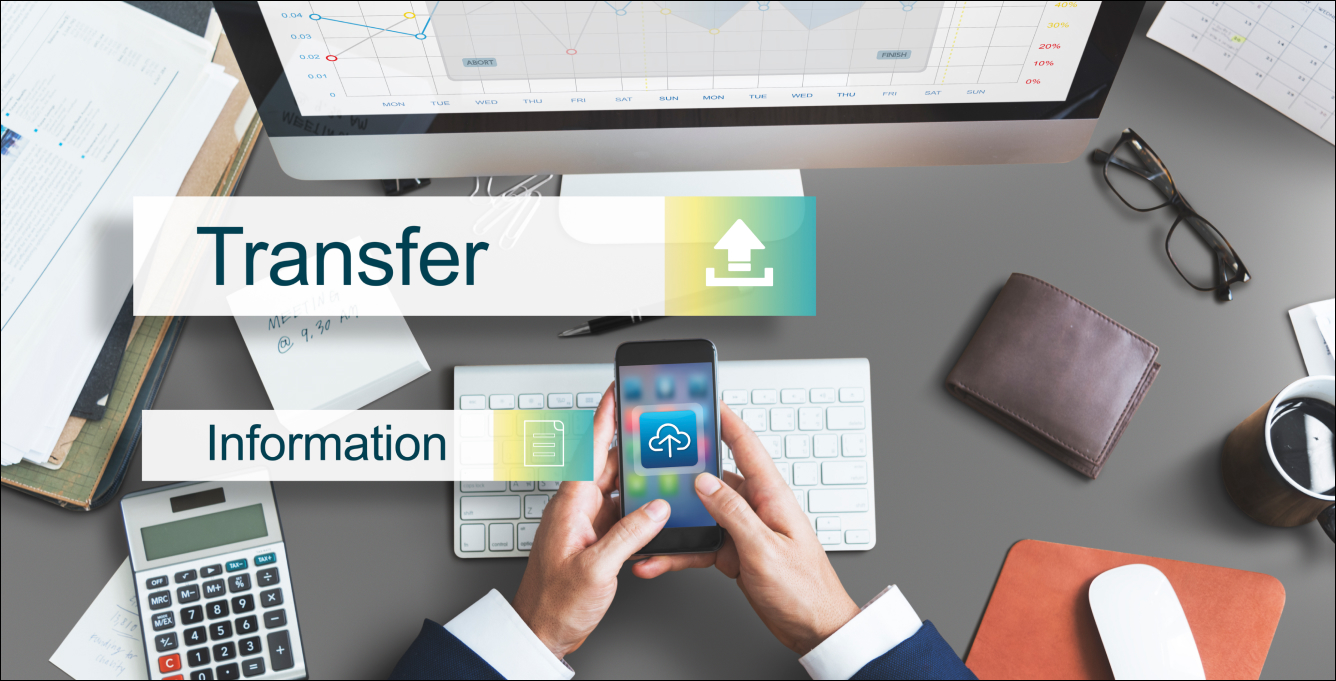 5. Shopify Store Updating & Maintenance
Shopify store updating and maintenance refers to the ongoing process of ensuring that a Shopify store is up-to-date, optimized, and functioning properly. This includes updating product listings, managing inventory, optimizing the store's design, improving the store's functionality, and addressing any technical issues that may arise.
Updating and maintenance of a Shopify store plays a crucial role such that it functions smoothly and provides the best possible experience to visitors and customers. It can help to ensure that the store is secure, responsive, and optimized for search engines, which can improve its visibility and attract more customers.
Some common tasks involved in Shopify store maintenance include:
Adding new products and updating product listings with accurate descriptions, images, and pricing information
Managing inventory levels and ensuring that products are in stock and available for purchase
Optimizing the store's design and functionality to improve user experience and increase conversions
Updating the store's software, plugins, and themes to ensure compatibility and security
Addressing any technical issues or bugs that may arise, such as broken links, page errors, or checkout problems
Monitoring analytics and metrics to track the store's performance and identify areas for improvement
Providing ongoing support to customers, including responding to inquiries and resolving any issues or complaints.
6. Shopify SEO Service
Shopify SEO service refers to the process of optimizing a Shopify store for search engines, to improve its visibility and attract more organic traffic.
The main purpose of performing Shopify SEO is to improve the ranking of an online store in the SERPs for specific keywords, which can increase its visibility such that it attracts more customers and drive more sales.
Some common tasks involved in Shopify SEO services include:
Conducting keyword research to identify relevant keywords and phrases to target
Optimizing product listings, category pages, and other content for target keywords and phrases
Improving the store's overall website structure and user experience to make it more search engine friendly
Building high-quality backlinks to the store from reputable websites
Creating optimized metadata, such as page titles and descriptions, to improve click-through rates from search engine results pages
Analyzing and optimizing the store's performance metrics, such as bounce rates and page load times, to improve search engine rankings
Effective Shopify SEO services require a deep understanding of search engine algorithms and best practices for optimization. Many businesses choose to work with experienced Shopify SEO developers or agencies to help them improve their store's visibility and attract more organic traffic from search engines.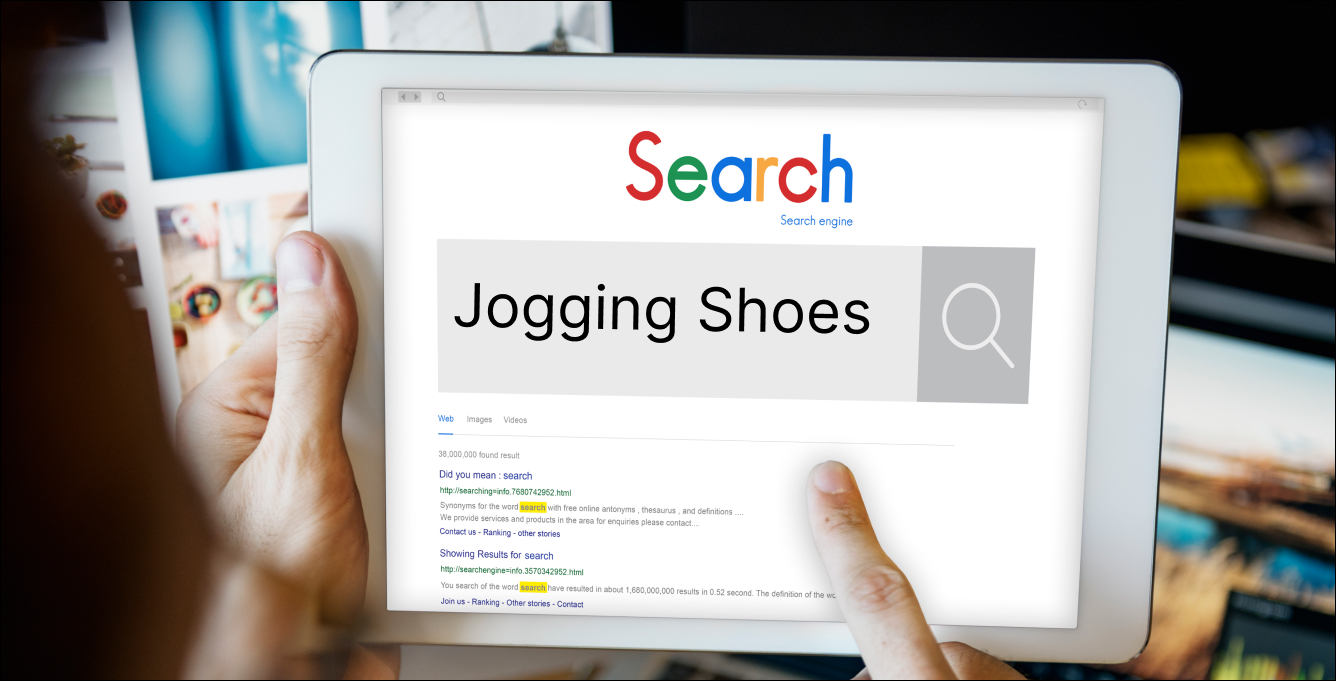 7. PSD to Shopify Theme Conversion
PSD to Shopify theme conversion is the process of converting a Photoshop Document (PSD) design file into a functional Shopify theme. This process of PSD to Shopify conversion involves converting the design elements, like layout, graphics, and typography, into HTML, CSS, and liquid that can be integrated into the Shopify platform.
By converting a PSD design into a Shopify theme, businesses can create a custom online store that matches their brand's unique look and feel.
The process of PSD to Shopify theme conversion typically involves several steps, including slicing the PSD file into individual design elements, converting those elements into HTML and CSS code, and integrating the code into Shopify's liquid templating system.
PSD to Shopify theme conversion can be a complex process, but it allows businesses to create a unique and professional-looking online store that can help them stand out in a crowded marketplace.
8. Shopify Plus Enterprise Services
Shopify Plus Enterprise Services includes cutting-edge features and functionalities that are created to satisfy the demands of Shopify businesses with significant traffic and quick expansion.
By opting for Shopify Plus, you get hands-on to some tools that are specifically designed to help online businesses scale online sales, optimize workflows, and streamline operations.
Some of the key features of Shopify Plus Enterprise Services include:
With Shopify Plus, there are no limits on bandwidth or traffic, allowing businesses to handle any volume of online traffic without interruption or downtime.
Shopify Plus offers advanced APIs that enable businesses to integrate their store with other systems, such as ERPs, CRMs, and logistics providers.
The checkout process is fully customizable which enables businesses to create a seamless and smooth checkout experience for customers.
Shopify Plus includes advanced security features such as PCI compliance, SSL encryption, and DDOS protection to ensure the security of customer data.
Shopify Plus allows businesses to sell their offerings through multiple channels which include social media, marketplaces, and in-person sales.
Shopify Plus is designed to handle high volumes of traffic and transactions, making it an ideal platform for rapidly growing businesses and enterprises.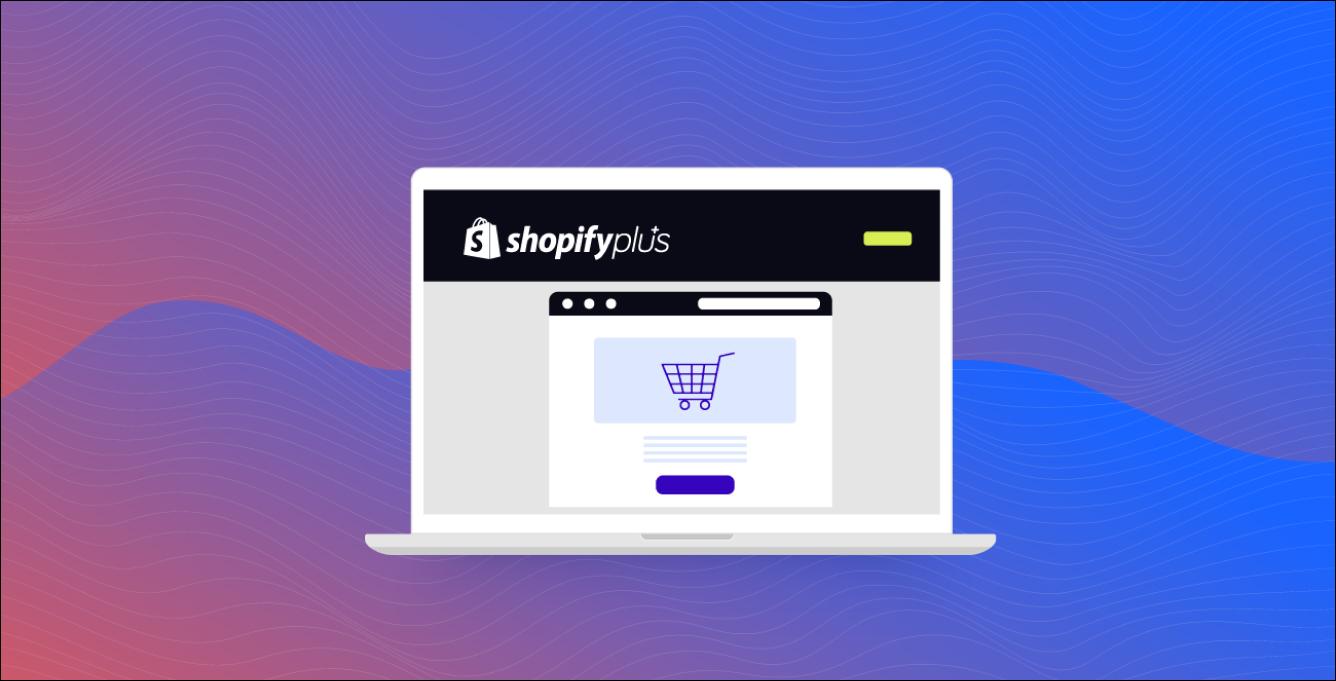 Conclusion
As stated above, Shopify is considered the best e-commerce platform existing today. With it, store owners are always trying to build and create something exceptional with the ever-increase in customer needs and demands. As a result, the need for Shopify development services has increased.
So, if you're looking to build an online store, Shopify is the perfect place, to begin. But, on the other hand, the competitive level is quite higher.
But, choosing the right Shopify development services can help you expand your business, and this way, the path to success will be much shorter.
This brings us to the end of the blog. We hope that this blog has helped you gain deeper insights into what Shopify development services are.
If you still have more questions about Shopify or Shopify services, contact us today!