An Ultimate Guide to Shopify POS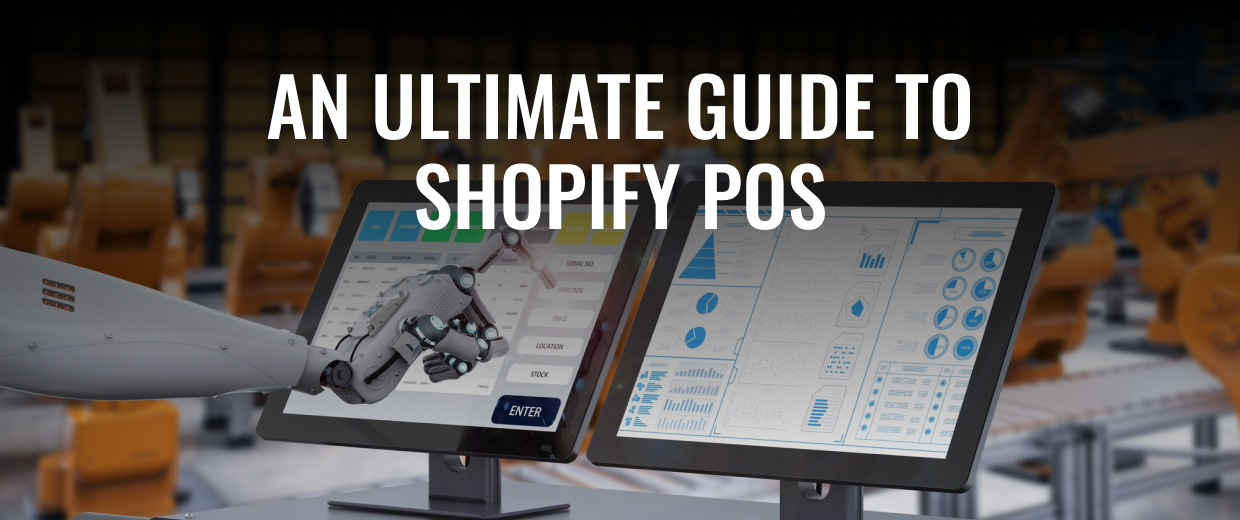 Today, more than a million online businesses operate on Shopify. But are you aware of the fact that Shopify offers a POS system, that allows every brick-and-mortar store owner to leverage benefits from Shopify to manage in-person and online sales?
One of the potential benefits of using this platform means online merchants can unify reports rather than generate reports from various systems and merge them. The fact that customer details sync across the platform helps in offering a more personalized buying experience to the customers.
Well, now are you excited to learn about Shopify POS? If yes, you're at the right place.
In this blog, we'll learn about what exactly it is, how it works, its features, and its prices.
Let's dive straight into the blog!
What is Shopify POS?
To get a better understanding, let's start with what POS is.
POS or Point-of-sale refers to the moment when money is exchanged between a customer and a business.
Now, coming to the Shopify POS system, it is software that is specifically designed to sell your products in person and unify those records with your e-commerce store.
Back in 2013, Shopify launched its POS software into the brick-and-mortar retail industry. Well, Shopify POS is the best point-of-sale software for businesses that wish to sell their offerings in person and online marketplace.
However, Shopify charges some amount for POS software and the price differs by the type of Shopify POS system you choose (we will discuss that in the next section).
Shopify POS mainly focuses on the retail industry, thus, if your business operates from other industries, you need to check out other choices.
On the other hand, you can integrate this software into any mobile operating system, which means you can sell your products in person irrespective of the place you are. With Shopify POS software, you can easily create a shopping cart for your customer, receive payment, and generate invoices from your mobile devices.
What are the Benefits of Shopify POS?
Some of the benefits of Shopify POS are mentioned below:
Offers Multichannel Selling: Shopify POS offers some robust features for businesses that allow them to sell both offline and online.
It gives you an opportunity to customize the interface of your app, offers custom offers or discounts, and send digital receipts. Moreover, you can add endless products, keep track of the inventory, and sync orders across various locations.
With Shopify POS, you can create email and SMM campaigns, develop a customer loyalty program, and generate and merge reports from both online and in-person sales.
Easy to Use: Shopify POS is an easy-to-use platform for newbies as well as experienced business owners. It offers a modern and intuitive interface that allows being set up easily and quickly.
Moreover, Shopify offers 24/7 customer service through email, calls, and live chat. Also, you can leverage benefits from various support resources including webinars, blogs, video tutorials, and more.
Integrated Payment Processing: All Shopify plans offer access to the Shopify Payments that are compatible with the Shopify POS system. Unlike other payment processing companies, that have hidden fees, Shopify POS offers integrated and flat-rate fees that are easy to understand.
The processing rates do not vary according to the card your customer uses. Also, you can lower the processing rates with each high e-commerce subscription plan.
How does Shopify POS work?
With Shopify POS, you can easily sell your products both in person and online. This includes taking orders from your customers, accepting payments, and syncing transactions across various sales channels.
However, if you wish to get started with Shopify POS, you must go for a Shopify plan.
Doesn't matter if you're not willing to sell your products online, you can still use Shopify POS to manage your retail stores, such as customers, inventory, and other details.
Once you've purchased a Shopify plan, you can then download the Shopify POS app (that's available for both iOS and Android devices). Just after you log in to this app, you can start customizing your system.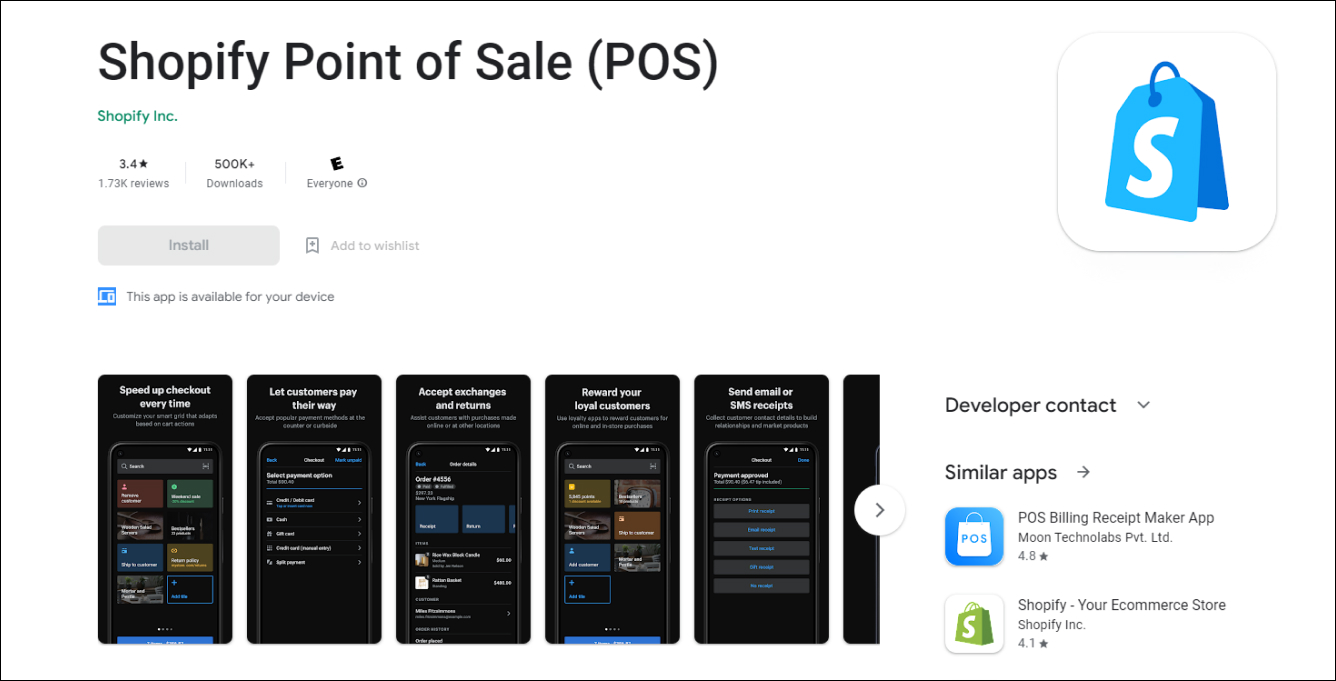 What are the features of Shopify POS?
Shopify offers two versions of its POS software, those are:
Shopify POS Lite – It comes with every Shopify plan except Shopify Lite.
Shopify POS Pro – It offers additional features that can help you boost your business's efficiency and functionality.
Shopify POS Lite
The basic features that come along with Shopify POS Lite are:
One can easily track inventory across different locations and sales channels.
You can create unlimited product inventory with different or specific collections, variants, and multi-location inventory.
You can set login PINs for different staff members.
Setting discount and promo codes for customers for online and in-person transactions is easier and seamless.
You can attach QR codes to certain products.
You can send emails to customers for the items they'd like to purchase.
You can view customer profiles with their order history and contact information.
It automatically calculates the tax.
You can send receipts to your customers by email and SMS.
With it, returns are easily processed with automatic inventory updates.
One can keep track of cash inflows and outflows and view basic inventory reports.
It's fully compatible with Shopify's card readers.
You can integrate Shopify Payments in your offline and online stores.
Shopify POS Pro
With Shopify POS Pro, you get additional features with POS Lite, which include:
One can manage orders for local pickup, local delivery, and even in-store exchanges.
You can let customers retrieve their carts later for e-commerce checkout.
You can print custom receipts for your customers.
You can forecast the inventory based on sales and analysis.
You can get low-stock alerts on your devices.
You can get suggestions on which item should be put on sale based on its performance.
You can keep track of inventory with barcode scanning.
You can get daily reports on sales, products, and staff performance.
You can track the sales made by individual staff members.
There's no limit to the number of staff you add to the POS system.
You can decide on the staff roles and permissions.
You can set manager approval for the actions like discounting.
How much does Shopify POS cost?
To know the total cost of Shopify, we will discuss the software, hardware, and payment processing separately.
POS Pricing
Shopify POS is included with all Shopify plans except the Shopify Lite plan. This clears that you don't need to invest an extra sum of money to use POS.
Software Pricing
To use Shopify POS, you must purchase one of the Shopify plans.
| | | | | | |
| --- | --- | --- | --- | --- | --- |
| | Basic Shopify | Shopify | Advanced Shopify | Shopify Lite | Shopify Plus |
| Monthly Price | $29 | $79 | $299 | $5 | Starting at $2,000 |
| Shopify POS Lite | $0 | $0 | $0 | $0 | Not Available |
| Shopify POS Pro | $89 per location | $89 per location | $89 per location | $89 per location | $0 |
Hardware Costs
You can use Shopify POS from your iOS or Android smartphone. Shopify also offers the below-mentioned POS hardware:
$49 for Chipper 2X BT card reader
$219 for Retail Kit
$399 for Shopify POS Go mobile device
You can go for more POS hardware accessories such as card readers, cash drawers, printers, and more. Below are some of the prices for the same:
Cash Drawers – $139 to $159
Barcode Scanners – $229 to $329
Receipt Printers – $299 to $369
Label Printers- $299 to $499
Payment Processing Costs
Although Shopify Payments is already included with all the plans you choose such that online transactions are processed.
For POS, Shopify offers clear and transparent pricing for both in-person and online payments, and the rates for each depend on the individual plan you choose.
Here are the detailed costs of Shopify Payment processing based on different Shopify plans:
| | | | |
| --- | --- | --- | --- |
| Shopify Plan | In-Person Payment Processing Rate | Online Payment Processing Rate | Additional Transaction Fee When Not Using Shopify Payments |
| Shopify Lite | 5% per transaction | 5% per transaction | 2% |
| Basic Shopify | 2.7% per transaction | 2.9% + 30 cents per transaction | 2% |
| Shopify | 2.5% per transaction | 2.6% + 30 cents per transaction | 1% |
| Advanced Shopify | 2.4% per transaction | 2.4% + 30 cents per transaction | 0.15% |
| Shopify Plus | Rate varies | Rate varies | 0.15% |
Wrapping Up
Consider opting for POS if you enjoy using Shopify online store for your business.
Shopify ticks mark all the boxes in a POS system with the best inventory management, order tracking, and reporting, customer profiling, and more.
Moreover, Shopify assists with huge changes in the retail industry by offering options like local delivery, gift cards, and discounts.
In the end, let's conclude by saying that Shopify POS is perfect for online shops that are willing to expand their online as well as physical presence in the marketplace and manage and automate all tasks from one place.
If you have more queries regarding Shopify POS or are still confused about whether to go for it or not, reach out to us in the comments below!