Top WordPress Accelerated Mobile Pages Plugins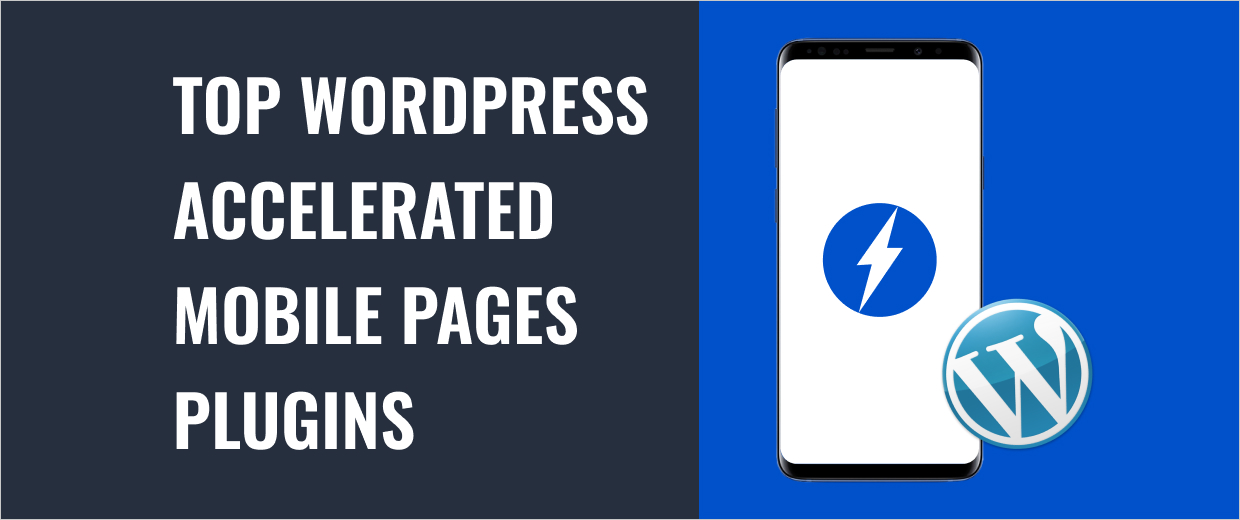 According to the latest study, it has been seen that mobile traffic has grown to 504% since 2011. As there's a steady rise in consumers using mobile devices to access the web, it has become even more vital to optimize the user experience.
This isn't just important for web users, but also the SERP rankings. That's because the search engines like Google can track the websites that load slowly and have high bounce rates and rank those websites lower.
As we all know that mobile optimization plays a crucial role in the success of your website, and thus, AMP technology is designed to help with that.
If you're currently using a WordPress site, one of the options that you can use to enhance the loading speed is through Google's Accelerated Mobile Pages or AMP framework into your site's code.
But do not let the word "code" scare you though. With the help of a WordPress plugin, you can increase the website speed with AMP, but without any coding part. Let's learn how!
Before that, let's start with the basics of AMP!

What is AMP?
AMP or Accelerated Mobile Pages is an open-source website development framework. Its main motive is to decrease the web page loading time on mobile phones by removing excessive page elements that require more time and resources to process.
When a website is accessed on a mobile phone, websites with heavier content like HTML, CSS, and scripts take more time to load.
In 2015, AMP was introduced by Google with the motive of enhancing the mobile search experience for users. No doubt, slow websites are bad since as a page's load time increases to 5 seconds, the probability of bounce rate doubles.
The motive for introducing AMP is to solve this issue by removing excess codes and heavy media content on the website. This ultimately helps in reducing the web page loading time and improves mobile UX.
Do you wish to know more about AMP? Take a look at this video from Google!
What are the advantages of Google AMP?
Apart from getting faster loading websites and better user experience to the visitors, AMP serves several other advantages, which are:
Improved Website Ranking & Traffic: Google considers page load time as one of the ranking factors. Accelerated Mobile Pages are always prioritized in search engine algorithms, thus, affecting rankings positively. It is especially true if two websites are neck-to-neck competitors, the faster loading one wins out in the ranking battle.
Increased Ad Views: With AMP implementation, the HTML of a website gets coded in a way that enhances the overall usability of banners and images. It helps in getting a higher ad visibility rate which further enables to increase in the chances of monetizing the content.
Increased Website Engagement: The website with lightweight AMP tends to mix up well with mobile users that have no or less stable internet connection. Moreover, the decrease in web page load time results in UX enhancement in a way that increases the probability of visitors staying on the site longer.
Higher Click-Through Rates: One of the advantages of implementing AMP is that your website can get displayed on the top of mobile SERPs. And, visitors are more likely to click the website that has AMP pages, thus, increasing click-through rates for your website.
Lower Bounce Rates: When your website loads faster, web users prefer staying onsite for a longer duration. According to research, 58% of users abandon the website if a mobile site takes longer than 10 seconds to load. However, websites that have AMP implemented get double times more time spent on a webpage.

What are the top WordPress AMP Plugins?
To make your website load quickly in search engines, you need to use AMP technology. Luckily, that's quite easy to do especially if you're using WordPress since you'll get access to some of the best WordPress AMP plugins.
So, let's discuss some of the top plugins for implementing AMP or Accelerated Mobile Pages in your WordPress site:
1. Official AMP Plugin for WordPress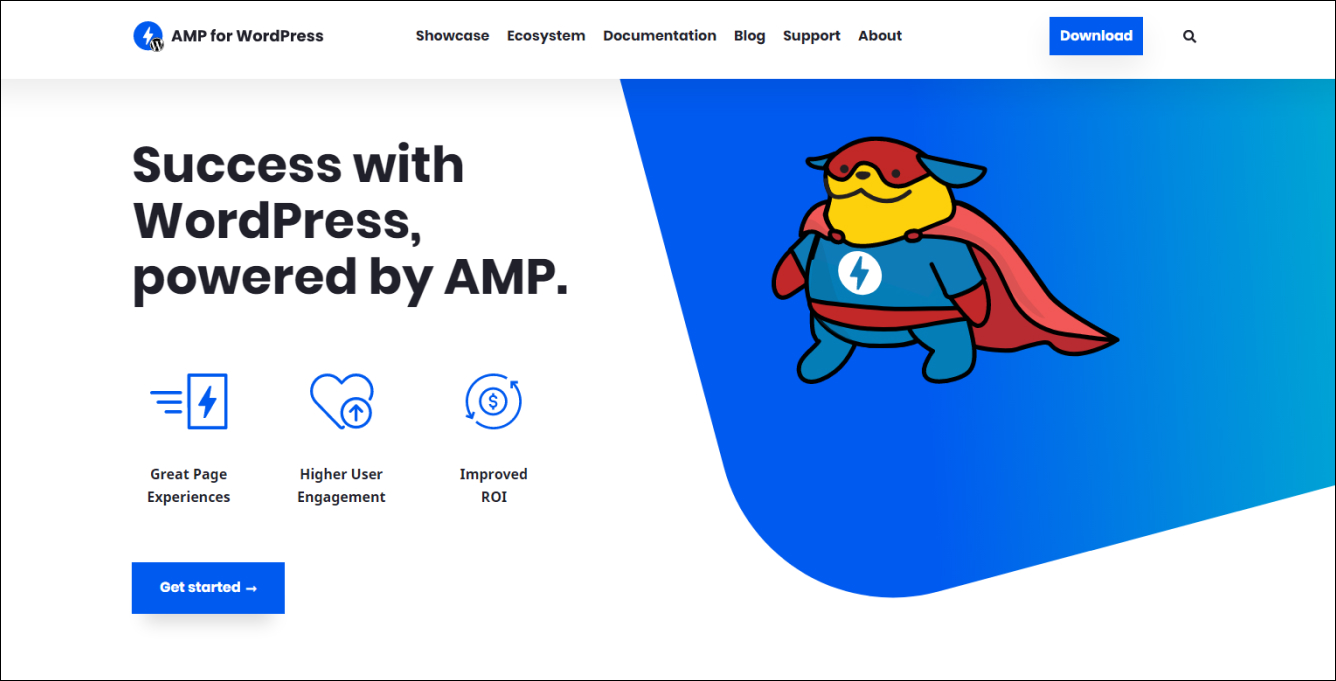 If you think that this is one of the ordinary plugins for speeding up the WordPress site, then you're wrong. You can't go wrong with this plugin since it's designed by the official AMP project.
Here are some of its features:
Support the core themes: This plugin works perfectly with the core themes of WordPress.
AMP Stories: It enables you to create, add, edit, and publish AMP stories.
CSS Tree-Shaking: This plugin helps you remove unnecessary CSS such that you stay under the AMP limit.
Compatibility Tool: With this tool, you can search for the components that are causing issues such that they can be solved.
2. AMP for WP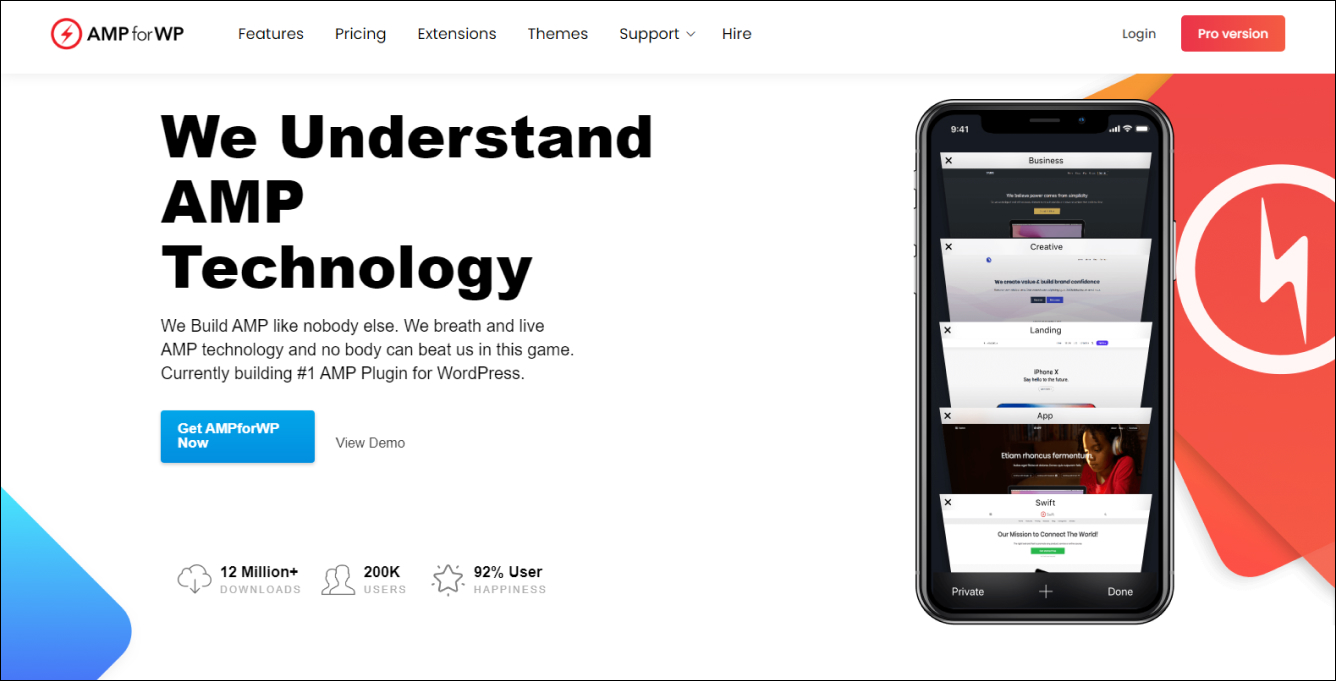 One of the other best options that you can get in this favor is the AMP for WP plugin. To your surprise, it has a better rating than the official AMP project.
This plugin offers a set of features that includes:
AdSense support
Contact Form 7 support
Email opt-in support
Call to Action support
In simpler terms, if you are willing to transform your website into something that offers the same functionality as a mobile app and use it for achieving your digital marketing goals, this plugin might prove to be fruitful for you.
One of the best features of this plugin is that it works well with WooCommerce which means that if you're selling your products or services online, it might help you give tough competition to your competitors.
3. AMP WP – Google AMP Plugin for WordPress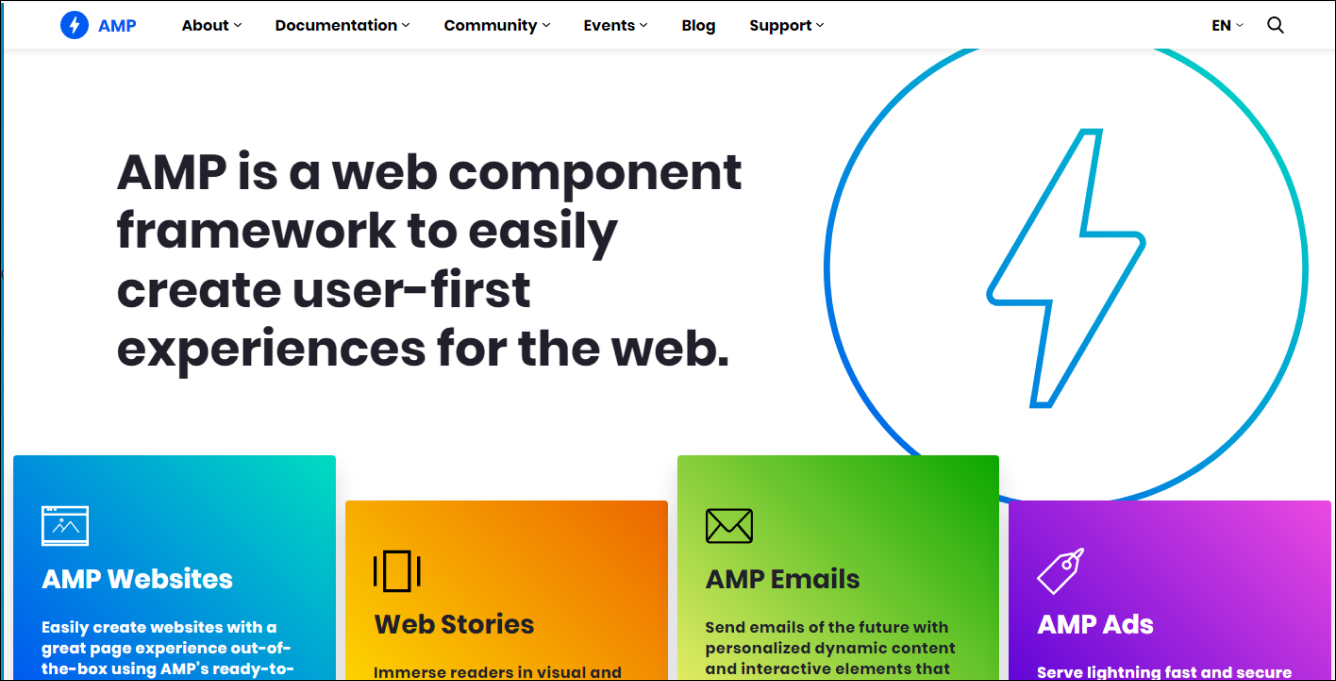 This plugin is a new entry in the library of AMP plugins, and thus, you would be noticing a thousand active installations on its site. Still, this plugin delivers a guarantee that it can get you 5x faster-loading speed. Additionally, it is fully compatible with Yoast SEO.
Below are some of the features that you can get with the AMP WP plugin:
GDPR support
Slider support
Related posts view
Support for third-party analytics
Ability to configure AMP for specific taxonomies
Optional sticky header
Image lightboxes
4. AMP It Up!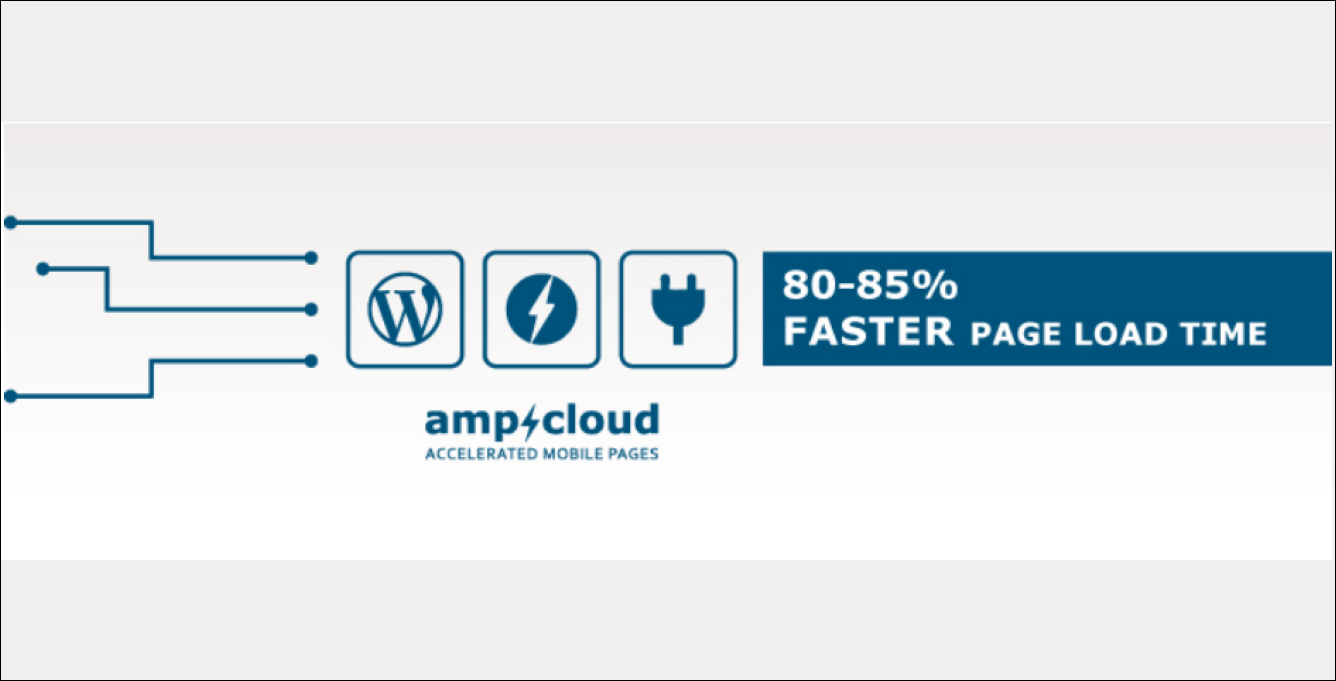 This plugin describes itself as a "set it and forget it" plugin. All you have to do is to integrate it into your site, and you'll get an AMP-compliant website.
One of the drawbacks of this tool is that it isn't one of the DIY plugins, and thus you'll have to do some manual configuration to make it work.
This plugin offers support for:
GDPR
HTTPS
Google Analytics
YouTube
With this tool, you can add your custom JS to your WordPress website which can give you some flexibility with additional functionality. It even adds social share buttons on your pages. Hence, you don't have to look for other plugins for that purpose.
5. Jetpack
Jetpack aims at being one of the best tools for WordPress site optimization. It helps in enhancing performance, SEO, design, marketing, security, and more. Other than that, this plugin offers AMP integration to improve mobile UX.
When you integrate Jetpack into your website, it can help you access the AMP tools alongside other controls. With this, you can simplify the process of adding AMP to WordPress.
Here are some of the features of the Jetpack plugin:
All-in-one performance toolkit
Lazy load images
Ad-free video hosting
WP Super Cache
Image CDN for images & static files
The installation process of Jetpack is free. Additionally, it offers you Jetpack's content delivery network. Moreover, you'll get access to performance improvement suggestions to optimize your site further.
AMP up your WordPress Site!
No doubt, AMP has been a game-changer for mobile sites. Nowadays, users value site speed more than anything else, and thus, when they find that your website is taking too much time to load, they eventually land on your competitor's site.
Fortunately, there are several WordPress plugins that you can use for your site. It can enable you to make your website load much faster and quicker than it can be.
By installing the AMP plugin on your WordPress site, you'll likely expect more traffic, leads, and sales from your end users.
Doesn't matter if your revenue doesn't take a hit up in the search results, integrating AMP will make your web visitors contented, and you get good rankings over Google's mobile search results.
If you need any help getting started with Google AMP for your WordPress site, do let us know!
Do you have any other tips on how you can use AMP for your WordPress site? If so, we would love to hear about them, leave them in the comments below!