Overview -
The Lip bar is a brand which is founded and owned by women of color. The Lipstick designs are for all shades. Lip Bar is 100% vegan and cruelty free. All ingredients used to make the products are toxic free. The motto of the brand is to provide maximum- impact at minimum effort. The products they make are beauty must haves for all women of different shades.This brand is giving scientific and specific solution for healthy lips. All Lipstick are made through lab testing. The brand focuses to lock in color without drying, cracking, or flaking. The lip color feels light on the lips and not heavy at all. This brand provide fast shipping, easy checkout and round the clock customer support on there website.
Challenges-
The Lipbar team wanted many custom features which native Shopify store doesn't provide as well as apps available in the market were not as per the requirements of the team. They wanted us to create quizzes for their clients which would help them recognize the client skin tones and what's suitable for them. The Lipbar team desired to include the feature of virtual try-on. By which clients can get a realistic and personalized experience of using the Lipbar website. They requested us to introduce beauty bundling to help reduce inventory waste and distribution cost. Our experts built a mega menu and swaddle to customize the app according to brand personality. We build all those features and they are bringing in great results.
Some of the challenges and the solutions we provided are listed below:
Quiz-
Lip bar has tons of lip colors it gets harder for the there clients to understand that which lip color will match their skin tone. Our team made the job easy. We created a quick quiz on their website trying to help the client to figure out the perfect shade they deserve. A quiz is a most productive way to effectively understand the client's preferences by asking them a few questions. They are an excellent way to understand customer relationships and get valuable feedback from customers. These quizzes help in customer engagement and generating more revenue for the business owners. The quiz PRP webs made first wants to know the client. She has to select her skin shade from various options like Ebony, Deep Mocha, Deep cinnamon, Caramel ,Honey and Ivory. Once that is done the next page asks for the lipstick preference of the client whether she wants bold, nude or bright lip color. Then we show the final results to our client providing two options either to mail them their results or showing the results directly on the website. We then recommend products designed for our clients skin tone on our website.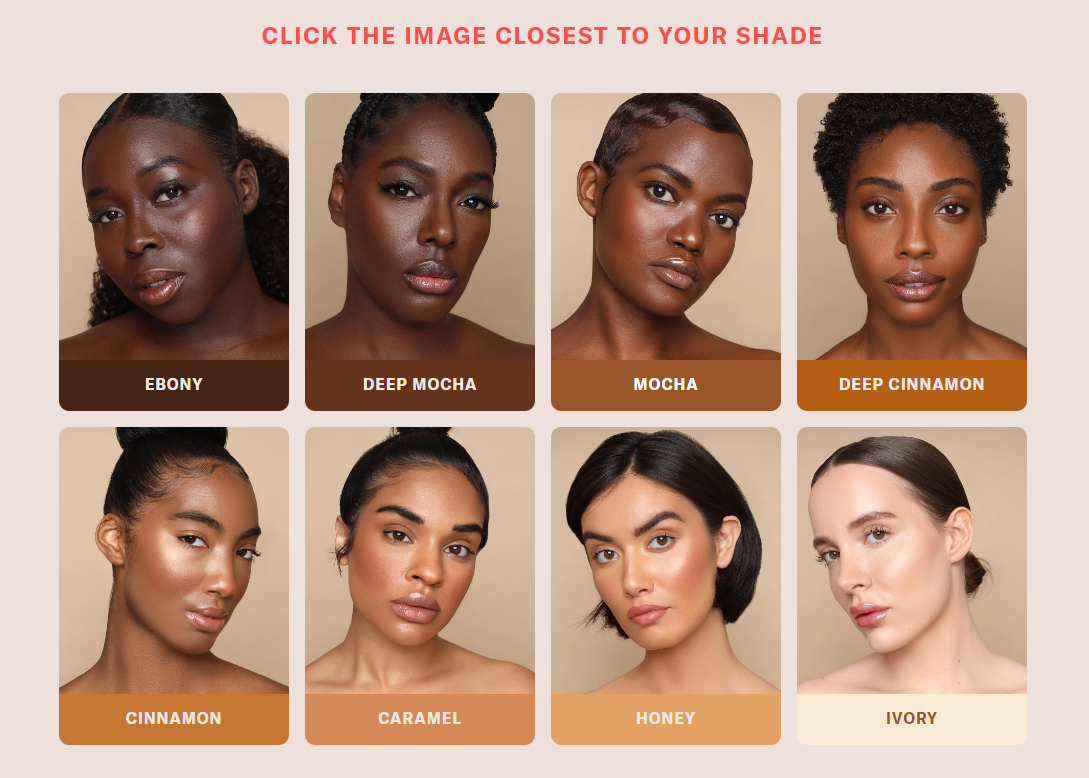 Virtual Try on -
PRP webs developed an interesting feature for The Lipbar that is of virtual Try-on. Whenever a client wants to purchase a shade they can try it on first virtually. For that either they can take a live photo, upload an existing photo of themselves or they can try the lipstick shade on a model. This is a tech- savvy solution for all Gen-z out there. It is a perfect blend of beauty and technology. virtual try-on offers customers a realistic, personalized product presentation in seconds. It encourages Customers to try out dozens of products instantly, and even get related product recommendations, encouraging upsales.For customers, having a chance to virtually try on the desired product makes buying decisions much easier, especially when shopping online.
Cart Drawer with Upsell Integration
The Lipbar team requested us to introduce the feature of Cart Drawer with Upsell Integration. As it is a one stop solution for customization and optimization of the cart. Cart Drawer with Upsell Integration can help the merchants to decide the look and feel of the page. This feature boosts the sales of the business owners. Our team motto is to provide a great shopping experience and conversation rates. The cart upsell offers your visitors extra products in the cart before they proceed to checkout, up to 10 extra products, and it can match the design/theme of your store, being very easy to use and customize.
Virtual Product- pair with
We developed a beauty bundle feature for The Lipbar. This bundle was curated according to the skin tone of their clients. The products paired were few of the best- sellers and ingredients for the gentle skin types. The client just had to select these three things including Tint 3-in-1 Tinted Skin Conditioner, Exact Arch, and Gloss or Matte, rest all is done by us. Bundling helps the business owners to increase sales and profit of individual products. It can help the customers to buy more in a single purchase. Bundling Decreases marketing and distribution costs and reduces inventory waste. To make the concept more clear let's take an example of McDonald's Happy meal. Instead of selling a burger, soda, and french fries separately, they are sold as a combination, which leads to more sales than offering them separately.
Swatches
PRP webs has created the perfect color palette for The Lipbar. The swatches we created represent the organization in a perfect and comprehensive manner. In the description of the ingredients we have also provided the color codes. Swatches affect attractiveness of the brand on the subconscious level. We want the swatches to display the brand. To show the clients what the brand represents and how they want their products to be displayed representing the brand's true personality.
Mega menu
Our team created a mega menu for The Lipbar. It is an expandable menu in which many choices are displayed in a two-dimensional dropdown layout. They are an excellent design choice for accommodating a large number of options or for revealing lower-level site pages at a glance. We wanted everything to be displayed at one glance and the menu option revealed by click or tap. The options we provided were front loaded and each option is unique and different from other.