Overview -
Dr. Garfinkel offers exemplary horse medical services which cover everything from wellness care to horse reproduction. They have prepared a horse preventive care wellness package to keep the horses healthy and happy. Dr. Garfinkel Is Known to integrate the latest technology with modernised medical techniques. They have created a horse vet truck which is modernised with technology equipment like- ultrasound machine and moving Pharmacy. Dr Grafinkel is really compassionate and whenever she visits a ranch she delivers outstanding horse client service. Dr. Grafinkel also provides coggins tests. This test is compulsory if the horse has been transported from one state to another or if the horse has been taken to an organised event like- horse showing.
What client needed?
1. Swift and secured wordpress website
The old website of Dr. Grafinkel was an old version of Joomla and their team wanted to migrate it into the Wordpress website. It is very difficult to create custom designs on joomla. As compared to wordpress, joomla has compatibility issues: it not only requires constant updates but also if updates are not done in proper time then it crashes the updates and extensions. Joomla provides paid servers which make it costlier than wordpress.
There were three reason why Dr Grafinkel wanted to migrate to wordpress
1. They had a older version of joomla on there website.
2. It was really difficult to manage the website because there was no customization for there joomla website.
3. As they were using outdated code there was a huge security risk for them.
What we delivered
1. Wordpress website with migrated Forms, Products and Pages
Our team built a fast loading and easy-to-use WordPress website. The URL structure for this WordPress website is so simple that it always works for SEO and search engines provide top searches for such wordpress websites. The WordPress website is customizable and budget- friendly too so we created such a website for Dr. Grafinkel additionally migrated all Forms, Products and Pages to their new WordPress website.
2. Dr. Grafinkel can redraft and revamp their website by themeselves
Their team can now easily modify the existing content, change images, add or edit products or pages from the backend. PRP Webs team helped them to modify their content to add new details or Remove certain information given on the website or add new products and edit the existing products by themselves. This saves a lot of energy and time for Dr. Garfinkel. Their team is self equipped to manage the entire website by themselves now.
3. Setting up a business email and a SMTP email for Dr. Grafinkel website
Our team setup business email for Dr. Grafinkel and integrated SMTP email on their website to ensure fast delivery. The very aim of creating a simple mail transfer protocol was to create a dedicated email server for them. This will help Dr. Grafinkel team to send mail more reliably and their mails will not end up in clients spam folder.
4. Using PRO theme for their wordpress website
We used Theme.co PRO theme, which makes it super easy to edit and customise Dr. Grafinkel website. Their website is not only fast now but it is also very secure for both the visitors and the website owner. PRO themes are perfect for businesses who are just starting out and are on a tight budget but want exemplary quality themes on their wordpress website. This theme is quite flexible and provides great results to the users.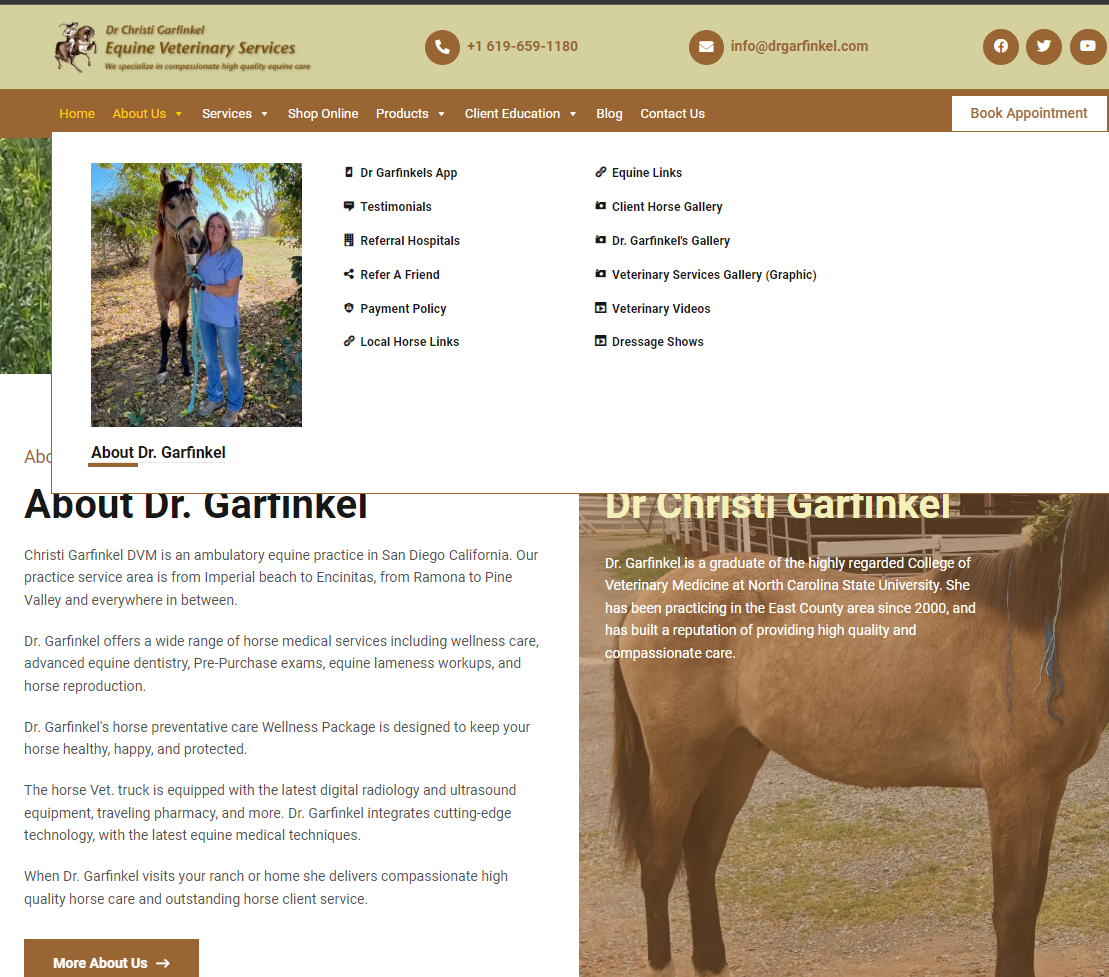 5. Utilised WooCommerce
For Products our team used WooCommerce, which is one of the most popular ecommerce plugins around the world. WooCommerce not only has flexibility but also provides scalability to the business owners. There are over 4.5 million WooCommerce websites in operation so it's a highly interactive platform. WooCommerce guarantees maximum security to its users by providing secure payment links like paypal and stripe.