A Beauty Brand for
Humans of Color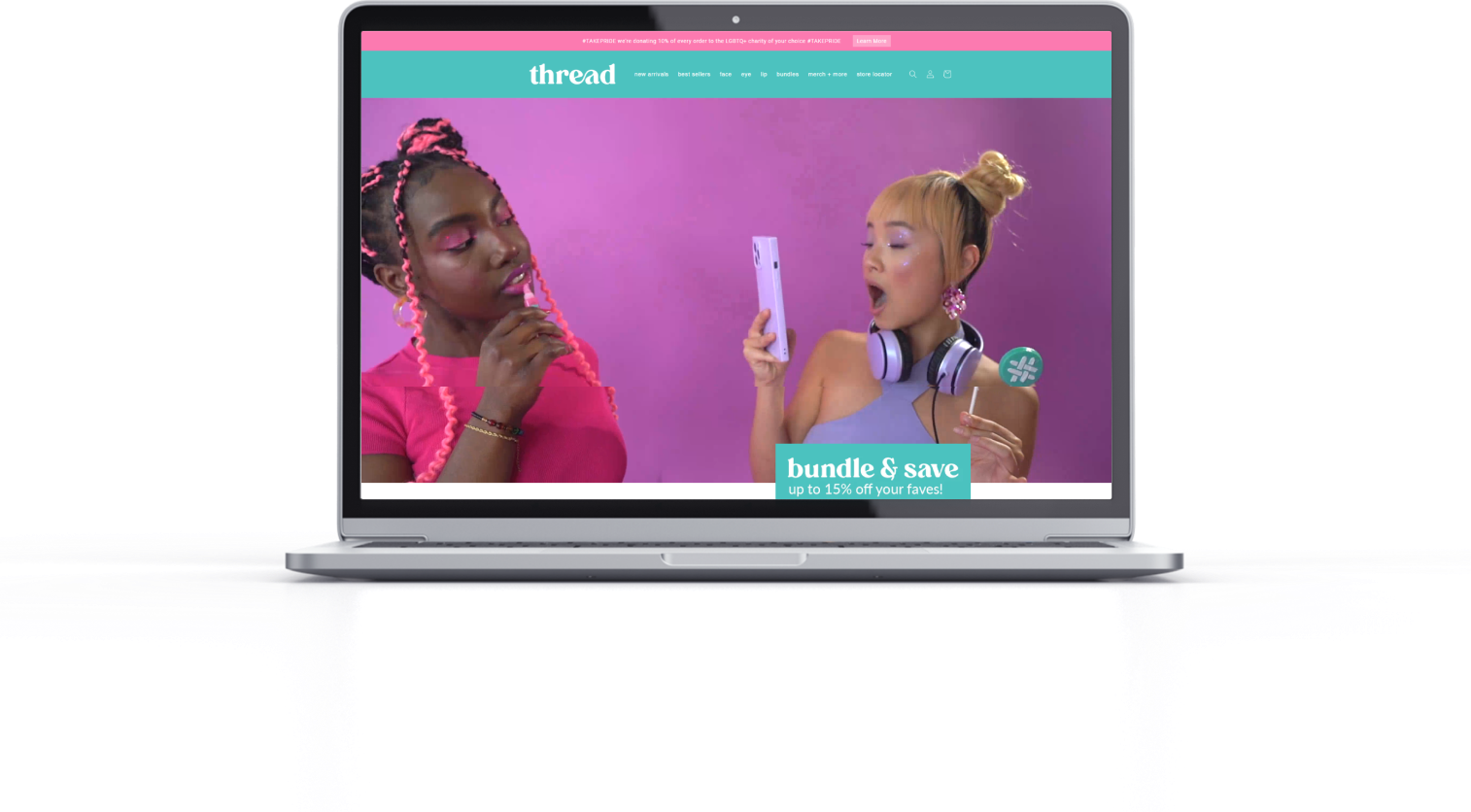 Thread beauty provides the best makeup look in four easy steps. Their products come under four types- face it, blend it, color it, and gloss it. They are 100% percent vegan and cruelty-free.
This brand wants its buyers to express themselves through the power of makeup. They see their clients as storytellers, artists, and creatives who are so unique and different. They are building an offline community with these people as well.
They create such efficient products that they can replace 10 products altogether, and you can get that no-effort makeup look with the help of these four spectacular products these guys are offering.
The Thread Beauty team wanted to add many custom features to their Shopify store
that the native store doesn't provide in the market. Here's what they required from us:
They wanted us to create a bundle for their clients with over 100 combinations.
They aimed at providing fewer products and delivering more impactful results to their shoppers through the mega menu. This way, their visitors can reach the deepest section of the website without much hassle.
Auto Play Background Video
They wanted to add an autoplay background video on their homepage. It is attractive and lets the users understand the brand and its products in a span of a few minutes.
They wanted to include a feature that can help the buyers to know which target Thread beauty Products are available in their state, city, or street.
To achieve Thread Beauty's requirements, we conducted in-depth research in their
industry, and this greatly helped us achieve their requirements. Let's look at what the team
did in these areas:
The Thread team wanted to replace 20 products and instead create a bundle of 3 products that could be used for all purposes. PRP webs created a bundle that provided over 100 combinations to clients of the brand.
Firstly, the user has to select a complexion stick that can be used as a foundation, contour, color corrector, concealer, and bronzer out of the 24 options available.
Next, they have to select a blend-in stick that can be used as eyeshadow, highlighter, blush, and bronzer or as a lip color base out of the 10 options.
The last step is to select a lip color out of the 10 options which are 2-in-1 lip liner & lip color duo.
These three simple steps are enough for the shoppers to customize their bundles according to their needs. They can select the quantity and decide whether they want to buy it now or add it to the cart and buy it later.
AutoPlay Background Video
As asked by the team, we created a stunning auto-play background video on the top banner. When a visitor opens Thread Beauty's homepage, a beautiful video playing in the background will be visible to them.
The video that we embedded on the homepage is eye-catching, attention-grabbing, and great at conveying vital information about this brand. It is a super effective and straightforward way to take hold of your visitors' attention and get them to take action.
The video created by our professionals displays the true personality of Thread beauty and what they represent. Models of different colors attractively show the brand products. This helps the clients to understand what Thread beauty is all about.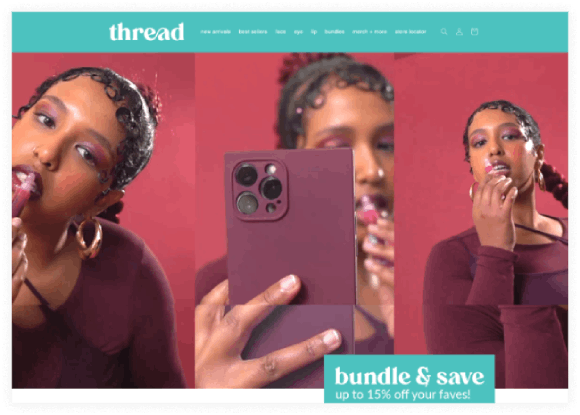 A store locator helps prospective customers to find the physical store or stores. Another equally important benefit is that it helps in enhancing business ranking in search results. We created a customized store locator for Thread Beauty.
The client just has to provide the street name, city, zip code, or state and then press enter. The store locator will do the rest of the work and provide information regarding the targets where the Thread Beauty products are available.
The results speak for themselves and reflected well upon how our
efforts brought a positive impact on the revenue and conversion
rates.
22% increase in the conversion rate
Ready to realise your website
design advantage?
We're here to help you succeed online. We're always happy to have a chat about a new project and
explore how we can partner to realise your digital advantage.
Subscribe to our Newsletter
Sign up for the latest digital insights and news direct to your inbox